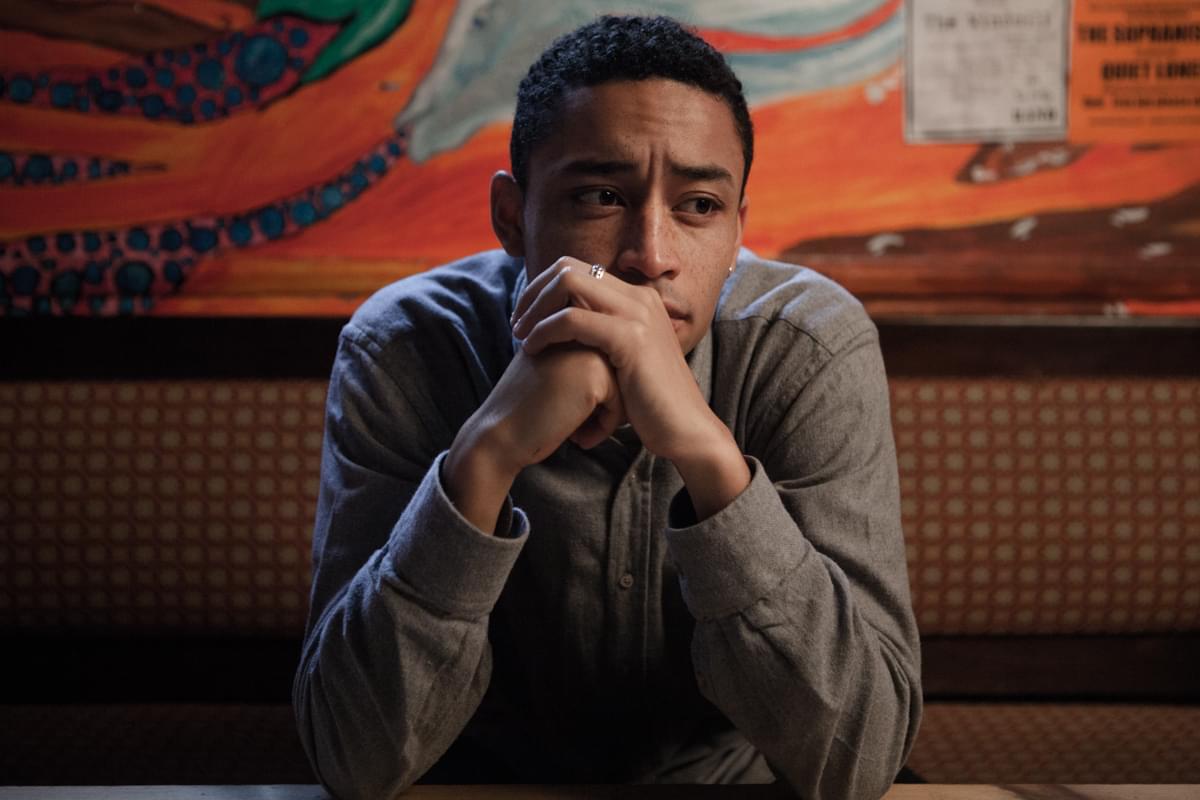 Loyle Carner<br>Ones to Watch 2016
03 December 2015, 09:00
Twenty-year-old Ben Coyle-Larner has been rapping and freestyling since he was ten; re-christened Loyle Carner, he's set to lead a new wave of inventive and self-aware British hip hop forward.
"It was rap or be killed," Ben Coyle-Larner says casually, remembering his formative years when wordplay was a weapon on the most brutish concrete battlefield of them all: the school playground.
It was the early '00s in South London and the infectious ferocity of grime boys Skepta, Kano, Ghetts and Lethal Bizzle had spurred a homegrown revolution. Marbles and pogs might have knocked out a few MI5 strategists, but grime is arguably the first playground craze to bore latter day poets.
Loyle Carner is one of them. He's only 20 years old but he's been writing, rapping and freestyling since he was ten. By secondary school his bars were so tight, he was the boy in year seven who could slay the boys in year eleven.

"It was just the rawness of grime," he says. "I kind of used to do poetry when I was younger and English was my favourite subject even though I was dyslexic. When I figured out there was something I could do with my little South London accent that wouldn't be seen as out of place, I latched onto it instantly."

Perseverance paid off with a scholarship to the BRIT school then his first gig, aged 17. Hooked up by classmate King Krule to open for MF Doom no less, at Cardiff's The Button Factory in 2012. Things were rolling and he began a three year course at the Drama Centre, but in a flash, it all changed. His step-dad died in February 2014.
"I'm usually writing about people that I love...that's the hardest part, doing them justice."
"I just … I started to use writing as a thing for myself," he says quietly. "When bigger stresses hit, I began to write about them. It's this feeling, I can't quite describe it. Just, to be able to make sense of how I'm actually feeling and articulate it properly is probably the most beautiful thing, for me."
He dropped out of drama school to focus on music. Gliding over mellifluous beats cut by his best friend Rebel Kleff and drawn from the burrows of Slum Village, J Dilla and A Tribe Called Quest, Carner honed the guttural ferocity he found in grime into straight-up street poetry.

Caressed by the same fuzzy warmth he first heard in his dad's soul records, 2014's debut EP A Little Late was raw and eloquent. 'Everyone says I'm fucking sad / Course I'm fucking sad / I miss my fucking dad' he croaks at the end of opening track "BFG", words curling around a hazy piano spotted beat.
For all the down times, 2014 was heavy with ups. An invitation to support Joey Bada$$ on his UK tour was followed by a chance meeting with Kate Tempest, resulting in "Guts", a pacey two-way collaboration written in 24 hours for producer Dan Carey's Speedy Wunderground project.
2015 kicked things up another gear. When we speak Carner's giddy following his first sold out tour - "It was insane!" And he's raving about his time in the studio with UK hip hop don Jehst - "For me, sat there watching him write brilliantly, so quickly, was just a massive, massive inspiration."
But if 2015 has really done anything, it's proven that Carner's emotional wordplay is only getting sharper.
"I tend to have more time to write now," he affirms. "But it's still just as difficult, just as much of a fiasco every time. I can't just knock 'em out, they all take just as long as they did before. And I'm usually writing about people that I love. That's the hardest part, doing them justice. Cos they're bound to hear it."
The result is a discerning portrait of South London youth culture; mate's bedrooms, weed, girls, football and family, all elevated by painful honesty and the acute artistic eye so apparent in his self-directed videos.
Take "Tierney Terrace". For all the scene setters the young rapper could've picked to mark his territory, he chose his mum, Jean, and fourteen year old brother Ryan. It's not exactly gangster 101 but it's just as hard hitting. The camera glides through their home, pausing on a photo of his stepdad tacked to the wall, resting gently on Ryan bunched up on his bed with the PlayStation, sweeping down the landing past a bedroom door adorned with a tatty A4 poster, 'Loyle Carner dressing room.' Ending with them all on the sofa, staring down the lens.
"So what are we to do but move with the setting sun / You know I love you like a second mum. Love you for better, from now 'til whenever / Want the family together, I promise 'imma get it done."
It's a delicate account of a family coping with loss. The tears, the jokes, the blank eyed stares and a new perspective that just says hold everybody closer, who cares who sees.
Carner's place on our Ones To Watch list 2016 really boils down to his poignant and pained heart-all-over-the-floor swagger...
Right now, he's working on his debut album. "For the first time in my life no one has given me a deadline, it's up to me. So I don't wanna rush it, I'll ruin it otherwise."
For all the slick old school boom bap and fresh energy pumped into the UK hip hop scene, Carner's place on our Ones To Watch list 2016 really boils down to his poignant and pained heart-all-over-the-floor swagger. A refined teenage angst driven by challenging circumstances and honed with ten years experience stringing sentences together on the fly.
"Every time I write a 16 I go to my mum," he says. "She says she doesn't know what she would have done if I hadn't of started doing this. She's my sounding board. She's quite honest really but most of the time she just goes, 'Yeah, that's beautiful. Thank you. Put it down. Go and get on with it.'"
Get the Best Fit take on the week in music direct to your inbox every Friday