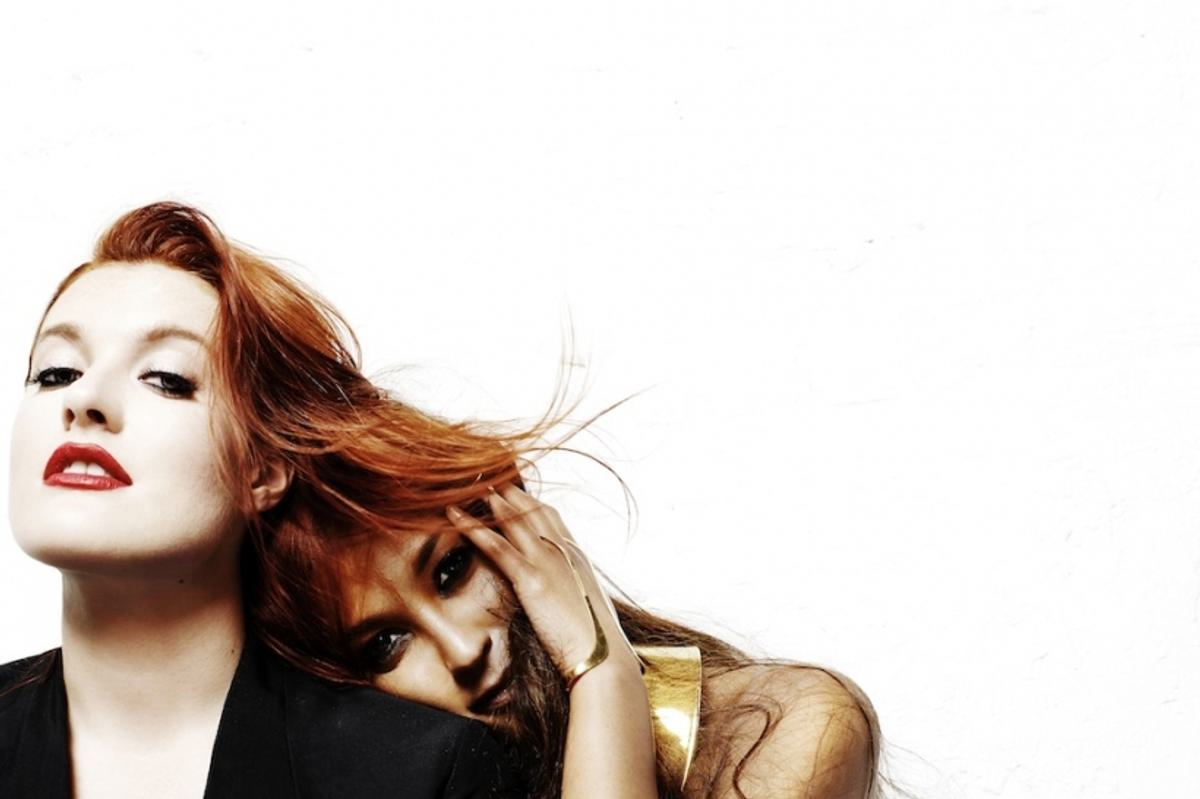 Icona Pop: "We'll have some new music for you very soon"
25 June 2014, 14:00
Best Fit faves Icona Pop have recently wrapped their tour with pop titan Katy Perry. Opening for one of the most colourful characters in pop seems like a match made in heaven, and having the duo warming up the crowd seems to have gone down a storm – who wouldn't be in the mood to party after "I Love It"? Unfortunately, with an enormous touring schedule over festival season, it might be a while before they rear their heads this side of the Channel again. But that's okay, as they've provided some juicy details about album number three.​
After last year's stomping, rousing success that was This Is… – a collection of high-octane, fist-pumping party anthems – the prospect of a new record from the Scandinavian twosome is extremely exciting. They're set to spend the summer months gallivanting across Europe at festivals and the like, but with the pair heading to the studio in the autumn, we can start to get all giddy about the future of Icona Pop. There's little sign of what direction they may take, but there's a tentative release window on the cards.
We grabbed a few minutes with the Swedish pop tour de force at the tail-end of that, discussing their summer plans, Perry herself and album number three.
You've been the UK for your gigs with Katy Perry. Are you excited to be back in the UK? What's your favourite thing about being here?
It's been amazing. It couldn't have been a better way to re-enter the country. We instantly got reminded how nice crowds are here and just how friendly everyone is!
What do you love about the crowds here? How do they compare with other countries?
It's always different every where we go. It's much more hysterical in the US, but it really depends with who you're out with I guess. The Katy Perry crowd is amazing to play for, and you just have to go with the flow, you just have to work it.
What's it like playing with Katy Perry?
It's so great. It feels like a great match! She's such a humble person and amazing artist. It's like this big 'Girl Power' tour.
Have you seen much of her show?
We've caught it a few times, yeah, and there's just so much going on. She makes a hell of a show. There's stuff happening constantly – it's so fun. She's incredibly hard-working and brilliant onstage.
Did you have the chance to get a big set-up for the arena tour?
Not so much at the moment, We're trying to build everyone up for Katy on this tour. It's a warm-up tour for us, we want to get the crowd sweaty and warm for Katy so it's all just high energy and we're playing with the audience, trying to form a connection. Even though it's big, it's possible to reach and make everyone happy.
There's loads more security though. We come from indie stages and we used to stage dive and of course that gets much harder at bigger shows. That's one thing that's a lot different. The coolest thing is to connect with 20,000 people at an arena in the same way as 1,000 at a smaller venue.
What's it like playing these huge venues? Do you get nervous?
I think we hype each other up. We get a little nervous all the time but it disappears when we're onstage because we can just reassure each other and make sure the other is okay. It's comforting to have each other. We're more nervous playing a smaller crowd with our friends 'cause then it's so weird and close. We feel naked.
How does opening for Katy Perry compare to playing with Miley Cyrus?
I think the biggest difference is being in the US or UK rather than the actual artist. The crowd is so devoted for both Katy and Miley, they're both all about girl power and just doing their own thing no matter what.
What do you have planned for after the tour ends?
We're gonna do a mini world tour, head back to Sweden, the States, Asia, then back to Europe within in 10 days. Then we do festival summer in EU! We're gonna try and be here in Europe until September to record our third album. We've got lots of stuff going on at the moment!
Can you tell us what the new album will sound like?
It sounds amazing at the moment! We're making it now. We're playing around with different things, trying out stuff here and there. It feels good to be in the studio again! We've learned so much since This Is…, and we were a lot fresher last year, but we've found our team now and It makes it easier to get what you want when you've got everything like that sorted out.
Will we see you in the UK again this year?
Not sure. We're gonna come here and write, so maybe something will happen? We might. I dunno. I'll have to check that out – our schedule is a mess at the moment! We definitely should though.
Definitely! Are there any festivals here we can see you perform?
We are doing Roskilde, some in Sweden, Denmark, Finland, Austria, Germany, maybe the UK. Almost everywhere this year!
Are you looking forward to going home and playing Sweden?
Oh yeah. It's always special to come home. All your friends are there.
Are you planning to linger at the festivals or will you be jetting off to the next one as soon as you finish the set?
I think were planning on staying to watch some bands at Roskilde, we don't have much time though. We're playing like everything in Sweden!
We are looking forward to Prodigy at Way Out West though. Roskilde always has an amazing line up as well. We don't have the time to just chill out, but we're going to camp at the festivals we're playing and try and catch a few sets around.
Are you working on anything new at the moment? Are you working with anyone exciting?
We're doing some collabs…
I'm guessing you can't say who?
We can't say yet, we don't wanna jinx anything! We're gonna work with Patrick Berger again, the usual crew, and some new people from the road. We have never written with a clear picture or the colour or vibe of the record in mind, or planned out every track in detail, we just go in focusing on songs we like to play and sing. I'm excited about how it's gonna sound. The last album we released, the beauty was we just went in and made pop – there was other stuff like dance and punk and rock in there, but it was still pop that we loved. It was our pop. It's always interesting to hear the songs lined up one after other 'cause they sound so different in the studio when you hear them on repeat.
How's it coming along?
We've got couple of songs down. We're definitely not even half done. We're hoping to release it beginning of next year! We had originally thought that we were gonna take our time, and write, and play, and have a break, and thought maybe in 3 years we'd have a record, but we had so many ideas we were just like "nah!" we'll do it now!
And finally, do you have any other plans for 2014?
Writing, playing, travelling. It's gonna go so quick. We'll have some new music for you very soon. Expect to hear stuff in a couple months! We're gonna keep on going and doing what we're doing now… gonna charge our batteries in sunny Sweden and see family though, which will be great.
Icona Pop's new Sweden-only single, "Get Lost", is out now.