This week the singer, and fledging songwriter, born Harvey Leigh Cantwell, was supposed to release his long-awaited debut album Can Anybody Hear Me, but now it's forever destined for the cutting room floor. Not your average rising pop star, at 21 his music has earned him cult status among fans and his current stint on Strictly Come Dancing has him winning over Saturday night prime time tellyheads across the country.
First delayed by a pandemic-related pushback in order for a round of touring to better align with the release, the record was then scheduled for November and the tour pushed way back into 2021. But last week everything changed, after "weeks and weeks of worry and stress and sleepless nights", HRVY announced to fans that he has decided "to pull the album down."
In an emotional newsletter update he explained "I don't want this to be my debut album and the first album you hear from me as an artist, as it doesn't define who I am now." A collection of songs that he hoped would prove "I don't just post Tik Toks," is now destined to remain locked away. Sure it's disappointing when something you've been looking forward to suddenly disappears, but it's a familiar feeling this year and in a year where fans of pop artists are quick to take to social media and attack, Cantwell's loyal supporters remain understanding as they wait in anticipation for what's next.
It seems like a wise decision, wherever it's come from. Cantwell notes that "by the time [it came] out the unreleased songs will nearly be two years old, some even written over three years ago", this doesn't include hits like "Personal", a 2017 release, which was set to star alongside collaborations with electro-dance producers Jonas Blue, R3HAB and Sigala. He's certain the wait won't be as long with an announcement seemingly imminent. He's already shot the artwork for the next project and been recording in the studio as well as "writing songs I love and actually want to release."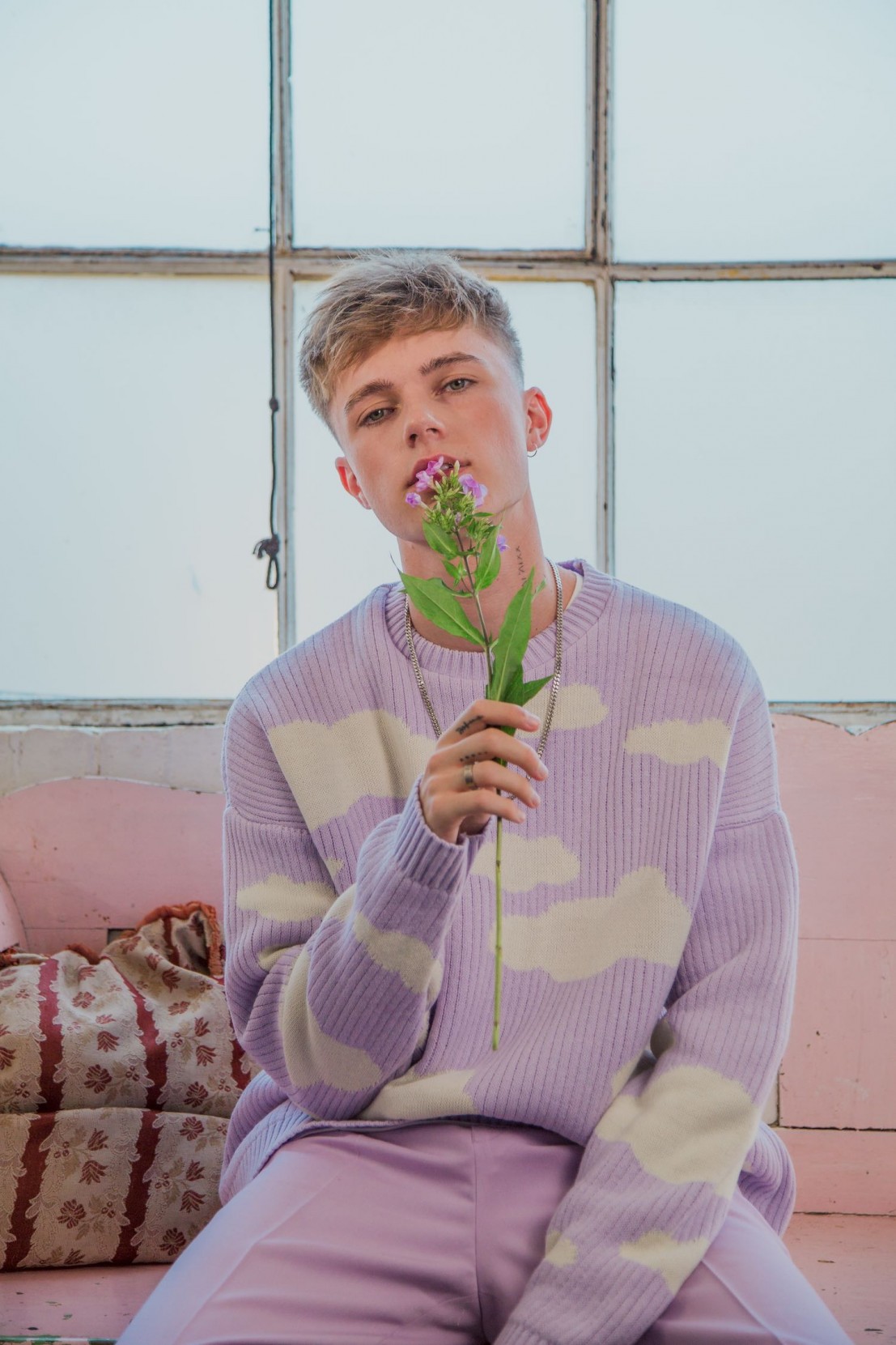 Social media has always played a huge role in Cantwell's success, hence his desire to break-free from the perceived stigma of social stardom and rewrite his legacy as a musician. His long-buried debut single "Thank You" released in 2014 hit 73 in the UK singles chart, a not too shabby achievement in the pre-streaming era. Around this time Cantwell was gaining traction covering songs and posting them to Musical.ly (Tik Tok's predecessor). As one of the breakout stars from the original iteration of the app he'd created a platform through which he had fans watching his every move.
Though this was not the artist's first flirtation with posting videos of himself singing online. The road to HRVY and his career as a musician began with a Dell laptop at age 12. "I could record myself singing," he explains of his Christmas present's photobooth feature. "I was singing a Michael Jackson song and we filmed it, and I started showing all my grandparents, and they were bigging me up." Thinking they were just doing what any grandparent would do to their grandson – praise them unequivocally – he thought "it was just my nan and grandad being nice."
His grandparents' support wasn't surprising as they had always been cheering him on from the sidelines, ever since his first endeavour into the arts when he enrolled at a local Stagecoach Performing Arts school. "That's where I fell in love with dancing, singing and acting," Cantwell remembers. "I used to go there every Saturday, my brothers would go and play football and I'd go and sing." This was the same for most of his friends too, and it wasn't until he became involved in the community Stagecoach offered that he had the revelation that like-minded young people, who shared his interest in getting out onto the stage, existed. His lightbulb moment realising "oh, there's people like me."
Speaking of his classes there, where he got to grips with all the basics, the thing he remembers most fondly is the way this experience instilled a new confidence in himself and his peers. "A lot of shy students would go there and they'd end up coming out of their shell after the first term and they'd be up on stage singing and dancing." Cantwell says "if you could see some of the stuff we came out with, it was really bad, but at the time I thought I was Leonardo DiCaprio and I thought I was Beyoncé singing, I thought I was everything."
A fan of the NOW That's What I Call Music compilations, he loved the diversity they offered and aside from other NOW staple artists, HRVY explains that Justin Bieber's "great pop music… introduced me to the whole kind of pop world." On the other hand his Dad was introducing him to rock classics. "I used to be in the back of the car and he'd play U2 and I had no idea what the lyrics were, I just couldn't quite grasp what Bono was singing," he remembers, "so I'd sing along to "Where The Streets Have No Name" and I'd make up the lyrics."
"We all loved music, but none of us really knew I could sing," Cantwell says of his family, before noting that the rest of the bunch are "tone deaf." His older brother's an electrician and his younger brother's grown to love the diverse offering from the HRVY catalogue. The youngest Cantwell is also into his hip hop, "all the 'lil' guys" Cantwell says listing the likes of Lil Baby and Lil Uzi Vert being in heavy rotation on road trips. "When I'm in the car with him alone, without all his mates, he's like can you put on "Someone Like You" by Adele please."
The following year he decided to "post a singing video" to his Facebook profile. His parents questioned it. "I think they were probably scared I might get bullied," he admits, "they were supportive, but they were always questioning it." They knew he had the talent, but were determined he should only pursue this if it's what he wanted to do. Noting the horror stories we've all seen on reality TV with young hopefuls auditioning for the chance to become a star with pushy parents backstage, he says his parents "didn't want to be that mum or dad." Even as they watched their son's social media following grow and the likes roll in on the cover videos by the time HRVY signed his management deal, he remembers his mum's asking his new team; "can he really sing… is my son a singer?"
Getting signed at 15 was a one-way ticket to high school notoriety for the Dartford student. "It was the biggest moment in school, it was insane," he laughs. Remembering the Sunday evening when they got the original call from Alphadog Management, Cantwell was more excited about nabbing a day off school than the outcome of the meeting. A week later he had a manager and then a month or so after that he had a record deal.
"I went from singing in my kitchen to literally performing in a stadium. It all came about because I was supporting Jessie J on my first ever show. It was just mad." Playing one of the opening slots at the Madejski Stadium in Reading for summer multi-artist stack-up this huge stage was almost a missed opportunity. Cantwell's manager had arranged for an A&R from Universal to be there while they took advantage of their one-song-slot with an eight-minute mash-up. "I did well and I just thought I was the king," Cantwell recalls, but what he didn't know is the scout had missed his performance altogether.
"We were backstage after the show and I was buzzing," he explains, ready to perform again, his confidence was through the roof so when his manager pushed him to "show off" for a friend he said was an artist manager working with an artist similar to HRVY, it was a no brainer. He sang. It wasn't until an exciting call a couple of days later that Cantwell realised who he had been singing to.
Following a stint flexing his celebrity as presenter on CBBC's pop culture magazine show Friday Download, Cantwell returned to music releasing his debut EP in 2017 through an even bigger deal with Universal and Virgin EMI. A priority for the labels from the off, Holiday was a mish mash of radio-ready hits which showcased Cantwell's voice, the instrument which started everything. Then came "Personal" which is still racking up millions of streams.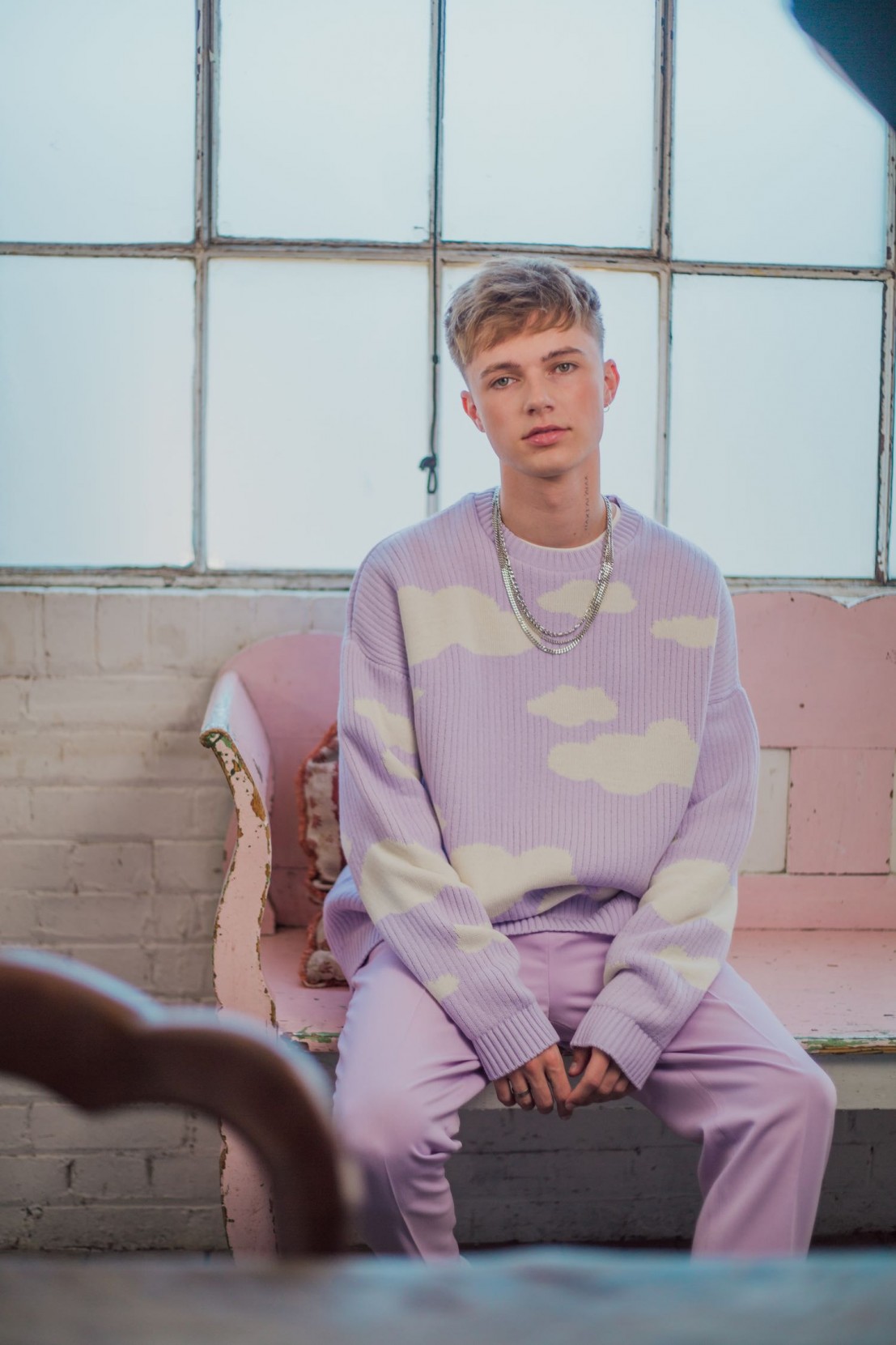 "I owe that song a lot. As much as I always joke about it's only song and I have to sing it all the time, it is the song that really boosted me out there, I will always love that song. I remember first singing it and hearing it and I was like that's a banger. I was very excited. It's the one song that has projected me internationally, not just in some parts of the UK, we've had tour dates in Japan, Asia, Australia, America, through this one song. I'm actually sitting right now looking at all the discs for the certifications for "Personal", it's quite cool actually."
Singles and collaborations followed, as did huge performances, all building up the HRVY brand and cementing his status in the pop world. He remembers playing at Wembley Stadium for Capital's Summeritme Ball and the agonising wait before he rose out of the stage like a true popstar; "you have to support yourself, you're kind of like squatting and my legs were shaking so bad I was that nervous." He also remembers playing his first headline show at Hoxton Square Bar and Kitchen (now Colours Hoxton), which he managed to sell out. "I only sang covers, because I had no original music out then, so it's been quite a nice little journey." Having seen him perform a solo show at The Garage in 2018, his set was packed with original material to which his fans knew every word.
Cantwell began to get more involved in the songwriting and creative process as he got older, and in turn more proud of the music he was making. Speaking about the now shelved album, he said "this is to prove that I don't just do social media, that I don't just post Tik Toks and that's it, that I genuinely have a passion for music and that I always have."
The record came together mostly at a writing camp, where songwriters all get together for a period of time where they're contributing to one project, in this case it was Can Anybody Hear Me which in Cantwell's words "is a musical journal from the last three years of me growing up." It was during this time he began to feel more confident and assured in his skills as a storyteller with his own writing. "I felt a lot more involved in the music," he explains, noting that standout track "LDN 2 LA" was very autobiographical because it's basically how he's spent the last few years "travelling from London to LA and meeting someone" along the way.
With more meaning behind everything, it's a trend that's sure to continue as Cantwell prepares his next chapter. "Even through lockdown I found myself writing songs on my own, which I never thought I would," he admits, a battle with overwhelming self depreciation he's starting to get over and after all songwriting is now something he enjoys. In a tweet last week he reflected on his decision to shelve the album saying "I'm sad, but also excited for next year, it's the right thing to do… I had to follow my heart on this one and for once go with my gut feeling." 2021 is sure to bring new highs for HRVY and he strives to trust his instincts and craft music that is more personal, authentic and representative of who he is behind the smoke, mirrors and sequins.
"Am I The Only One" with R3HAB and Astrid S is out now