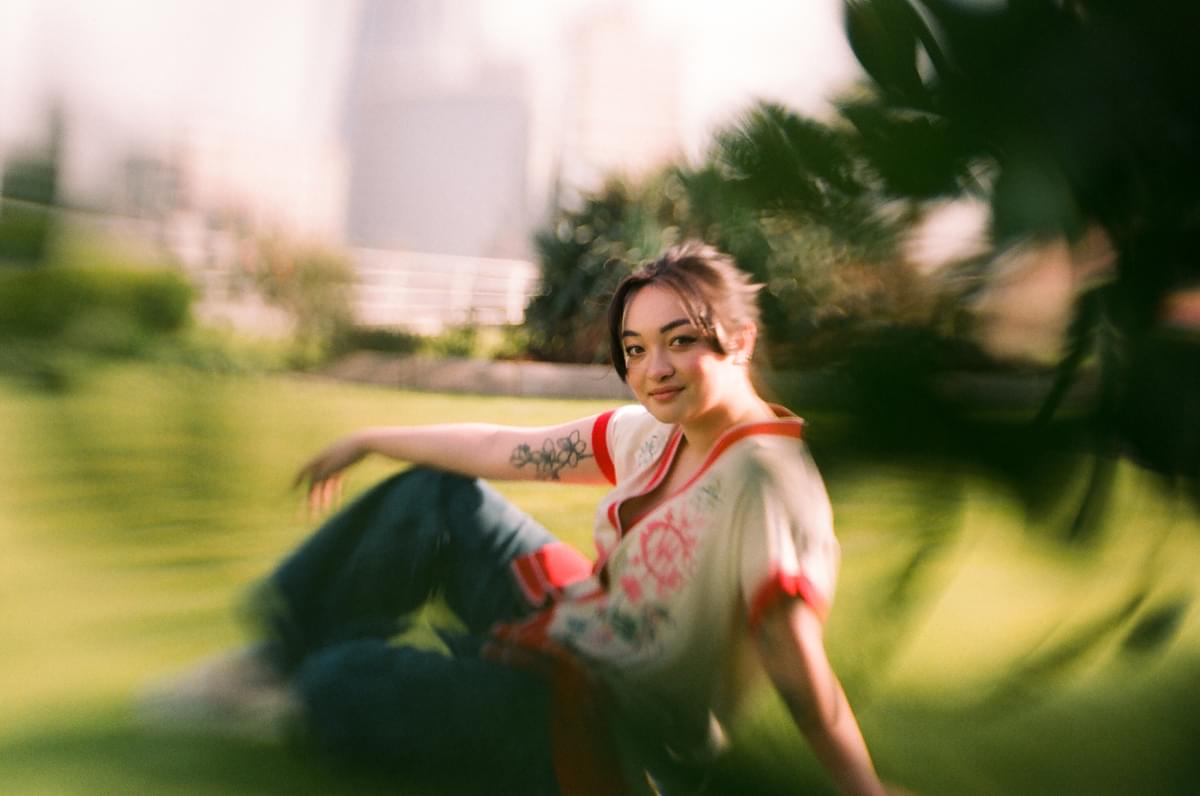 How mxmtoon became an internet musician mom
16 May 2022, 11:30
With every project the enigmatic and mxmtoon – aka the California-based mononymous creative Maia – makes, she ups the ante, bringing more and more energetic pop furore into her once easy, breezy ukulele-led sound.
Five years into her journey as a public figure, 21-year-old Maia is doing her best to keep herself grounded. "There's been moments where I've wondered, how do I make this feel like me?" she explains, "it's such an interesting position to be put in when you start when you're 17 years old."
Not the same person she was all those years ago, Maia describes the process of re-introducing herself with every release as a process of evolution: "You live more life, and you find out more about yourself, growing up is an ever-changing process and I don't really have that fully figured out," she tells me. "It's an ever evolving process of allowing my music project to exist in a fluid way, instead of feeling like it stagnates me as a person."
One of the biggest changes in the music of mxmtoon is showing the world who she is, rather than hiding behind the character she's created. This in itself has been a journey filled with internal conflicts, she tells me" "I was very stuck in the kind of preconceived notion of who I am based off of my first early music, and I have so much love for the person that wrote those songs, but I don't know if I would write [something like] "feelings are fatal" nowadays."
"Feelings are fatal" – a song taken from the first mxmtoon EP plum blossom – explores the exertion of emotional energy on others to the point where you're left with nothing for yourself. Maia says "it's sweet to look back on it, but that was a very specific point of where I was. I'm just very far past that now and I need to tell people that."
When it comes to new album Rising, she explains that "a lot of the songs ended up being very introspective and retrospective, [I was] looking at myself from an internal viewpoint; where am I right now?" In the midst of a pandemic, Maia could ponder that question at length: "We've [all] had so much time to think about who we are and what our stories are going to be."
A lot of Maia's story has played out online, through various social media platforms with one of her big breaks coming off the back of early viral single "prom dress". There are fans who've stuck around from that moment and Maia describes the relationship with her audience as "very close… in an unusual way." Her connection goes beyond the usual parasocial interactions artists and their fans dance often around too. "I know their names," she explains. "I've watched them graduate, choose their majors and even at the show tonight I know who's coming."
From sifting through her tagged photos and direct messages, Maia explains the privilege she feels that this works from both sides. "I've been able to grow up with people online and to watch them find themselves," she smiles, "it's been really sweet to see people grow into understanding who they are, whether it's finding out that they like certain pronouns, or like finding out that art is something that really speaks to them like that. I feel so honoured to be able to be a part of their journey as much as they're a part of mine."
There's a specific fan who's coming to the show tonight that Maia has "known for years", and while she "doesn't want to put her on the spot," she tells me about Harriet who's been running an mxmtoon update account with her friends. "I remember the very first time she made a drawing for me, it was like very early on when the masquerade came out in 2019. Just seeing how good at art she's become over the past few years, it's so cool. I get to watch your progression as an artist and see you grow up as a person."
Harriet's not the only member of the mxmtoon community that has forged a deeper relationship with Maia though. "There's so many other audience members," she says, "and I don't even know if I would call them fans because they feel like my younger siblings almost and I'm just connecting with them. I don't really meet them in person, but I can still root for them on the sidelines."
She's very aware that her audience don't know every single thing about her. "There might be a level of familiarity that I do have which is slightly deeper than other content creators online, but we're still strangers at the end of the day," she says. She views herself as a mentor, more like an older sibling, a role nodded to in her Instagram bio: "your internet musician mom."
"I try to operate off a basis of empathy and kindness and patience and I think that that translates at my shows," she explains. "These kids are so kind and they're really respectful and just wonderful human beings. I don't want to take credit for that, but I think you do kind of create a culture of the sort of energy you want your people to give back to you."
The sense of community between Maia and her audience is so strong she even ended up on a Zoom call with some of them for her birthday. A group of 50 people from Twitter, who had all originally connected over their love of mxmtoon, invited Maia to join them to celebrate her 21st birthday together. "They had organised it so people from different time zones could hop on and we did a group trivia thing. I was in a group with some of them and it was so sweet. They tells me they've met some of their closest friends through my music and that they're so grateful to have found a space online where they feel accepted and that's all I could hope for."
Maia resonates with that experience of feeling like an outsider when you're not online: "mxmtoon began because the internet was an escape point for me to be able to talk with people or at least consume the content of people that I felt like could understand where I was coming from," she explains. Whether it was young people discussing their queerness or finding other Asian-American content creators, one video that stick in her mind is Troye Sivan's coming out video. "I was like, damn, I think I might have to tell my mom something," she remembers. "It was so visceral to me, the Internet has always been a safe haven for people to discover more about themselves, and to also share that with other people in a safe way. The reason I wrote songs is because it felt like it was a place where either no one would pay attention to me or maybe somebody would find it and they could resonate with it, and we could become friends."
Between the music and making supporting video content to build the mxmtoon brand across Instagram, TikTok, Twitter and beyond, Maia sees mxmtoon as stretching beyond the confines of the musician label. "I would classify myself as a creative, I think in the most general sense of the word," she explains. "I'm just doing everything all the time, but I think content creation is probably a slightly higher level than what I've ended up doing in my own day to day, I think I'm just a person with an internet presence."
When we speak, the discourse around fans at Mitski and Clairo's recent live shows has is a talking point on TikTok, with both artists winning massive exposure – and new fans – thanks to viral moments on the app. One particular example is a fan shouting "you're so hot" while Clairo performes "Blouse" – a song she wrote about being sexualised in the workplace. 'I'm so glad you brought this up, because I've seen this on my FYP and I've seen the way people really dehumanise artists when they're on stage," Maia says. "It's like did you not listen to a single word that she sang? That makes me really pissed off. If you don't take the time to actually understand who that person is, if you don't know that Mitski literally left the internet because she was so sick of dealing with people's shit, that's on you, you needed to do the research, you needed to get the background before showing up to the show. I know some people would probably be like, 'that's not my responsibility,' but it is when you pay a certain amount of money to go and actually experience this.
"Especially with female artists as well, the level of disrespect that we experience at our own shows is going to be so much higher, it's like yes I identify as the internet musician mom, but I do not want to be called the mommy when I'm on stage. There is a difference between being sexualised by people and being hyped up."
Amongt the chief complaints of Mitski fans was talking through the majority of her set and sitting on the floor until she performed "Nobody". Drawing some comparisons to the time her own song "prom dress" was going viral, Maia is thankful that her audience has always respected her; she notes "when 'prom dress' was blowing up, it was always the loudest song in the room!"
"It is interesting to see people complain about it when they go to a Mitski show and [people] only know the lyrics to 'Nobody'," she adds. "It must be pretty infuriating as an audience member to be like 'I really like this artist and I'm excited to be surrounded by people who also appreciate them on the same level' and from an artist perspective, I want people to be respectful in the audience, but I also am just grateful and I'm totally fine with it if you only know one song."
Discord is another platform where mxmtoon gets to connect with her fans – but also a space where they can connect with each other too. Dating back to 2020, it's one of Maia's favourites: "It feels like a chat room where anybody can kind of express their interest in something," she tells me. "We have these sub genres where people can talk about the food they like. So it's not even necessarily about my music. It's just also about building a community of people who have shared interests."
There are pockets of time where it's more active than usual too, and it's usually in these moments that it's the most fun. She remembers how the Discord blew up when everyone online was discussing whether there are more wheels or doors in the world. "We would change our nicknames to have team wheels or team doors on it," she laughs, "pretty much the consensus was that there are more wheels and I feel like Lego wheels by themselves would outnumber the doors that exist in the world, but that's just me."
As fans speculate what the rest of Rising will sound like, Maia tells me the impact that ABBA has had on her sound. The legendary Swedish group is name-dropped in her single "sad disco" and she recalls growing up with the Mamma Mia movie as her gateway into their discography. "It was about 'how can I translate that feeling into what I'm making now?'," she explains. Carly Rae Jepsen is another influence and the pair collaborated on "ok on your own" back in 2020. "It's so enjoyable for me to listen to her songs," she says. "I want to provide people with the same joy that I experienced when I listen to that music in my own world."
While joy runs rampant on Rising – with the unsuspecting "frown" delivering a moment of euphoria – the album's centrepiece "florida" is a sentimental, heartfelt dedication to Maia's late grandfather, written following a visit to see him one last time, in the middle of 2020."He loved music probably more than I loved music," she remembers, "and he really inspired me with the joy he felt when he listened to songs and when he sang with his guitar. I remember sitting with that experience and thinking about that trip for about a year before I felt ready to write a song. It was the perfect example of how songwriting is such an emotional release, when you feel ready to actually talk about something."
Told from her grandfather's perspective as an 81 year old nearing the end of his life, Maia notes, "it's such a universal experience that we think about getting older and talk about the people that in our lives that we love, but it's also important to pay attention to them. A lot of the songs on Rising are about being 21 and being like 'I have no idea who I am and I'm kind of sick of it and I don't know where I will go,' so I really love the connectedness of my experience intermixed with talking about his story as well."
Rising by mxmtoon is released on 20 May via AWAL
Get the Best Fit take on the week in music direct to your inbox every Friday