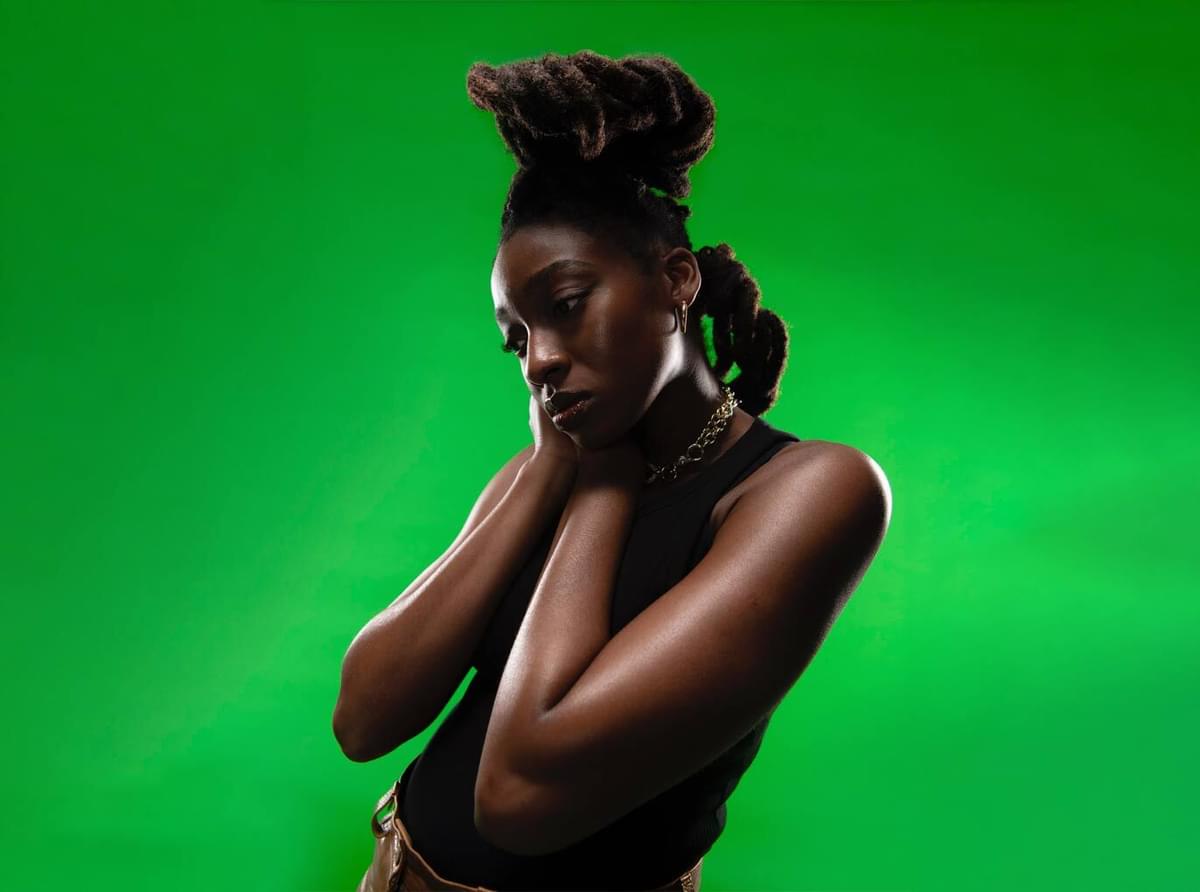 How Little Simz turned introversion into power
13 December 2021, 15:00
Little Simz tells Hannah Browne how Sometimes I Might Be Introvert – BEST FIT's album of the year – was built on collaboration, introspection, and ambition.
Little Simz has been around the block in the past decade. Her music holds a mirror to cultural zeitgeist while having a swaggering confidence, though, this year, she departed from the greyscale in favour of a lavish gold.
"I'm cool with letting things go, as personal as they are," she says of Sometimes I Might Be Introvert – her fourth full-length album, released in September. But with lyrics that reflect the tension of fame, broken societal systems, and most significantly, her relationship with her absent father, it's not been a simple overture. Purposeful and precise, the record has been a vessel for the moments where Simbiatu Ajikawo took ownership of saturated clichés; for these nineteen tracks, which capture a gravitas amongst its charismatic glow, tell the story of the yin yang dichotomy between Simbi and Simz.
Simz is fresh off the buzz from her newly aired performance on The Late Late Show when I get her on Zoom. The praise succeeding the album has landed her in a whirlwind of promo, including a three-storey high billboard in collaboration with New Balance (which can be found in Islington Chapel Market, where she used to spend Saturdays at her auntie's stall), a plethora of international TV performances, and a largely sold-out UK tour.
In a way, unpicking Simz feels like an impossible challenge. She is amiable yet considered in her words and is keen to reflect her truest self at all moments. "As much as I knew the music was crazy, I've been doing this for a very long time and I still have the same ethos from when I was fourteen, to now," she tells me.
Simbi was born in 1994, the same year that gave us Lauryn Hill's debut in The Fugees, Outkast's Southernplayalisticadillacmuzik, and Aaliyah's "Back and Forth". A music lover with an eclectic taste for as long as she can remember, she tells me that she was "raised on legends."
"I'm Nigerian – I grew up listening to Fela [Kuti]. That's always been in my house, so of course, that's naturally been instilled in me. Smokey Robinson too." For Simz, these influences aren't consciously channelled into her sonic palette, though, admittedly, the Smokey sample on "Two Worlds Apart" is in plain sight. "I've never wanted to be a jack of all trades or a master number, I genuinely just enjoy dipping into different styles, but also making it my own."
Aged fifteen, Simz released her first mixtape before her debut album, A Curious Tale of Trials + Persons, arrived in October 2015 (three additional tapes and five EPs later). All released via her label Age 101 Music, her story is difficult to describe as anything other than personal. She's since been shouted out by Stormzy at his headline set at Glastonbury, co-signed by Kendrick Lamar, landed a role in the Netflix show Top Boy alongside Kano and Dave, and secured the Mercury Prize for GREY Area.
Held in acclaim, too, as Best Fit's 2019 Album Of The Year, GREY Area was a call to arms. A magnum opus of everything she'd been teasing out to that point, it was perhaps the most exciting rap release since Kendrick's DAMN. "I don't really feel the pressure of trying to top anything," Simz says of the record's praise, "I'm always going to be exploring. I don't think that this album sounds anything like GREY Area, and my next probably won't sound anything like this, you know? It's a constant evolution."
As she puts it on lead single "Introvert", Sometimes I Might Be Introvert (tacitly, a backronym of her name, S.I.M.B.I) sees a reflection inward, after a time of projecting outwards. Trading braggadocios lines like "I'm Jay-Z on a bad day, Shakespeare on my worst days" (from "Offence") for "Simz the artist or Simbi the person? / To you I'm smiling but I'm really hurting" on the album's opening track, listeners quickly learn of her sonically immense mission statement.
"Introversion is my superpower, it's something that protects me and shields me. I am this way inclined but in the same breath, I'm not unconfident in myself – I'm very confident. I just know that I haven't got to necessarily be the loudest person in the room," Simz explains. What she does, is just do her thing. "Sometimes, in an industry like this, you feel like it might require you to be extroverted because you're always in front of the camera, you're always on stage. So, when you're away from that, you have to be the same."
Popularised as a psychological term by Swiss psychoanalyst Carl Jung over a century ago, there are figurative misconceptions about introversion. Predominately, is the notion that introversion is the same as being antisocial, quiet, or withdrawn. Nonesuch portrays itself on S.I.M.B.I, rather the intended, modern Latin verb, in the general sense to turn one's thoughts inwards. "It's about showing people that you can be yourself and exist in whichever space you want to exist in, and that's fine. Someone will love you for it, so you take that and make wicked art."
Talking in the second person, Simz holds herself at some remove; as to understand Simbi and this album is to understand a higher power. Somethings, she says, don't have an explanation. "I pushed my pen, it is my art, but I'm a firm believer in God and sometimes God works through me - I trust that."
While Simz was somewhat surprised by the lyrics that poured out, she nurtures the way the album can take on a greater meaning. "It's very special to be able to talk my truth and as much this album belongs to me, it also doesn't. It can have so much significance in other people's lives and I don't control that part. I think it's wicked that it gets to live on through me, past me, beyond me."
"People I know I can lean on, and I can talk to about anything - that's my foundation of support. They can call me on my bullshit and check me, but also encourage, drive, and push me."
Written in the vein of a self-reflective memoir, S.I.M.B.I refuses to yield 'woe is me' ballads. Instead, her stories are her strength and are bound together with interludes to guide her younger self through a journey of self-exposition. Not only backing herself, Simz also has the full support of those held nearest to her, including elusive producer and childhood friend Inflo (Michael Kiwanuka, SAULT, Adele). "That's my brother!" she shares. "We've been working together for a very long time; we've always had good chemistry; he just gets it."
"I'm also surrounded by a very tight family and friends that I went to school with that runs fifteen to twenty years deep. That's my foundation of support – people I know I can lean on, and I can talk to about anything. They can call me on my bullshit and check me, but also encourage, drive, and push me. Everyone's just held me down throughout this time and given me advice."
"Whether or not I listen…" she questions while laughing, "I can still hear it. There's always a space for them to speak and share their truth, and I take what I want from that."
Not least, Golden Globe-winning Emma Corrin - aka The Crown's Diana Spencer - renders inspiration with a cinematic vividness. In a first-time collaboration, Corrin starts rolling mid-scene: Simz has touched upon mental health, political awakening, and societal turmoil, while her methodical rap flow and forty-piece orchestra are an open-eared listener's frame of reference. But on S.I.M.B.I, she doesn't just have her finger on the zeitgeist, she becomes the zeitgeist.
"It was calling for narration. I was going to do it myself but it's nineteen songs, and that's a lot of my voice," Simz shrugs. "I thought it'd be nice to have a third party join and break it up to help tell the story with me." Inspired by watching The Crown during downtime in the studio, she reached out to Corrin upon falling in love with their performance. "I wasn't even sure what I was thinking, but the worst they could tell me was no."
As it turns out, in Simz's words, "they were down." Told in five spoken-word interludes, the story is more than just a product of musical influence. The fingerprints of fables and Alice in Wonderland-esque fairy tales can be found just as easily as teachings from Simz's upbringing, as Corrin guides the protagonist.
"I'm not one to be put in a box. I've not liked labels from day one, I'm just me."
It's a similar streak of creativity that led Simz to produce her own sentimental self-portrait in "I Love You, I Hate You". Based on the track of the same name, the twenty-two-minute narrative "focuses on repressed memories" and sees Simz star as leading character Sage alongside Shaniqua Okwok (It's A Sin, Small Axe), C.J Beckford (Big Age, National Theatre's Small Island) and newcomer Sonia Ajuwa.
"I've always had a deep interest for being behind the lens as much as in front of it, but this album made me want to up my game in all aspects," Simz says, "it made me want to push the boundaries, challenge myself, and bank on myself. Whether that's directing 'Woman' or playing the lead and exec-producing my own short film, I felt like because I levelled up in music, it made me want to level up everywhere else too." Directed by Sam Pilling (The Weeknd, Chaka Khan, Major Lazer), Simz gleams "everything I do is collaboration, I work with people that I think are wicked."
Jeremy Cole, her Creative Director, recalls the moment of the visual identity coming to fruition. A part of her team for over eight years, he tells me of the "clarity of the ambition." "When we started this project, Simbi had a different intention. It was clear that she'd mentally reached another kind of stratosphere creatively." What started as a task to bring the visual language of the album together, became the objective to "make it feel like it was something of the future, but still classic."
The separate music video for "I Love You, I Hate You" was directed by Cole and he details the challenges of elevating ideas when pulling from personal storytelling. The video provides a vivid portrait of public and societal perception while outlaying a narrative of a strife father-daughter relationship. "We worked really, really, really closely," Cole emphasises, but despite feeling the heat of responsibly servicing personal storytelling, he found solace in the narrative being open enough for viewers to draw their own interpretation, as the pair intended. "I can bring ideas and concepts into the space, but that comes from learning what her intention is. It's more of a co-direction in that respect."
In reflection, Simz has learned that trying to appease the masses would be a disservice to her integrity. "I think it's important for artists to know how much their vision matters. People think they know what you should look like or sound like or dress like, but you only know that yourself. Throughout this whole campaign, I made a very conscious decision to be across everything and make sure that I'm telling this the way I want it to be told because it is my story. It's my name, I have to protect that."
As a result, cohesiveness permeates the Sometimes I Might Be Introvert. A former underdog in the rap game, Simz's visuals, sound, live performance, and styling have all witnessed a shift. "I definitely feel it," she says in response to whether she's being taken more seriously, "but it's whatever at this point; I'm more focussed on the people that have been here for it and are still here for it. I want to give them great art – and I mean that in all forms – even though people know me for music, I'm not one to be put in a box. I've not liked labels from day one, I'm just me."
Time has passed her by, and even though she is several projects deep, Simz feels blessed that her voice is finally being heard. "For a long time, it was like standing on a stage with a microphone, but the mic isn't on and you're just having to scream all the time," she mourns. "But now, I feel like my mic's finally been switched on, but I've had to walk off the stage, go to the front of house, and turn it on for myself, you know?"
Cole agrees too; "It's been a real pleasure to see people embrace the album. Since I started working with Simz in 2013, I've seen a lot of times where she's made music, but either been ignored or she just hasn't been championed. Now, it's about how people are living with it – seeing that grow is the biggest award."
While Simz's UK tour is fast approaching, or likely ongoing at the time of publishing - which includes three nights at O2 Academy Brixton – talks turn to the next decade of her career. "I'm still learning Simbi," she mellows, "I know who I am but I'm constantly discovering other things that I am into. In another ten years, I hope to have inspired the next generation of artists and show that regardless of where you're from you can make something of your life."
"That's all it is really – I don't take myself too seriously, these days, I'm just trying to have a good time because if these past twenty-four months have taught me anything, it's how short life is."
And what about the next project? Simz says there's no pressure. We toy with the idea of a full visual album like the releases of Beyoncé's, Janelle Monáe's and Frank Ocean's past: "Possibly, why not!" she coaxes. "Whatever the music's calling for, I'm always guided by that. I might do an album that has no visuals at all because you're meant to just listen. I'm not trying to do anything without purpose or meaning, so while I could see that, it's whatever the music deserves."
"I'll create when I feel like I want to create."
Get the Best Fit take on the week in music direct to your inbox every Friday