Hello! Welcome to my new column on TLOBF.
In my life I have two loves. Well, three if you count THAT basic human desire (googling pictures of cats), but I don't want to over-complicate things. I love bands and sandwiches. So I thought, why not combine them in an exciting and original way that also means I get a free meal…
This is Ham On Why? Once a month I'll be interviewing a band while they create a new sandwich, then I'll give you the recipe so you can carry a small piece of them in your lunch box on any given day.
First up, London folk lovelies Peggy Sue. Fresh from recording a new album in Bristol, I accosted them with a carrier full of groceries to see if they could create a snack as beautiful as their music…
Hello Peggy Sue. Please, help yourself to any of the ingredients on the table…. The new album then, is it gonna be similar to the last one, is it gonna be a progression? A change in direction? Or is it just awesome?
Katy: It's just awesome.
Olly: The thing is, it's the same set up in that I'm playing drums and the girls are playing guitar… The first album is more acoustic, and now it's got some electric guitars on it.
Have you made a rock record??!
Rosa: Bordering on rock, bordering on rock.
Katy: It's not really rock. If we said it was rock everyone would say 'That's not rock'… But it's like our version of rock.
Rosa: But I think we spent a really long time expanding very slowly with acoustic instruments and then we bought new instruments, and then we tried to write songs with those instruments.
This album, we've kind of gone into it more specifically. Like, we've got guitars and drums and that's what we've concentrated on. And obviously vocals are still really, really important. But that's pretty much it, and we've gone for electric guitars because we wanted to expand the sound we were making and not just stick to an acoustic guitar.
Katy: And also, 'cos Rosa bought two really, really nice guitars…
Rosa: But, whereas in the past we'd have bought something and never really used it, this time we're gonna use electric guitars.
So if the first album was like, a healthy option sandwich, then this album's like a really meaty Christmas baguette? A vegetarian baguette, with Tofurkey?
Rosa: Is this how you're going to interview all bands from now on? Just comparing their music to sandwiches?
Yes.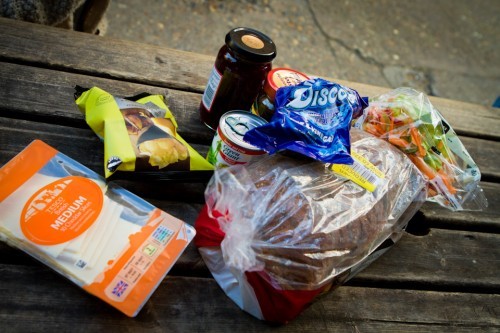 THE PEGGY SUEPER.
Layer One: Bread, pickle, cheese.
Layer Two: Bread, jam, salad.
Layer Three: Bread, frijolemole, sweetcorn to garnish.
Katy remarked, "I think it's gonna taste like shit." It actually tasted all kinds of amazing.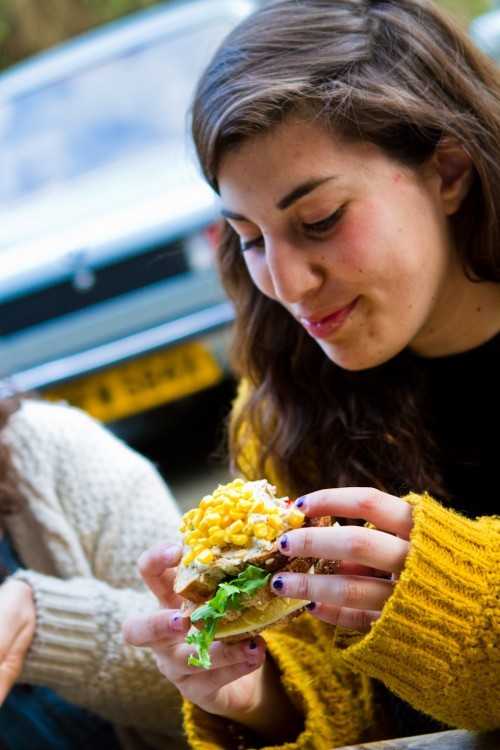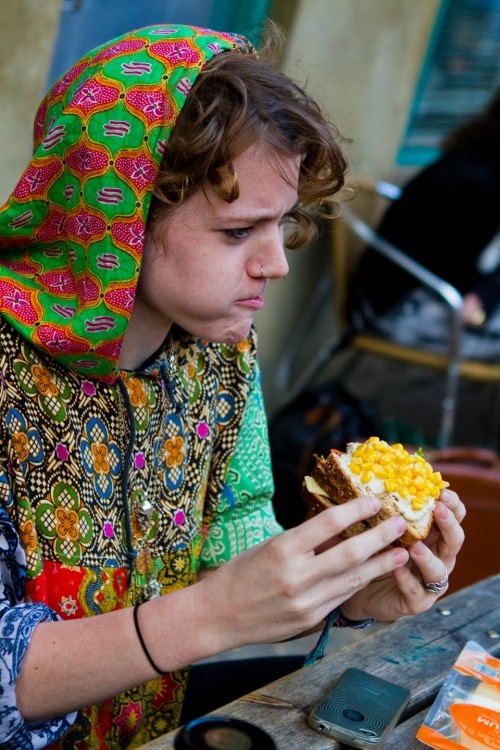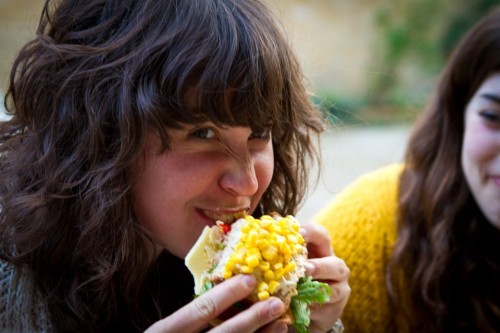 Photographs by Paul Bridgewater.