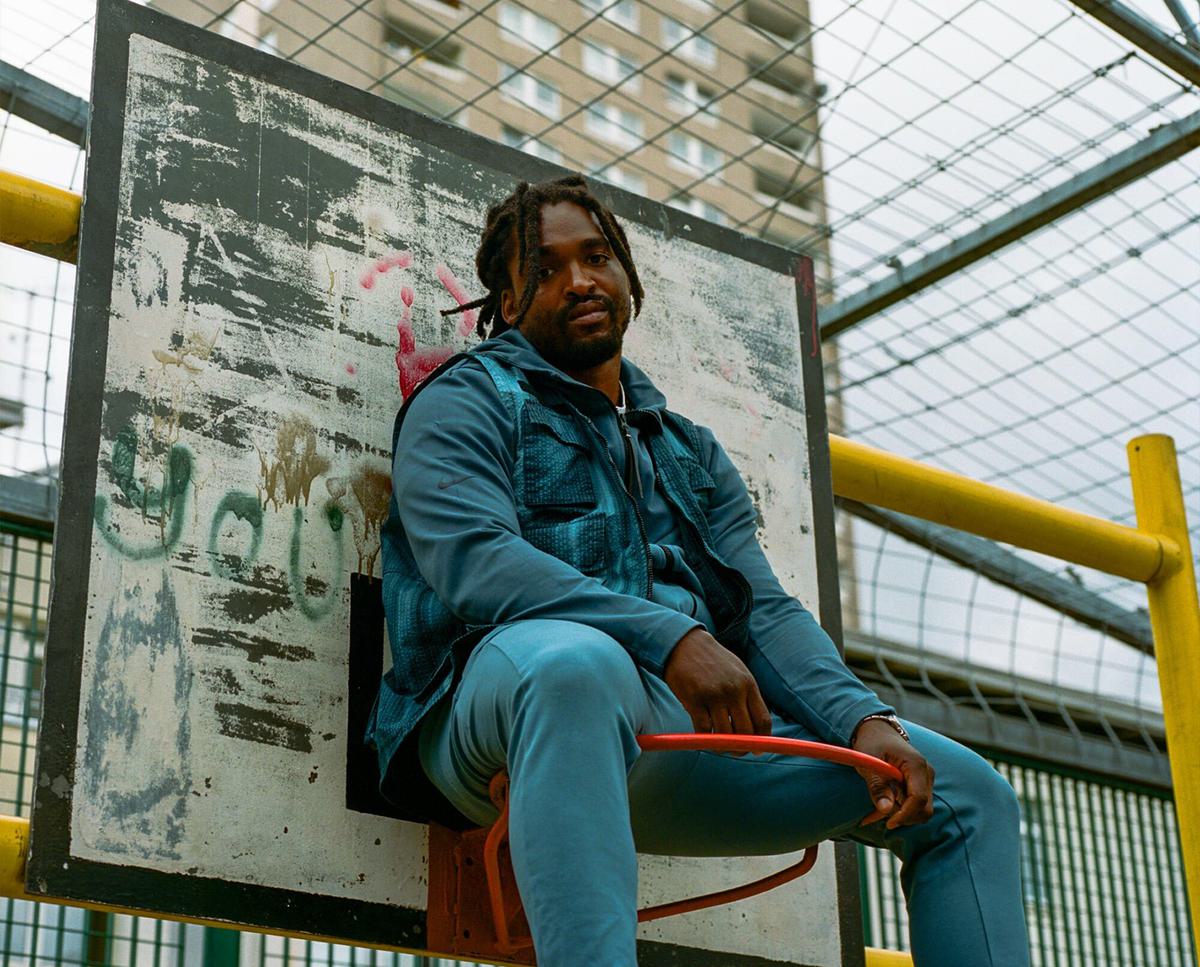 Hak Baker has built a platform for creative expression to allow Black artists to be who they are
06 January 2022, 12:30
Hak Baker rarely talks about himself. Rather than painting a self-portrait, the East-London storyteller and self-described G-folk artist sees the world as a broader landscape, a richer tapestry woven not by a single person, but a community.
Since his emergence in 2017, Baker's sound has been defined by his kitchen-sink vignettes of the East End's inner world; quiet, early-hour musings of a man who has learned to keep himself warm with his memories rather than shrink away from them; a familiar narrator you've passed in the street, trained in the art of people-watching, armed with a pen, paper and his guitar.
His 2019 debut record Babylon was coloured with the truth that there are "No fairy tales in East London", but that there is "beauty in the struggle". Across twelve tracks, Baker reckons with ladhood, stark realities of being broke in dark places and the eroding tide of gentrification – but it's also about love, jubilant weekends, drinking pints at the men's club, and that particular girl you can't stop thinking about. His 2021 EP Misled, felt like "starting again, tying up loose ends". He explains, "I think I got a bit besotted with the past, and it's time I moved on with my life."
But there are parts of the past he's bringing with him, parts that Baker sees an absence of in today's world. He recalls a free party he used to throw with his friends, the namesake of his song "Thirsty Thursday". He tells me, smiling, "Me and my mates used to buy loads of beers, and you'd come in and get a free beer on entry. And we used to have loads of cake – you know the cake you had in school with the hundreds and thousands? We'd scatter them about the place and have artists and DJs come and play, all for free. We just liked people being together that didn't cost a fucking arm and a leg. It's who we are, being from the East End, and that. We're the kind of people who want to bring people together."
"I'm building a platform for alternative, left-field, Black punk and Black music: why not drag some other people I know and respect with me, and give them a stage, too?"
When the youth clubs started to close their doors as a result of Tory-imposed austerity, the spaces where young, Black people felt safe started to dwindle with them. "I know what it's like to be put in a box, to be Black and making music that isn't deemed by others to be what you're supposed to be doing, and how difficult that is," he says. Baker pivoted from being a grime MC as a teenager in Bomb Squad, to finding solace in the honest storytelling of folk music after a stint in prison forced him to recalibrate his world and his position within it. It's that familiar feeling of bewilderment, trying to find a platform for creative expression that doesn't fit the cookie-cutter expectations of what you look like, that gave rise to Baker laying the foundations for curating his own night of artists, Bricks in The Wall, as part of In the Round festival taking place this month at London's Roundhouse.
"I'm building a platform for alternative, left-field, Black punk and Black music," he explains. "Why not drag some other people I know and respect with me, and give them a stage, too?" It started with an idea Baker had to host a night at The Social in Oxford Circus, but when an invitation was extended to him to put on a show as part of In the Round, he knew it would be the perfect place to kick off. The festival, now in its sixth year, aims to elevate the profiles of an eclectic range of artists that is representative of London's multiculturalism, with performances from Goat Girl, Ballaké Sissoko and Vincent Ségal, and a night dedicated to Punjabi Garage.
Why was The Roundhouse the right space for Baker? "It's round, first of all," he laughs, "so we're surrounded by the stage, surrounded by people. It's perfect, man. I feel like people who watch the show will be seeing it in fucking 4D, and feel it. I can't wait to perform on that stage with people all around me. It's going to be an immersion of sound and an immersion of love and energy right in the middle of London."
More than a night, Baker wants Bricks in The Wall to represent a movement, looking to Motown and Punk not only as a scene of music, but a cultural identity: "They started their own shit in their own pubs and people came to enjoy it and be a part of something. That's what I'm trying to do with Bricks in The Wall… allow Black artists to be who they are and scream it from the rooftops in front of an audience. But it's also a place where everyone can come and be themselves, in any way, shape or form. It's a safe place – that's why I called it Bricks in The Wall: you can come here, and you'll be fortified and safe, no matter who you are."
The first night of Bricks in The Wall has a line-up that has been carefully chosen by Baker himself. The first is Connie Constance (pictured above), an English rose who wears her thorns like hard-won armour. Baker has known Constance for many years, and her riotous indie-rock has her crowned as a "Punk Princess", in his eyes. "She gives it everything," he says. "She's unsigned like myself, it all comes from her mind, and she's been doing this for a long time. Being around her, listening while she creates a new album, is fantastic. She gives this energy and presence, and she's one of my favourite artists, so why not bring her?"
Also joining him is Rachel Chinouriri (pictured below), who weaves gentle, gossamer songs over simple, stripped-back arrangements. Baker collaborated with Chinouriri on her track "November" last year. "Another great singer," he tells me. "They don't know what to call her. It's the same old thing, calling us fucking RnB or whatever, just chat shit, when it's far more complex music. She's an amazing singer and songwriter." And what about South-East London's Kai Kwasi? "He's just wavy," nods Baker. "He's a sick guy, expressive singing and lyricism, punk, a full band – a full body of sound. Why would I not?"
And finally, there's Bel Cobain. "She speaks for herself," he says simply. "A revolutionary like Erykah Badu in soul, a great singer – some of the best lyrics I've ever heard, ever, come from a 22-year-old in Hackney, you know what I mean?"
From a personal perspective, Baker felt that to write and perform music wasn't enough. He feels a sense of social responsibility towards the community he not only mines his inspiration from, but raised him to the platform where he now has the privilege to pay it back. "It's just something I need to do," he tells me. "The things I was doing before music wasn't fulfilling enough, I wasn't using my brain enough to reach my maximum capacity for myself. I was just getting by, doing things for financial purposes. It was soulless – and I'm a soulful person. I needed something more. I always knew it was going to come back to music. I got a lot of helping hands and legs up from people where I'm from, a lot of help when I was fucking up and needed guidance. So, if I can do the same, why not?"
Bricks in The Wall is also a reaction to the gutted state of London's nightlife, which has only worsened in the face of hiking ticket prices in gentrified nightclubs that outprice local people. "It's always some kind of fucking dick-wagging competition wherever go out now," Baker sneers. "It's all about 'Who looks the coolest?', 'What am I wearing?', 'Take a photograph of me so I can show an app where I am!' It's fucking bollocks…"
While so many artists are establishing themselves entirely on the internet, signing record deals without having performed a single show, Baker stresses the importance of curating spaces for artists that are just as diverse, inclusive and accessible as communities on the internet. "Not everyone wants to fucking be on the internet, talking about themselves and posting four or five times a day. I fucking don't. I hate it. People don't need to see what I'm doing every day. I've got my own fucking life, haven't I? You know, I just want to give people a place where they can come and listen to music without having their face buried in their phone 24/7. You know, come outside, listen to music and enjoy it like we're supposed to. Be normal. Be social."
The emerging grime scene of the 00s, with its pirate radio stations, grassroots studios and clashes, incubated his expression from his teenage years. It was a world that was not only attainable to - but created by - the Black community. "Everyone was just trying to let off some fucking steam," he remembers. "If you went to the youth club and didn't touch the mic, that was diminishing your chances of bird-pulling, you know? You better come back with the first lyric. That's just what you did, back in the day. You'd meet new people and put your skills to the test."
"People are missing chances of breaking artists, and missing chances with what they're supposed to do with these live venues and letting people perform."
The mistake is thinking that there is anything radical in Baker and artists like him picking up a guitar. "I remember I was asked in an interview what it's like being Black and playing a guitar, and I was like, 'What the fuck are you talking about? This is nothing new.' I think people just like to put things in boxes when they don't understand it." All he knew was that he wanted to play his guitar – so he did. And he was not alone. "Once people stopped laughing at me because I'm playing guitar and started listening to what the fuck I'm saying, we just put our own shows on. Because we're communal people, all my mates came, and all my mates' mates came. We put on one show, and another show, and that's how the sound started to spread. Be fearless, innit. Who gives a fuck if people don't like it?" Now, one of the most enduring memories of performing live for Baker is having grown men crying at the front of the audience – it's something he never thought he'd see.
Baker hopes that Bricks in The Wall will mark the beginning of fostering the change he hopes to see in the live music industry. "They need to relinquish the power, but just let people be themselves at the end of the day, the music does the talking" he says simply. "Just because it's not conventional, don't be afraid of it, man. People are missing chances of breaking artists, and missing chances with what they're supposed to do with these live venues and letting people perform. Free it up, man. Let people do their thing."
Find out more about
In the Round at The Roundhouse
, which runs from 15-25 January and also features one-off performances from Emeli Sandé, Lady Blackbird, Goat Girl, Richard Dawson, Ballaké Sissoko and Vincent Ségal, and The Kingdom Choir