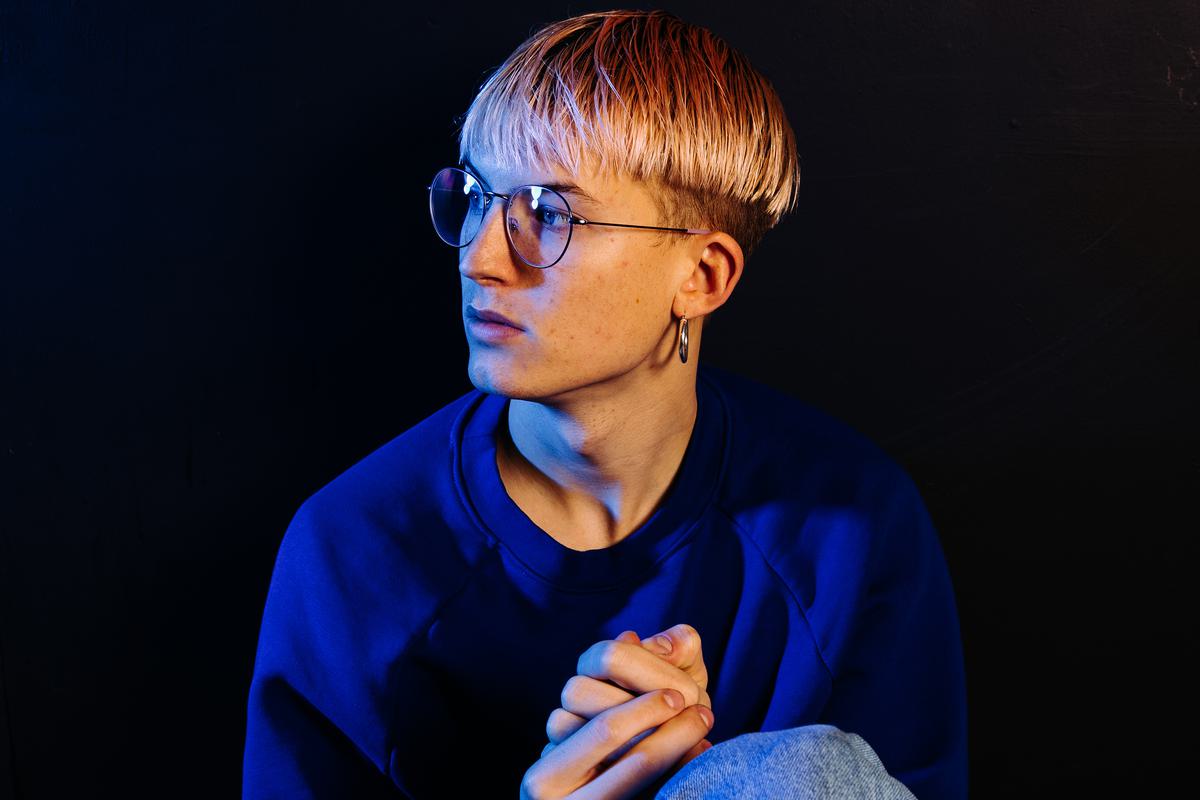 On the Rise

Gus Dapperton
15 April 2019, 08:00
Equipped with an undeniable knack for songwriting and production, Gus Dapperton is transforming the conventions of pop.
"When I was 17 I was really going through it - it was probably the lowest point in my life," recalls Brendan Rice. "My Mac crashed, my ex was dating my friend, I had surgery. I was just really low. Then all of a sudden I had this existential thing, it was like the flip of a switch where I just wanted to be someone who expresses themselves to the fullest 100% of the time. Somebody who doesn't let judgement affect them and how they feel about themselves."
This sounds like the awakenings of a superhero of some kind, and it sort of was in a way. This moment of realisation birthed the character of Gus Dapperton who, since 2017, has brought us two four-track EPs brimming with bright production and quirky songwriting. "I always had a bunch of characters drawn up but Gus Dapperton was there at the back of my head. The music sounded like Gus Dapperton to me, I thought this is the part that I want people to see and I want to be; expressing myself with no limits."
The unbounded void that Rice allowed himself to float in delivered his character at an intriguing sonic identity which references '80s synth-pop, Hip-Hop and psychedelia. An insouciant slacker-rock heart beats through the woozy tone of "I'm Just Snacking", whereas baritone balladry surface in the blueprints of "I Have Lost My Pearls". His forthcoming debut album Where Polly People Go To Read is no different when it comes to variety, from the earworm-inducing synth-pop which holds up "World Class Cinema" to the slow-burning anthemic qualities which pulsate under "Roadhead" and "Coax and Botany".
It's hard to pinpoint some of the LP's subject matter - many of the lyrics are rooted in fantasy occupying a space between nonsensical and more straight-up songwriting. On "Fill Me Up Anthem" Dapperton sings, "My hoe brings home the business / She writes with knives and breaks the skin in print". There's an aura of surrealism protecting what hides in the crux of the songs, just like children's books do to more adult themes. When pressed for influences, Dapperton reels off the big hitters such as The Beatles, Britney Spears, The Smiths and Stevie Wonder alongside two names you wouldn't usually see side-by-side; MF Doom and Dr Seuss=
"As far as lyricists go, I'd never heard anything quite like MF Doom, as far as rhyme scheme, metaphor and alliteration - it's incredible," he says. "Seeing somebody clearly putting so much into the lyrics is inspiring - it feels like yours need to be on that level and on that wavelength. I've always been a fan of Dr Seuss and things like that - those rhyme schemes are quite childlike."
Some of Dapperton's song titles could pass for Dr Seuss or Roald Dahl stories - "Miss Glum & The Pursuit Of Falling" and "Prune, You Talk Funny" are both contenders. In fact, Dapperton is in the process of developing a children's book he wrote with an illustrator friend of his: "We wrote a children's book but we're struggling to work out how to release it. My friend Kenzo illustrated it and I wrote it. We did it for the purpose of working together, he's just an incredible artist."
He remains very close to his friendship group, most of whom have gone on to establish creative professions, while Dapperton's band consists of two of his closest friends and his sister. "I couldn't do it any other way," he says. Clearly friendship is important to him.
He describes his hometown of Warwick (situated just outside of New York) as beautiful but isolated and lacking worldview: "People from the city go there to pick apples and do cool getaway stuff. There's some cool art exhibits up there, there's this one spot called Storm King, it's this big outdoor space where you ride bikes and there's these big sculptures in fields. They shoot a lot of car commercials and movies up in Warwick."
The thumb-twiddling sensation of not having a lot to do in the area made the politics of the local high school the centre of his peer group's universe. "It was very cliquey," he explains. "There were a group of us who were skateboarders from each grade, a group of about 10, we were all outcasts so we were sort of created by default. We all did creative stuff as well." Rice and his gang of outcasts went on to nurture their creative outlets side by side.
I let him know that his name now features on Warwick's list of notable people on Wikipedia. "That's tight," he responds smiling.
If Gus Dapperton's melodic, multi-genre breaching music doesn't catch your attention, then his look most certainly will. He's tall and conventionally attractive but equipped with an unconventional dress sense; in the video for "Prune...", a bright blue streak of make-up underlines his eyes as a granny-style neckerchief hangs over his shirt, lately, he's been seen adorning a shock of luminous green hair in the "My Favorite Fish" video.
"When I was a toddler I was obsessed with putting my own clothes on," he recalls from under the bright blonde bowl-cut he sports today. "I wanted to dress myself but I would always be putting shirts on my legs, my pants on my arms, doing stuff inside out. I would go and find Halloween outfits from previous years and mix them all up, that's what I liked to wear. I used to try and go to school with parts of my old Halloween outfits whether it was a ninja costume, superheroes or Zorro."
As well as gifting the Rice household with some presumably hilarious school photos, this desire to accomplish tasks on one's own seems to have moulded him into the man (or is that 'character') he is today; he still remains a lone ranger. "I don't like to collaborate on my own music at all. I'm sure there's people out there who could do a way better job of producing and mixing my work."
Just as he tried to introduce capes to his school's dress code and squeeze his arms into trouser legs, he still frequently does things the wrong way round, even when it comes to music. "A lot of people record and produce music, then send it to get mixed. I start recording, producing and mixing all at the same time. I'm doing all different things simultaneously then it comes together at the end. I think I'd have trouble collaborating with others on anything but I would like to write and produce songs for other people eventually."
It's no surprise then that Dapperton rejected the parameters that his Audio Engineering course tried to pen him in. "When I first got there in orientation, the head of the music department said 'this is the most competitive programme in the school! Maybe one of you will make it in the music industry! You all need to be at the top of your class!'" he exclaims, adopting the booming baritone of his teacher. "I just thought 'fuck this! I'm definitely going to make it in the music industry because it's all I want to do.' Even if I made it in the music industry by the time I was 99, that'd be fine.
"That teacher tried to introduce a competitive nature to art which is the opposite of why I wanted to pursue it in the first place because there's no such thing as competing. Even with yourself, you can only strive to be better. I hate that mentality, literally from the first day, it turned me off. I was very confident that I wanted to do music but the idea was haunted by that encounter."
Eventually he dropped out of the course and moved to a warehouse loft with a few close friends and tallied up his 10,000 hours. "I just dropped everything in my life at that point and put myself in a cave and made music all day, every day for a year or so."
I ask him if the material released so far feel like just collections of his best songs, or whether they possess the qualities of a time capsule. "Some people have a concept in their head and that's where the album derives from but for me Where Polly People Go To Read is like the last year of my life in chronological order," he explains. "It came to me really quickly which usually isn't the case because I perfect and re-record stuff a million times but this one happened in a flash which I was surprised about. It's nice that it came so quickly. It soundtracks falling out of love, experiencing heartbreak, falling back into true love and, by the end of the record, arriving at this harsh reality of trying to figure everything out."
It's doubtful whether Gus Dapperton's creative output will be contained in the walls of music for long. He possesses ambitions way beyond that, particularly in the realm of film and cinema which are warranted when looking at the popularity of his videos, many of which have surpassed the million view mark. "I'm always saying to Matt [the director of Dapperton's videos] 'we have to make a movie'. All these corny white guys are making movies. I'm reading screenplays and thinking 'never in a million years would somebody say this shit!' Who's gonna have as much knowledge as young people with ideas who are studying film every day?"
Eventually he pauses for breath. "I have a million ideas," he says finishing his train of thought.
Where Polly People Go To Read is released on 19 April via AWAL