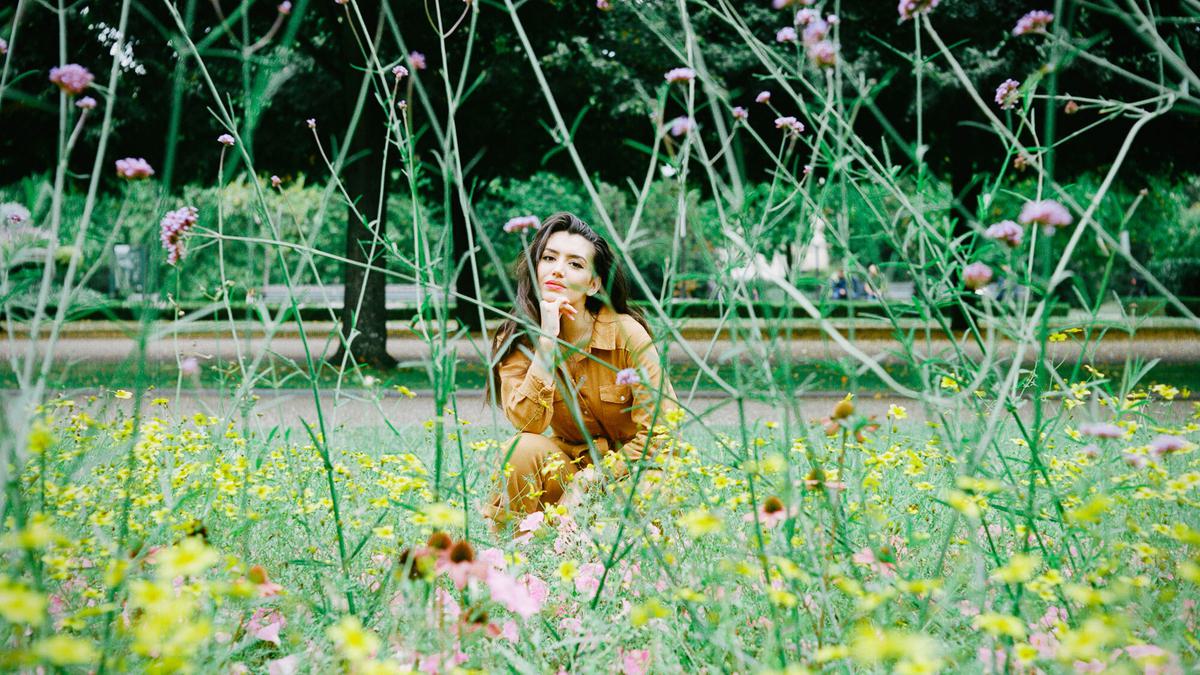 On the Rise

GRACEY
20 September 2019, 07:00
21-year-old GRACEY has already written songs for some of the UK's biggest pop stars. Now, the Xenomania-affiliated songwriter is on course to be one in her own right.
"I'm actually quite scared to release it because it's a part of me that I'm not really used to talking about with my closest friends, let alone random people that might actually hate it." London-based artist GRACEY is airing her anxieties about releasing her debut EP Imposter Syndrome.
It's a leap for the 21-year-old who until now has had a fruitful career writing songs for other artists (Jonas Blue, RAYE, Olly Murs). Discovered at the age of 16 by Xenomania—the UK-based pop factory whose writers have penned songs for Kylie, Pet Shop Boys, Cher, Sugababes and others—GRACEY became accustomed to "putting myself in someone else's shoes" instead of fronting her own creations. Now, she's about to face the world solo.
"It's way more exposing than I thought it was going to be," she explains of the career switch. Why make the change now? "I think I always wanted to do it. For me it was more about waiting until I had something to say. There's no point writing music that doesn't have any meaning. There's only so many songs you can write about your GCSEs!" she says, making light of her first foray into songwriting as a teenager. GRACEY—real name Grace Barker—is now older, wiser and more confident. She's ready to release her own brand of jagged pop music.
Barker started writing songs as a child. By her teens, she was uploading songs she'd written on her guitar and recorded in her bathroom in Haywards Heath. "I didn't have enough storage on my phone so they were half songs uploaded to Soundcloud, recorded with those good bathroom acoustics!" Her mockery of the rudimentary setup is just one instance where her playful, self-deprecating personality comes through. "And then one day, I got an email from Brian Higgins [Xenomania founder]. It was so, so weird."
At the time Barker was "too scared to put my face on the Internet" but, as a student at BRIT School, she felt compelled to upload material because her peers were doing the same. Rex Orange County, RAYE and Jade Bird were on the school's music programme while Barker attended the musical theatre course from 2012–2016. "It was strange going from aschool where you don't really fit in and then onto BRIT," she says. "I would always go to choir after school. All of my mates would chill in the park and I'd always miss it because I was like, 'I want to go to choir.' And then when you go to BRIT everyone wants to go to choir."
She juggled a busy schedule at BRIT with visits to Xenomania in the evenings ("it's a big house with different rooms—weird but I loved it") over a six-month period when she was 16. "I'd literally go from after school to the studio, do three hours of singing over tracks." Three hours? "Yeah but I would do that at home anyway. Honestly, I fucking loved it. I was like, 'This is the dream!'"
Two years later, she signed to Universal and kickstarted her songwriting career. She now counts Jonas Blue and RAYE's platinum-selling "By Your Side" as well Olly Murs' "Feel The Same" and "Excuses" (from his album You Know I Know among her cuts.
Imposter Syndrome, however, is GRACEY's proper introduction. The title, she explains, arose amid the transition from writing songs for other people to writing songs for herself. "It was way harder than I thought it was going to be," she admits. "It's really hard when you're writing songs for closure. Usually, my songs will be fronted by someone so I can be outside of them. But when you're singing about yourself and the video is essentially you crying and being rained on by a watering can," she says in reference to the video for the EP's heartbreak lead single "Different Things", "it's pretty hard to then go, 'I'm not into you, literally I'm fine.' That's what I always say."
"Different Things" is a skulking R&B track that blends GRACEY's raw vocals with murky vocoder takes as if wrestling with the repellent forces of honesty and inhibition. "We want different things / We're never on the same page," she sings at the chorus. "The phrase 'different things' is interesting," Barker says. "You use it as, 'Oh, we just want different things' when you explain to people why a relationship hasn't worked. But the more I thought about it it's like saying, 'Oh, I'm fine and I don't care.' I do that a lot. It became a song about pretending you're alright when you're literally not. It became this moment for me where I realised like, 'Okay cool. I need to go away and figure out that I'm really bad at coming to terms with things for myself and that I'm not okay.'"
"I wanted the EP to be about the perception of yourself."
She remembers being on set for the rain-drenched "Different Things" video and feeling (she adopts a sheepish tone): 'Oooh, hi guys, everyone's here for me!'
"It's so weird being constantly behind the scenes and then going onto the stage to be like, 'Hello, it's me.' Imposter syndrome is a theme throughout the whole EP. It's also been my first experience of love and heartbreak and feeling like I'm not understanding the whole situation. I wanted the EP to be about the perception of yourself."
Another song on the record, "Easy For You", hears GRACEY admit she's fallen victim to an undependable lover ("Now, it's me calling at three in the morning / Asking if we mean nothing at all") over sinewy electronic textures. She notes that she didn't specifically intend to write a heartbreak EP but that "it kinda just happened organically."
That natural response to write about her feelings stems from an innate emotional connection to music, one that's been stunted recently due to her requiring vocal surgery.
"It was fucking scary," she says of the operation. "But it was the recovery time that was hardest because I don't think I'd realised how much I use music to vent my thoughts. I'm very much a 'Hello!' person and then I'll hear a chord sequence and I'll immediately go into an area of my brain that I didn't even know was there. I've definitely found that the last few months have been fucking hard. But I'm happy and back at it again."
"My life's a bit weird and I'm a bit weird sometimes so why would I do straight pop music?"
One of GRACEY's biggest musical awakenings—the moment she understood that "you can actually feel shit" and have a deeper relationship with songs—was when she first heard "Chandelier" by SIA. "I was like, 'Fucking hell, this is what I want. I want to be an artist,'" Barker says. "It literally made me go, 'Fuck it. Pop music can be so sick, chart pop music can be so sick.'
"I like pop music where if you break it down on a piano it's a pop song but then you fuck it up," she continues. "You make it weird and interesting. My life's a bit weird and I'm a bit weird sometimes so why do straight pop music? It's the emotion in SIA's voice that gets me. I grew up loving Joni Mitchell and loads of Motown songs and they'll be singing utter bullshit but the way they sing is so key. That's something I really took from them but especially from SIA. Honestly, she's my queen. Her and Lorde. I think they were the first people that I was like, 'Oh, I get this music.' SIA's melodies made me literally scream on the train. And I don't get that from anything. You know the excitement you get when you chat to a guy you like? It's that level of excitement."
Noticeably, most of GRACEY's favourite acts growing up are solo female artists (she also lists Gwen Stefani as an influence). As a female artist herself, has she faced any obstacles in her career so far because of her gender—or her age for that matter? "There were occasions as a songwriter going into a room where I thought, 'Oh, I could be invisible.' I also used to do these writing camps. I did one when I was 18. I was thinking, 'We're all on the same camp. I'm 18 and you're a 30-year-old man—we're in the same boat. So why am I getting treated differently to you? We both got invited here. We're both technically on the same level, surely, so the way I'm treated in the studio shouldn't be any different to the way I'm treated here.'
"I think the way you hold yourself is really important," she adds, referencing her past meekness. "As soon as I got more confident as a writer, I'd go in and say, 'This is my idea. We should do this because it will work with the chorus chords.' Until I had that assertiveness, I didn't get the respect I wanted."
" I'm an overthinker and I'm an empath. I really do care too much about what people think. I'm trying to get over that."
Her mother, she reveals, is one of the reasons she's so driven. "I grew up in a household where my mum and my dad both earned the same—if not my mum was the breadwinner [her mother has worked in production at the BBC, her father in advertising]. I have two older brothers. My mum taught me that I should never be submissive to a guy because my ideas are equally as good."
"Now, I'm way more like, 'Nope, this is how it is' and I hope that with my artist career I can be like that too and stop having imposter syndrome. But I'm not quite there yet. I'm still a bit like, 'Eeeeeeee!' It's still early on."
With this growing confidence, what does Barker see for her future? "I'm quite an ambitious person. My main thing is I won't do anything unless it feels right, 100 per cent. I don't think I'm going to do something unless it's something I really want in terms of getting to a different level. But I'd love to be at a place where I can share music and not worry about getting a certain amount of streams. I think gigging is like my next aim. I want to play a show and have people sing music that I've written back to me. I think that will be a moment for me where I go, 'Fuck.'"
Imposter syndrome returns to our conversation, seemingly belying GRACEY's notions of assertiveness. She says she's "anxious" about going on stage for any gigs to come. "I haven't performed in so long, especially because my voice for ages was up and down. Now I've sorted it I'm so excited to get going. But I think I'm always an anxious person. I'm an overthinker and I'm an empath. I really do care too much about what people think. I'm trying to get over that. It's one of the reasons I have such bad by imposter syndrome.
"Again, I'm not ashamed to say I have it. It's just something a lot of people go through. I will be nervous [about the EP release] because these songs are personal; they mean a lot to me and I think I probably will be hurt if someone says something really shit."
She takes a sip of her coffee and pauses for a moment. "Actually, do you know what? Maybe I won't because I'm confident in them. If people don't like them, that's a shame. But I know I love them."
GRACEY's Imposter Syndrome is out now on Polydor.