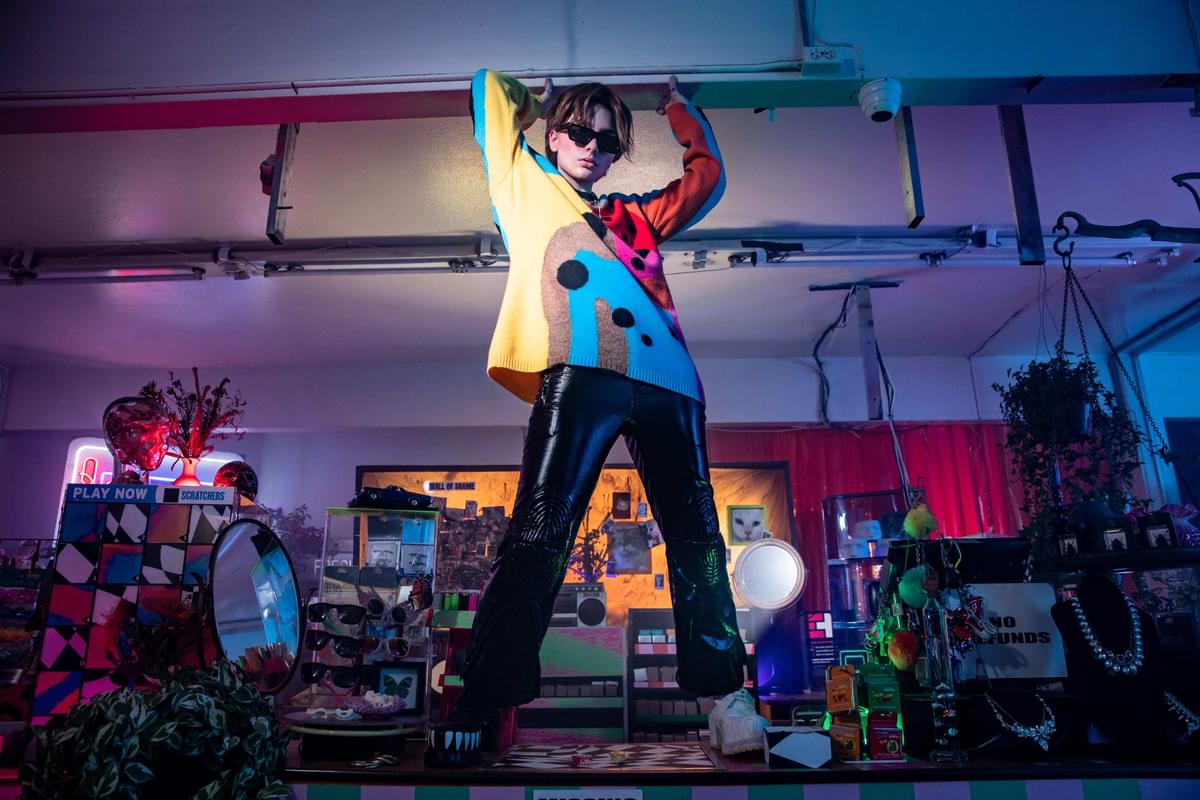 On the Rise

Grace Gaustad
23 January 2023, 13:00
With an unfaltering dream, holistic approach and enduring stubbornness, LA-based singer Grace Gaustad is mixing fantasy and realism.

"I was always making up stories as a kid. I think that's probably why I got into writing music. All I did was combine my storytelling and my piano playing," explains Grace Gaustad from their LA home as a freak bomb-cyclone provides a wet and grizzly backdrop. "I think I've just done a lot of work for being twenty-one."
Originally from Phoenix, Gaustad began learning piano at age five, quickly progressing into writing songs of sorts. "My mom's got some very early, crazy recordings," they laugh. "She used to call them twenty-minute songs coz I didn't really have any sense of structure. They never would end, I would just change them all of the way through."
Their mum played piano and sang, her passion for music turning to support as she took Gaustad to piano lessons and recording sessions. However, that support only went so far. Their formative inspirations included the likes of Taylor Swift, Katy Perry and Lady Gaga, the latter eliciting a cautious response. "My parents were not thrilled because I was on her YouTube and I knew all the choreo to "Bad Romance,"" they laugh. "My parents are like, absolutely not. You're seven. We're not doing that."
Gaustad was eventually allowed to see Gaga live, albeit alongside Tony Bennett. "That was my little introduction. But despite not being able to see her for a while when I was younger, I was a huge fan and there was no stopping it," they explain. It all came full circle last summer when they dropped the single "GAGA", a homage to their early icon, picking up praise from the artist herself.
When Gaustad was ten-years-old they moved to Long Island, and then into New York City for school. While their parents continued to encourage their musical endeavours, they still maintained some boundaries. "I begged my parents for a long time, please let me post things online. I want to be a singer," they explain. "They're like, OK, on your sixteenth birthday you can make your Instagram account public and you can start posting online, but it's not happening before then."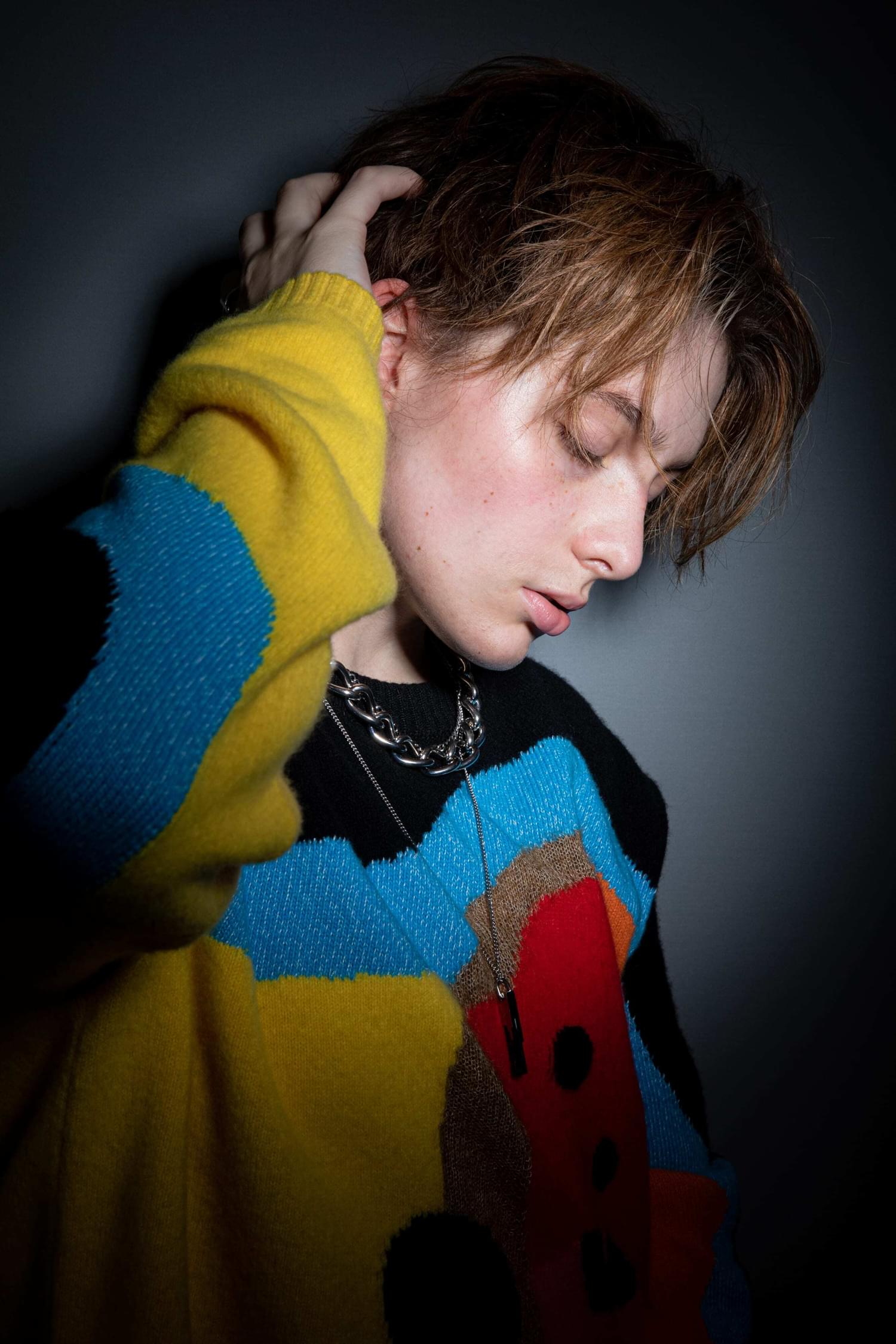 True to their word, at sixteen and alongside their mum and manager, Gaustad brought together a team to shoot twelve videos, cover versions of songs including their now infamous rendition of Hozier's "Take Me to Church." However, their pivotal moment almost didn't happen. "I had come down with a fever and everyone was like, we won't do this one. I'm stubborn about cancelling things. I have to be on my death-bed to cancel," they laugh. "So I went anyway and I was just so sick, I was like, I have one take in me, and I got it one time. It's so funny how things work coz that ended up being the one that was really successful."
Off the back of their viral success, Gaustad began to release singles, culminating in their debut EP Human, in 2019. They graduated high school early and moved to LA. "It's a really great place if you embrace making it what it is and not something it's not," they smile. "You learn to really appreciate it."
They were ready to begin the roll out of their next release when Covid hit. Their debut record BLKBX: wht r u hding? was pushed back by almost a year into 2021, but for Gaustad it meant more time to refine and develop the recordings. "Looking back, I'm really grateful for that time because I changed the record quite a bit and I think I made it a lot better," they say.
The story of their life up to the age of eighteen, BLKBX: wht r u hding? is a narrative-driven rush of instant pop, and for Gaustad, only validated their personal experience. "When you're a teenager, I just think so many go through the exact same things. I really wanted to encapsulate that teenage experience and all of the hardships and all of the trauma and shit that you have to get through to get out on the other side," they say. "When I released that project I found I was totally right about the fact that everybody went through the same thing. I was getting thousands of messages. It was very special."
Accompanying the record they created a video for every song, collaborating with director Van Alpert, casting actors in various roles to create a linear story of their upbringing. After the release and aware that the record raised many feelings and trigger points, Gaustad launched the BLKBX Project, partnering with therapist Jaz Robbins to provide a range of resources for anyone affected by or struggling with the related issues.
While their life was on hold in April 2020, Gaustad began to lay plans for their second album. Out this year, PILLBX: whts ur fantasy? reflects on their time living in LA and working in the entertainment industry. Playing out in a world of fantasy, the stories are still rooted in real life. "I have to give this awful, global pandemic that we went through a little credit because I don't know if I would have come up with the big concepts unless I was in my room with not a single thing to do," they explain. "I was stuck with my mom in the house for two months and I'm like, well I guess I'll just write another album since this one is never going to come out."

Sketching out the skeletons of thirteen different fantasies, when it was safe to work again they started back in the studio with regular collaborators Scott Effman and Andy Seltzer. "Because of how I write and the way I work it is very hard to do a one-off Zoom writing session because people are like, what?," they laugh. "I love having that core team of people I work with that really understand and can get inside my head of where I want to go."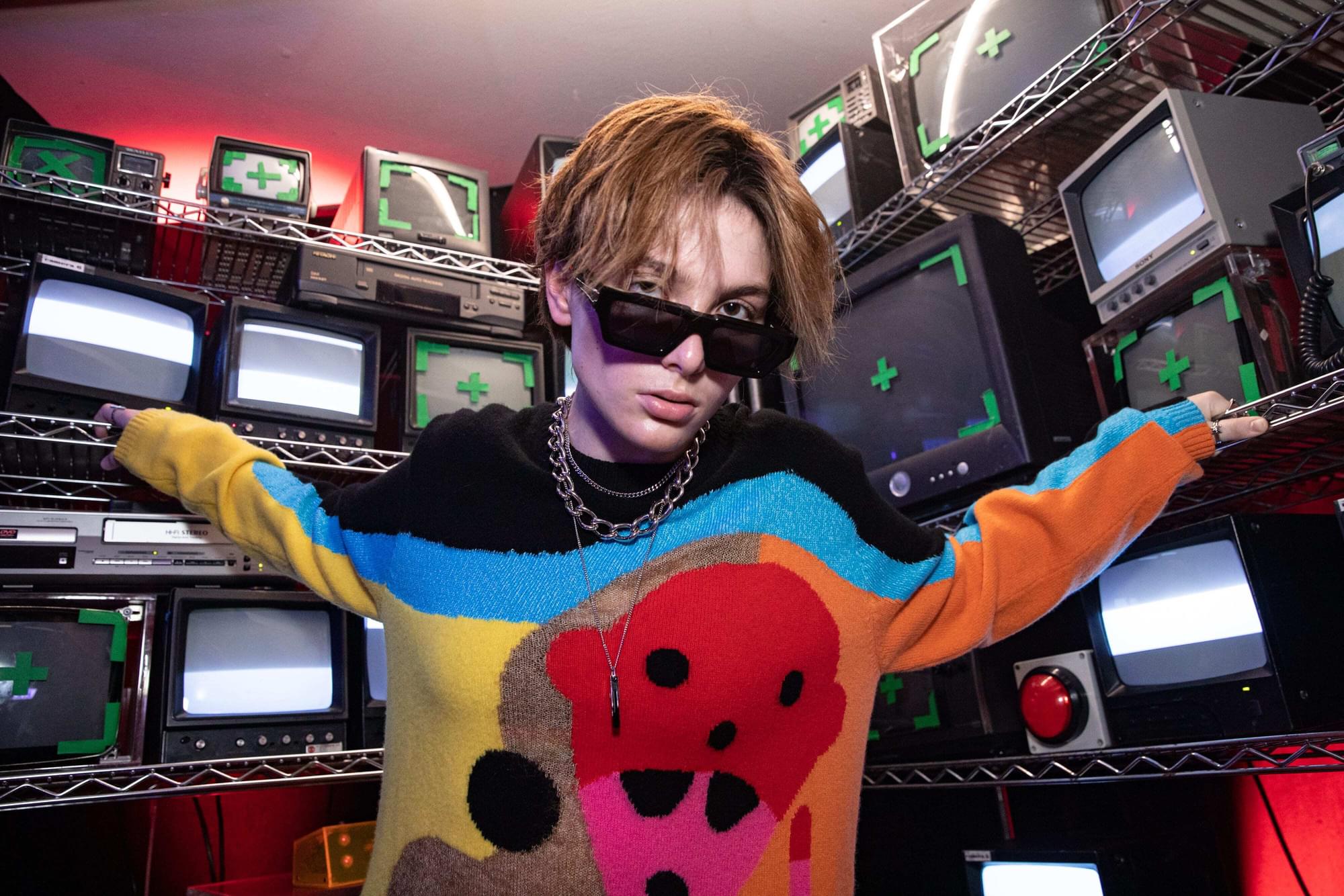 Collaborating again with Alpert, they draw their audience into a rich fantasy world where a twenty-year-old Gaustad has fallen under the spell of a mystical Bodega Man. Recent single, the tender pop-ballad "Like A Person," was released early following the Colorado Springs nightclub shooting. Featuring Gaustad alongside trans actress Dylan Mulvaney at an unwelcoming family Thanksgiving, it's an ode to the bravery of just being oneself.
Conversely, new single "Nothing To Me" ups the ante as Gaustad plays with gender norms, raising hell in said bodega against a thudding electro-pop bassline. "There's almost two fantasies wrapped into one. It is the revenge anthem in one way, and then in the other way it's sort of the fantasy of becoming someone else with no consequences," they say. "It was one of the first records I wrote for PILLBX and I knew I immediately wanted it to be on there. It's probably secretly one of my favourite songs."

Using their creative world to transgress conceptions of who they are, Gaustad embraces the various sides of their identity. On PILLBX: whts ur fantasy? they push sonic and storytelling boundaries alike, embracing the pure thrill of exploring honest self-expression.

Get the Best Fit take on the week in music direct to your inbox every Friday