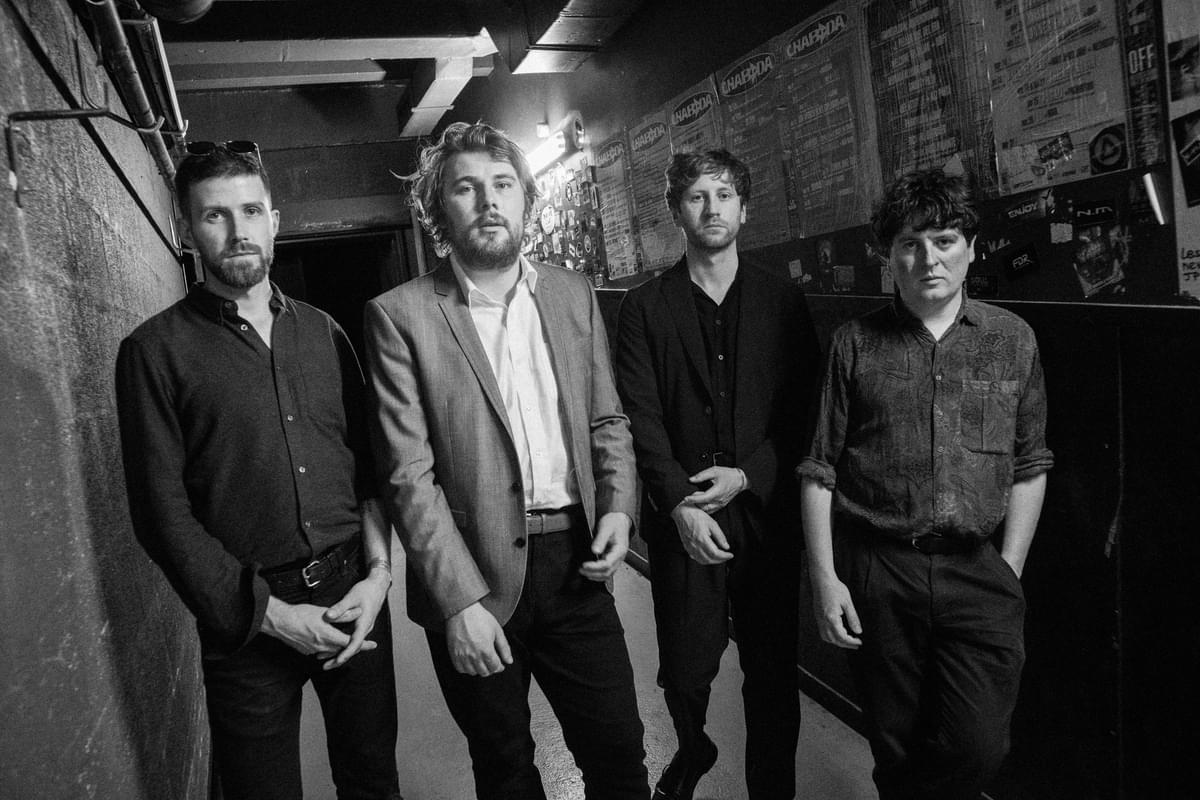 Gilla Band aren't afraid to get nakedly strange
27 September 2022, 10:00
With their playful third album Most Normal, Dublin's Gilla Band reach absurdist new heights. They talk to Kate Brayden about putting the fun back into their controlled chaotic noise.
In Slattery's bar on Capel Street in Dublin city centre, three out of four members of Gilla Band are nestled round a table, forced to listen to Starship blaring from the speakers.
It's drummer Adam Faulkner who's missing. He's recovering from a weekend at Irish festival All Together Now, held in rural Co. Waterford, leaving the three founder members – vocalist Dara Kiely, bassist Daniel Fox and guitarist Alan Duggan – to chat about the band's new album, Most Normal.
Formerly known as Girl Band, the Dublin group have been blazing an innovative trail through the Irish indie music scene since forming in 2011, though convincing them of that isn't easy. They say their main goal when starting the band was simply to not sound like Radiohead or The Libertines, and definitely not The Strokes. "That's because we'd tried to be a Strokes band and failed," says Kiely, referring to the original trio's first band Harrows. "It was basically landfill indie."
All three groan collectively when I mention their second attempt, a short-lived emo act called Surface, for which Kiely was the drummer. Things only fell into place when Kiely found his voice behind the mic, replaced by new recruit Faulkner on drums, and Gilla Band was born. With their first two albums, 2015's Holding Hands With Jamie and 2019's The Talkies, the quartet gleefully tore up whatever rule books are left in rock music. Taking their deconstructionist approach to whole new level, Most Normal gathers up any lingering scraps and shreds them several times over to create an album that's both challenging and incredibly fun.
Gilla Band's abrasive, guitar-fuelled and FX-strafed noise references everything from pop, jazz and hip hop to avant-punk and techno, with a broad church of influences that includes no-wave groups like DNA and Theoretical Girls, lo-fi and noise rock bands like Beat Happening, Shellac and Sonic Youth, NYC dance-punk stalwarts LCD Soundsystem, and the immortal voice and words of Leonard Cohen.
Off-duty, the band are much less chaotic. Meeting Kiely, Fox and Duggan today, it's refreshing how approachable they are. They're so laidback and unassuming, it's almost hard to believe that these are the same people whose nihilist on-stage energy can whip a room into a pummelling mass of moshing bodies. "I never liked the moshing aspect to our gigs, I prefer when people dance," admits Kiely. "I don't see the fun in moshing. I'd just end up apologising to everyone."
I ask if the band had been nervous about transitioning from Ireland's intense lockdowns to shouting absurdist lyrics in packed-out tents. "It's a bit odd. I'm way more nervous than I used to be. I was quite extroverted before Covid, but then I retired to being a little mouse," Kiely jokes. "That's been difficult to readjust to. I started enjoying lockdown because the pace suited me, but I'm slowly getting out of being scared before gigs. I'm always scared though," he trails off, failing to stifle a laugh.
"When we put out The Talkies, we hadn't done gigs in about two years and then we did two short tours before Covid happened," Fox recalls. "We've had a big, long gap away. Everyone was complaining about cancelling gigs, but we were veterans at staying at home."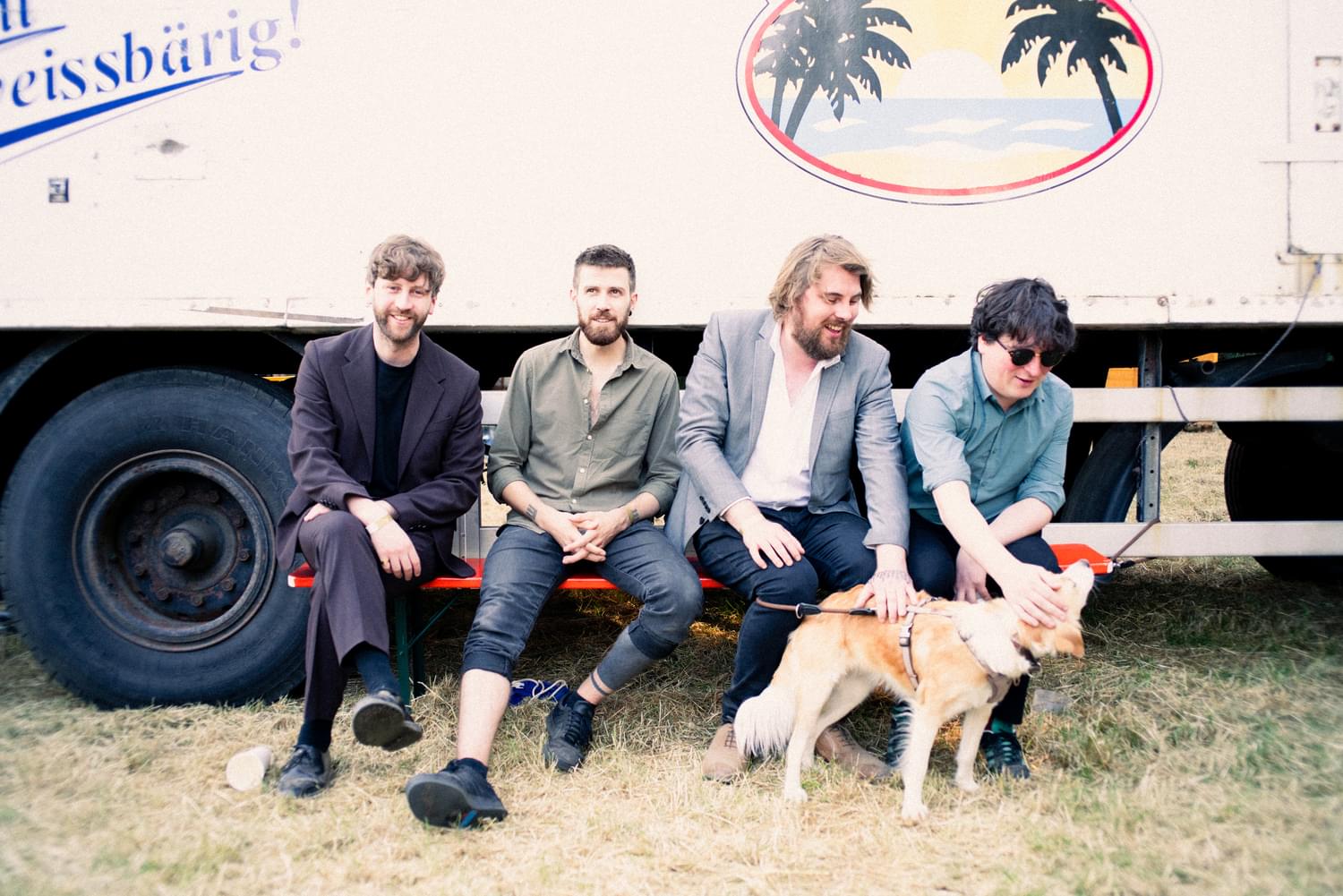 With touring on hold, the album they'd been working on was suddenly minus a deadline. Revisiting some of the songs they had already tracked, the band were able to mess around with them at leisure. Along with new songs came rewrites, restructures and reinventions that helped the band to stave off the tedium of having the world shut down around them.
"I feel like our sanity remained fairly consistent across the board," Duggan says, thinking back on the lockdowns. "I was in Mayo for the first one," Fox recalls. "I ran away from Dublin for about two months. Being in the middle of nowhere was great. We were having Zoom meetings because we'd just started writing new tracks. The way we create is always collaborative, so essentially all we could discuss was fonts. There was only so much we could do separately."
"I usually write all the way up to the last minute," Kiely says of his lyric-writing process. "This time I got to do an unlimited amount of takes and write in a different way. Using Logic software, I could finesse things a bit more clearly. Our friend Jamie (Hyland, of Holding Hands with Jamie) used to sit in our practice space and take notes. One day she just gave me a big list of 100 weird quotes I'd said." He laughs. "A lot of my words are just a stream of consciousness."
What was the reaction to Kiely's latest batch of surrealist lyrics from his bandmates? "I'm scared," he says, turning to the others. "Did I wow you?" Duggan grins. "Dara's lyrics always make me laugh, because they're so specific to Gilla Band," he says. "There's internal jokes from 15 years ago, and I feel like that element will always be part of his method. One of my favourites is 'I can't wear hats / I just get slagged'." "I can't wear any type of hat!" insists Kiely, feigning outrage into his pint. "I'm cold!"
Referencing a story about Kiely throwing up on stage the first time Gilla Band played their 2015 single "Shoulderblades", I wonder if there is potential for any songs from Most Normal to cause a similar reaction. Kiely points to album opener, 'The Gum'. "That's a hard one, though," he says. "Shoulderblades-gate happened because I took a sip of Red Bull and it went down the wrong way." He laughs and shakes his head. "I just projectile vomited afterwards because nothing gelled in my head and I lost control."
"I also got sick at Other Voices," he says, referring to the long-running Irish live music show filmed mostly in Dingle, Co. Kerry. "You know the church? We finished the set and I was supposed to stay there with the lads and film interviews or something. I just sprinted out of the place. This is gonna sound so much more dramatic than it was, but I jumped out the first-floor window."
"It was hilarious," says Duggan, recalling how fellow Dubliner David Balfe (aka For Those I Love) was performing in the same area. "It was a super emotional, intense set," he says. "David was there with one of his parents and everyone was really quiet and dignified, and then in the same spot Dara was retching." Are televised gigs a no-go then? "Stay away from me, Jimmy Fallon!" deadpans Kiely. "I've got a very weak tummy right now."
The band have plenty of tales of gigs that didn't go their way in the past decade. "Do you remember that sports bar in Reading in 2014?" Fox says. "They fucking hated us." He shakes his head. "People were having their dinner and we were just wrecking their buzz."
"With the guitar I have, if you break a string, all the other ones go out of tune," Duggan adds. "Not that it's massively important for what I do, but it's better to be in tune. It broke in the middle of a song so I threw a load of reverb on and made noise to get through it, and we finished the song. I thought it went alright, but one of the ten people in the room turns to me and goes, 'That was the shittest thing I've ever heard in my life'."
Throughout Most Normal, Kiely's usual antagonistic presence is offset by some of his most frank and funniest writing to date. There are lines about smearing fish with Vaseline, dressing up in bin-liners, bingeing the Big Brother boxset, and wearing his brother's old clothes. "The album title sums up Dara's lyrical approach in general, where it's always very everyday scenarios," says Duggan. "There's no sense of grandeur, the words are always rooted in the everyday. It's batshit, but recognisable. The lyrics aren't as cryptic this time around."
Where did the "Capgras" line "Once upon a shut up" originate from? "The whole idea for that song was inspired by Ray Price, this country singer from the late '50s," says Kiely. "He plays this incredible track, and then turns it down and starts introducing the album as a voiceover. 'Capgras' tells a story about being interrupted by your own thoughts. I kept bringing in lyrics that were way too silly at first, though."
"'The Gum' is probably the weirdest tune," says Fox. "It's intense, but there's something fun about it. The record goes through the gears, so it felt good to start off like that. It's controlled chaos. We've always felt free in what we did, but it was matched with more experience this time, more confidence in ourselves. Beforehand, we would have abandoned 'Post Ryan' because we couldn't finish it, but this time we knew that the right part would come along."
Addressing a Most Normal mystery: who is Ryan? "Do you know Ryan Leas, the journalist who wrote for Stereogum?" Kiely asks. "He's wonderful. He used to drive us around America. For his thirtieth birthday, one of his mates got in touch with us about writing a song for him. It was a hair metal track with our secret band, The Whiskey Guns."
"We were supposed to do a birthday message for him," Fox cuts in. "But because we'd nothing to do in the middle of Covid, we spent an entire rehearsal day writing this stupid classic rock song. The next day, we made 'Post Ryan' and that was the working title, but he wouldn't let us change it. Ryan's trying to claim that the song's about him, but it's not at all." "It's about my feelings!" Kiely says, laughing.
Released as a single earlier this month, "Post Ryan" interpolates the beat from the A Flock of Seagulls hit "I Ran (So Far Away)", twisting it almost beyond recognition. It's an unnervingly personal one for Kiely, describing his ongoing mental health journey in no uncertain terms. "I'm in between breakdowns / Constantly in recovery/ I'm just the same prick," he declares. "Took it all for granted / Gonna end up homeless / I hid behind the surreal."
"It was the weirdest one to write," he says. "We had a load of different approaches to try and finish it for about a year, and then eventually we changed a note and the second half came." "I was so ecstatically happy when it finally clicked, because we knew we were on to something," Fox smiles. "I was so fucking relieved. We finally finished that stupid song."
"We don't intentionally make music with recognition in mind. That life isn't us."
(D.K.)
"They told me to write something direct, but 'Vaseline on a trout' is a bit too much," Kiely says. "I've no idea what that even means. The new lyrics were really blunt. When I brought it into the practice space, it was just Daniel and Al. I had to leave the room when they listened, I literally couldn't be there. It was an incredibly naked feeling." "It took us by surprise," says Fox. "The words are pretty on the nose, so he was absolutely shitting a brick." Kiely laughs. "It was his baby, but that experience was really cool for us."
Looking back on The Talkies, Duggan says he still feels the same pride in the record as he did three years ago. "I don't listen to it, but I'm happy it exists and that we were able to create it, particularly with the circumstances around the band at that time."
"The Talkies just happened like some sort of vomiting amorphous blob, whereas Most Normal was thought about in detail instead of just trying to keep the wheels going," says Fox. "We had that light-hearted element in Holding Hands with Jamie and some of the earlier material. But The Talkies is devoid of humour; it's dark. With Most Normal, it felt natural in terms of our collective headspace to be more playful."
During the making of The Talkies, Kiely did a course at Dublin City University on support work in mental health and was refreshingly open in the press about his own struggles. Famously – and bravely – Kiely documented one of his own panic attacks on The Talkies track "Prolix", which bookended the album with "Ereignis", a minute-long track of mindfulness breathing, creating a cycle that reflected his mental state.
"People still ask me about it," says Kiely. "Sometimes it's a bit too much when someone goes into deep detail about their own panic attacks, but it's fine. That recording wasn't planned. The lads told me to breathe into the mic and see what happens, because I was into mindfulness meditation at the time. It wasn't like, start panicking in eight beats."
"It wasn't like 'Poke him with a stick!'" jokes Fox. "It was a very strange moment." "It was dark, but beautiful in a way," says Kiely. "We all felt at a very early time that it should open the record. I was a little bit sensitive about it back then, but I'm not ashamed of it. It was a strange time, but we all seem a lot happier now. I can't speak for the lads, but I am."
"The new album was our excuse to get out of the house," says Fox. "We couldn't do normal forms of socialising, so we'd get pissed in our practice room and work on tunes for days on end. It was a sanctuary. It was the one thing we had control over, at the time."

Does Faulkner have any strong opinions on Most Normal? Is he even real? "We've no idea," says Kiely. "That man could be fucking 16 years old or 48," Duggan jokes, shrugging. "We think he's in witness protection," adds Fox. "We went to his parents' house for the first time when we started the band. All the family photos were from approximately three weeks beforehand. The photoshoot seemed new; we suspected he was a plant."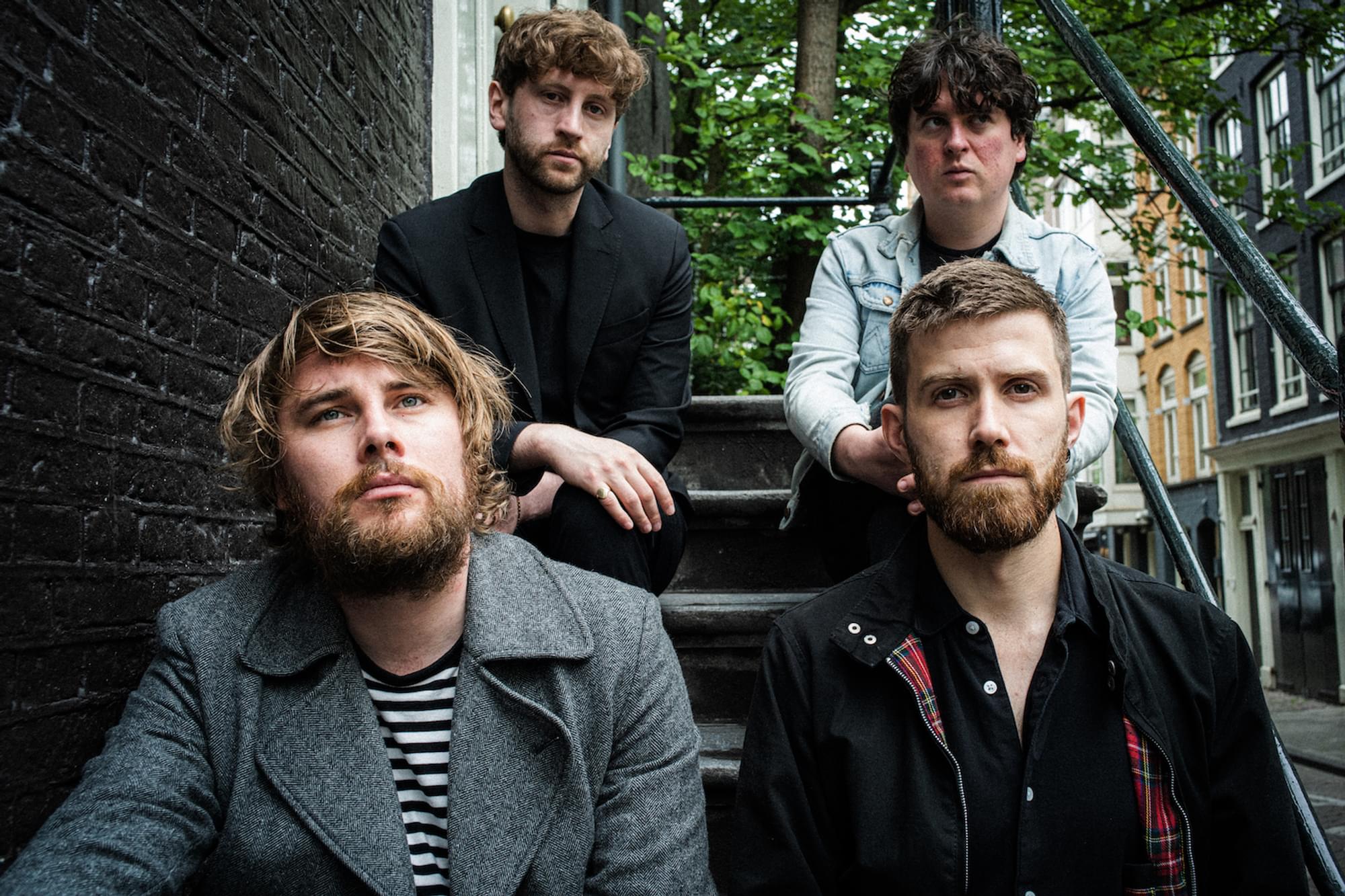 Gilla Band are allergic to taking themselves too seriously, and it's hard to imagine them ever having a disagreement. Fox wracks his brain trying to remember. "We had a big fight over a game of Uno once," he recalls, "It was on a ferry to France, about an hour in, and we'd all had a couple of glasses of wine." "It was 'Pick a four!' and then suddenly 'You're a fucking prick!'" says Kiely, laughing.
As with their first two albums, the band produced Most Normal themselves, with Fox taking charge of recording and mixing at Sonic Studios and at the band's rehearsal space, both in Dublin. They've always been loyal to the city, no matter how hostile the landscape for creatives. "Dublin has changed since we started, for sure. It's a fucking disaster," says Duggan, referring to the housing and rent crises which have plagued the city for a decade.
"The lay of the land is obviously massively different," Fox muses. "Creatively, that's harder to measure. There's a lot happening. The Irish talent at our festivals is high quality. The Mary Wallopers and John Francis Flynn are deadly. Ten years ago, I'm not sure there would be full tents of young people having a great time at trad. It exists in a mainstream world as a popular art form, which is incredible. That whole scene is amazingly strong in Ireland."
"There are so many new scenes as well," says Duggan. "Drill music, grime. Post-punk. These acts are touring and playing international shows. When we were 19 or 20, there were very few artists doing that who weren't signed to a major label. That's super encouraging." "In those days, you had to get plucked off the island for anyone to know who you were," adds Fox.
"We're lucky that we have a great relationship with our label, Rough Trade," says Duggan. "It's very hands-off, but we don't know any other way of making music. The label just wanted to get our music out to more people, rather than trying to change anything we do. Suggestions are never intrusive, either. There's never been any force or interference with the sound." "To have someone telling you what to do would feel ridiculous at this stage," Fox adds.
"We're not looking to get any outside influence on what we're creating at the moment," says Duggan. "Not to say that that could never happen. I don't know where we'll be in 10 or 15 years. As it stands right now, it's not at all needed. What was nice about this album was that we weren't concerned about playing it live. Having faith in the process opened up a lot of doors."
Gilla Band are also free from the shackles of attempting to find virality in a saturated market. "We don't intentionally make music with recognition in mind," Kiely says. "That life isn't us." Duggan agrees, recalling one inspirational night seeing New Jersey surf-pop band Real Estate play a small show in Dublin while in his early twenties. "Their method really clicked with me," he says. "They were hanging out with everyone afterwards. It was deadly.
"Ideas of success were thrown out the window, because I realised that you can do this job on a smaller scale and find an audience who are sympathetic to what you do and have your values. Then you just tour, see the world and play whatever music you want. That makes so much sense to Gilla Band."
Get the Best Fit take on the week in music direct to your inbox every Friday