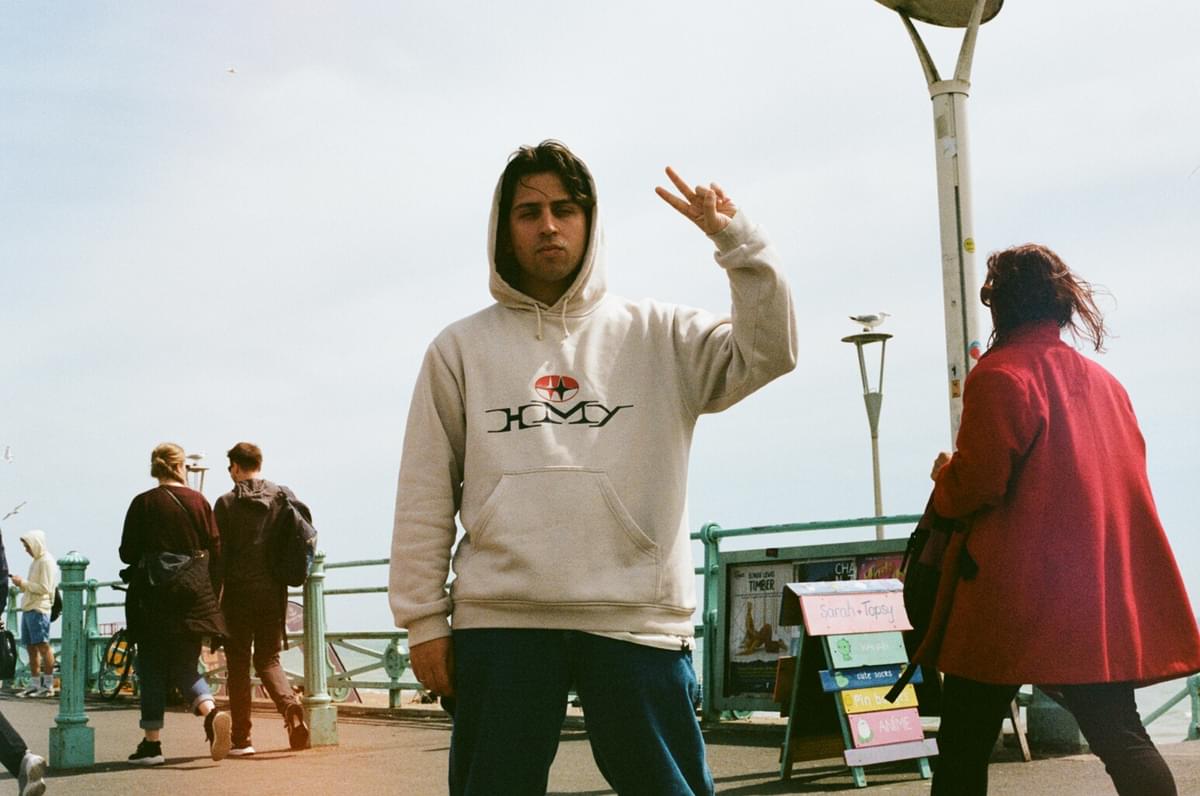 On the Rise

Ghouljaboy
18 July 2022, 09:30
Ghouljaboy has ideas. The Spanish musician has seamlessly moved from the trap music he first emerged with back in 2019, into a more natural fit of popping bedroom indie. But these distinctions are just the surface of what Ghouljaboy is all about.
Under this moniker - derived from Sui Ishida's Ghouljaboy series – Jordi Arroyo's musical creativity finds its home. His initial trap releases came under the influential Spanish urban label La Vendicion but talking to the young multi-hyphenate you see the confident sparks flickering for an incendiary future that only follows whatever lights up next.
Born to young parents – his father was just 16 when he had him – Arroyo's musical exploration began as it meant to go on; a contemporary refraction of society and passion. "I think the first thing is when I saw the Beatles singing 'Love Me Do'," he says of the first time music grabbed him. Being in a band was young Arroyo's sole focus, but after a failed start thanks to a school performance, it wasn't until he turned 16 that he met his current bassist and Ghouljaboy's future began. "[It was] a disaster because there's no one in my class or my school to play instruments," he recalls. "So I got two random guys and I say you're keys and you're drums…you can imagine how that went. And when I was 16 is when I started to record and I met my bassist and we are together since then."
Raised in his childhood hometown of Jerez De La Frontera, the relaxed nature of this southern Spain environment lends itself to the breezy indie he now conjures but beneath this idyllic scene lay a trap – why would you leave paradise? At least that's what the generations before Arroyo's fell into. For his, however, they're breaking free from that circle in any way they can, including starting up musical projects. "It's a reaction all of that all the way we were growing up the way," Arroyo muses. "It's curious because first, it is difficult to get to get out of the town and the circle."
The Soundcloud rap boom of the early '10s paved the way for Ghouljaboy's music career to both begin and take off. It was the idea that, "you don't need to be from the hood to do that type of music," that enraptured Arroyo. "Yeah, it's one like experimental way. I respect the music. I love it. I love it. But it was like I see myself in that kind of music."
His route down this road also lends itself to Arroyo's inquisitive and experimental nature, something he failed to find in anyone else around him growing up, so it was the easiest route to try and become a musician. "I wanted to experiment with music…so when I saw that is the way [they do things] I decide to operate by myself," he explains.
The self-destructive nature of this world didn't hold dapperly for Arroyo. Mentioning his stepping away was rooted in the negative aspect, "I see too much drugs, too much…and some of the people, I don't like that vibe." Instead, picking up the guitar to deliver himself from such evils, it was the jangling indie of the likes of Mac DeMarco which now fuels Ghouljaboy. And much like this reference point, even now he toys with variations of genre under this umbrella.
"It's in my programming, I get bored of everything too much," he smiles. "One thing I hate the most is waiting for the release. I did the songs three months ago and when they drop, I'm in a different head space."
Music is the core of everything Arroyo does but he wants to be more than a musician; he sees himself as an all-rounder. Revealing he's working on a book to go along with his new releases his main goal is to tie together the Ghouljaboy cinematic universe. In true Lynchian style, the guide he's penning is a chronicle that brings together each episode of his musical skin "I like to tell a story…I'm a storyteller....I'm writing a book about all the story between albums, is it very cryptic," he says. "But I think people will enjoy that because there are many real fans, and only real fans will understand. [But[ the other people who don't will say, wow, it's good!"
His latest album, last year's dreamcore is the best insight into Arroyo's way of being. Shimmering indie backed by closed studio drums and a bedroom sound lay underneath his many attempts at finding where his voice wants to go next. This darting between sounds comes hand in hand with Arroyo's zest for finding new inspiration. "I'm always discovering new music because…I like it," he says brightly. "I like to be discovering new music and it comes naturally."
Arroyo is of the mind that music should be a free representation of oneself, and having an understanding of the theories behind it all is just going to inhibit the fun from soaking through. "I didn't study music – it's always been me, by myself, always," he tells me. "If I was a student, I think I couldn't do the music in the way I do." Everything Arroyo does is for freedom – of expression, but also for freedom of himself – another reaction to the slow pace of his hometown. "Being from the south is one the factor, because the lifestyle where I live it's more relaxed, we it's not fast like in the capital."
Something his father mentioned to him when he was younger plays into all of Ghouljaboy's moves. Less of a demand and more astute observation: "He always told me you'd never be happy since I was a kid, because it's my way to be. It's not like envy or jealousy, it's like I want to progress right by myself, and progress with my friends."
Progress for Arroyo also looks like potentially incorporating English lyrics into his currently fully-loaded Spanish songbook. A move that isn't one he's chasing entirely convinced since Spanish is his mother tongue "I'm not going to drop an album full in English," he explains. Arroyo is proud of where he's from, what he's done, and most importantly, where he can potentially go, but this pride seems to not get in the way of him being personable and ready to enjoy life, with one simple ask: "I got to feel interesting who you are and how you feel about music."
Get the Best Fit take on the week in music direct to your inbox every Friday