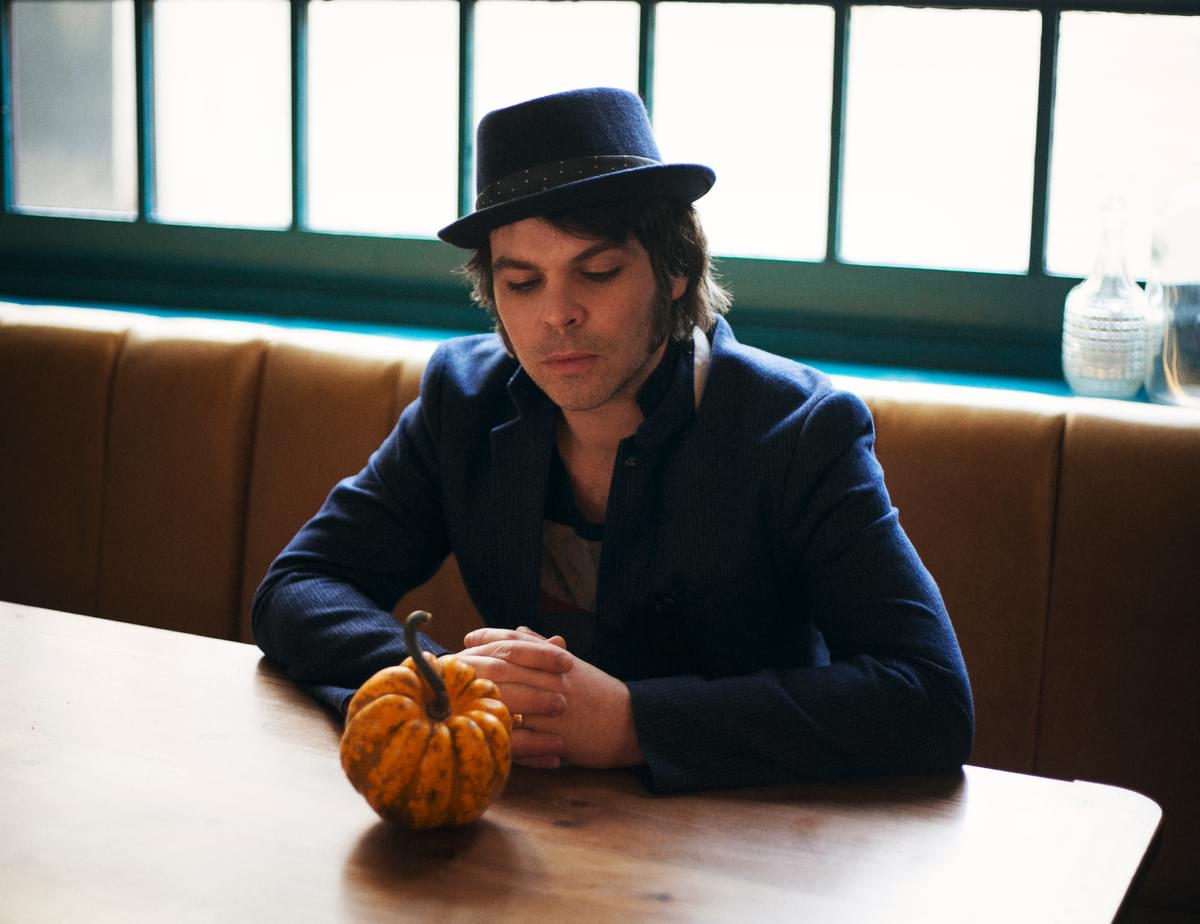 Gaz Coombes: "The creative process is an ongoing battle between self-doubt and confidence"
13 April 2015, 10:00
We're only a few months into 2015 but contenders for album of the year are already coming thick and fast. In January alone there were mighty long players from Sleater-Kinney, Natalie Prass and last but by no means least, Gaz Coombes with his stunning Matador. From the initial bars of opener "Buffalo" you're immediately struck by what a leap it is; there are no discernible guitars, just a rhythmic electronic pulse, staccato piano and intense bursts of vocals. Over the course of the record he effortlessly journeys into new ground, from the Danny Elfmanesque "20/20", the wonderful balladry of "The Girl Who Fell To Earth", the gospel tinged "Detroit" and much more besides. It reminds me of Scott Walker's initial solo adventures - yes, there's that voice, but the music and the songs have moved into a bigger, more epic space.
It's not just on record that he's breaking new ground. His new live show, best exhibited this February at Queen Elizabeth Hall, was one of those occasions that felt thrillingly intimate, despite the fact that with the inclusion of a choir there were thirty seven players on stage at one point. During the hour I spend with him he's in great form and refreshed from a few days at home with his family. He talks a lot about that night at QEH and seems genuinely humbled by the response to Matador, but above all he's a total dude. He willingly acquiesces to our photo requests, which include standing in a hedge and in a front garden next to a rose bush, he quips that he has "at least fifteen facial expressions I can pull for the cameras" and at one point he threatens to unleash his Blue Steel.
When we finish the pictures and sit down to talk in a bar he gets particularly taken with a pumpkin on the table. "There's your headline for the article man! 'Pumpkin On Your Stereo!' In many ways Gaz Coombes is a very old school musician, he swears like a trooper, smokes like a chimney and says 'man' a lot. However the music of Matador is anything but old school. The plan was to make a record that sounded contemporary and took elements of the past to fit an aesthetic of modernity. "It doesn't mean that the song or the album that you've done is retro and full of all these old sounds. I knew that there was a middle ground, that there was some kind of hybrid where I could be contemporary. I love the old sounds, but I really wanted to make a record that sounds like it's made in 2015." Matador is a record of incredible power, intensity and retains his ear for melody. But "Alright" it certainly isn't.
Before we met I had no intention of asking him about Supergrass - the reasons behind their parting are well documented - but when we're talking about the musicians he's currently working with he compares it to what went wrong with his old band and the reasons that led to them calling it a day five years ago. "As proud as I am of everything and as much as I love the guys, towards the end making decisions was like fucking pulling teeth, little decisions would take three weeks rather than three hours. It was endless discussions and then phone calls between each other about what the other person wants and what they don't want. It was a really stressful and tense situation."
Crucially, the previously communal experience of listening to the same records disappeared. For Road to Rouen it was the music of Elliot Smith, for their parting shot Diamond Hoo Ha it was Television's Marquee Moon, but when I ask him what he was listening to when they were making the unfinished Release The Drones he simply can't remember. So seriously did they take their output and legacy that when the quality control dipped they decided an amicable divorce was best for everyone.
"It's hard to say if there were any particular disagreements as such and I can't speak for anyone else, but it felt like we'd lost direction. For each record I remember there was a point, a purpose and a direction. On this final album attempt we were all in different places. There was a lot of experimentation with who played what, which was the beginning of the end and I think was a bad move. It felt like it was less about the songs and more about who was doing what. It was kind of sad you know, it was really sad".
Whist Supergrass were lumped in with Britpop they were never intentionally part of that scene and significantly, unlike other peers from that era who've gone solo, Matador is a volte face to what he was doing before. The arrangements are much more adventurous, the music is swathed in a wider range of instruments, most of which he played himself. He deliberately placed himself in musical quarantine for the recording to get away from the band ethic. Matador was largely put together at home before he gave in to cabin fever and decamped to his friend Ian Davenport's studio to finish it off.
Looking back at his first solo record Here Come The Bombs, he sees it as a bridge between Supergrass and Matador, where the tone he was looking for started to develop on songs such as "Subdivider", but finding his own timbre took time. "On the first record I was transitioning to doing something on my own and I think inevitably there's going to be a hangover from what I've just come from and even a songwriting hangover as well, in terms of that transition time. I didn't even know what my voice was particularly, I was like 'shit, what do I sound like?' And I didn't know." Whilst he's still proud of his debut, with Matador he realised the most important thing was to please himself and trust his instincts more. As he explains, "I think on this record I gave in to what I wanted to hear without worrying."
But finding himself alone was almost a lesson in humility, despite all the his success it's curious to hear him describe himself as a beginner, when his back catalogue is so rich and his new record is so formidable. "I remember my first album, there was a review in a magazine and it was next to Jack White's first album and I remember I genuinely thought, 'fucking hell, I'm on the same page as Jack White!' I'm only a guy from the band, I'm not like this superstar, I'm still starting out."
However being alone also meant that without the safety net of bandmates he often questions himself, perhaps more than ever, but accepts the it's the reality of making records alone. "The creative process is an ongoing battle between self-doubt and confidence and there's never going to be winner, so you've just got to be fuelled by things that you hear and think 'I can do better than that' or 'I can match that.'"
I tell him that after the acclaim given to the new album his confidence must be pretty good at the moment? "Yeah, I guess because I've got through all that self-doubt of making the record and it's out and it's been well received. It's weird, the critical stuff and the press, you've got to take the rough with the smooth and sometimes I feel maybe I'm too delicate to take the rough, but then equally I've got this weird confidence about what I'm doing, it's a real Jekyll and Hyde thing, it's a bit fucked up really, I think I'm a bit fucked up! It's that sort of battle, but I definitely settled in to being myself on this record."
If anything, the approach this time was less is more. "When I was making Matador, I got really particular about what I wanted to hear. I approached a lot of it with a demo-like quality and approach. Something like "Detroit", the chords were written on an acoustic guitar and I knew exactly what I wanted to do and I'd just go in and play it and I knew I didn't have to call anyone up to get them in to play on that, because I can do that sort of beat on the drum myself."
It strikes me that way he talks about the musicians he's working with now, which includes his long term collaborator Loz Colbert of Ride on drums, sounds like the way someone would talk about a band. "Yeah, it's a gang, but they do other things as well. I wanted to get the guys in to translate the record for me live. But weirdly there's been that crossover, because they're great guys and we all get on so well." He seems to have found the perfect middle ground, where he's not shackled by band politics, but can call on musicians who enhance his vision of the songs. "When I came out of Supergrass the first thing I remember saying to my wife was 'I don't want to be in another band', I'd just come out of all that politics, the decision making, the diplomacy, the democracy. I think that's the important decision, choosing to work with people who you can tell are just naturally gravitating towards the music, there's this need and this will do to it fucking brilliantly. I just feel blessed, I feel so lucky to have those guys."
Matador arguably generated the most positive reviews of his musical life so far and I ask him if he's surprised with the reaction to it. "I didn't expect it actually. When I finished it and even when I was halfway through, I was getting the feeling that something cool was happening. I remember my manager Chris saying to me when he heard "To The Wire", 'I think you're on to something pretty mental here, please see it through and finish it.' I was the classic procrastinating, self-doubting musician, wondering if any of it was any good. When you put it out you still don't know if people are going to get it and there's all the baggage as well, all the stuff that's gone before me, the legacy of Supergrass."
Despite his aim for modernity, I think that there's something very retro about Matador, in that it feels like a vinyl record, where "Detroit" is the end of side one and "Needles Eye" is the start of side two and it turns out that was what he had in mind when he put the running order together. "I think about it in terms of vinyl, it's a thought process that I need to entertain and I need to nail but it's not going to have an impact on the CD. At the same time it's not the be all and end all. I love to listen to vinyl, it's a different listening experience and I think it's quite a fun, liberating thought sometimes to think about the minority that are going to be listening to it on vinyl and make that a special thing."
We talk about the live shows that have accompanied the album. I thought the choir at the Queen Elizabeth Hall was a masterstroke, they fitted perfectly with his aesthetic of using the best tools for the job, but that doesn't mean they're the most expensive ones. "That's what drew me to it, this thrown together vibe of the whole thing. I don't want to say this in a way that's slagging him off but occasionally perhaps Damon Albarn can have that very knowing, 'The greatest London Choir' with these extremely special guests who are famous in their own right. I've got the greatest respect for Damon and I'm a big admirer of how focused he is. It's incredible, he's a great artist but what I gravitate towards is kind of beautiful accidents and spontaneous moments and sometimes they work and sometimes they don't."
The choir were jaw dropping, dovetailing beautifully with the new songs and their joy at being part of it added to the communal feel of the evening. "I could tell they loved doing it, it just really warmed my heart. I just wanted to see what happened and I thought they were fucking brilliant." One other thing that was apparent on the night was the way that the crowd were willing him on, more than happy with the fact that he'd drawn a line in the sand and doesn't play Supergrass songs live anymore. "It was insane. I got the footage back and I was watching "Matador" and I thought 'fucking hell, this is amazing, this sounds really, really great and it looks incredible". I got emotional watching it, it was like seeing something that you've done and that you didn't realise when you were doing it how good it was".
He'd done a Radio 2 interview at six thirty that morning and played in Brighton the night before. "I was kind of fucked and quite done in and I remember in the soundcheck singing the lines from "Detroit", 'My mind is shot and my body's fried' and I'd never sung a line with such meaning before and then the choir came in and I had to stop because I got overwhelmed. I literally thought I might breakdown, because it was so beautiful but so real and I thought it is so pure."
The current single "Detroit", sounds like a hit to me and something you can imagine hearing on the radio, but he's fairly sanguine about chart success. "You can say it should be like this or should be like that but it's about profile. You've got to have the profile to do some damage, there's a lot of people making a lot of noise out there and you've got to try and make more noise than anyone else, but it's also not massively in my make up to try chase that."
As he gears up for a hectic summer with more touring and travelling he pauses to think about the toll it can take as you get older. I ask about his voice, which seems to be underappreciated. "I do get quite particular about singing well and it's freaked me out lately about how I've got to start being conscious about looking after it, but I've never looked after myself in terms of my voice and stuff, in terms of smoking, drinking, doing whatever. I started to think 'uck, I'm 38 now, am I going to have to start looking after it!?' It's a weird one. I can kind of lose the plot a little bit and lose myself at times but that's the way it's always been."
We talk about the festivals that are coming up and I bring the choir back into the conversation. I think that they would be a sensation if he was to bring them with him. Whilst it's something he'd love to do, he's very pragmatic about the resources at his disposal. "There's so much hanging on the sort of one shot deal you know? You don't get a soundcheck, even at the best of times for a three piece band it can go tits up, so adding a choir into that can be a bit dodgy. But I know exactly what you're saying, when I read your live review you said something like "If this happens in the festival set up then it will be a real big talking point" and I agree, that's the frustrating part of what I do. I have aspirations and ambitions to do all sorts of things but you're limited with the resources and the profile."
Before we take our leave I throw one more question his way, namely does he think that Matador has a shot at album of the year? His response is as you'd expect, focussed more on a love of music than soaking up applause.
"I feel really proud of what I've done and I love the fact that it was an honest representation of my weird fucking head and that people really like it, that's brilliant. But beyond that I can't second guess what anyone thinks. I don't have the right to say where it should be, it's not up to me to say where it should be and what it should do, I've just got to do my shit and see if people dig it. If I can get even fucking close to some of the records that I listen to all the time, such as Horses by Patti Smith or Holland by The Beach Boys or The Man Who Sold The World, just records where the full album is a complete entity, then I'll be really happy."
Matador is out now via Hot Fruit Recordings/Caroline, featuring new single "Detroit". All photography by Hollie Fernando for The Line of Best Fit.
Get the Best Fit take on the week in music direct to your inbox every Friday