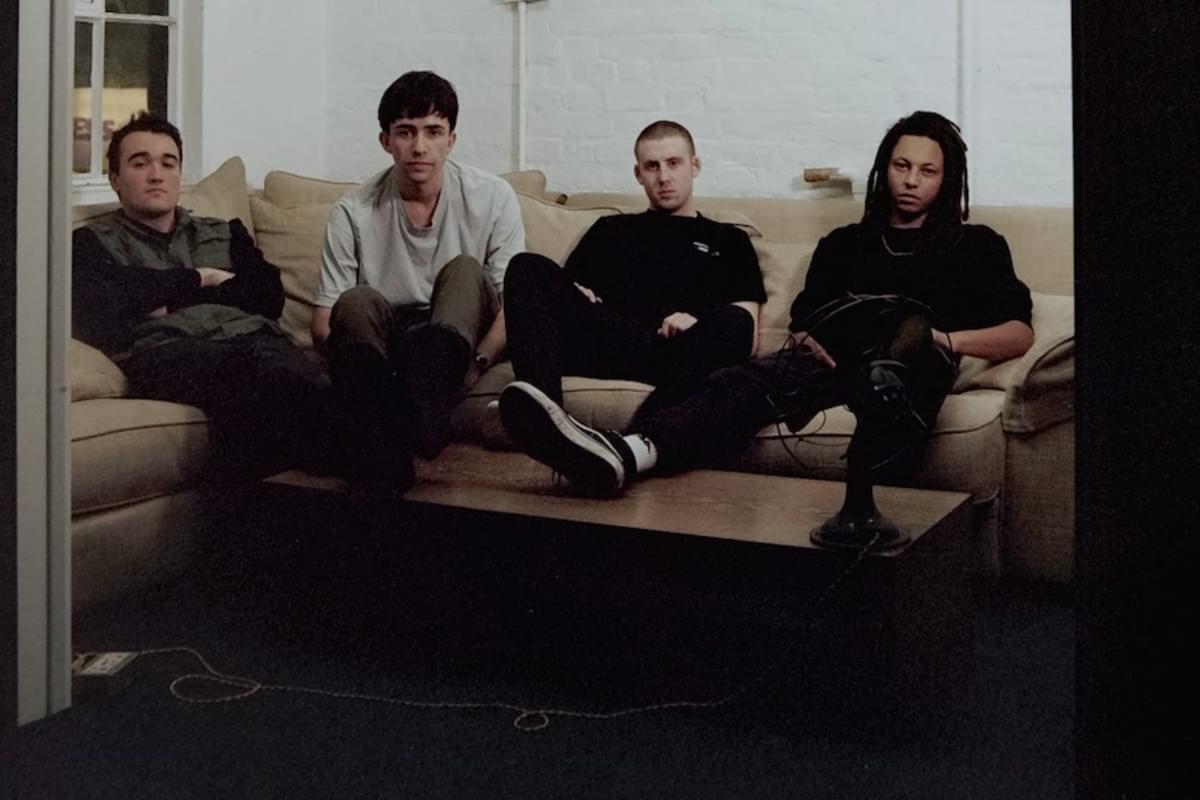 On the Rise

Folly Group
06 July 2021, 12:02
East London's So Young Records signees get together to talk about their debut EP Awake and Hungry and why they consider themselves a collective rather than a band.
Formed out of drunken enthusiasm on a late-night tube journey, housemates Sean Harper, Louis Milburn and Tom Doherty would frequently play shows at venues such as The Old Blue Last and The Windmill in South London, before finally recruiting percussionist Kai Akinde-Hummel into the fold. He claims that at one point in his life, he was "the only drummer in Camden". Naturally, this meant that he was involved with many different projects at the same time. "I went to go see them and thought they were terrible. I asked them, do you know what you should do…" Hummel jokes as the other members give conflicting stories of what actually happened.
In reality, Hummel was brought along to a rehearsal having been close friends with the members for years, and became the missing piece of the puzzle. His rhythmic contributions on tracks such as "Fashionista" and "Four Wheel Drive" are hard to miss, adding to the unconventional nature of their music. "We had a show the following Wednesday and he was right – it was way better!" Milburn shouts.
With Kai now in the fold, the group got to work over last summer, fleshing out demos that would become Awake and Hungry. Not every idea they had always stuck, especially with intensive writing sessions, sometimes up to 10-12 hours a day. However, they feel like has paid off. "We recorded it whilst me Louis and Tom were sharing a house in a tiny bedroom, with a mattress shoved against the wall. Thankfully our deaf neighbour was cool with it and we couldn't have done it without him!" exclaims Harper. "It feels sentimental and almost like a sonic footprint of the experimental energy we had at that time."
Despite being lumped in with the post-punk label like many of the South London DIY bands associated with The Windmill venue such as Squid, Black Midi and Goat Girl, Folly Group's members are more in touch with their electronic and dance influences than anything else. That being said, Folly Group aren't afraid of shying away from the label either. As Harper says: "It's so much easier to explain that we're a post-punk band when someone asks you at the pub than getting bogged down in subgenres. At the end of the day, what we make has so many other random influences. In terms of the EP we wanted to make something that was broad enough that whatever we decide to do in the future isn't some U-turn."
Harper says that he grew up engaged in the world of dance music from an early age – particularly material that was dark and heavy. It is hard to miss this influence in all of Folly Group's music with the EP's constant ambient layers amongst the other frantic instrumentation. The idea of being in a straightforward rock band isn't appealing to him. "All those things seep into Folly Group, the most obvious one being incorporating such a complex rhythm section for a group of four people," he explains. "I think the idea was that we wanted audiences to have the same lucid, bodily reaction they would get from a DJ."
In terms of how they see themselves as a "collaborative group", Doherty says whilst they have friends onboard to help with music videos and promotion, the sentiment is more geared towards how they choose to create their music. The video for the title track is an interactive maze whereby the viewer navigates a creepy abandoned house, straight out something that Twin Peaks creator David Lynch would dream up. "We've done remixes ourselves but in a wider sense it's a commitment to making the project like an inhouse production studio of creativity. We made that music video using software called Unity. That feels like an early example of us veering off into different directions. We were sceptical about how it would work but it's all about pushing boundaries and being out of our collective comfort zones."
Folly Group all agree that so far, they have had positive experiences working with their friends. "We've learnt so much from our mate Oscar who directed the video for "Sand Fight" – he gave us so many options," Hummel elaborates. "There are all these people who make all these glossy music videos, but you can just tell there's no chemistry between the artist and the director. Everyone who makes up the collective all has something equally important to contribute." In an ideal world, Milburn and Harper dream of collaborating with the likes of Ben Frost or Atticus Ross, but right now it feels like they have enough mates up their sleeve willing to help out.
On the subject of what it means to be Awake and Hungry, the title has many possible interpretations, but the most agreed on explanation is a statement about the members passion for the project itself. The frantic dance track "Fewer Close Friends" in particular encapsulates the anxiety of feeling like you need to please everyone around you. "What I feel like I'm writing lyrically is about that hype of life being great in your early 20s and the reality of things not living up to expectations," Harper says. "Especially with the bleakness of last year. For us this EP is a nice opening gambit for how this project feels to us, fresh and exciting."
With the world opening up again, Folly Group are understandably turning all their attention to live gigs and showing the UK what they're made of. Beginning with headline shows at Moth Club and Hope & Ruin in Brighton, the band have their sights set on the more unconventional of shows. Doherty suggests that having all their mates on an industrial estate might be a cool idea. "Somewhere like MOT with some sick visuals on the wall and enough space for us to jam out." Hummel on the other hand wants somewhere spookier. "I could imagine us playing some converted library from the '70s with gross writing everywhere," he says.
Awake and Hungry is out now via So Young Records.
Get the Best Fit take on the week in music direct to your inbox every Friday