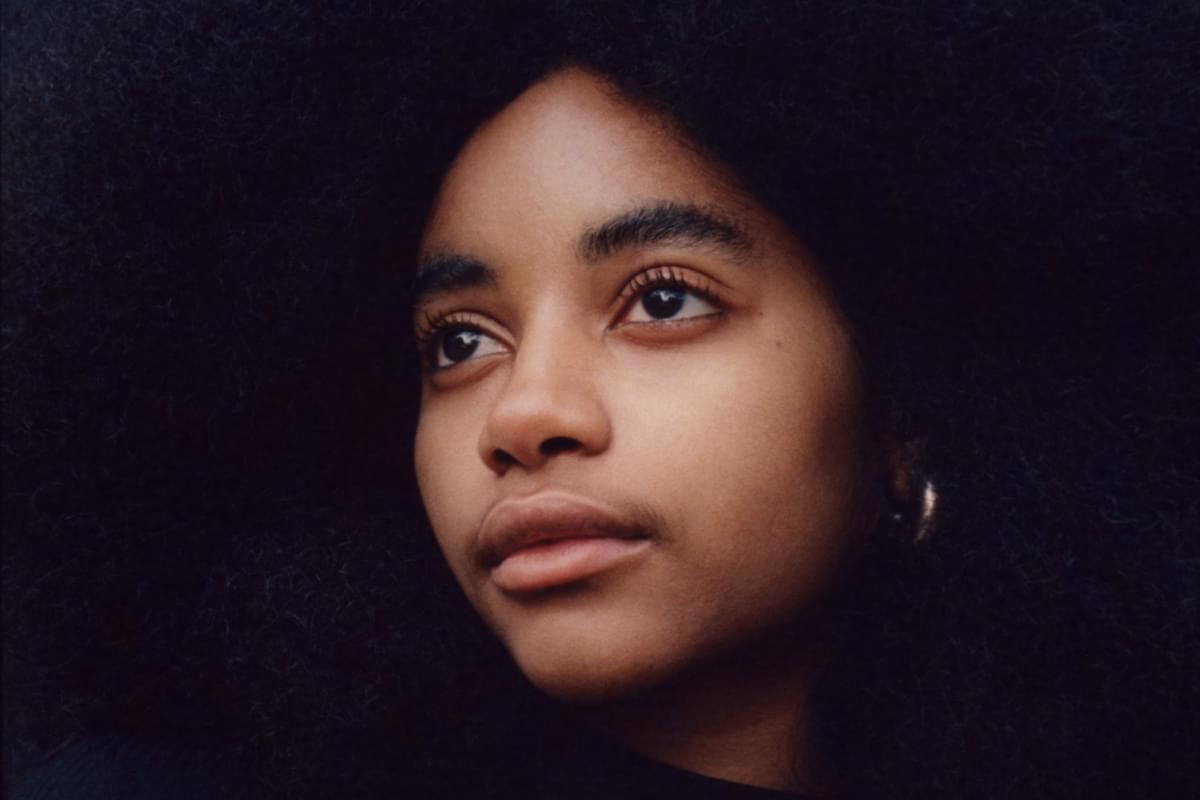 On the Rise

Flowerovlove
21 April 2022, 12:30
As Flowerovlove, 16-year-old South London born Joyce Cisse makes music driven by hazy nostalgia as much as an unwavering self-belief.
Joyce Cisse meets the lens with a sleepy, feline gaze and blinks slowly, like a cat laying in a chink of sunlight on a Sunday afternoon. It could be contentment she feels: wrapped in a white towelling robe, resting her feet on the table, swirling around a glass of wine; breathing in the scent of a flower that she twirls around her fingers – or it could be a little well-earned contempt. "Send these rappers back to school / Bruh, I'm 15 / You'll challenge who? / Paris fashion week we do that too / Got the cheque and the boots", she doesn't so much sing, as speak with a cool indifference, on the visuals for her track "Malibu".
And no, she doesn't flinch once, because it's all true.
Flowerovlove sees her life as a garden, and for an artist who has only just turned sixteen, its blooms are in colourful abundance. The South Londoner, besides releasing her debut EP Think Flower last year, has walked Paris Fashion Week for Malian/Senegalese heritage label XULY.Bët and been the face of campaigns for the likes of Gucci and Pangaia – oh, and she sold out her first London show too.
Her music, in many ways, is a pressing of these moments like petals in between the pages of a scrapbook. Drunk on pollen and sunshine, her groove-led tunes unravel like a lazy daydream - always light, lo-fi and brimming with a certain radiance that is all her own. "I see myself as a flower," Cisse tells me. "And I think other people should see themselves that way, too. We're all growing. In winter, flowers lose their petals and all that fun stuff – you can say it better," she laughs, "but you will grow them back again."
The startling thing about this declaration is that it comes from a representative of a generation who, under the unforgiving glare of social media, usually squirm with a lack of confidence. But not Joyce Cisse. "I actually have a completely different perspective," she shares. Planting the seeds with her debut EP Think Flower ("You need to 'think flower', which means taking care of yourself and be unafraid to be selfish"), it's a state of mind which she intends to nurture on its upcoming successor, X. One of the tracks, "Keep Falling", she tells me, isn't an ode to a boy – but to herself. "My whole thing," Cisse says brightly, "is that I'm absolutely obsessed with myself. You need to serve yourself, otherwise, who will?"
X was brought to life in the month of May, when the daylight yawns and stretches out longer, the sunshine lingers on her skin and the flowers are in full bloom. "I was focusing on myself, purely, and focusing on balancing music as well," Cisse explains. "It was a really good era of my life, and I think it was the perfect body of work to represent that." Each song is like the stirring of a wind chime as spring moments breezed past outside the window of her older brother Wilfred's bedroom. It always starts off there: he toys with a beat, and she writes melodies behind him on his bed. "It's very much like he's my best friend and I'm his favourite person," she smiles, with all the cherubic blamelessness of a little sister.
"We weren't even very close until we started making music together, I'd say," Cisse shares. "Even when we were making 'Unseen Miracles…" she pauses for a second and makes a quick aside: "That song was, like, trauma. I'm not even joking with you right now. It was mainly how I felt about myself, but he was pushing me saying, 'Hey, you know, you should do this. You should make it, Joyce, it's great.'" They've since become each other's greatest creative allies. "When he thinks something is shit, he'll tell you it's shit. I'm quoting him right now: 'It has to be goodness'", she says, "so everything he's involved in is great. If it isn't, then he's not going to make it."
Cisse is drawn to music that evokes nostalgia. She likes to spend time alone, closing her eyes and letting vignettes of years gone by pass before her: water fights, running around fields with her brother; pitching a tent with her friends to camp out in the garden; the particular smell of her mother's homemade Ivorian dishes that bring back memories of being gathered around the table with her family. "Those moments are so cool because I didn't have as much as what I have now. Nostalgia is my favourite feeling in the world, and I want to create that feeling for other people," she tells me.
I raise the idea that nostalgia might seem sweet, at first, but always leaves something bitter to taste. "I hear that," she nods, "because there's always something missing. But it's not that I'm missing it as much as I'm still enjoying it. I do think it's bittersweet, and can sometimes feel empty, but it's a good feeling. It's delicious."
It's a sentiment that Cisse echoes when she contemplates the incredible creative success she has found as an artist and model when all she should've been concerned about was sitting her GCSE exams. "Well, it's like, when you're not somewhere, you want to be somewhere else," she shrugs. "When I put out my first song, 'Kiss & Chase', it was great – but I wanted more. The more I get, the more I want. I'm an achiever, as well, so I'll know I get it."
She does admit, however, that it's quite strange, blurring the lines between youth and the lack of responsibility it affords, while already being tethered to the expectations that accompany an already-thriving career. "Imagine walking into school, and people are like, 'I don't expect someone like you to be here because you already have your whole life together'". She quips, "I'm just like, 'I'm only here because I legally have to.' But I do enjoy school, as well. It's a bit of a weird dynamic, because you're supposed to have this childhood, but then you're also already doing what you're supposed to be here learning how to do. You're meant to learn how to get a job, but I already have that. I'm already doing what I want to do, so it's almost like I'm in the past and the future, two alternate universes."
Does she feel that she's growing up too fast, hurtling towards adulthood at an almost whiplash-inducing speed? "Sometimes, I feel like a 30-year-old woman," Cisse admits. "I need to have everything figured out. But then when I'm around people my own age, I know that's still a part of me, too, and I can still do whatever I want. I tend to be around people who are way older than me, but I realised no one actually knows what they're doing in the creative industries. Everyone's still figuring it out, making it seem like they know what they're doing. That's actually how it works, to be honest."
Cisse is nothing if not precocious: incredibly wise to her effect on the world, and yet also incredibly unbothered. "Actually, I'd say I'm a pretty cool person, anyways, so I think people think I'm cooler just because I don't talk about the things I've done," she tells me. "I don't walk into a room and start bragging about certain things. I'm just very normal. But it's like, I could say I have a great energy to me, and I'm relatable – like, if they see me doing it, then they can do it too."
But that doesn't mean she is without cynicism, excavating uncomfortable truths most people would prefer to overlook. "I would say people do treat me differently. In secondary school, teachers started to be way nicer to me. I wouldn't get in trouble for anything. They want to have that thing of, 'Oh, I know her. She went to our school and I taught her.' They want me to like them so they can say they quote-unquote 'know' me."
She trusts in her intuition to sift between those with good and dishonest intentions. "I always trust myself, so I always know when someone is fake," she tells me. "And actually, I haven't come across anyone who's fake and only wants to be my friend because of music or because I've done things. When I meet people, they usually aren't like, 'I want to be friends with you because you're Flowerovlove' – it's more, 'I want to be friends with you because you're really funny and have create energy.'"
Most of her friendships precede her career, but when it comes to fostering new ones, she admits that she holds herself at some remove. "I don't let people in too much. There are people who know of me, and we're friends, but they don't know anything about me. Even friends that I've had for years don't know that much about me," she says matter-of-factly. "Friendships, for me, aren't about knowing each other's secrets. It's about the now and enjoying the time we're sharing now. I like to be mysterious. My friends know as much about me as people on social media know about me."
As she attempts to untangle her feelings about social media, I realise that though she is in an entirely different orbit to her school friends, the truth is that no matter who you are, whether you have 1,000 followers or 102,000 like Cisse, it's still complicated. She insists, "I literally treat social media like everyone's my best friend. I feel like we've built a relationship, they know me, so I don't need to act like someone I'm not. I'm comfortable enough to post a selfie that's not me looking 'cute' – I want to post what's happening in the present moment, things that I like and that are real." But then, moments later, she tells me about how she'd lose as many as six hours a day tumbling down TikTok rabbit holes; about how, with her Instagram stories, she'd watch it over and over, going on her second account to see it from another perspective, almost like an out-of-body experience. "In my head, my audience was just my bestie," she says, "but now, it's weird. I've become more cautious with what I post because I can't control who sees it."
The most arresting thing about Joyce Cisse is, without question, her unwavering self-belief. It begs the question: has she always been this way, and where did she get it from in the first place? "As soon as I started making music, as soon as I found my thing, I was like, 'Okay, this is something I'm great at.' And because I had that love for the music, I then gained that love for myself," she explains.
"Every single day, I listen to a song of mine on repeat. I'm actually my biggest fan."
Since the age of six, she had been writing her own songs, but only pursued music in earnest during quarantine. She found that people liked it, that it had an impact, and saw no reason why she shouldn't just continue. "I always knew," she says when I ask her about if there was any doubt she'd be a musician, like a wise woman retelling the story of how the stars aligned, circumstances shifted, and the cards were stacked, the day she met the love of her life. "Nothing else has felt the way making music feels. It's like producing a child, constantly. You get that oxytocin, that automatic connection, and I get it with all my songs. I just love it. It touches you, and honestly, music is literally the blood in me: it pumps oxygen in my blood. Not even the air outside can do that for me."
When she writes, she tries to inspire that dizzying emotion in her audience; as much as it is rooted from personal experience, resonance is what she's searching for. It's from the simple adoration she has for the process, falling in love with it again and again, that means that a song is always finished with a feeling of completeness. "Every single day, I listen to a song of mine on repeat. I'm actually my biggest fan," she beams. "Then again… that's not true because I know some people who are way more obsessed with my music than I am."
So, naturally, Cisse relishes talking about her upcoming project. With the blue-sky daydream of "I Love This Song" being the first single, its successor "Will We Ever Get This Right" is a departure from everything we've come to expect from Flowerovlove – and it's her favourite. Up until this point, Cisse has made a point of turning her back on the lovesick lyrical conventions. "I don't want other people to listen to my music and think about the guy who did them dirty, or who they're in love with. Like, 'No, I want you to think about you, and how great you are'." But life moves, things change. "I write about what goes on in my life," she shrugs, "and it was one moment, and it's a great song. It's so catchy, it makes you want to dance. I've listened to it probably fifty times this week. Did I change my mind? Yes. But I don't want that to be my artistry. I know what my thing is."
More than the music, Cisse learned to love herself by simply spending time alone. "When you're with people, you always feel a certain pressure. When I'm by myself, I only have to worry about whether I'm having a good time. I don't need to think about anyone else. Through quarantine, I started to realise, 'Wow, I'm actually so cool'. I loved it, like wow…" she shares. "It takes a while, but you have to fake it 'til you make it. No one else can make you happy because people don't make you happy – you make yourself happy. You can't rely on people for your own enjoyment or your happiness. That's down to you."
She speaks to me now from a restaurant, where she's dining alone – something that often carries a self-inflicted social stigma. "It's just the pressure of people thinking that they seem lonely, but you don't need people," she insists. "You really don't. As long as you're secure within yourself, that's all that matters. I love being around people as well, and I'm very much an extrovert even though I prefer to be alone. But I can always make my own fun, because I know myself and I know my vibe." She pauses, and laughs, "I do sound like a bit of an introvert, don't I?"
Cisse is also a disciple of meditation, journaling and yoga: it's all worth rushing her schoolwork for. She likes French jazz music in the mornings, and leaves the house everyday repeating the affirmation in her mind: 'Something really good is going to happen to me today' – and every day, something does. "Something good could be something really simple. It doesn't have to be, 'Oh my god, there's a bunch of money in my bank account'. It tends to me more like someone just smiling at me, because I accept that as a standard of something good. I attract more abundance because I have gratitude for that small thing."
There's little wonder that her definition of success and the life she is leading are perfectly aligned. "It's about being fulfilled and being able to wake up every day smiling, being happy with yourself and being happy with your life – and also, being able to give love to other people. That's what I think I've already got. My life is great," she tells me, "and that doesn't mean it won't get better, because it will. More and more will come, which just attracts more and more success. Nothing determines my happiness but me."
Get the Best Fit take on the week in music direct to your inbox every Friday