Long before riot grrrl bust onto the scene, there was another group of wild women rebelling against societal oppression. The witch's powers - punk, pop culture or otherwise - are often deeply related to feminism and enduring female strength. But despite their superstitious naming convention, Washington trio Ex Hex are more likely to come armed with a Jazzmaster '64 in hand than a broomstick.
"It's more like, you used to have a hex but you don't have a hex anymore", explains frontwoman and lead guitarist, Mary Timony from her computer desk. Flanked by guitarist, bassist, and co-songwriter Betsy Wright, the pair are nestled in and amongst the guitar gear and floors filled with pedal boards and half-stack amplifiers down in the basement of Timony's DC homestead. "We recorded here actually", she admits over the video call as she begins to re-position the camera to do a sweep of the studio space with Wright animatedly grabbing the Flying V ("It's limiting but if you can work within those limits, it's really good") and digging out the Rockman headphone amp. "I got this from a kid named Kevin at school. I was just borrowing it but I never gave it back to him", she recalls with the first of many laughs.
It seems the thrifty approach to music making started at a young age. The guitarist begins to reminisce about her first instrument which - as any '90s teen will attest - normally means a Fender knock off from the local Argos complete with a whammy bar that would immediately put an end to your tentative tuning. Timony's beginner strings came from a little closer to home though. "I got this guitar from my cousin, the first guitar I had. It was a piece of garbage and sounded horrible but I loved it", she tells me emphatically. Meanwhile growing up in the suburbs playing open mic nights alongside her hippy brother, Wright admits she tried the same instrument only to find it "too hard" moving onto piano instead (she'd go onto study jazz piano at Bards College, in fact). But you won't find any neo-bop in the pair's sound now, that's firmly rooted in rock and roll.
In fact, the last time we saw Ex Hex, completed by Laura Harris on drums, the threesome were high-kicking and headbanging their way through a Rough Trade East in-store in support of debut Rips which crashed onto our stereos back in 2014. The record didn't go undetected by the press with Pitchfork gifting the release Best New Music honours and Magnet Magazine placing the power trio in their Best of 2014 list. A full-on assault of monster riffs and retromania, the band's performance in London that night kicked off a whirlwind few years on the road. "I remember feeling crazy that day", Timony says with another laugh. "We were jet lagged and so tired. It was actually the beginning of our tour". You wouldn't have guessed from the band's frenzied fretwork hurtling into album opener and sunshine single, "Don't Wanna Lose You".
Ironic given that we sort of did as touring encapsulated the group, performing across the globe for the following two years. Wright admits that's one of the reasons there was such a gap between releasing material. "We were so excited after the release of the record and we said yes to everything", she explains, leaning back on her seat a little. "It wasn't the type of tour where you could work on songs on the road, you know? We've got our guitars, have some downtime and write a cool song. It's just not those kinds of circumstances. We were really burnt out". Timony's quick to agree: "We toured hard and we learned our lesson. We had to do all the logistical stuff ourselves and it just got overwhelming".
"To me, that [Dischord] scene was this really male thing, like a little army of guys or something. A lot of it had to do with music but a lot of it didn't, it was more active. They formed these groups. These guys were gangs or something" - Mary Timony
Ex Hex was a notable shift for Timony who made a name for herself in the early '90s DC scene. Long gone were her signature snaking fret lines and instead, she was challenging herself to a new set of songwriting tactics. Purchasing a 1977 Les Paul Special for the recording of Rips, it's possibly not surprising Ex Hex's sound has that of the classic rock behemoth. "Playing in Ex Hex really coincided with me trying to change the way I played guitar. When we first started, I had never played a Gibson", she shares warily. "I'm from the nineties so I play in alternate tunings a lot, I've never really tried to play guitar in a normal way". As we'll come to learn about Timony, she's certainly one to apply herself. A year before their debut release, Ex Hex were yet to even play their first show. The only real evidence of the band's existence was a rough rehearsal recording of "Hot and Cold" posted by Timony and then quickly removed.
Because while Ex Hex might be the first entry point to Timony for some, her career has spanned well over two decades in various guises. And possibly more comfortable with her '64 Fender Jazzmaster in hand ("That was just the thing I played for like ever since I was 25"). Her formative band Autoclave was born out of the Washington Riot Grrrl scene joining forces with vocalist and bassist Christina Billotte (who incidentally would go onto form fellow '90s name, Slant 6). Listening to their eponymous debut now, dark numbers like "Go Far" might have you bookmarking them next to fellow Olympian duo Heaven's to Betsy but Autoclave was actually a few years ahead of this sound kicking off on the West Coast. Signing to prestigious punk label Dischord Records, the band was a bit of an anomaly on the label's roster which was co-founded by frontman of influential punks Minor Threat and post-hardcore icons Fugazi, Ian MacKaye. "To me, that scene was this really male thing, like a little army of guys or something. A lot of it had to do with music but a lot of it didn't, it was more active. They formed these groups. These guys were gangs or something", says Timony.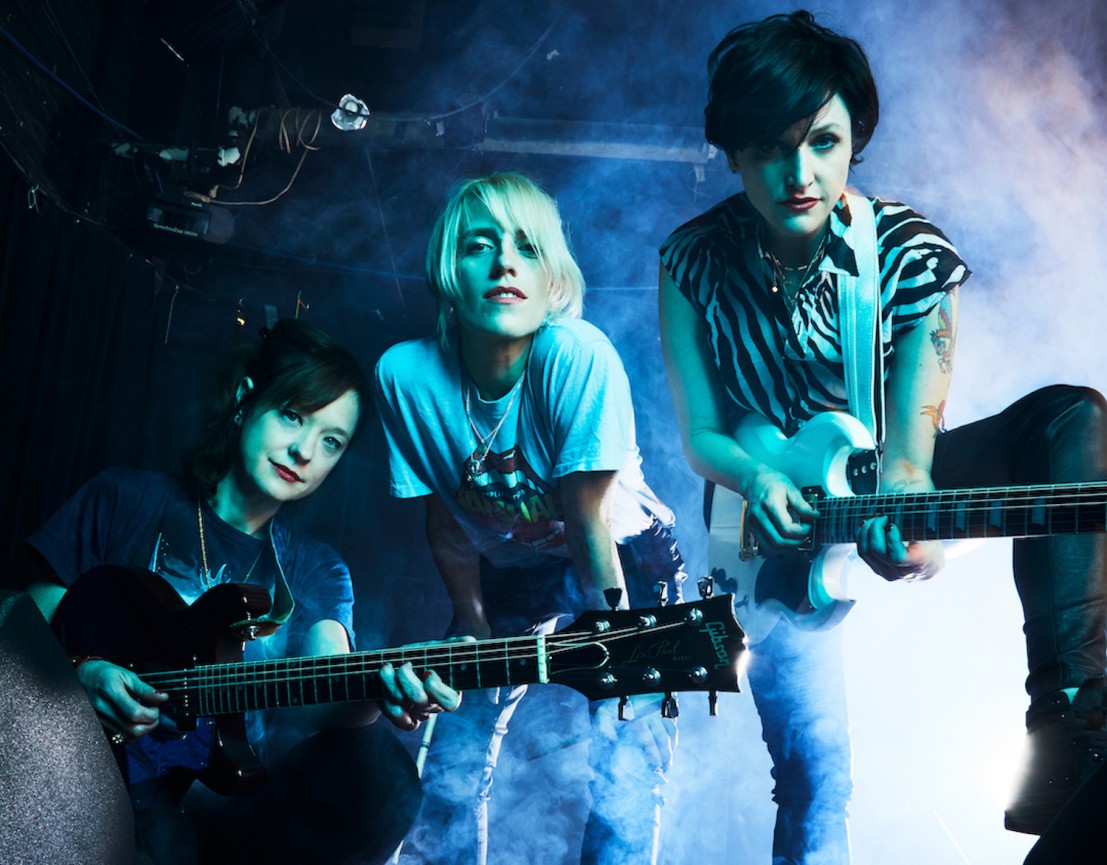 The punk scene of 80s Washington is storied; circle pits teeming with testosterone as male bodies slam up against one another to the sounds of US hardcore titans Black Flag and Bad Brains, in an attempt to reimagine the British punk scene. You'd find them filling the floors of the old Nightclub 9:30 or laying down licks at Inner Ear Studios in Arlington. Interestingly, another basement recording space originally starting out as founder Don Zientara's home studio and has since played host to Washington's most widely recognised musical figures; Rites of Spring, Q & Not U and Black Eyes. But it wasn't just in the intimacy of sound proofed walls where these musicians were coming together. Some of the scene's biggest names joined forces to organise a series of Rock Against Reagan concerts to bring political awareness into their punk subculture. For many, the '80s was as much about hardcore as it was about conservative revolution.
But perhaps what's less well documented is that scene retold from a female gaze. "These young men playing this really aggressive, loud music and all these rules and the social stigma. It was a very masculine scene in the 80s", explains Timony. Thankfully, at the same time as this hypermasculine moment in DC, another scene was forming and one which opened the doors wider than the pre-established boys club. "Bikini Kill moved here [Washington. DC] in the early nineties and everything shifted", Timony recalls, scrunching her face to tug at the memory. "I really feel like riot grrrl was a direct reaction to that culture and hardcore 80s scene. It wasn't like going to a Journey concert where it was more like watching television. It finally felt accessible which is what punk is all about - getting involved". While hardcore clusters forged by the disenfranchised youth gathered, riot grrrl created a safe space for women and girls at music concerts – particularly punk shows dominated by violent mosh pits. Timony certainly felt that: "What was exciting for me and probably for anyone at the shows, was that anyone can play. To me, I never would've wound up in a band if I hadn't gone to all those gigs".
Timony's noted guitar style - wonky lead lines and skronking chord structures - earned the musician early nods to the math rock movement and it was this eclectic experimentation that ended up ensnaring her next musical gig. Parting ways with Autoclave in 1991, Timony decamped to Boston University to study English Literature. The following summer, she picked up where folk singer Mary Lou Lord left off joining oft-overlooked alt-rock gems Helium; an act that former Dumptruck drummer Shawn King Develin and bassist Brian Dunton had formed with Jason Hatfield (yes, that's brother to Juliana). While Autoclave tapped into that early riot grrrl sound, Helium dug deeper into feminist themes and snarling guitars. Lead single from The Dirt of Luck, Helium's 1995 debut, "Pat's Trick" served up the kind of distorted chorus hook that Kim Deal was dishing out with her harmonica mic over on indie club classic, "Cannonball". They slotted nicely alongside Sonic Youth too (avowed fans who went onto sample the riff from Helium's "Skeleton" in their own track "Sunday").
Spending much of the next decade up in Massachusetts, the band's final output The Magic City remains, according to Stereogum, "50 gamma-ray soaked minutes of Medieval chords, rampaging keyboards and a pedal steel". As referrals go from university, the coed quartet established Timony as one of the most influential women in indie rock.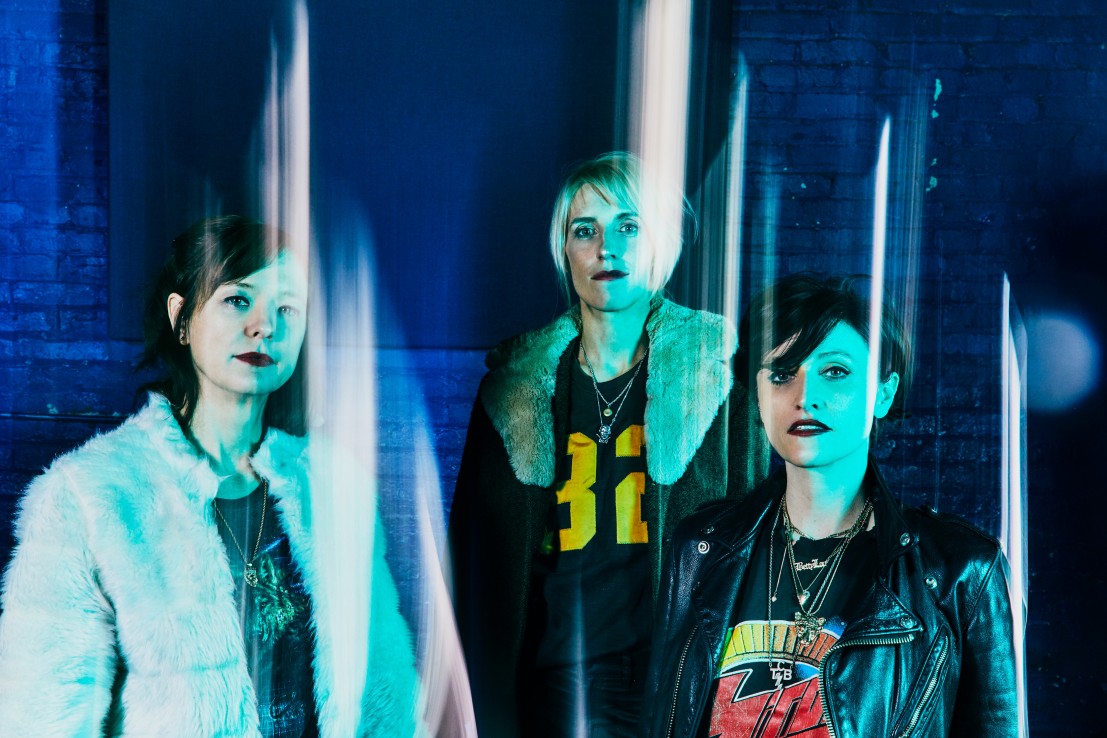 Music buffs chart the next stage in Timony's illustrious career, The Wilderness Years, releasing three solo records and eventually parting ways with longtime label Matador. The guitarist flirted with a few lo-fi collabs including short-lived garage rock group The Spells with Sleater Kinney's Carrie Brownstein - a union that would be reborn in the late aughts to form bicoastal supergroup Wild Flag alongside Rebecca Cole - drummer of The Minders - and Brownstein's bandmate Janet Weiss. As the pair sing in harmony on lead single "Romance", 'We love the sound / The sound is what found us / The sound is the blood between me and you". And the sound of that dual guitar-hero theatrics made for one heck of a debut. From the meandering wig out of "Glass Tambourine" (that would surely go onto influence SK's ferocious The Woods) to the discordant opening riff in "Something Came Over Me", Wild Flag were a welcome amp up to 11 onslaught in a yearly Best Of filled with Smiths-style sentiment from The Decemberists and the Helplessness Blues of Fleet Foxes. But with rumblings of the riot grrrl giants Sleater Kinney set to reform, Wild Flag's eponymous debut would be the band's only output with the group disbanding in 2013.
This brings us nicely full circle though. Back to Timony's current project, Ex Hex and back into those tiny carpeted practice spaces alongside half a dozen hardcore bands. It was here that Timony, Harris, and Wright jammed out their 2014 debut Rips, a souped-up serving of unapologetic rock and roll about underdogs, guys stealing your wallet and schoolyard brawls (presumably our Kevin after his Roadman amp…) But it was also a record that would push the band to take a step back from the touring circuit for some much needed R&R. Only a little downtime for a polymath like Timony isn't exactly streaming the Chilling Adventures of Sabrina on Netflix. Instead, she pushed out a trio of reissues from her Helium days on former label, Matador. She even picked the guitar back up alongside members of indie pop band Hospitality to play a short tour billed as "Mary Timony plays Helium" in support of the release.
So now to 2019, a year billed as Mary Timony's rollicking return with Ex Hex. Well, by us anyway. Latest single and opening track on new record It's Real, "Tough Enough" is all "all about three-dimensional power chords interplaying with whammy dive bombs. It's a song about turning on your tough switch and forging ahead through whatever storms are happening around you 'cause you have no choice." It's an apt inside into the recording process for It's Real which found the band scrapping the first iteration on the cutting room floor, despite their clear enthusiasm for the project. "We started recording and I remember telling someone," Wright begins. "'Oh, we'll be done next month'. We had some roadblocks with that though. We recorded a bunch of songs and then we had to throw it out". Mary picks up on Wright's pause. "We tried to record all the drums isolated which was not a good idea. We thought we could do it, but then we realised we'd need a million more dollars to do it well so we threw it all out after hours and hours of editing".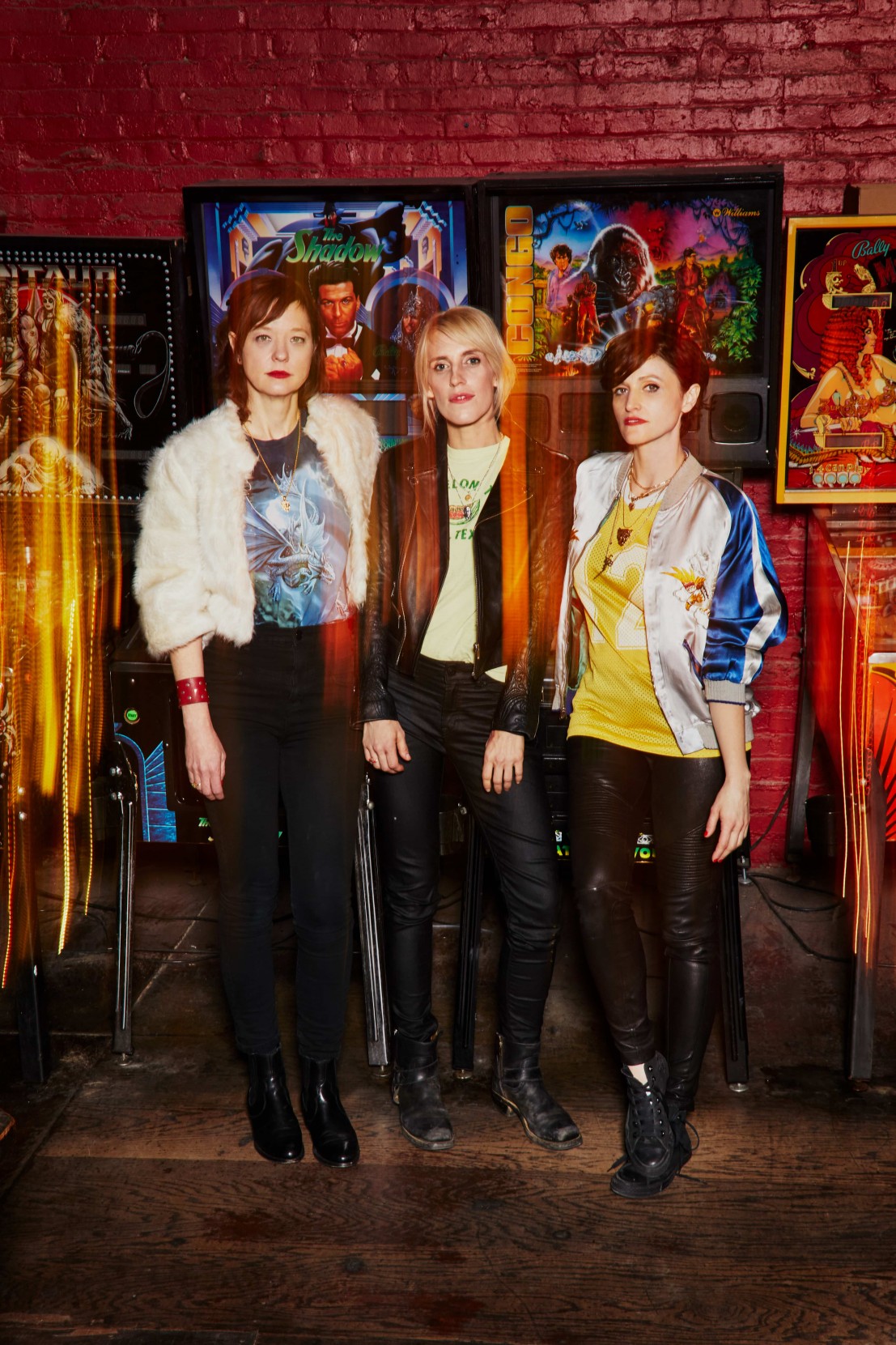 Thankfully, the group had a creative confidant in long-time producer Jonah Takagi (who also worked on Rips) and admit that It's Real was a far more collaborative effort. "He was incredibly particular and that's a good combo because we're like extreme opposites", chuckles Timony. The band's signature sound has tightened, much like their friendship which is so infectious even across a ropey video connection. Wright's often playfully slapping Timony on the shoulder at a quick quip or witty retort. Despite the sun beginning to set here, it's the start of the day for the both of them who admit they're still working on the live logistics for the new material. "There were a lot of guitars on the new record", boasts Timony proudly. "Betsy's playing guitar now which is really fun. But now we have two guitarists, we're having to reevaluate everything". So much for taking things easy.
Writing late into the night surrounded by the same set up they're seated in today, Timony and Wright leant on Takagi meticulous nature to tidy up their ambitious arrangements. It's this relentless devotion to their songcraft that almost drums up that supernatural power talk again. It's there in the shadows Timony sings of in "Cosmic Cave" and "Another Dimension" in its starlit psych singalong, with the kind of juggernaut riffs The Runaways would've stomped out in a glitter platform. Looking past the sacred and surrendering themselves to the music. Because, despite Timony's earlier confirmation that her hex is in the past, the band still feel cursed when it comes to the kind of stadiums these sucker-punch solos could be filling. Timony's contribution to the alternative music scene throughout the decades, as if shrouded by Potter's invisibility cloak, remains vastly underrated.
Conversation turns to tour. The pair are already channeling that same enthusiasm from Rips circa 2014 to get back out on the road. "It's a whole new dynamic for these shows", insists Wright while Timony is a little more reflective, as you would be after a career like hers. "This record feels really good, we worked really hard and I'm stoked to tour with it". Nearly thirty years in and her 18th record from it, was there ever any question that this woman wasn't a hard grafter? Now, where's that pedestal that's been knocking about since the '90s...
It's Real is out today via Merge Records