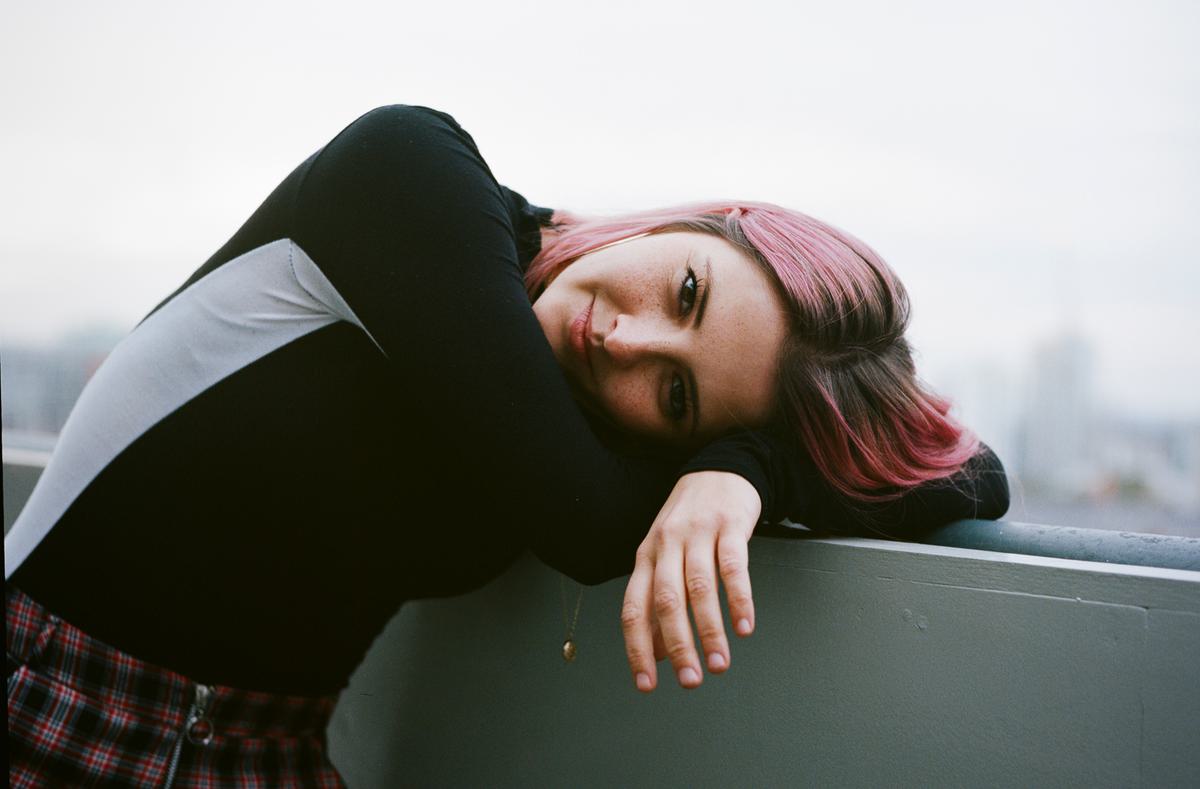 Ones to Watch: Emily Burns
11 December 2018, 08:30
Emily Burns cut her teeth as the receptionist at Abbey Road and is set to be one of 2019's most relatable stars, with pop bangers that promote acceptance and inclusivity
2018 was the year that Emily Burns claimed her place as the new heiress of pop. Whether it's the anthemic chorus of "Bitch" or the charming "woop-woops" that are peppered across the infectious, hook-laden single "Cheat", it is clear that Dua Lipa and MØ may need to start making room at the table, because a spectacular new pop talent is on her way to joining their ranks.
By anyone's standards, it's been a pretty huge twelve months for Emily Burns. From touring with Scandi-Pop Goddess Tove Styrke - a feat she describes as one of the "happiest moments of my life" - to clocking up literally millions of streams and playing her first sold-out, headline show, it's been little short of a whirlwind adventure for the rising talent from Rugby.
So, what is it about Burns that has caught people's attention? In Burns' eyes it has something to do with her unique take on a sound that we wouldn't normally associate with a British singer, as she explains "I think, hopefully, what made it stand out is that it is quite Scandi-pop, and then I sing with quite a British accent and I think that people haven't really heard that much before." In characteristically modest fashion, Burns also adds "I could not have expected the reaction."
Burns' journey into music all started back when Burns received her first guitar at the tender age of eight, during which time she was spending most of her time dancing around her parents' front room to P!nk.
"I know she's not a guitar artist or anything, but I remember hearing the I'm Not Dead album and just thinking those songs were so incredible… I was bouncing around the house pretending to be this pop star!" Her love for the "U + Ur Hand" superstar, paired with a healthy bit of sibling rivalry as she competed with her brother to see who could become the better guitarist, meant that very early on she was able to start understanding the relationship between the acoustic guitar and pop song structures; a relationship that would later prove very important to her songwriting
It was when she was only fifteen years old that she might have a serious future as an artist. Equipped with only her acoustic guitar, she entered a singer-songwriter competition called "Live and Unsigned" where she ended up meeting some of the first producers that she would work with in her musical career and first started working up her confidence as a young artist.
"It was the first time that I'd played music for anyone apart from my mum and dad, and these people just loved." Explains the singer, with the same modest, wide-eyed enthusiasm that you can imagine she was feeling at the time, as though she can still hardly believe that it all happened. "And they came up to me afterwards and said that I had an actual real talent for writing, and I knew my mum had told me that… But it's quite an amazing thing for someone who has no agenda in telling you something like that to actually say that."
In the subsequent years that followed, she ended up moving to London, as she quickly realised that Rugby was not going to be the place where she was going to build a career in the industry, as she notes "Rugby is not a musical town at all. I think there was one music venue, and it got knocked down and turned into shops or something, so it's not an ideal place for someone who wants to break into the music industry."
She bagged a position working at the Reception at the famous Abbey Road Studios, so she could make some money whilst finessing her songwriting, and this proved to be an experience that ended up teaching her an invaluable amount about the industry as a whole, as she says "I think before I was quite naive and just thought they just went in and sang a song and come out again, and I thought that must be really easy, but really it was a big learning curve for me to realise just how hard people are working in the music industry." It was also an experience that made her hungrier to the one who was going into the studio and recording, and also made her realise that it was within reach. "I was also just so grateful to be in that world and to be around music and to realise that you can actually make this happen if you work hard."
In the meantime, Burns perfected the art of writing slick pop bangers that are built upon the saccharine sweetness and excitement of all the classic pop songs, meaning that they feel somehow instantly familiar, however they also retain a truly British bite and a sincere honesty that ultimately makes her stand out in an arguably over-saturated market.
But what actually makes a pop song work in the first? Well, if you're Emily Burns, it takes a knockout melody, an endless trail of earworm hooks and maybe just a tiny hint of heartbreak…
"It's the worst idea to date me, because I'm definitely just going to write about it." The pink-haired pop star laughs, but she might actually have a point. A quick gaze across the smattering of tracks Burns has already released - many of which have already clocked up millions of streams - and it's not hard to pick out the specific tales of love and heartbreak that the artist has to tell. "Girlfriend At The Time" explores the paradox of being infatuated and full of lust at the start of a new relationship, whilst still feeling paranoid that the whole thing could end at any moment, whilst "Test Drive" speaks of not wanting to be used as a one night stand.
It was this winning formula for detailing relationships in high definition that landed her her first breakout single "Bitch".
"It was the first time that I had genuine people reaching out to me… And people were finding it very organically and finding me and my music and it was a really weird time, and everything felt like it was going one hundred miles an hour and it was really exciting." It was around this time that Burns took the plunge and carved out her now signature pink hair look. "'Bitch' was a fresh start, and I was working with a new label and on a different level, and honestly I just wanted to take things up a notch," Burns explains, detailing that very sacred connection one's hair and the psychology of personal change. "But I remember the first time I sat down in the salon, and I was shaking, because I was so scared. It was like virgin hair, and she just started applying all this bleach and I just remember thinking that this was just such a horrible thing. And I remember looking in the mirror for the first time and wanting to cry, but then I left the salon and I felt like a new woman and it gave me this massive air of confidence that I never had before. I came out with this pink hair and I actually didn't care anymore. It was just a turning of the page and just wanting to be really confident and a new woman!"
"I think people probably could do with people just being open and honest about their sexuality...from day one, I just wanted to be really open about it, because I didn't want there to be some "big reveal" some place down the line"
The dying of her hair might seem like a trivial point, but it seems to have physically marked out the change that was about to take place for the artist, whilst the song itself took on a life of its own. It was a song that perfectly articulated where Burns' sound was going next, full of colossal electro melodies and some impressively biting quips. Yet, it was one particular line that really hit home for many people, as Burns sings "Went and got a boyfriend / Wouldn't your Mother be proud."
"I had so many people reach out - and this completely blew me away - because they were saying that they had been in that exact situation where my girlfriend's mum didn't like her being gay, and that kind of held back our relationship and that situation had felt so personal to me, and there were all these people that reached out to me who had been through exactly the same thing." It's a personal line that Burns had spent a lot of time deciding whether she was even going to put into the song in the first place, as it was about an event and person that actually existed in her life. "I've seen her since, and it was kind of this awkward thing because this was going to be the line that was going to make it very, very obvious that this is about her," explains Burns of the personal nature of the track, however this dedication to honesty in her songwriting proved to be important, not just because it meant that people who had been in a similar position were able to relate, but also because it meant that Burns was able to be open about her sexuality right from the beginning of her career.
"I think people probably could do with people just being open and honest about their sexuality. .. And I think just from day one, I just wanted to be really open about it, because I didn't want there to be some "big reveal" some place down the line, because then that makes it "a thing", and so I'd rather be from day one, it's not a thing, it's just a song, and it's not different to anyone else's song, it's just about a girl." Of course, Burns is completely correct about this, and making pop songs that speak freely about the gay experience has had a noticeably positive knock-on effect at Burns' shows, as she notes "It's a really nice thing at my gigs, when I talk about what my songs are about and when I use female pronouns, it's really nice to see people react to that. So, I've noticed more gay couples come to my shows and stuff, which is just an amazing thing."
She joins the stampede of rising gay pop stars who are upfront and proud of their sexuality and creating a culture that encourages acceptance, as well as providing figures that young gay music fans can relate to. Whether that be Hayley Kiyoko or King Princess, both of whom Burns cites as inspirations, these musicians are all part of an ever-evolving and exciting period in time. "Just seeing like Hayley Kyoko's music videos, she doesn't hold back at all, and why should she? You see, for example, Justin Bieber's music videos, and he would dance around with a girl, so why shouldn't she?"
Despite the relationships that form the backbone of Burns' songs, the real focus is the story in each of the songs, which Burns describes as the crucial concept of the song. Burns is ultimately a fantastic storyteller who is able to eloquently translate her experiences into infectious melodies, and that is what makes her so interesting. Like reading her personal diary, her songs provide an in-depth insight into Burns' thoughts and experiences that make you feel like you are watching her life unfold in front of your very eyes, and the conversational nature of her songwriting makes it feel personal to you.
"A pop chorus just has to have one of those annoying melodies that just stays in your head and gets stuck"
When I meet Burns, she has just released a new song, another winning formula of a track called "Damn Good Liar". This time, the focus is all on the disbelief that someone could consistently lie about their feelings for so long, "you know, to fake emotions, how this person faked emotions, so you'd have to be a damn good liar." The song marked another milestone for Burns as it was the first time that she went abroad to write, on this occasion to the home of pop music itself, Sweden. "I met up with these two girls called Mad Fun, and I had these two days with them and I landed, went straight there and I was a bit dishevelled and like "what are we going to write about today?" And I had this 'Damn Good Liar' idea and they just helped to transform it into what it is now. We all just clicked so well, it was just an amazing session. And I came home with it and thought that it just had to be the next single."
And thank goodness it was. It's another bouncing, infectious tune that presents all the hallmarks of an Emily Burns classic, proving once again that she is not just a one-trick-pony and instead is able to consistently produce songs that strike a chord and exude a pure, infectious pop energy. And the hooks - the hooks are always present. "A pop chorus just has to have one of those annoying melodies that just stays in your head and gets stuck. You know like JoJo 'Too Little Too Late', all of her tunes used to just worm into my brain and not leave for days. It was people like that that I listened to and just inspired me to find that really catchy part that people are going to hang on to and remember. It's all about the hooks!"
At the time, she was nervous about what the reaction might be, particularly after the success of the past summer "This felt like the most nervous I've been to release a single, because it feels like it's been an amazing summer. And especially just like people who have just heard my music, and started following me and now they are like.. Well they've sent me messages telling me that they are excited to heard the new stuff and for me it's like really nerve-racking, because it's like this sort of pressure to impress. Even more so this time around!"