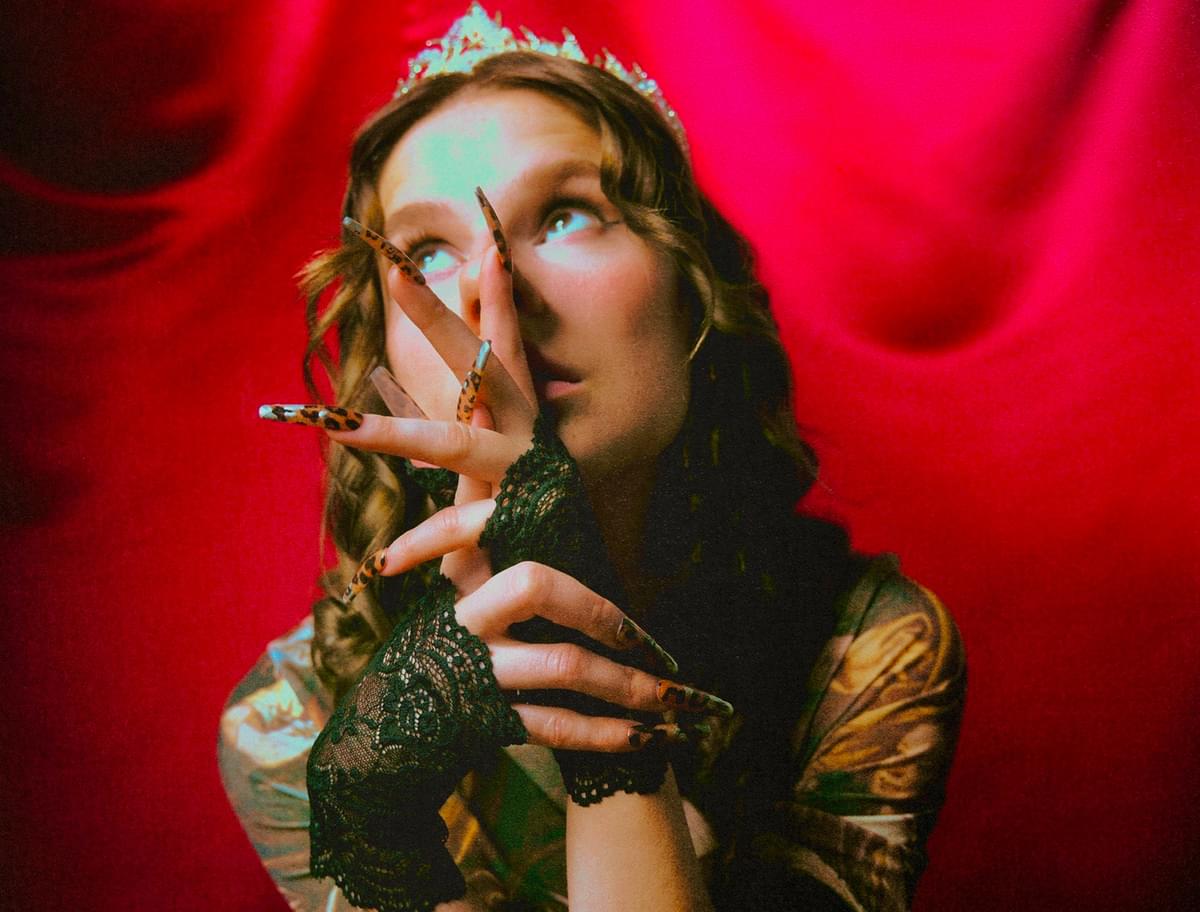 On the Rise

ELIO
29 July 2022, 10:00
Releasing her aptly titled debut single "My Friends Online" in March 2020, as the world plunged into lockdowns, ELIO's career started in earnest, from behind her computer screen. With a stage name inspired by Timothee Chalamet's Call Me By Your Name character and Charli XCX as her mentor/manager, ELIO's charismatic, relatable self-produced pop struck a chord as not only friends, but families and lovers became constrained to relationships via screens.
ELIO was born as Charlotte Lee in Wales and despite describing herself as "the type of person that doesn't remember anything as a kid," she clearly remembers how her mom persuaded her the family's upcoming move to Canada was exciting rather than scary: "Avril Lavigne," she laughs, as we catch up over coffee in a London cafe. At age 8, "I was obsessed with her… [my mom] said 'we'd be moving not far from where Avril lives,' and then you get to Canada and realise where Avril Lavigne is from is a tiny town two hours away from where you actually live."
Over the last two years, ELIO has really arrived. Delivering impressively polished singles like "Charger" and "SUPERIMPOSE", her EPs show the range of her alternative pop bubble. Stretching from more sombre, singer/songwriter moments through to upbeat euphoria, it's this variation in energy that makes Lee's first London headline show just days earlier even more exciting. One of only a handful of live performances she'd done, it was a warm-up of sorts for an extensive support slot across Europe with Charli XCX.
Troye Sivan and Jaden Smith were in attendance for the LA headline show earlier in the month; in Toronto her closest friends brought the energy, but in London it was her family's turn to show up. While ELIO is hte only member of her family with a Canadian accent, she's not the only musical one. Her grandad is a music teacher and her brother Ben scores films and while there was no family band growing up Ben did create the stunning orchestral version of "LA in Two" on the deluxe edition of the u and me, but mostly me EP.
Looking back at when the family first moved to Toronto, Lee certainly wasn't the perfect student. "I was always getting in fights, I'm pretty sure I was one detention away from getting suspended," she recalls, "and it was always with guys, I'd try to beat [them] up." Towards the end of elementary school and moving into high school, she remembers calming down and finding her place. "I found what I thought was a cool group of people, now looking back they were horrible, but in Grade 10, that's when I started my band."
Enter GREY \\ WATER. "We were a shoegaze, alt rock band, it was very edgy," she says with a smirk, inspired by Mazzy Star, Mac DeMarco and Tame Impala, they stuck it out together for a couple of years up until Lee's second year of university. Their sprawling debut single "Five Hundred and Forty Two" was written, mixed and produced by Lee. A skill she learnt at the local YMCA which had a youth music scheme and a studio which could be hired out.
"We used to play a lot in Toronto, little dive bar gigs and stuff, it was really fun… I'm surprised my parents let me do it. I was 15 or 16, we'd play a show, then I'd go home and have to wake up at 6am for school in the morning." By the time the band put out their final single, 2017's "Jimmy", you can start to hear bigger pop influences filtering through as Lee's recognisable vocals shine through.
"At that point I was in high school, then I was going to university and doing art history," Lee explains, "I had a main path that I was on, I wanted to be an art history professor, so on evenings, weekends or during reading weeks I would do GREY \\ WATER stuff." It was during her time with the band that Lee taught herself how to produce at the local YMCA.
It wasn't until dropping out of university and starting the ELIO project that Lee became set on doing music full time. "I was in my third year, me and my boyfriend broke up, and I was writing so many short, one-minute songs, that I would subtly post on my story so that he would see and I could say you know what you did." Lee says "I honestly would spend more time at my desk thinking about music than I would writing history essays, so I had a bit of a crisis."
"It was either I do this now or I never do this again, I can do art history at any point in my life and go back to school when I'm 30, 40 or 50, but unfortunately you're given a timeframe to be a pop artist, so I dropped out… My mom hated it."
Thanks to a connection she'd made with Dirty Hit A&R Chris Fraser while sending out GREY \\ WATER demos, when Lee made the decision to go solo and head on a writing trip to LA, he connected her with Max Wayne of Heavy Duty Publishing. Like a networking game of tag, Wayne then introduced Lee to Twiggy Rowley, one of her now managers and one half of Project Gold with Sam Pringle who also manage Charli XCX.
Those early ELIO demos included tracks which are now fan favourites including "When You Saw Love," "Sunday" and "u and me, but mostly me," with a notably more pop edge, Lee reveals discovering The 1975 was a huge catalyst for her creatively. "I feel like every artist my age references them. I was in my first year of university and it was such a good combination of the alt world and pop world."
"I remember sitting in a painting class and I put on The 1975 album, top to bottom, and I heard "Girls" for the first time, and from there I started listening to Troye Sivan, Charli, Lauv, Bleachers and so many things that were just way more pop-leaning.
When it comes to her upcoming release ELIO's Inferno, Lee says "this project was about having fun and experimenting with my sound, trying to create my version of a great pop song in all its different forms. So much of this was made with my favourite people on earth so it feels really special to have this community of very talented friends… Sometimes being a solo artist can feel really lonely without that, so I feel very lucky."
Comparing the new project to her last EP Can You Hear Me Now? Lee says "it's a lot less serious, [for that] I wrote a collection of songs, and we finished those songs in a set period of time, where this time it's been more sporadic, even the title track I only decided to put it on when we were rehearsing for the live shows and that was like the final piece of the puzzle." It's been so sporadic Lee is already planning a deluxe release with around 5 extra songs which she's started teasing on her socials.
ELIO's collaborative spirit has certainly grown since she first started making music, on her 2021 remix album ELIO and Friends she teamed up with the likes of No Rome, Adam Melchor, her boyfriend's band Valley, a handful of local artists as well as Charli herself to re-imagine some of the tracks from her first two EPs.
"[Charli's] confidence as a writer to be 'I know I can write a hit song, but I really like this song so I'm gonna cut it' has been a lifesaver," Lee explains referring to her own battle as a producer and knowing when to let other people work on her music. "I know that I can actually write a song, but that doesn't necessarily mean that I have to do everything by myself."
Another thing she's grasped through her relationship with Charli is the importance of being independent, which is what she hopes ELIO will remain for the time being at least. "I've had some label conversations," she reveals, "but I think especially with Charli being my manager and knowing the stuff that she's gone through and honestly, being able to actually make money through streaming is a really crazy concept. I'm really lucky… Charli gave me a loan when I first started to be able to make artwork for the EP and up the production, and since then I get to make money off releasing music."
Beyond ELIO's Inferno and another run of shows with Charli in August, Lee has one other looming deadline. "I promised my mom I'd get my degree by the time I'm 30," Lee laughs, "so I've got one year [of the course] left, so we'll see. I'm sure she'll forgive me if my career goes well."
ELIO'S INFERNO is released on 5 August
Get the Best Fit take on the week in music direct to your inbox every Friday