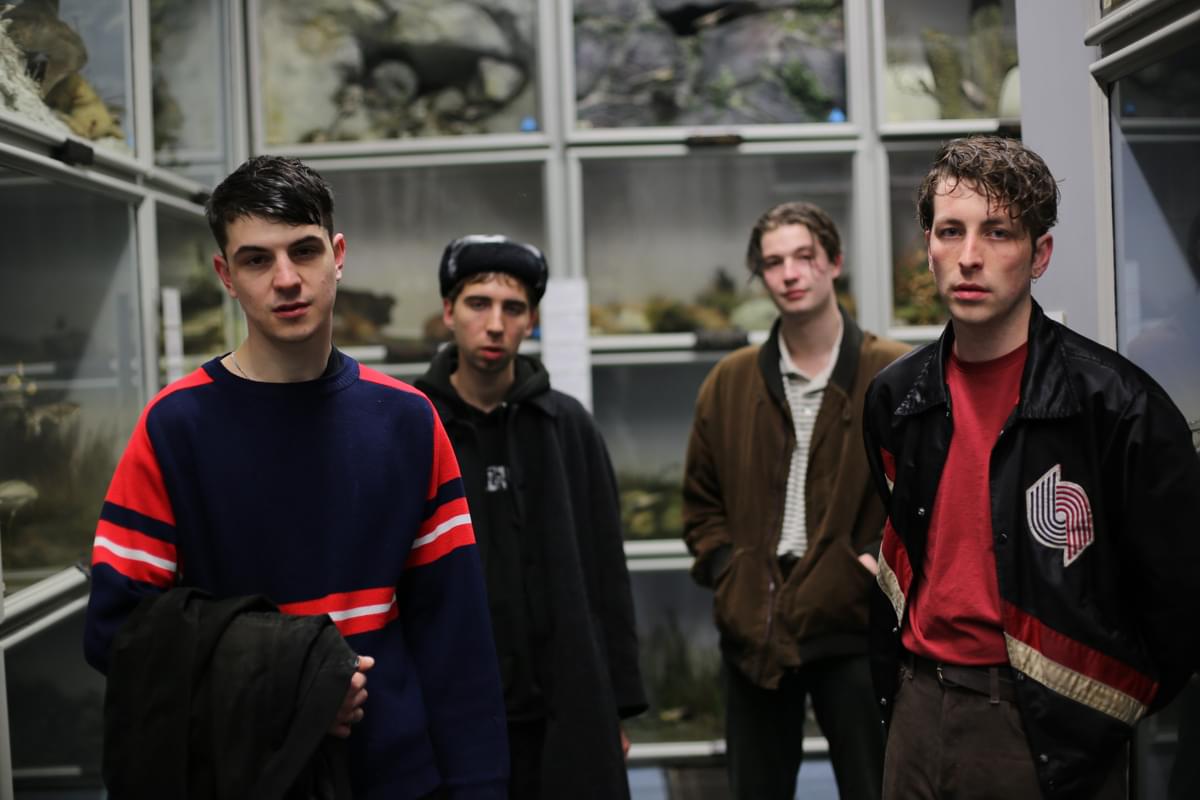 On the Rise

Egyptian Blue
09 September 2019, 11:10
Brighton-based post-punk quartet Egyptian Blue might be new to the coastline but there's nothing but high praise on the horizon for them.
"Budgens is like Mecca. That's just how sacred it is. Where else can you get a pint of milk at 4am on Christmas Day? You can get steak at Budgens 24 hours a day," enthuses Andy Buss, co-frontman of Egyptian Blue as the band and I sit down out the back of The Prince Albert pub in Brighton.
And there's every reason why the Brighton quartet should be full of wondrous, wide-eyed excitement about their world in late August 2019. "We've just finished playing a tour with The Murder Capital. Small venues but busy rooms. Really sweaty. It was a new experience for us. It's a nice environment. People get really close to you and in your face, heckling." Egyptian Blue have gleaned, in a short time and with one release, the kind of word-of-mouth anticipation that has resulted in bands such as their tour mates going from the base to the apex of the contemporary post-punk pyramid in a remarkably short time.
We've barely spent any time speaking and we've already had ringing endorsements for a small supermarket chain and, curiously, for people heckling. "They're all friendly. You only realise that they've heckled you after the show because you don't recount at the time what's been said. Someone shouted 'Bring out the cowbell' in Southampton." If you'd heard the caustic, sharp-toothed Collateral Damage EP, out in June, it'd be easy to wonder whether the four members of Egyptian Blue were actually unavailable today and their manager had asked these genial jesters to come and represent instead.
"We've all just moved into a new place," informs Buss. "It's quite tidy and sparse," adds Leith Ambrose, their other co-frontman. He's quieter than Buss, something you wouldn't expect if you saw them live. "It's very modern, which is not exactly us. Very sparse. There's a beautiful sea view." Being a new name on people's lips, being at the start of your band's hopefully burgeoning narrative, living by the sea in a culturally-rich city, living with your bandmates and with a Budgens – that's got to be living the dream, surely?
Obviously the reality is more down-to-earth, but it's still abundantly clear that they're both realists and dreamers. They have ambition and they clearly thrive on their relative dysfunction. When asked how the band works, Buss immediately responds, "It doesn't work. We don't see each other very much because we all work at different times of the day. You bump into the same person at the same time of night and you hang out for half an hour, but you don't see the rest of the band. Then you'll maybe see a different person in the morning, but never the same two people in the same space at the same time.
"It's Chinese whispers. We write songs at home. In the rare times, we have together." - Andy Buss
"We have to pinpoint at the start of the week when people are free and correlate. We talk individually about the band to each other, so word gets around. It's Chinese whispers. We write songs at home. In the rare times we have together, someone will say, 'We've been working on this song' and everyone will come together. Then we rehearse in the night time. We're nocturnal - like ten 'til twelve."
If you could bet on a time of day that would be peak Egyptian Blue time, something in the 'nocturnal' range would have the shortest odds based on the sound of their debut EP. So, it's no surprise to hear Buss say, "Some of the lyrics might come from nights out where we've heard people say interesting stuff – the sort of stuff you might not usually pick up on. A lot of it is like that in terms of the lyrics, but the music comes in the morning – the morning seems more of a creative time. It's more inspirational. By the afternoon, we're more tired. And then in the evening, we just go to the pub and hear people say weird things for more lyrics."
Beers and banter are only part of the picture, though. For a band whose name is frequently and mistakenly bestowed with an extra 's' on the end (changing one's expectations entirely), you can hear plenty of voices in their tracks bemoaning many different woes. "Adderall" claims, "We want to live in your broken minds," "Contain It" instructs us to "Intoxicate the fragile" and "To Be Felt" reminds us that "Nothing helps." "There's a lot of stress being young at the moment and for people that I talk to in my family. We take it from them. It's not necessarily coming from our own minds," says Buss. "Those kind of problems are hard to avoid," Ambrose adds.
But it's their not-quite-title track, "Collateral", playlisted by 6Music, that plumbs the depths of despair. Here, the lyrics go beyond the 'eavesdropping in pubs' technique. They are based on observations of a friend of Buss': "It's quite a sad story. He's unable to make the adult connections that others may find easy. He's unable to go out meet people and leave the house. He told me that he was playing games online with someone. That person had a sister and he fell in love with her, but he didn't even know her name. It's heart-breaking hearing that kind of thing. For me, that starts playing music in my head. It just comes together."
"You spend most of the time just trying to be what you want to be and learn from your mistakes." - Leith Ambrose
Buss and bassist Luke Phelps are chefs. Drummer Isaac Ede works in a Chinese supermarket. Ambrose says enigmatically that he does 'a bit of emailing' – that's got to be a cover for espionage, surely. So, apart from Ambrose's blatant secret existence, when will they feel like they've transcended the everyday routine and really made it as a band? "Probably at a point where we get to tour a lot, I guess," Ambrose says. "Recently we've felt more like a real band. I guess that you spend most of the time just trying to be what you want to be and learn from your mistakes."
As you'd both hope and anticipate, there's new music brewing. "I think we'll be releasing something in January/February," says Buss. "We're demo-ing for the project tomorrow. It's still working lyrically on things people see and things people say, or the things you remember from your childhood. One of the lyrics for one of the songs, I'm not going to say what it is, but it's something that my Mum said to me when I was quite young and it haunted me. It's stayed with me and I think about it every day. So I put it in a song and I feel a strong affinity for that song now. It's easy to perform it passionately."
We decide to head outside to see if we can get a decent band photo. There's too much shade on the 'Do Not Obstruct' sign on the gates opposite that they could have stood in front of (Buss: "We could have been rebellious.") Isaac lights a roll-up and asks if there's a 'No Smoking' sign they can stand in front of instead. Their new BFFs, The Murder Capital, are playing an in-store at Resident Records that night and they're all on the guest list. They discuss who's going. Isaac's heading back to work, but is Resident-bound later. Luke has just finished a shift, so is generally footloose and up for it. Ambrose's unsure whether there are emails to be done. Buss isn't sure: "I dunno. I'm going to see my Mum. She's bought some really nice mackerel."
Collateral Damage is out now via YALA!
Get the Best Fit take on the week in music direct to your inbox every Friday