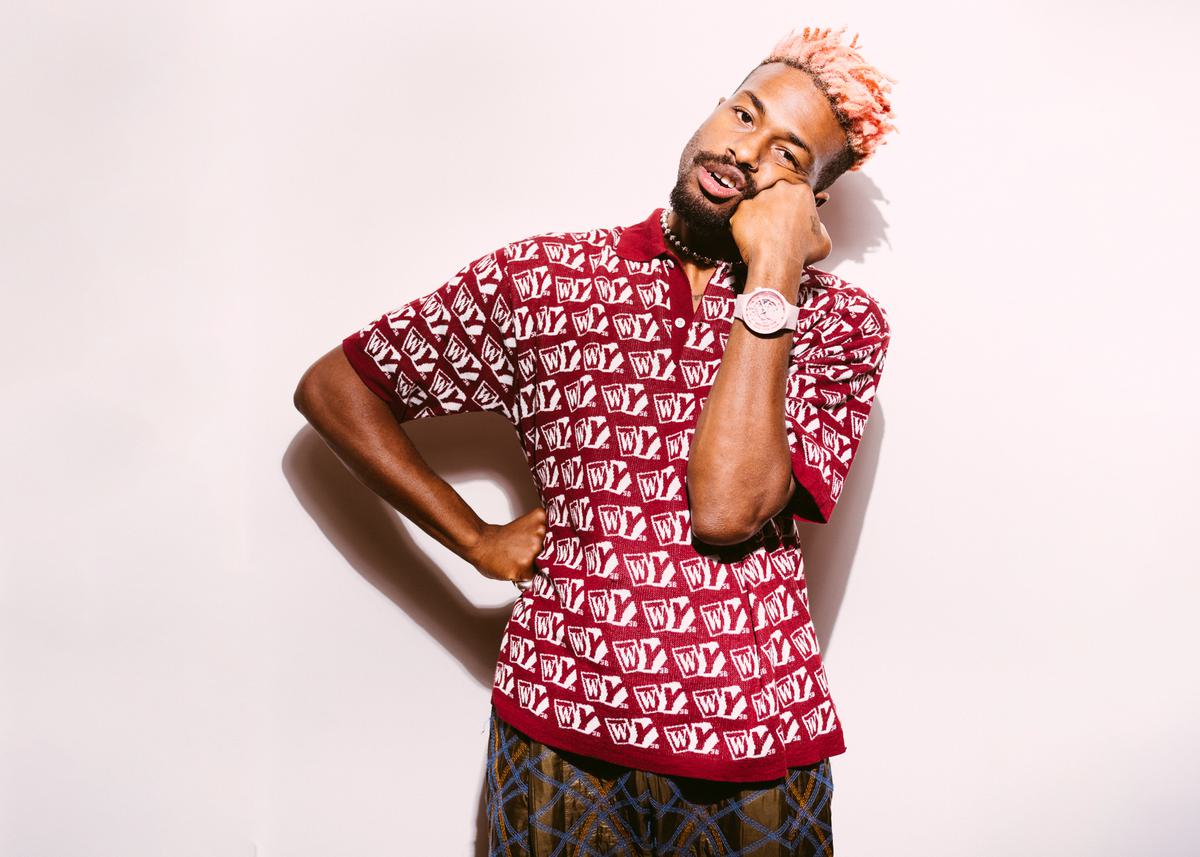 On the Rise

Duckwrth
29 December 2021, 14:00
With a Billie Eilish cosign to his name, sonic shape-shifting LA rapper and singer Duckwrth is making ambitious sounds shaped by a background in design and a radical sense of self-belief.
In Duckwrth's world, there are only three rules: it's got to sound good, look good and most of all, feel good – and with the LA-born artist, you get a 360 deal.
Both inward and outward, from every angle, he embodies self-expression in all its limitless shades and forms. In his tenure as an artist, which is fast approaching a decade, Jared Lee has been biding his time, evolving through a thousand creative incarnations, pre-empting and defining moments like the unveiling of a designer's seasonal collection, before fixing his gaze on a future that the rest of us can't yet conceive of. But now, at last, Duckwrth has found an era that fits – and it's more than music.
You will know Duckwrth first as a rapper and singer, whose hit-making reflex has been proven over a pantheon of shape-shifting records, setting the tone of clubs, house parties and cinematic universes alike. Who can forget the infectious grooves of "MICHUUL.", the sound of sun-kissed summer get-togethers, or the blown-out, anarchic spirit of "Start a Riot", featuring on the soundtrack of 2019's Spider-Man: Into the Spider-Verse? Lee makes generating streams in the tens of millions look like light work. But what you don't know about him is that before the music, there was design.
2020 saw the launch of SuperGood: his latest record, yes, but also his brand which has been seven years in the making. It's a name, but it's a philosophy, too, and unifies his creative direction from everything from music to fashion and design. "Some things, you don't have to explain too much. You just say it. The energy is in the word," Lee tells me. "2020 felt like the perfect time to unveil it as a brand. The album was just a grand way to present it."
Even though he is running on a handful of hours of sleep, hungover from the night before, when Lee walks into a room, it's always a kind of grand unveiling. His hair is bleached coral which stands in brilliance against the muted creams of his Kensington hotel bar; he wears an earring which he designed himself: a swirl of diamonds with a citrine centre; almost every finger is bejewelled, because that's ten opportunities for a different look (if you count thumbs).
A graduate of Graphic Design from the Academy of Arts in San Francisco, he insists, "Graphic design is my spinal cord, for sure. I just love branding – I'm always looking to brand something if you give me a chance." When he was a student, living off $5 burritos and dollar bags of beans and chips ("That was my survival kit, for a while"), he'd scrounge together the cash for his rent through designing and selling rings between the occasional profits of his earliest shows.
Now, when you look around his hotel room, this flair for image feels obvious: fresh, red patent Prada loafers sit in the box, cushioned with tissue paper; his cream canvas SuperGood canvas is draped over the back of the armchair, and his suitcase is filled with garments he appreciates: Italian-tailored trousers and a pair of Levi's stitched with tassels, which he customised himself. Visuals are just another language – and Duckwrth is more than fluent.
When it comes to music, he sees sound steeped in colour; even as he is recording, the vibrancy, shade and texture are inseparable from his vision. "A lot of my career, before SuperGood, was the colour red. Just like, rage. I guess I'M UGLY was funkier, but even before that, I dropped a project called Nowhere which was just pure rage. I felt like I was doing my hardest sounds. It took me a while to find my way to orange – but, of course," he says, "orange still has a tint of red."
"There was always some shit popping off back in LA in the 90s... it was very much, for lack of better words, a Black experience. You had to watch your back: you can go to jail that night, or you can get shot and killed."
Though Lee has a preternatural gift for RnB, since high school, he felt an affinity with the primal fury expressed through punk music: an outlet for a teenager whose scenery was defined by witnessing drive-by shootings while trying to land his kick flips; a teenager living in a city erupting in riots after the sustained death of the Black community at the hands of the state. "There was always some shit popping off back in LA in the 90s," he recalls. "As much as it was about good food, good times, it was also about survival. It was very much, for lack of better words, a Black experience. You had to watch your back: you can go to jail that night, or you can get shot and killed. I have no fear because I've survived police brutality and gang wars from a very young age." An existence underpinned by anxiety, coupled the sharp shock of growing pains, bred a kind of frustration that, despite loosening its grip with maturity, has never truly left him.
"It took me a while to find my way to orange," Lee tells me. "I feel like I've found more peace within myself. I don't feel like I have to rage so much anymore. Right now, I'm in heavy orange – like, super, super orange. But with the next project, I'm seeing that in chrome. I want to explore its iridescence." SuperGood was more than just a single record – more than a brand, even. It's a kind of artistic renaissance he has been working towards for seven years. "Every album, except for Nowhere, I was trying to make SuperGood, and it just wasn't ready until now," he explains. Why? Because it meant learning to be okay with breaking every rule in his own book.
The first iteration of SuperGood in 2020, a 16-track project spun of silk and 24-karat extravagance. This, for Lee, represented the past: "I used more vintage synthesisers and percussive elements that are closer to that seventies type of sound." The present is SG8, its successor, a project of eight songs polished to an unusual diamond standard. Lee says, "I tried new techniques, I aimed for a much more modern sound in production." He even used autotune, a tool that has previously been out of the question. "I never use autotune," he tells me. "I'm so against it and shit, I like my vocals to be raw – if I hit a flat note, I hit a flat note; if I'm sharp, I'm sharp - but I used autotune this time for texture. I didn't go hard, but I just liked certain things that were happening: certain inflections and random glitches."
That leaves the next project on the horizon and the ending of the story: SGX, a vision set firmly in the future, with Lee preparing to leave behind the shores of RnB and venture into the unknown waters of electronic minimalism. The three, together, represent a kind of artistic dynasty; a breaking of his own tradition. "I'm just having fun, trying shit out," he smiles. "I'm trying to let go of all the judgements I've had about different genres, different artists – or even myself – and just have fun in all realms."
"I want to see more musicians crossing over, and not just being limited to making hit records and chasing clout."
He doesn't describe himself as a musician, particularly. He sees himself as a visual artist. "I know lots of recording artists see themselves primarily as musicians, or pop stars, or whatever the fuck – but I feel like my thoughts are closer to artists who do installations and shit. It helps me to be patient with it, but keep things moving," Lee explains. "Within every project I drop, there's a gallery showing, you know? It's like I'm putting it on display, finally, for people to enjoy it."
With the towering ambition of SuperGood came a pivot into the world of cinema. For the visuals of his track "4K", he hosted an exclusive screening at Braindead Studios in LA with the likes of Demi Lovato turning out to support. It's a music video that strikes at the intersection of reality and illusion, our perception of truth and the smoke and mirrors that blur it in the age of social media, which doubled down on its grip during the pandemic. "It kind of opened up my brain, actually," says Lee. "I want to see more musicians crossing over, and not just being limited to making hit records and chasing clout." He talks feverishly about the versatility of Hans Zimmer, who scored something as grand as Inception, down to something as cheeky as Despicable Me. It's this kind of creative scope and flexibility Lee dreams of. He tells me about his intention with SuperGood Creative Studios, which he describes as "a hub of art and creativity" – and the unveiling of "4k" was its first output.
These days, Lee prefers his success to be something he can reach out and touch. "Having something in garment form or cutting and sewing – even the showing of '4k' – helps me have something that's not just online, but real. Those are the moments that make me feel success rather than on social networks or streaming platforms," he says. "If I can't touch it, then it's hard to feel it."
On his last tour, Lee felt that at last, he had proof: people were screaming his lyrics back at him at the top of their lungs – and that, he says, his when he knows his music has achieved something. With the release of SuperGood being derailed by the pandemic, it was the only way he could gauge his listeners' reaction. But does he lose sleep over how smoothly his projects go down? "As long as they don't mess my lyrics up, I don't mind," he laughs. "That's all: please just quote me correctly, that's all I ask. People are going to take whatever they want from it – good or bad – but just, please, don't fuck my lyrics up."
Time, in 2020, felt inexhaustible for Lee; minutes felt like days, weeks felt like months, passing slow and sticky, like syrup running off a spoon. Time was in abundance, but so was quiet. He started biking, far and long, backed into a corner of introspection. "We just had to sit with ourselves and let all the gunk that we sink deep come right back to the surface," he says. "It sucked, but it was necessary."
In the past, fun has been the foundation and purpose of all his music – but with SuperGood, he placed himself, his thoughts and his experiences, at the core of it. You get more of Jared Lee than ever before. He explains, "With 'Clueless', in particular, I wanted to strip away all the extra shit, all the layers, the colours, and I literally wanted it to be stripped down phrases: no ad-libs, barely any melody until it got to the chorus. Just thoughts."
"When an empire falls, we look at art to tell the story of the people at that time and what they were going through. You live outside of what you do."
While most of his albums have taken a year, if not a year and a half, this one took a month. At first, he wanted to begin work on SGX, but he had to read the room. "It wasn't time to be futuristic or minimal. It was time to be very present," he tells me. "Once I opened my damn eyes, the conclusion was to just go deeper into myself. Shit, I hate to say it, but we're living in a writer's heaven right now because everything is fucked. It's like, 'Dude, just open your fucking eyes! You have so much to write about!'"
Fun is still the goal, but not at the expense of awareness. It's impossible now, Lee believes, to exist as an artist and hold yourself at some remove from the society you live in. "I think artists in general are part of something bigger," he says, "no matter how big or small they are. Artists have been historians since the beginning of time: we were writing, drawing illustrations on caves and shit. When an empire falls, we look at art to tell the story of the people at that time and what they were going through. You live outside of what you do."
His love affair with music started under a dining room table. He remembers writing in his diary ("my handwriting was like chicken scratch, it was terrible") about sneaking out of his room where he was expected to finish his multiplication homework, to watch his dad in a gospel rehearsal. A six-year-old Jared Lee wrote: "They were jamming, man." He laughs, "I was trying to sound cool…"
His whole family was involved in the gospel community: his mother was a singer; his father both a singer and pianist; his uncles commanded everything from drums, to bass and lead guitar. "That just naturally happens in a church," he tells me. "Everyone is a musician in some sort of way. I would be doing my homework and my dad would be in the living room with a full band. It was pretty hard to concentrate on anything else. But I think that was a moment where music was like, I don't know… there was that euphoric moment, that click. Before, it was more so just sounds circling my head that my parents were playing over and over again, but I think at that moment, I was just like, 'Oh, this is why they like this a lot!' I made a choice that day. Maybe, in a parallel dimension, I ended up being a mathematician or an astrophysicist – another Neil DeGrasse Tyson."
"N.E.R.D. and Lupe Fiasco and Kanye... made us feel welcome, and actually created a life for us to sit at the same table as the cheerleaders, pretty much."
The dining room table led to his closet, recording rap verses on GarageBand over MF Doom beats. It's that 17-year-old he revisits in "Clueless". Lee reflects, "I had this curiosity of the world. I wasn't, like, paying taxes and shit. Bliss. My whole purpose was to draw the best, skate, discover new bands and have fun. I was awkward, definitely awkward, but that was when N.E.R.D. and Lupe Fiasco and Kanye was out – they were nerd superheroes, you know? They made us feel welcome, and actually created a life for us to sit at the same table as the cheerleaders, pretty much."
To pursue music is not a choice one makes lightly. He eschewed graphic design because couldn't imagine a life for himself where he'd sit behind a desk, clocking in at a nine-to-five: "I had to go through the phase of being hungry, being broke, being constantly slept on, not being appreciated, trying to get the numbers – you know, the overall grind." I ask if he has always pushed himself hard, and he nods vigorously: "Yes, definitely. Definitely, definitely, definitely."
He's currently in the process of a potential diagnosis for ADHD. "I have to really focus on focusing," he explains. "The artwork I did for SG8 - I did it in one day and then from there it was just small edits, but I did it from the time I woke up until four or five in the morning. I stopped for food, you know, but I saw it and I was like, 'Okay, there's more I can do. It's not done yet. The symmetry is off…' I just didn't stop. It was a bit manic." It's stories like this that are the fabric of an artist's lore: inhuman feats achieved by brilliant minds – but Lee is clear that hustle culture is not anything to envy. "People used to say, 'I don't sleep. I sleep when I die' – but it's like no, if you don't sleep, you will die. It's heavily romanticised."
Lee is not here in London on business – this time, it's pleasure. He's in town after a sojourn in Paris, swiping through pictures taken of him in courtyards of palatial splendour; against reminders of old, he is a striking figure of vibrant modernity. He gets recognised in streets around the world. People know his name, but he doesn't know them - and they don't know him. He can count pop monoliths like Billie Eilish among his friends, who he will be supporting on her tour next year.
I ask if he is content with where he is in life right now. "Are artists ever content with themselves?" he quips. "You're never satisfied. You're always trying to find the next thing. But I'm grateful. I'm grateful that I can be from a place like South Central and be in this hotel in Kensington, casually, doing these interviews. I'm grateful I can go to Paris for the fuck of it."
Because success, he tells me, is defined by choice. "Money is just a tool of choice, and that's all it is," he shrugs. "If I want to, I can make a choice to travel, to go to this restaurant, buy this thing or support whoever." His life, now, looks a lot like the one he dreamed of when he was a kid. "I saw myself travelling around the world, handling business or just enjoying life, going from place to place and just taking a moment." It's the time spent alone that he has learned to love – and that's a lesson hard-won through SuperGood.
He looks back on who he was ten years ago before all of this, when he spoke to God. After he took shrooms, during his trip, he tells me, "the message I got was if you put faith in me, and faith in yourself, you will never have to worry about where the money comes from. My whole everything was broken down," he shares. "I look at reality now as something to be shaped and formed to your liking. You might think people won't give you the keys, but really, the keys are wanting it bad enough." It was this realisation that saw him walk away from his last job – and in his view, he hasn't worked a day since. He says, simply: "I just had to walk in faith."