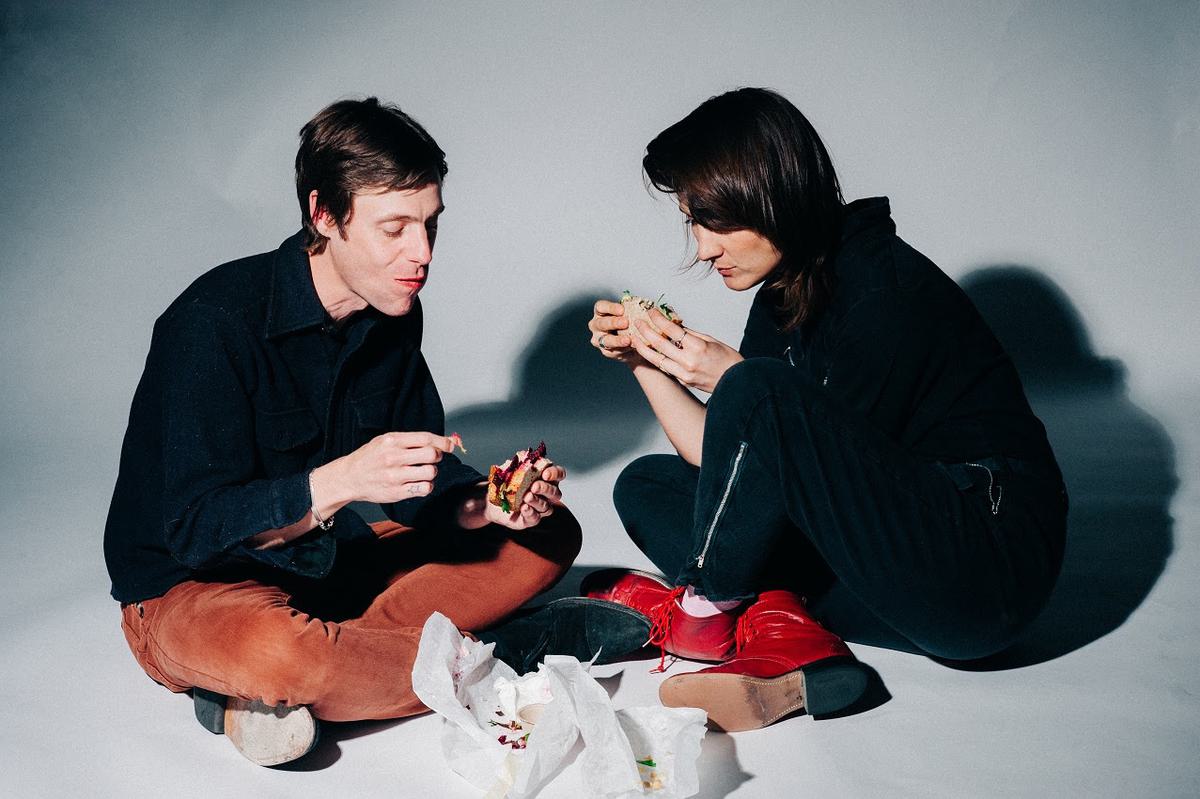 Drinks: Throwing out the rulebook
19 August 2015, 10:03
With Drinks, Tim Presley of White Fence and Cate Le Bon have achieved that rarest of things from a collaboration. Their album Hermits On Holiday doesn't sound like a composite of their respective solo work but instead feels like a completely new band, which to all intents and purposes they are. As they say in their own words: "We didn't feel the need for any rules or parameters or any type of genre, it was 'whatever happens, happens.'"
It's a record on which guitars and voices dovetail beautifully into new musical territories for them both. Up to now not a lot is known about the project - all they've revealed so far is the brilliantly bonkers video for the album's low-fi, funk infused title-track, which includes footage of them wondering around LA wearing identical clothes, in a state of apparent bemusement. We are of course well aware of Welshwoman Le Bon's solo work through her three pastoral/electric solo albums which culminated in 2013's Mug Museum, and Californian Presley we know from his handful of psych rock albums as White Fence, but also through being a player for Ty Segall and a brief stint as a revolving cast member for The Fall.
As soon as we start talking it's easy to see they're incredibly passionate about what they've achieved. Drinks are described in their press release as "a solo project, not a collaboration. It has one mouth, one set of lungs, one mind and four legs", which is evident in the way they bounce off each other, constantly laughing and finishing each other's sentences.
Presley and Le Bon have been talking about making a record ever since they first met playing a concert together a few years ago, but the opportune moment finally arrived when Le Bon toured with White Fence as their guitar player. "It was a nice way to start working together, realising that we're really honest with each other and we really respect each other's opinions, so we just went and did it straight off the back of that tour and we were probably still in tour mentality," says the Welsh singer.
Hermits On Holiday is stylistically diverse, with songs such as the Lee Hazlewoodesque country-rock of "Laying Down Rock", the wildly improvised "Tim, Do I Like That Dog?" and the punkish "Focus On The Street." Le Bon tells about their joy of not having a plan: "We didn't feel the need for any rules or parameters or any type of genre, it was 'whatever happens, happens'. It felt like a matching of ideas and was the most honest and enjoyable thing to do. You worry about things when you're by yourself and it was nice to worry about them together." After three albums as a solo artist the process of working with Presley rekindled Le Bon's passion for music. "I'm excited about making music I love and I'm excited about music again," she reveals. "I think I just lost that excitement and was feeling a little bit fatigued about everything and then it was loads of fun."
For Presley, the excitement was breaking the mould of what the duo does individually. "If we'd tried to do what we do usually it would have felt normal to other people, but it would have felt very pretentious between us. If we'd have done typical folk-rock songs it would have seemed forced, this was more free, right off of our heads and real natural." They briefly considered what people would expect them to do, as Le Bon says, "when people got wind that we were making a record I think they had an idea of what it would sound like and we initially felt, 'shit, is that what we should be doing?'" But they decided that felt wrong and ultimately unsatisfying, so instead they concentrated on having "a wild time playing guitar" and found that the experience was akin to starting a new band.
Presley: "It was like we didn't even recognise each other's musical adventures beforehand and started from scratch, as any band would start, saying 'Hey, you're cool.'"
Le Bon: "I never said you were cool…"
Presley: "Well you're kind of cool…. It just felt very fresh."
Once they'd settled on what they were going to do, they were surprised by the immersion they submitted to for the process, with Le Bon describing it as "complete abandonment, the music that we make by ourselves became completely irrelevant for this record." For Presley, it was his love of improvisation and how it influenced their approach: "I'm a huge fan of improv, obviously you need some structure," he says, "but doing it feels as real to music as you can be almost." The White Fence man then comes up with the phrase 'Not Jazz' which prompts huge laughter from Le Bon, becoming a theme of our conversation. "It's fun for us and I think it's even better in the context of 'Not Jazz.'" Is the genre of music they're making 'Not Jazz'? Le Bon corrects: "No, it's 'Not, not jazz!'"
Whilst Le Bon has a core group of musicians, such as H. Hawkline and Sweet Baboo, who play on her records and vice versa, the experience with Drinks was completely different, explaining that "this is the first collaboration that I've had where you just surrender, where you're just completely split down the middle and because we didn't know where it was going, it was more egging each other on than holding each other back. Because we were having such a good time we didn't really know what was going on at the end, we had this record that we'd worked on and we didn't know who'd done what."
Presley seems certain that Le Bon is one of the few people he could work with in this way: "The thing about collaboration is I don't do that much of it all and in order to do it I have to really trust that person and I knew that Cate was a kindred spirit, musically speaking. I really feel that. I look up to her as a musician and a songwriter, so I was very happy to do this with her. And she's such a good guitar player too." He expands on Le Bon's style, saying "it's like she's untrained, she has her own style and I feel that's like really fucking rare. I learnt the guitar playing along to Rolling Stones or Stooges records and it was more of a blues based kind of scene and Cate doesn't have that at all. It's very angular, like her own way of communicating, it's amazing and not a lot of people have that. We live in LA and you see a bunch of fucking session guitar players, they know how to play technically well, but it's really special when someone has their own style and their creativity comes out. It's cool and inspiring and technically good, but also technically not good." To which Cate of course adds "And it's not jazz!"
Talk of playing styles leads in to talk of the balance of genders in music today; do they think that the myth the guitar is a man's instrument still exists? This question gets the previously very chilled-out Presley rather peeved....
P: "It's bullshit. It definitely exists and it exists with drums too and there's this cliché that a girl…"
LB: "…Can't jump?"
P: "… Is meant to play the keyboards or a tambourine, that's bullshit you know? It doesn't even matter if Cate's a man or a woman."
LB: "I am a woman though, just for the record."
Le Bon's distaste for this state of affairs is matched by her bemusement, describing Savages as "One of the most exciting bands to come out of the UK recently and the most ballsy, yet people are just really fucking stupid. It's about viewing everyone equally and yet there's still a lack of equilibrium."
Returning to the creation of Hermits on Holiday, Le Bon explains Drinks simply locked themselves in a rehearsal room and improvised: "We just jammed and if we heard something coming together we'd hit record," she reveals. "We did that for a while and basically sieved through all of those recordings and tried to extract things that sounded like they could be songs." They took these ideas to a recording studio, but their ethos of spontaneity meant they didn't play the drummer any of the songs beforehand. In terms of who sang and played what it was very much a democracy, Le Bon stating it was based on whoever was best suited for the song at hand. "On some of them it turned out that I could sing it better or Tim could sing it better. We sat down and tried to decipher what we'd been singing on the demos. I don't know if you could split it, it was just a mixture of every type of lyric writing that you could imagine!"
They picked out vocal sounds from the demos and put words to them phonetically. "Cannon Mouth", a gloriously woozy and spaced out dose of psychedelia is one such example. "A lot of the singing on the demos was mumbled and on that one it sounded like I was saying "Cannon Mouth", its good imagery and I liked it when I said it." I tell them I Googled the phrase and found its earliest origin is from the "All the world's a stage" speech from Shakespeare's As You Like It, to which Presley says "Oh, weird. I mean, of course we meant that!"
Le Bon and Presley share the same favourite song on the album, "Tim, Do I Like That Dog?" It starts like Vanilla Fudge's version of "You Keep Me Hanging On", with stop/start guitars and drums and is punctuated with wild guitar wigouts throughout, whilst Le Bon intones the songs' title. It was inspired by a game they created to overcome the boredom of touring. "We just invented a really terrible game, which was me pointing at a dog and asking Tim if I liked it or not." Presley's ability to answer the question has improved since they first came up with the idea. "At the start he was maybe running at a fifty percent success rate, but I'd say he's maybe high sixties now."
Fortuitously, at this point a dog starts barking in the background and it's time to put Tim's improved strike rate to the test. So Tim, does Cate like that dog?
LB: "Good question, do I Tim?"
P: "You both like it and dislike it."
LB: "No Tim, I liked that dog."
Next up is their tour, which will take them to Europe, including an appearance at Cate's favourite festival, The End Of The Road in Dorset and then back to the US in October. They'll be augmented by two of Cate's regular collaborators, the fantastically lithe rhythm section of Sweet Baboo and Daniel Ward,
One thing that I'm curious about is given the improvised nature of some of the songs how do they envisage performing them live? "I guess every show is going to be different, which I think is really exciting," says Le Bon, "especially because the both of us tour quite a lot as solo artists and it usually has to be a similar show every night. And we've got a good band who are learning the songs off the record, bless them, Sweet Baboo is on bass because I can't do anything without him and Dan who plays drums with me live. I think because we've got a really solid rhythm section we can just go to town really on the other stuff. I say this, but we haven't considered how we're going to play these songs live."
For Presley the element of unpredictability is part of the excitement of live performance. "You know what? For better or for worse I would rather as an audience member walk away from a show thinking either 'that was amazing, they were on fire' or 'that was shit.' I think that's more interesting than just watching some dick at Glastonbury play their set, you know I mean?"
Cate can't wait to hit the road with Drinks. "I just want to have a nice time touring it, to have some fun and without sounding like a wet blanket, it was such a nourishing and exciting record to make that I feel fulfilled by already as an album and now I'm really stoked to play it live, having the best time and then back to the day job."
Hermits on Holiday is released 21st August on Heavenly. Drinks tour the UK in September.