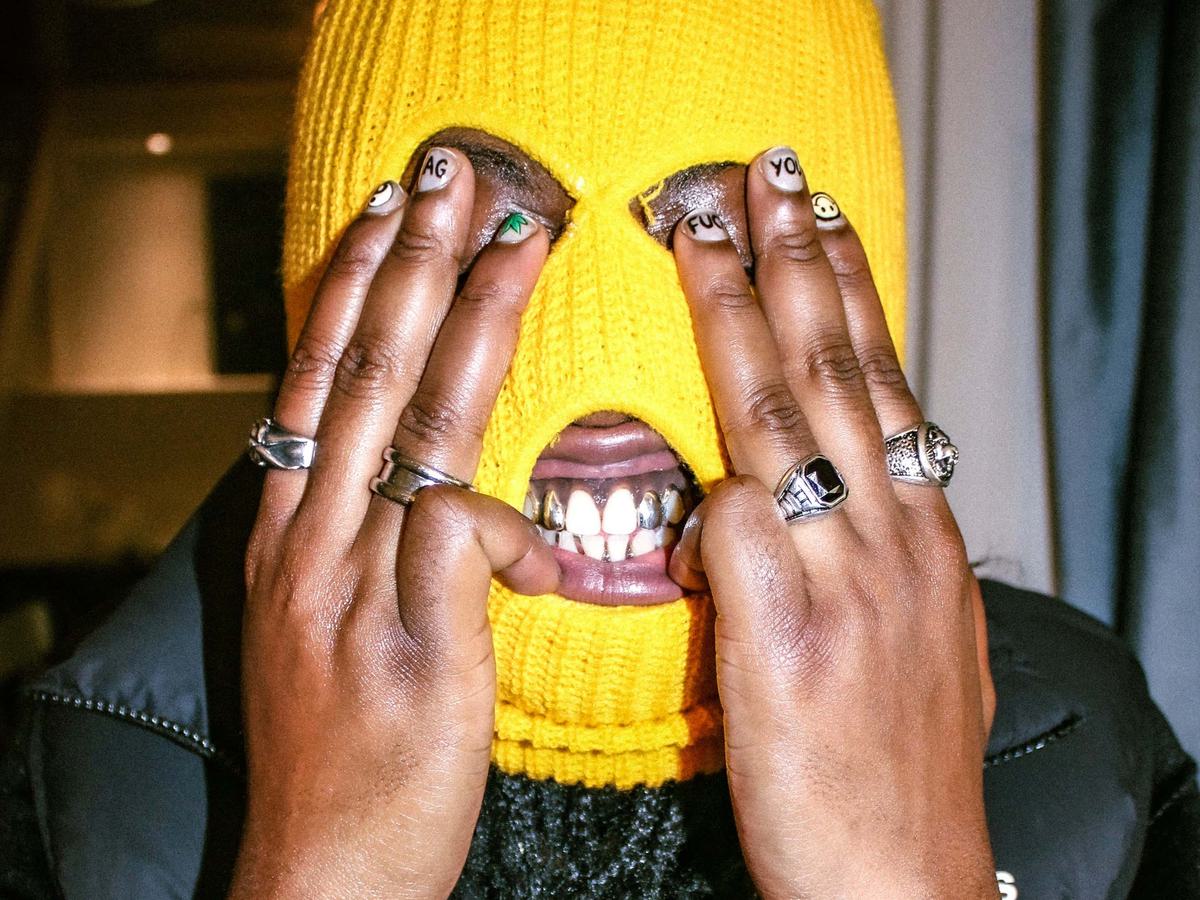 On the Rise

Dreya Mac
15 April 2021, 11:55
A lone wolf on the UK rap scene, Dreya Mac continues to defy expectations and move the genre forward.
"I'm bad with words," shrugs Dreya Mac. But with lyrics that manage to weave Birkin bags and Big Mac gherkins into the same bar, I beg to differ.
Mac fell in love with music as a medium for movement long before she committed her voice to record. Dance, in fact, was the West London rapper's first love. Cutting her teeth as a choreographer, Mac's instinct for conducting sound through her body landed her a role in the visual for Stormzy's seminal "Vossi Bop" – one of the only women to carve a space for herself in the male-dominated project. So when it comes to self-expression, Mac has proven that her teeth are more than sharp enough.
With only one year under her belt as a musician, four singles which boldly redefine the parameters of the UK rap scene, and a top-down execution of her artistic vision to every beat, outfit and one-two step, to describe Dreya Mac only as a rapper is a disservice. When she was five years old, however, she wasn't as bold. "I let my sister [speak for me]," she laughs. "I'd just get her to answer questions for me. As soon as I got into dance, it was a way to let people know how I'm feeling without having to speak." Her foray into music began with the simple intention of having something to dance to; something that drew out the particular shapes and rhythms her body wanted to channel. But in music, Mac found an entirely new, unexpected avenue of self-expression.
"I feel like it's a kind of therapy", she says. "When I write, I actually like what I write – I'm really gassed at the end of it. Like, it's such a fulfilling feeling. When I'm writing, singing or rapping, I can properly express myself. Then I started to realise this could be bigger than what it is."
Mac can almost pinpoint the day she decided she would take rapping seriously: the first week of the UK's national lockdown in March, 2020. By this time, she had already laid down her debut single "Skippin'" in the studio: an atmospheric superstructure of cat-and-mouse wordplay and bouncing flows, all built on a foundation of guitar strings that merged two opposing worlds together. "I didn't push it that much, in my mind," she recalls. "But when it got to the day they were going to announce quarantine, I shot the video and released it that first week. It was crazy."
The video was shot on her North Kensington estate near Latimer Road. After having been sent the beat from producer Kill Miami, a friend of a friend, Mac was spurred on by his innovative production techniques that encouraged her to think outside the box with her verses. "Even when I started it, I thought, 'This video needs to be full of flexing with my friends'," Mac laughs. "It has to be us just jumping around London. This song gives me London… it really gives me London."
Mac's music defies prediction: she always has a surprise up her sleeve to switch up your expectations. "I be seeing everything before it happens," she smirks. "It's crazy, because even as a dancer, I'll hear a song and envision the whole piece. So when I'm making a song, when the producer is making the beat and I'm in there nodding my head and writing down lyrics, I can already see the whole piece, be that a stage show or a music video. Everything you've seen, I've already thought of while I was in the booth." The "Skippin'" music video parallels the tropes of rappers surrounded by their mates – but this time, rather than the likes of overlords Stormzy, Skepta or Dizzee standing centre-front, Dreya Mac is the leader of the pack and rightful heir to the throne.
Everything, she says, comes down to instinct. Her latest single "Time" was released in collaboration with COLORS: against a background of dusky blue, Mac's rapping is so fluid that it almost feels conversational, equal amounts effortless and animated, a wide grin playing on her face. It's easy. It's fun. Yet despite that, she says, "I obviously didn't expect for my music to blow up. I just didn't expect it to do what it did. But the improvement is crazy, to be honest. It's one thing hearing it from your close family or your team - but noticing it yourself is really telling. The flows are coming out a lot easier, and my writing is more mature. It used to take me quite a while to write in sessions, and now I bang out a song in an hour."
After "Skippin" dropped, racking up over 350,000 streams on Spotify – no small feat for an artist who emerged out of nowhere on a whim – Dreya Mac disappeared for nine months. "I've been in the studio working with a variety of the UK's top producers, just trying to properly find my sound," she shares. "I've got a good 11 or 12 songs in the bag, and sitting on them Is tedious. But at the same time, I need everything to be perfect. I just want to keep topping myself with every single release, and really take pride in what I'm making without rushing. I know people will think that, with my new stuff on the way, it was worth the wait."
While Mac has always nurtured her ambition, the kind to go out and get something rather than waiting for it to fall into her lap, her trajectory as a rapper seems time-bound with the COVID-19 outbreak. "If I'm honest," she admits, "I don't think "Skippin" would have done as well without it. I personally believe that. The first week of lockdown – I don't know if you remember this – but everyone was on their phones, like, an unhealthy amount. I don't think anyone noticed because we were all doing it. So, I think when people saw it flying around, that's when it started to gain traction. Without it, I doubt I would have seen the potential."
Yet despite music entering her life in a meaningful way as the world tipped on its axis, Mac insists, "I was always gonna make this shift. I just needed the confidence to do it." With her avenue as a dancer impossible to pursue in the pandemic, it was a stroke of luck – or should that be serendipity? – that she would have "Skippin", the finest weapon in her arsenal, ready to be deployed as the country desperately sought distraction.
In the UK rap scene, Dreya Mac was a lone wolf. Apart from producer Kill Miami, who helped her spread the word, she worked alone. Yet, she feels that her music belongs to a wider movement. "There are a few artists who I think are going on the same journey as me. I can't box myself with a single genre because I flick between them all the time, but in general, there is a new wave," she explains. "But I think I'm coming into the scene very differently to others. I feel like there's a formula every UK rapper follows, and I'm just trying to break that as much as I can, not letting any preconceived ideas of my journey get in the way of the kind of music I want to release. I'm coming in on a different wave, for sure."
It's a bar being set by the likes of Slowthai and FLOHIO, who are redrawing the battlelines of what it means to be a UK rapper. "I feel like genres are kind of getting lost over the years," Mac says. "We're so individual, now, and there's so much freedom in music to allow that. I just think all of these people are helping break the stigma that comes with being a UK rapper – it's really helpful for me, because it means I can come at this with a more open mind, too."
With attention spans dwindling to ten second bursts from the all-you-can-eat scrolling on TikTok, Dreya Mac is seeking to create music with longevity. "I feel like right now drill and grime music is dominating, but it's more release-driven than creatively driven, you know? When these things blow up on social media, they can come and go real quick," she thinks. "So it takes value away from this style of music. I don't want to just release what the UK will want." Instead, her line of business is to make something timeless.
She remembers cleaning days on Sundays when she was a kid, with her mum blasting garage bangers through the flat. "I feel like my music is heavily influenced by the way it switches between flows, and stuff like that. It's the earliest memory I have of music." As she grew up and developed her own tastes, her influences diversified in ways you wouldn't expect. "Groups like Tame Impala have really helped the instrumentation of my music," Mac says. "And Billie Eilish, too – she doesn't let her age be at the forefront of what she's doing, and I can relate to that. She doesn't take no for an answer; she doesn't let anyone get in the way. I feel like I look further than your average, to-the-book kind of rapper. Musicians in the UK are pushed in a certain direction, and I guess I just don't want to be boxed in at all."
But growing up on her estate, ambition like this was a rarity. "I feel like everyone around me knew West London and didn't know anything further than that. I don't know what it was, whether it was my upbringing or not, but I've always thought bigger than what was expected of me." She left home at 16, and through living alone, she grew a thick skin and a nurtured a hunger for self-improvement. "I didn't have many people to talk to, so to express myself, I would just write things down on paper – and that was way before the music," she says. "And apart from that, I could dance."
While Mac was a dancer first, musician second, she believes she fell in love with those art forms at the same time. "I feel like dancers understand music on a different level," she says. "We are the prime consumer, you know? We literally listen in order to make a living." Her passion led her to audition at BRIT School, a fertile breeding ground of performing arts talent, from Amy Winehouse and Adele to Loyle Carner and King Krule where she had the chance to gain traction as a choreographer. "But even before that," she remembers, "I started tap dancing when I was eight which massively helped my musicality. From young, I was taking in all these beats and sounds and bringing them to life through my body. If you think about it, music was the main source of everything."
"There's a style called 'Lite Feet'," Mac explains. "It originated in New York and came to light in the 90s. It's a very groovy type of footwork, which I properly enjoy. I took time out in 2019 to dissect the style and understand it to the best of my ability. That was a very happy period of time for me because I was fully devoting myself to this one art style. I guess I'm a nerd for wanting to know things in that way." It's a style she weaves into the routines for her own music as often as possible – because now, she can.
Before music, life was an endless stream of teaching choreography, taking classes and showing up for auditions. Having appeared in commercials for Coca Cola and H&M, and touring with Rita Ora and Dua Lipa, Mac was no stranger to hard graft – in that sense, the pivot from dance to rap was almost effortless.
"Behind the scenes, you've got to be thinking non-stop promo," she explains. "If your dance, or your music is going viral, you have to figure out how to make the most of that time people are talking about you." When work dried up for her friends in choreography, Mac was pioneering a much-needed career switch, and brought them all along for the ride. "One of the girls who helped me with the styling for "Bag" also helped me with the creative direction," she says. It's a video with bite: set in a rundown warehouse with her dancers coordinated in more ways than one, from the black leather right down to the hair-whipping choreography. If Dreya Mac makes it, then everyone is going to make it with her.
With her EP on the way this year, what we've heard so far is only a warm-up. "I can't wait for that: a full body of my work," she beams. "Everything I've been working on for the last nine months will come to fruition." Mac promises that her upcoming material continues to toy with the parameters of genre. "I think that's why I am where I am today. I'm really not afraid to try anything. I've got to distribute it in bits to make sure people aren't too overwhelmed," she smirks. But this much Dreya Mac is sure of: "As soon as the music is actually out, people will be able to start putting some respect to my name.
"Time" is out now