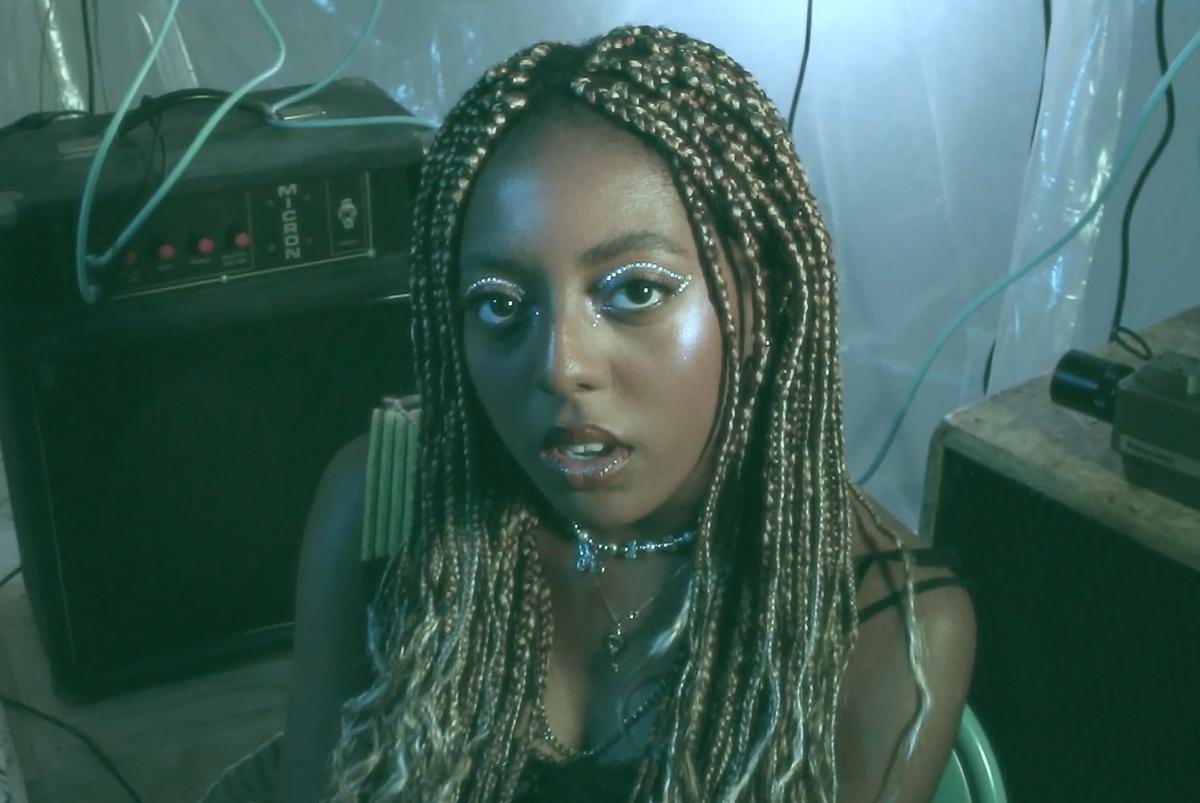 On the Rise

DellaXOZ
09 August 2022, 10:00
18-year-old DellaXOZ captures the sentiment of gen-z post-lockdown life through her glitchy, alternative pop.
"When you're not an artist yet, and you don't have connections, you don't know where you can get beats from. So I was like, well, I'm just gonna do it myself." Daniella Lubasu shrugs, casually outlining the DIY ethos that's anchored her music since her first experiments in production at 12–years–old.
Released under the pseudonym DellaXOZ, Lubasu's debut EP THE DELLA VARIANT was written entirely from her childhood bedroom in Bolton, a former industrial town on the fringes of Manchester. It's where she sits now, dangling her phone in her hand and anticipating the EP release that, coincidentally, coincides with her eighteenth birthday. "I feel good," she says in a distinctively monotone Mancunian drawl, exuding pure composure amid the chaos: "I've been sitting on these for such a long time."
Lubasu is representative of a new breed of inherently Gen–Z artists, born from a cataclysm of 00s pop culture and Spotify algorithms, with the misfortune of the majority of their adolescence being mired in restriction. For Lubasu, this means despite living on the cusp of one of Britain's historical hubs for live music, it was constantly just beyond her grasp.
Yet, she's insistent that THE DELLA VARIANT exists as a product of its vicinity to Manchester, if only in spirit: "It's the energy of that Britpop Manchester era. My music embodies that," she says. It's an energy that was built on collaboration and community, something lacking in Della's formative years of making music which thus far, have been devoid of any opportunity to perform live.
But the circumstances fail to permeate her irremovable confidence. "I'm really excited," she grins, unfazed by a lack of experience. "I think about performing all the time. I'm always in my room with a hairbrush or a water bottle, pretending to perform." The setlist? An all-female lineup that spans from Lorde to Nicki Minaj, though she admits "Still Into You" by Paramore remains her solo–karaoke go–to.
Perhaps the excitement stems from the fresh influence of live music on her life – it was only last year that she attended her first concert, trading the blue light of a computer screen for the barrier at Sam Fender. "When you haven't seen the artist before and then you finally see them, it doesn't feel real. You can't believe that's the actual person. For me, it was almost a magical thing," she says, still energised from the experience. "Every time I see an artist now, I'm just more inspired."
It's this ambition that's intrinsic to DellaXOZ's current success. She's endlessly serious when it comes to the sound she's spent the entirety of her teens curating, as well as its aesthetic universe that extends into her image. Her TikTok is a stream of graphic eyeliner, fingerless gloves, and excessive layers of thin chain necklaces, details she's had time to perfect in the same meticulous manner she applies to her production.
"Obviously when I started, the beats that I was making were terrible," Lubasu admits, rolling her eyes at the memory of her 12-year-old self, armed with only free software and Youtube tutorials. "Now I've been doing it for a long time, I have a better idea of what I like and what sounds good to me."
This early experimentation still bleeds into the eclectic, glitchy, pop that defines her current sound. THE DELLA VARIANT spans a diverse range of references, from garage beats to alternative rock: "I'll do absolutely everything. One day I would make a pop beat and then I'll make a hip-hop beat, and then an indie beat. I just wanted to see what I could do."
Her scrapbook approach to production mirrors both the eclecticism of her current playlists and the energy of the Congolese music that filled her home growing up. "It's just an energetic type of music. It's got strong, prominent baselines and a lot of electric guitars. I'm really drawn to that instrument. It's so versatile, you can put it in any type of genre, so that's what I do."
Though largely unphased by genre constraints, Lubasu is all too aware of the historical stereotypes of her local scene, only just beginning to shed the reputation of being solely white, working class, and male: "To be honest, I think the face of indie music still is white and male," she says. "But I think it is becoming a bit more diverse because of people like me. People are moving away from traditional expectations of having to fit into categories."
This is especially evident in EP highlight "Paranoia". It's the soundtrack to Lubasu's "villain era", propelled by an electric guitar that encapsulates the energy of 90s Manchester's indie scene, and the intricacy of Congolese Soukous, in equal measures. The slightly distorted vocals, fundamental to the imperfect nature of her sound, deliver lyricism that exists as an exercise in catharsis. Scratchy percussion and heavy baselines forge an atmosphere as disorientating as the teenage experience. "I feel like I could make positive songs, but you don't have to be nice all the time," Lubasu explains the vindictive nature of the lyrics. "I wanted to have one mean song, inspired by people that wanna have conflicts with you."
THE DELLA VARIANT didn't come into existence without obstacles, which came in the form of an intense creative block, where Lubasu's extreme perfectionism stifled any momentum. "I knew I had stuff to say but I just wanted to say it in the most impressive way," she says, reflecting on the tumultuous era of the EP's creation. "I was too scared to write because I had the intention that it has to be perfect. I don't wanna write something and it be really bad. So I just didn't."
"When you do everything by yourself, sometimes you can become self-critical, picking apart small things. It's good to have new ideas"
Much of this anxiety stemmed from a fear of judgment from her peers, with Lubasu initially afraid to admit that she wanted to be a singer at school: "I would always lie because I was too scared. I didn't want people to know." But everything changed in 2020 when TikTok star Addison Rae commented on a video of Lubasu singing: "People that didn't even like me were coming up to me to say, 'can I have your autograph? You're gonna be famous one day.'" I ask if she obliged and it's met with laughter: "Yeah, why not?"
Initially, she undertook much of the artist admin herself, pitching to Spotify playlists and existing as her own marketing and social media team. When EP opener "AHH!!" was championed by the algorithm, Lubasu began to gain attention from industry professionals. "My lawyer found me and said if I want to move forward, I need to get management."
"She sent me options and I looked at mine and saw the people they have, like The Wombats and The Night Cafe, and I was like, yeah, I'm going with them. They have people that I've been listening to since high school, so there's no way that I'm not gonna go with them."
It was her management who connected her with Nathan Boddy, producer for the likes of Nilüfer Yanya, PinkPantheress, and Celeste. His mixing was the finishing seal of THE DELLA VARIANT, and also Lubasu's first collaborator outside of her siblings, whose vocals occasionally appear on the EP in the form of screams or countdowns.
"It was surprisingly better than I thought," she says, admitting a prior hesitation to allow outside influence on her music. "I was nervous cause I'd never professionally worked with other people before, but he understands where I'm trying to go."
"I think it's good to have a fresh perspective. When you do everything by yourself, sometimes you can become self-critical, picking apart small things. It's good to have new ideas."
Over lockdown, amid a period of heightened adolescent angst, when being chronically online was the only way to connect with peers, the teenage experience was Lubasu's muse. However, she still struggles to define the familiar concoction of doubt and anxiety that plagues most at that age: "You just kind of accept that everyone's nervous, but you don't know why," she explains. "Everyone is in a rush to grow up and there's pressure to be successful. People feel like they don't have enough time."
It's this frustration at society that is slowly seeping into the music she's writing today, but Lubasu is still hesitant to share it. "I don't know if I could wake up and just randomly release say an angry riot girl, feminist song," she says. "I probably have reason to. There's so much misogyny so it would be relevant at any point."
Now though, as she awaits A-level results and the release of her debut EP simultaneously, there's a feeling that things are finally beginning. "It's a full circle moment. It just makes you feel like the world is still small," she says, pensively reflecting on a whirlwind year that's seen her music exist in the same spheres as those on her childhood playlists. "It's like everything is connected, weirdly."
THE DELLA VARIANT EP is released on 11 August