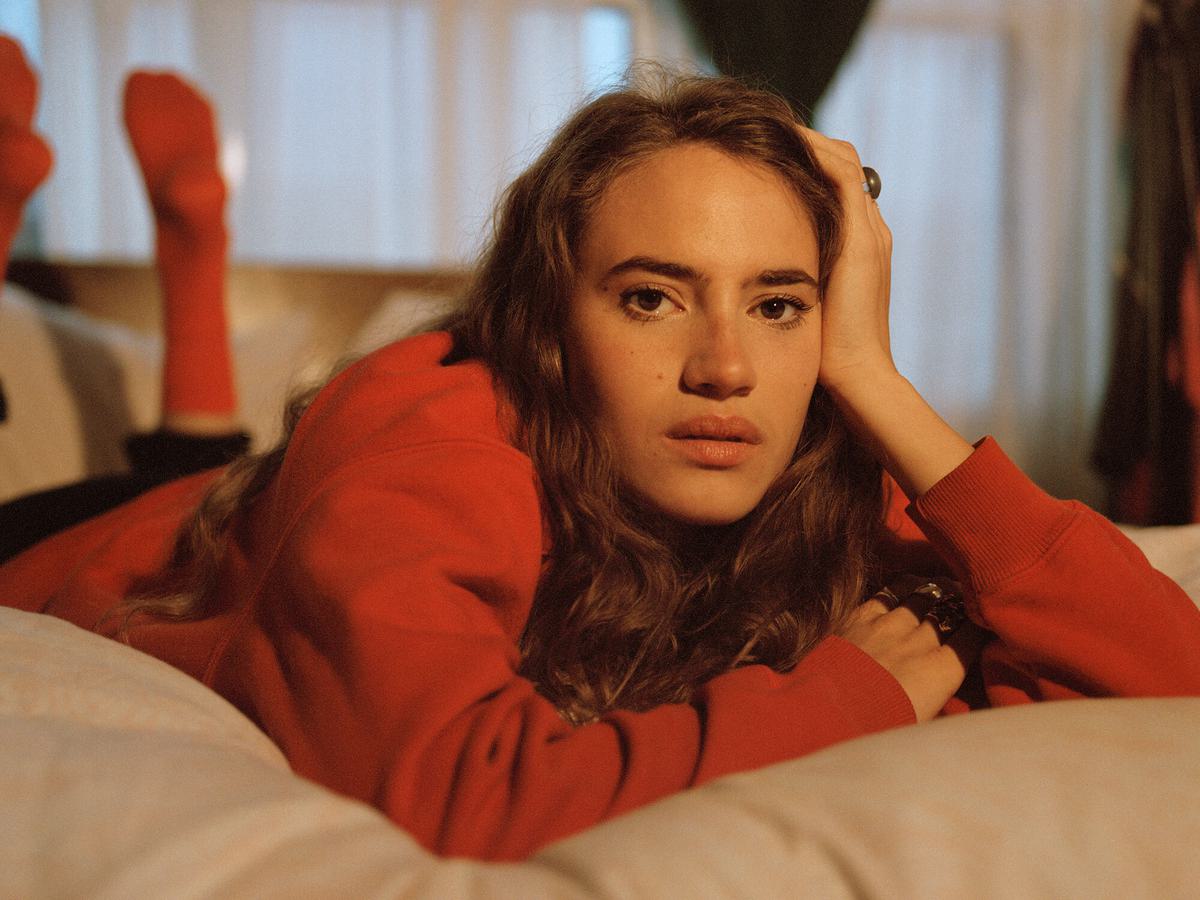 On the Rise

Delilah Montagu
21 June 2019, 08:00
Delilah Montagu is picking up the baton from Carole King and Joni Mitchell to create timeless coming-of-age pop
"This EP is like my little child," says Delilah Montagu of In Gold, her first collection of songs which drops today. She speaks of the four-tracks as a checkpoint for both her burgeoning career and her personality: "I'm so proud of them but I'm different to the person I was when I wrote those songs. I'm changing so fast; I'm in a different place now."
The songs that make up In Gold map out Montagu's late adolescence; closing track "Temptation" (also her debut single) was written five years ago. Her lyrical prowess is driven by a search for truths universal and person - and it's a quest inspired by the greats: Leonard Cohen, Joni Mitchell and Carole King. "Leonard Cohen's vulnerability resonated with me so strongly. He strips himself back and writes about the things we all feel. With Joni, she's a bit tougher in her lyrics but her voice is so vulnerable."
Montagu compares her own process of writing to therapy. "I can only understand how i feel about things after I write about them," she says. "I'm so interested in the psychology of human beings; I find other people's experiences so inspiring and the interactions I have with people don't have to be particularly profound or deep but but they can be really good writing points."
The 21-year-old singer and pianist actually wrote her first songs before she'd hit double digits, fostered by a creative upbringing. Raised in the hippy enclave of Forest Row, East Sussex, she was the only child of a hypnotherapist and writer who were both passionate music fans; Montagu found writing and performing came naturally to her: "I remember so well going to the piano and just listening to Carole King and feeling: 'This is me'". Surrounded by guitar players and painters and writers, she had no peers to tell her she was "weird" and developed without self-consciousness. "It was almost weird to not be creative and express yourself, really," she says, "which was such a blessing."
She was educated at liberal arts school Bedales, a place with a strong pedigree for high achieving woman (Marika Hackman, Lily Allen, Cara Delavigne). Despite being an underachiever academically, Montagu shone in music, composing and performing at Bedales' 2015 winter production. She returned to her alma mater two years after graduating to play a show.
Carole King comes up a lot during our conversations. Tapestry, the second album by the legendary American songwriter, released in 1971 was something her mum used to play every day when she was a child: "It's been engraved on me so deeply. I listen to it on a weekly basis still. I've never had any musical training and when I was younger, listening to that kind of music was my form of practising songwriting."
The album remains Montagu's lode star and has become vital to the sound and subjects that she's striving to capture: "Human relationships are so interesting; friendships and family, romantic relationships. I write a lot about that stuff that Tapestry is about."
On its release Tapestry was praised for the raw way it presented King's voice - something vital to the punch and honesty she was trying to deliver across songs of friendship and trust. There are moments on In Gold too that cast the listener back to King's record. It's there most visibly in the melodic refrain of opening track "Seven Days of Rain" and echoed in the song's vocal.
Alongside her songwriting - timeless sounding, even at such an early stage in her career - Montagu's voice is her other secret weapon. Tender and nuanced, it hints at a range beyond her years - wise with '60s folk inflections but informed by a pop sensibility that never feels throwback. "Listening to the voices of strong and powerful women like Carole and Joni is so beautiful and refreshing for me," Montagu explains. "Their vocal is not perfect - they're sometimes flat and out of tune - but it's so raw, it's about the emotion."
She's built a strong team around her and it's a family she cares about: she's signed to Columbia and her debut EP was produced by Athlete's Joel Pott and Barney Lister (Obongjayar, Celeste) at Pott's South London studio. Her band features three of her best friends which has taken the experience of playing live to another level and helped her anxieties about performance: "I'm really nervous before I go on stage but when I start singing…that's my safe space. I love it so much."
Writing with other artists such as Tom Odell, and Justin Hayward-Young of The Vaccines has been another revelation for her. "My preconceptions about it were so wrong," she says. "I thought I could never co-write, that I'd always write alone. It's bullshit. It's the most beautiful experience in the world. It never felt invasive."
For someone who has spent almost a decade writing alone, the process has taught her a lot about self-confidence and perspective: "I love people and what a gift it is to be able to have that intimate process with someone…just being able to be open and put my ideas out there."
In Gold is out now