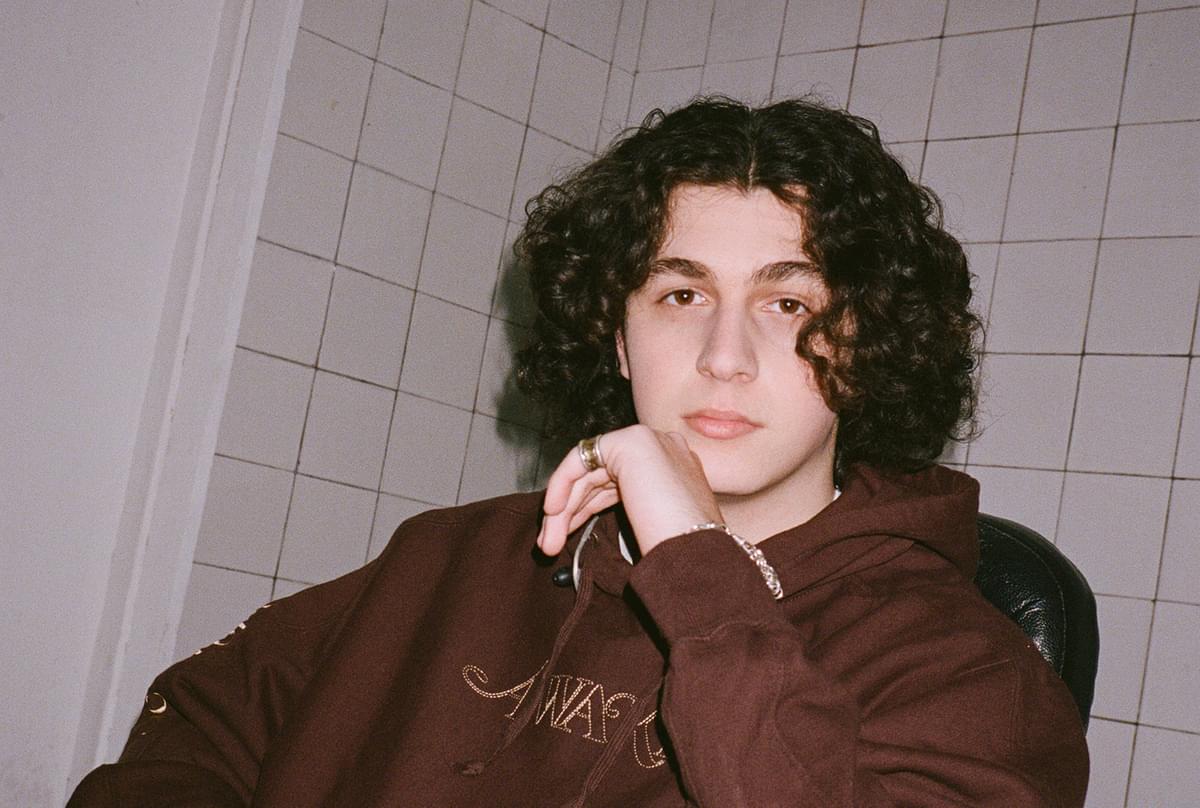 On the Rise

Daniel Briskin
26 February 2021, 11:00
North London producer, singer and songwriter Daniel Briskin is coming of age with the timeless narrative of teenage heartbreak.
"I really wasn't very good at acting or dancing," laughs Daniel Briskin from his home studio in North London across a crisp Zoom call. We speak a couple of weeks before the release of his debut mixtape Forever Was A Feeling, a collection of songs that charts a coming of age, drawing from his lifelong obsession with music.
Born in North London to Israeli parents, Briskin started playing drums before learning piano at the age of eight. "When I was a kid I always wanted attention," he smiles. "I thought the best way to get attention is to do things which people like, and people seemed to like it when I sang."
The music tastes of his parents had a formative influence. After his dad completed military service in Israel he'd travelled the world, watching the likes of The Beatles, Elvis and Jimi Hendrix play live. "When I was younger my parents didn't ever play nursery rhymes or anything, it was always whatever was on the radio," he says. "My mum always had Now! compilations in her car. My dad, like Alan Partridge, 1 was his favourite Beatles album."
Briskin's parents sent him to the Sylvia Young Theatre School, but it was his commute that defined his musical tastes far more than his schooling. "I'd take the train by myself and I was having to find stuff to listen to as opposed to just putting on the radio. I remember one of my friends showed me Childish Gambino when he released Because the Internet and I was like, this is amazing, and so I just went on these tangents."
Quickly realising that dancing and acting weren't his calling, he moved schools and began a journey of self-education, with one Instagram video from Nao proving pivotal. "I just remember her saying that the way she came up was she started to learn to produce herself because no one else could get what she wanted and she didn't have any connections," he explains. "And I was like, that makes sense. I'd grown up loving listening to music, so it just felt like a natural next step to take what I'd essentially had as my musical education and put that into practice making my own stuff."
After his GCSE's Briskin took a place at BIMM, but dropped out after half a term to deal with his mental health and reassess where he wanted to be. "It was just a really weird time in my life and I think that this is something people can relate to, especially that feeling of being hopeless and trapped," he says. "I'd sit in my room with the lights off and the curtains drawn and I had a little portable speaker that I'd connect via Bluetooth to my computer and make these really sad songs. These are almost the diary entries of a sixteen year old boy who is trapped. There's that shared collective angst that teenagers have through any generation."
From those months of isolation came early releases "Come With Me" and "Colder Homes" which caught industry attention and found Briskin signing with PMR Records, home to the likes of Disclosure, SG Lewis and Jessie Ware. His debut mixtape, Forever Was A Feeling, is a surging stream of consciousness, turning real life drama into romanticised catharsis.
Much like his label peers, Briskin's music is subtle and inventive, utilising the explosive moments of a song to full effect. His dynamic delivery shifts from melodic speech to silky, treated vocals, a nod to Frank Ocean who played a big influence on Briskin's listening. Working with former Klaxons frontman Jamie Reynolds on production, he blends simple harmonies into overwhelming synthetic soundscapes that heighten the teenage emotion into a visceral feeling.
In Reynolds, Briskin has found a key partner. "He doesn't like it when I say it, but I didn't know who the Klaxons were before I met him," he laughs. "I guess we just clicked. I think on a personal level, me and Jamie are just very close now."
To Briskin, Forever Was A Feeling is more like a concept record than a collection of songs. "In my head I always try to build narratives to make things more interesting," he says. "A lot of this story is to do with young heartbreak. I see the narrative of the record being about the heartbreak of a young person."
Opening track "Boy On The Lake" is about the feeling of getting to the other side, of overcoming an emotional trial. "Lost" is about infatuation, "Break" about destruction, and the final track "18" providing a literal and emotional conclusion. "I just wanted this narrative to move from before the relationship even happens to the end," he explains. "So you go from being this mess to meeting someone and going through that honeymoon phase and everything all the way to a break up and then closure. And then you go right back to the beginning."
It's a story that transcends age, revealing his talent for turning the personal into the relatable. While Briskin likes to write by himself, he also appreciates working closely with a tight knit group of collaborators. "I love the feeling of intentional creation so when I'm finishing or making a body of work I like to just go somewhere secluded," he says. "I just really enjoy that atmosphere of being with a select group of people, taking these ideas and really thinking about them and what they could be and exploring those possibilities in a closed environment."
Visuals also play an important role for Briskin, who worked closely with director Rebecca Salvadori on short films for "Lost" and "Break" in which real life conversation contextualises charged images of infatuation and disconnection. "She just took my vision and made it better than anything I could imagine," he smiles.
However it's the video for "Yellow" that carries a particularly personal story. Featuring Briskin's real life friends, cut up and warped with a 90s aesthetic, sentiment and reality are juxtaposed. Shot responsibly last summer, he used the video as an opportunity to reunite his friends, hooking everything around the song's lyric, "Don't call me I could only let you down, so just wrap your arms around me."
"I just thought it was this really interesting thing to have people hugging. Obviously it's a bit taboo to do that nowadays," he explains. "It's this juxtaposition between the taboo and what you really want to do and I guess that feeds into the idea of is it love or lust? And everything that comes into the opening of a relationship which is where "Yellow" is. I just really thought it would be nice to get my friends there and to just see them and for them to be able to hug and be able to be friends in the same room again. I thought it was a really nice comparison between the lyric and the situation we found ourselves in."
The last twelve months have been an emotional journey, but if Briskin's narrative of recovery shows us anything, it's that you can come of age over and over again.
Forever Was A Feeling is out now via PMR Records
Get the Best Fit take on the week in music direct to your inbox every Friday