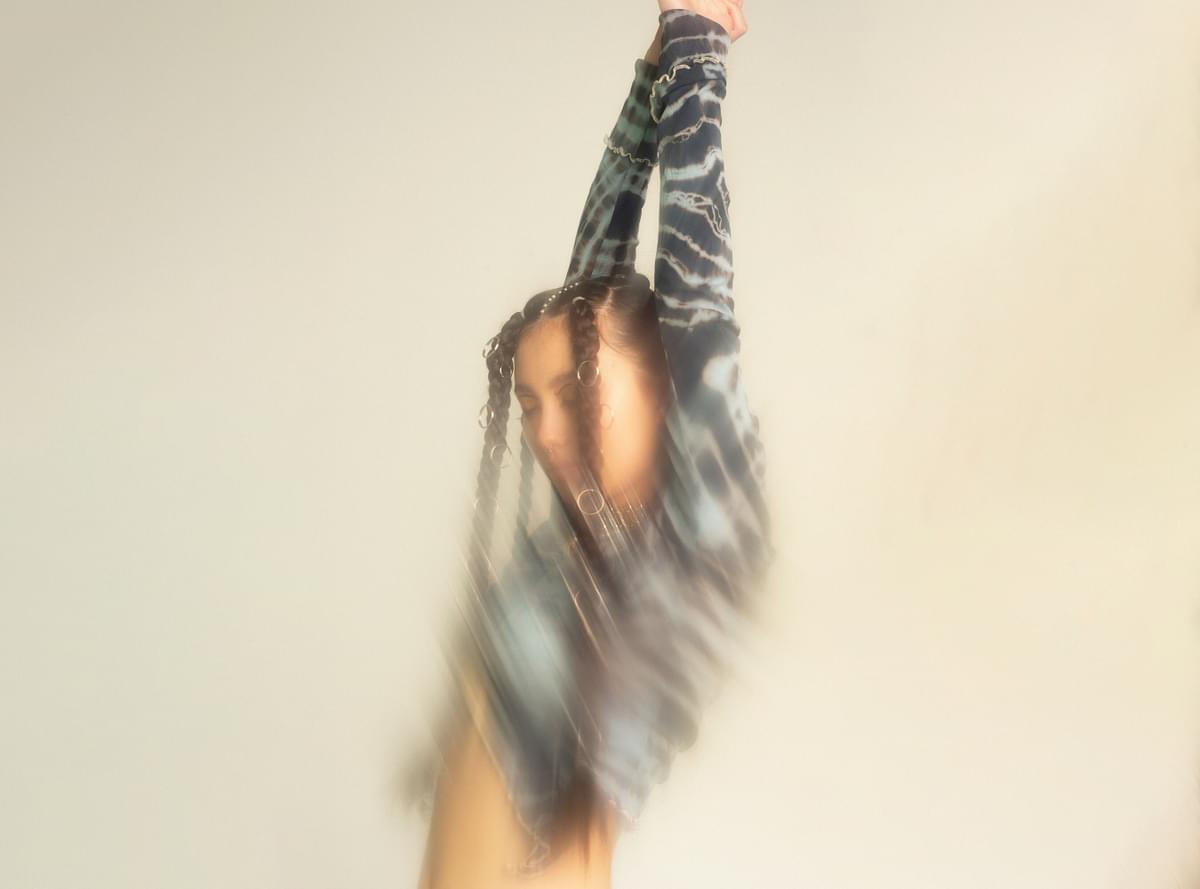 On the Rise

Daine
23 November 2020, 17:30
Discovering Melbourne's hardcore scene transformed Daine into a future emo god.
Growing up in Melbourne, Australia there was a time when daine followed the crowd. In her early teens, like the rest of her high school friends, she was obsessed with One Direction and 5 Seconds Of Summer. Even now, she jokes on Instagram about "the fact that I've reached my 18th loop of the sun and haven't met 5SOS is killing me."
"I think every 10 year old girl was fucking insane about One Direction and 5SOS," daine says, "I was batshit, I would stalk them and stay outside of their hotels…" Falling for The 1975 around the same time, she laughs when telling me "when I met Matty Healy in January I cried."
"That was the last time I ever fangirled, I bought their album when I was 11 and I fucking burnt it on a CD and distributed it to my friends. It's the only band that's stuck with me throughout childhood and adolescence." Recalling how she's been able to connect with their music and lyrics as her tastes and the world around her has changed – despite her management team telling her to pull herself together daine admits "I didn't think I would [cry], I was like yeah whatever, and then I lost it."
Listening to the emo-pop crossover cuts she's dropped thus far, it's hard to hear the link between her spiritually aware hardcore and the boybands which first birthed her passion for music. The answer lies with their support acts, daine explains. "5SOS were really into State Champs (an American pop punk who joined them on tour in Australia in June 2015), then State Champs went on tour with Neck Deep and I went to that show."
Obsessing over Neck Deep, the support act chain of influence then marked a pivotal moment for daine as "for some reason local hardcore bands were on support rather than shitty pop punk bands." Realising there was a scene of music she loved in her hometown meant she was now seeking out live shows where she could revel in her newfound admiration for everything heavy. Finding a second home in the basement of the Arrow On Swanston hotel, the only place her favourite show promoters Destroy All Lines could book all ages shows, began to change her life.
Over the years daine saw rising alternative punk and harcore bands like Turnstile, Basement and Title Fight. "I kept going back to that venue and kept going to all the shows there," daine explains. "I feel so bad for my parents, I must have spent so much money on shows, I have no idea how they allowed me to do that in retrospect. I just went to a shit tonne of shows and here we are."
Sneaking into Download Festival at 14 and being put off the festival scene because "everyone's drunk and gross," daine deduced that "Australian festivals aren't really about the music, they're just about drugs and getting on the piss." Despite being immersed in live music for all of her teenage life, it wasn't until a year later that she decided to give making her own stuff a go after a pair of friends decided they should form a band.
"It was a shit show, no-one knew what they were doing, but I was writing good riffs, but had nothing to do with them." Like most high school projects, nothing came out of it but the idea of going solo. "I thought if Wicca Phase (Springs Eternal) can leave Tigers Jaw and still retain that emo god essence, then I can make emo god music on my own and not have a band."
Channeling Wicca Phase as she went about creating her own music, daine felt they connected on another level. Witnessing him reimagine the Soundcloud rap genre to fit his own purposes it triggered a eureka moment, "I needed to do this," she says "and I tried it and it just worked."
Recent single "Ascension" was in fact the first song daine ever wrote. Remembering the demo version she explains how it's really slow and sad and that back then her voice sounded "so different." With its melodies and lyrics intact, the first batch of music she produced came from a place of heartbreak.
"Everything's old," she says, explaining the origins of the handful of singles she's dropped so far. "I wrote a shit tonne of music when I was heartbroken in Year 10… and that's what my team wants to put out, so we're re-jigging all of them." Reworking the tracks, daine admits sometimes it gets weird "because a lot of the lyrics don't make sense to me now." Looking back at another demo she references the line "running 'round the city high as fuck," saying "I haven't smoked weed since I was like 16, like there's no way that I'm keeping this verse, it's not me."
Sharing her moody debut single "Picking Flowers" back in May this year daine says the initial lack of recognition she got from fellow artists "sucked over big time," but as the track grew across social media and following the subsequent release of its follow-up "My Way Out" she began to see a new wave of fans jumping aboard. "People I never even thought I'd get to talk to are like 'hey I love your music'," she explains, "people I'm listening to a lot at the moment are following me and fucking with my music and asking to collab, it's been crazy."
It's this peer-to-peer support daine has been craving ever since she began putting her demos on Soundcloud. "Before I had my team I had two songs out, I didn't really care about music that much, I was super caught up with school," daine divulges. Taking on music full time, as a career, meant she had all the time in the world to focus on it and in an instant she says "music became the centre of my universe."
A place to channel the frustrations and experiences of her personal life, daine explains "I've had two long term relationships crash in the past three years… but it makes really good music and I feel like it helps me grow as a person." The second of which is fuelling a new intensely creative period. "I wrote all this fucking anrgy music in two months and I've got heaps of it and I wanna drop it," she reveals. "It's all hyperpop, glitchcore and screaming in my bedroom, but I'm really excited about it and can't wait until I'm allowed to put it out."
Somewhere daine may or may not tease new music is through her online club night Nocturne. Hosting their inaugural event on Halloween this year, a guest appearance from Charli XCX made it the must-see online event of the night. It also happened to be daine's debut live performance. Recorded in her bedroom, she laughs about the difficulties of setting up her own rig, but notes that working in her room has "been a fun learning curve" and given her a confidence boost on the more practical, tech side of production.
Away from planning the next installment of her club night, rounding up guest appearances and making new music, despite an initial dismissal daine's daily routine sees her connect with her spiritual side. Charging her crystals in the moonlight, showering with them – "to wash off any energy" – while listening to her favourite frequencies, are all just automatic parts of her routine.
Fuelled by green smoothies in a morning with a "fuck tonne of kale from my garden," a day in the life of daine sounds increasingly zen. She's even found a connection to Ariana Grande's new album and the track "Just Like Magic". "It's all about manifestation and spirituality," daine explains, "she talks about meditating in the song, then going to the studio after meditating, it's fucking genius."
As the other half of her AA-side release "Angel Numbers" suggests, daine has a penchant for manifestation and seeing beyond the realities of this world. In her own words she explains that angel numbers are "synchronicities orchestrated by either your higher self or your spirit guides or your ancestors or even just glitches in the matrix, if you believe in simulation theory or slip theory." She adds that these "repeated numbers you see everywhere" are "a form of communication from the etheric plane, that doesn't break the matrix or lift the veil."
"4444", which is the title of the interlude on her single, is her latest angel number, and not just because she's printed it out on stickers to flypost around the city. Detailing the resonance of this number with regards where she is in her life right now, daine tells me "I'm figuring out how to ground myself and what kind of life I want to live and that's coming to the forefront." Pulling up a website with a more detailed interpretation it states a similar message that "this number is a symbol of balance and harmony and also a symbol of good organisation. It's symbolism resonates with perfection and justice as well."
As daine discovers balance and harmony while organising and planning for the future, one thing she's not worried about is seeking perfection in her music. "Music is the only thing in my life that's natural," she says. Raw and impassioned, daine's sound is visceral and filled with a rudimentary instinct that shouldn't be buffed out or polished to death.
Ascension / Angel Numbers is out now
Get the Best Fit take on the week in music direct to your inbox every Friday