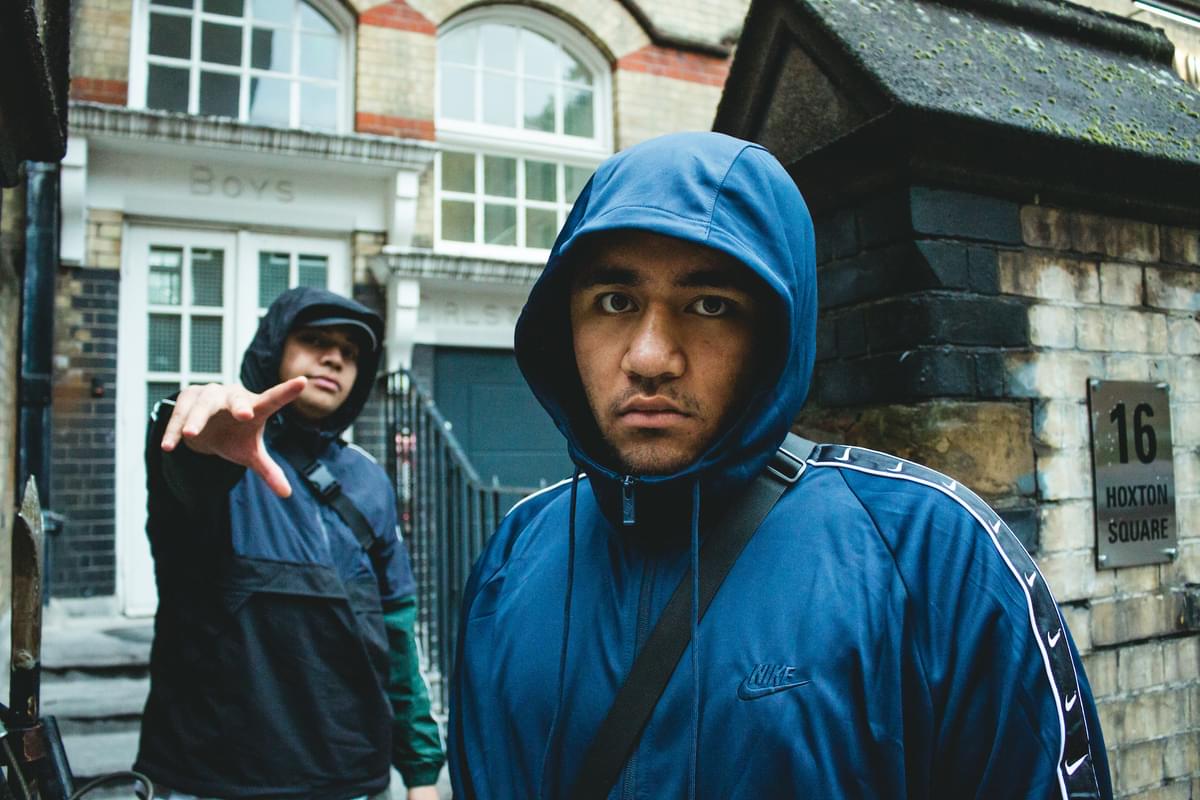 On the Rise

Church & AP
11 August 2019, 09:18
Forget Cali – rap's latest innovators, Church & AP, are two teenagers hailing from New Zealand, and their hefty, club-orientated sound will soon be tearing up a dancefloor near you.
When you think of New Zealand rap, only a handful of names from the early 2000s may come to mind – Scribe, Savage, Mareko – all of whom followed in the footsteps of the era's definitive American emcees. Today, the island's greatest hip hop hopes are Church & AP – real names Elijah Manu and Albert Purcell – who've been making waves outside of their hometown with an intriguingly industrial and hard-hitting style. Aged just 18 and 19, though, the duo say they're still experimenting to find their distinct sound.
"We grew up in households with people that loved music, so not necessarily a musical household," says Manu. We're hours away from their first overseas show, at London's Von Underbelly. "None of my immediate family play instruments, but my dad loves music, it's his life. He does a bit of DJing here and there, but out of passion. I've always just, yeah, been into music the same way."
Despite the pair being a long way from home, their youth sweeps the jet lag under the carpet, and they radiate a mix of excitement and humbleness. I ask them what it was like growing up on the other side of the world. "You do feel like a bit isolated with all your favourite music is happening elsewhere, because when you're a kid, you don't care about New Zealand music," Manu explains with a laugh. "You grow up and you realise that everyone should support their locals or whatever, but when I was like, I don't know, 12, I just wanted to listen to Kanye. All that stuff was happening so far away, and it was a rarity that people would come [to New Zealand] for shows. You're kind of tucked away from all of the music, but in a way that makes you want to go out and search and go on the internet constantly – that's what I was doing anyway. I was on blogs, and just trying to figure shit out."
The pair have obviously been inspired by some of hip hop's greats, and Purcell lists A Tribe Called Quest as one of his influences. You can hear it in their music too – looking back on their 2018 debut release Thoroughbred, Church & AP project a mature voice over chilled hip hop beats, and even gave Gwen Stefani's "Great Escape" a new lease of life on "Alladat". Thoroughbred was recently removed from streaming platforms, hinting that the pair are ready to pursue something new. Manu notes that he has been influenced by a lot of pop: "When I was younger I wasn't buying rap CDs. I had a Katy Perry CD, Chris Brown, Nas, like Top 40 stuff."
The duo go on to reminisce over the days where they used to try and learn rap verses to impress girls at school. "I used to rap verses in front of girls like it was my own," Manu reveals. "Do you remember that Justin Bieber song, "As Long As You Love Me"? With that Big Sean verse? I did that to a girl once." Purcell jumps in: "In primary [school], me and my mates performed Keri Hilson's "Knock You Down", and I rapped the Kanye verse and I was like "I'm the man!"" They both erupt with laughter.
Church & AP met at school while Purcell was in year ten and Manu was in year nine. They bonded over Chance The Rapper's Acid Rap mixtape. As Purcell recalls, "I was walking back to class with one of my mates, and we were talking about Chance The Rapper's Acid Rap, and then out of nowhere this guy [Manu] came and was like "Yo, I listened to that", and we were like "ay who is this guy?"" Manu was also into battle rapping. "There was like a video that kind of went viral in school where this year 13 got ripped by him [Manu], so everyone was just like "Woah! What the hell?""
It took a while for Church & AP to become a thing. Both were solo before, uploading music to SoundCloud, and admiring each other from behind a screen, until Purcell found a creative space for them to pitch the foundations of what they have now. "I found a community space for youths, and we'd go in and they'd present us with certain topics like violence, police, cars and whatnot – just topics that were relevant to us," he explains. "They'd try and make us implement that into music, and translate that [topic] through the music. I told him [Manu] about it and he came through, and we just started making music." So that community space was fundamental in creating Church & AP? "Yeah, at that point none of us had any type of space where we could record, but there were people there that would teach us how to track our own music."
Purcell adds: "There were a lot of mentors and local rappers, so it was a blessing to gather all their knowledge." Their endearing references to home betray their values of community, and it's obvious that the mentors in the centre helped them gain their own confidence. "They wouldn't tell us that what we were doing was wrong, or if we were rapping whack verses," says Purcell. "They wouldn't be like 'change that.'"
To this day, Church & AP are yet to collaborate with artists outside of their community. Across Thoroughbred and their recent Cathedral / All Purpose EP, they've linked only with NZ-based producers and artists like Diggy Dupé, humbleboy, Franko G and Jinzo. This is one of the key factors that drives Church & AP as they strive to revolutionise NZ rap. "We try to keep it, like, as tight of a circle as we can," says Manu. "Even at the moment, we're only working with one guy. And that's just so that it's our own sound at the end of the day. Even if we're experimenting and referencing others, at the end it comes back to us. In New Zealand there's not a scene for hip hop on an international scale, so we're out here trying to create that. We have to make sure that we're supporting our own, and trying to foster that into something."
So far, their aim to create an authentic sound is working: their 2018 single "Ready Or Not" became the most Shazam'd song in New Zealand before its actual release. Manu revisits the moment as if it was yesterday. "To know that a whole country is trying to look for your song – and mind you, I'm in high school at this time – and the song wasn't even out," he says. "It was just playing on radio, and we wanted to try and create some type of scarcity that it would create demand. We didn't know that it would blow up that big."
After "Ready Or Not" made waves, the pair released a double EP titled Cathedral / All Purpose and – despite it only dropping in April – the duo are working far ahead. Manu reveals that the double EP was "mainly written in our own spaces in our own time rather than a studio," and notes that now they tend to "go in the studio and leave with a song." The two rappers don't like to dwell on their previous projects. "I can't even listen to Cathedral/All Purpose and we just dropped that," explains Manu, "because it was such a long time ago. It's so far removed from what we're doing now. I think we're a lot more open to pop sensibilities, and creating music, I guess, for everyone, and trying to have a wider range. Whereas Thoroughbred was a very hip hop project, Cathedral / All Purpose was somewhere in the middle. But now we're working on plenty of new genres, like house, and working on some new stuff like that."
It's this search for a new sound that keeps Church & AP on their toes. Manu explains: "You have to blur the lines, like, at all times – that's how I feel. It wouldn't really work any other way, like, Church & AP wouldn't be here if I didn't decide one day to sing on a song. Our biggest song is like, falsetto singing mixed with rapping." I ask them if being in the UK will provide them with new ideas to go home with. "It's interesting, because we want to have a sound that's us, so I think what we're doing right now is travelling the world and bringing it back home," explains Manu. "So coming to London, we'll see what the vibe is like, and tell our producer back home like, "yo, these are cool sounds", and then tomorrow we go to Amsterdam, and then it's the same thing, and we just feed it back. By the time that we get back to New Zealand, there's a wealth of knowledge."
Manu tells me that instead of wanting to win the obvious achievements as a musician, Church & AP are striving for a more sustainable future. "I'll be happy when I can live off music. I think you've gotta chase it – but somebody was telling me that you have to chase the sustainable dream. It doesn't always have to be the biggest thing, but if you can be within your means and just do music, then what more can you ask for?"

The pair are also big fans of British rap. One of the things that distinguishes their sound is the incorporation of their New Zealand slang and accents, which sit somewhere between UK and US. The duo try to find fresh topics that aren't related to the obvious hip hop tropes – violence, cars, money – and a number of their songs are built on happy memories of their friendship, like "Masta", which is inspired by a meme of Avatar's Aang smoking a bong. "Ready Or Not" sees the duo crossing continents with their language, as they count down to needing "a grip", while also firing the word "bruv" to throw listeners off. Purcell notes of his language style, "I remember a comment that was like "He sounds like Skepta", so I was like okay, good - I guess it's a compliment." Manu adds that UK rap has helped him find confidence in his own accent. "I've always loved UK music, whether it's grime, drill, or just hip hop in general. It's always something I've been interested in because it helped us a lot, in terms of finding our own voice. You know, rapping where we're from, using our own slang, that's important stuff."
Their last single "Dandelion" landed in May, and presented a more industrial style which is carried over in their latest effort, the growling, housey bop "Roulette". It's the second taster of their forthcoming debut album, but they're already working ahead on that too: "The album is a lot different. If you take Thoroughbred and you take what we're doing right now, it's like, not the same artist," says Manu. "But, that's a good thing for us, 'cause we're still trying to find that distinct Church & AP sound. When you hear a Church & AP song, what can you guarantee will be on it? We're slowly figuring it out, so that's what's next really." It's clear that the duo's appetite for exploration means they haven't finished flowering yet. "While we're here we're making music, so that's obviously going to feed into another release after that," smiles Manu. "We're staying busy."
Church & AP's new single "Roulette" is out now.
Get the Best Fit take on the week in music direct to your inbox every Friday