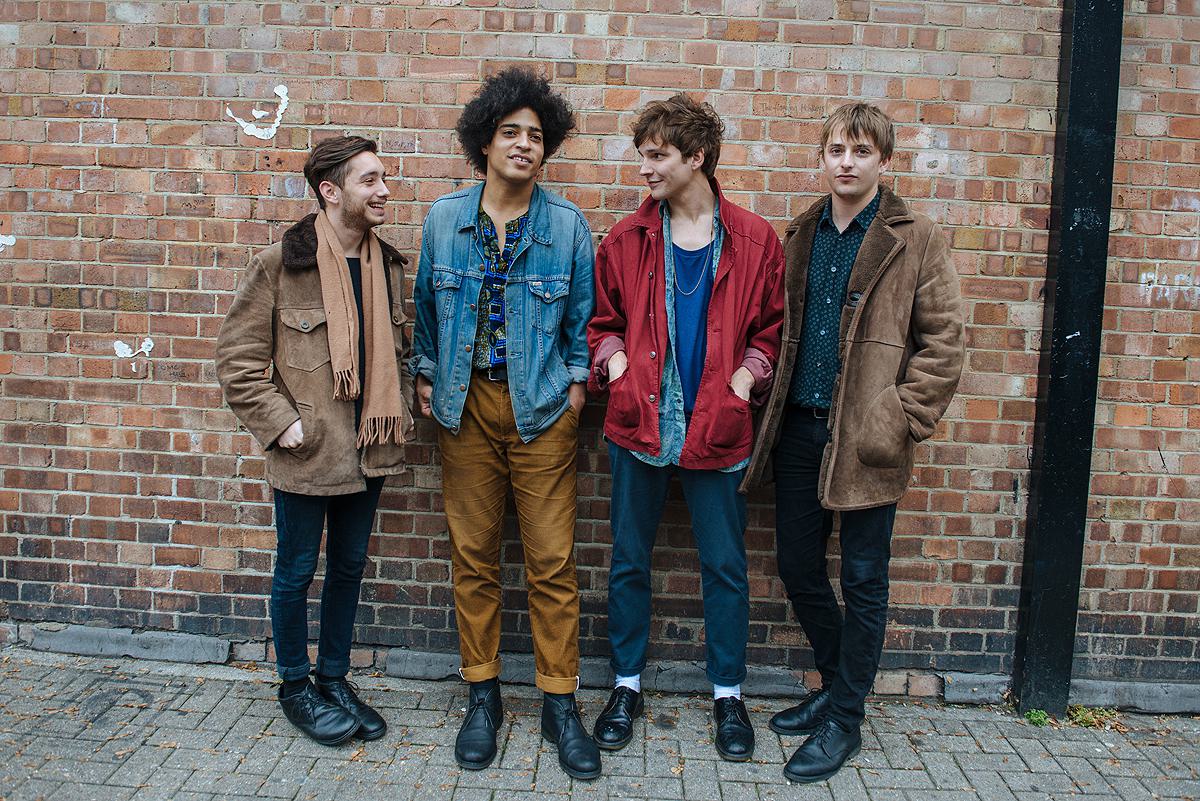 Childhood: "We write pop songs because we like them"
02 February 2015, 09:30
"What's important is that people don't try and force the scene concept too much. In England people need to make you sound like someone else, I'm like, 'Not really, we're not the same as anyone else."
Despite the annual pronouncements of its imminent demise, guitar music is in rude health. Whilst the context for guitar bands may have changed in recent years - with bands increasingly signing to independent, rather than major labels - the ethos of the indie band hasn't been so pronounced since The Smiths pledged their allegiance to Rough Trade in the 80s. 2014 was a year of brilliantly vibrant independent guitar music, from Alvvays' C86 jangle, Hookworms' pulverising psychedelia, to the modern blues of Wolf Alice. And one of the most interesting stories of being a guitar band, and what it means today, belongs to Childhood.
Since they emerged with the wondrous "Blue Velvet" in 2012, Childhood have been continuously labelled as guitar music's saviours but have astutely ducked that accolade and taken their time, resolutely refusing to be part of any scene. 2014 saw them achieve a series of significant victories, they released their glorious debut album Lacuna, played in Japan, wowed the festival circuit and toured with Bombay Bicycle Club, Interpol and most notably Johnny Marr, in whom they found their fiercest advocate.
When I meet singer/guitarist Ben Romans-Hopcraft, guitarist Leo Dobsen, bassist Dan Salamons and drummer Jonny Williams what's immediately apparent is the lack of airs and graces that many bands assume once they've had that first taste of success. Whilst they're very down to earth, there's a quiet, unquestionable confidence about them and even though Ben does most of the talking, their gang mentality is touchingly obvious. Their euphoric and Technicolor music however is anything but down to earth - Childhood are unashamedly in love with the possibilities of guitar music, hence their admiration of the likes of Cocteau Twins, Felt and Stereolab. What makes their music so compelling is their ability to fuse emotive, atmospheric guitars with a pop sensibility and a songwriting ethic. Whether seeing them live or listening to the records, what strikes you is what a wonderful collection of pop songs they have and their belief in the band ethic, in Jonny and Dan they possess the best rhythm section since Mani and Reni of The Stone Roses. They write in the language of pop music, they're just using delay pedals rather than synthesisers, to create it.
As they prepare for 2015, their focus isn't on record sales but what their new material will sound like, at odds with the get rich quick thinking of some of their contemporaries. "We're not being cynical, thinking 'Maybe we can make some money out of this'. We're just fans of pop music really, but we're not fans of the modern day associations of being in a pop band."
Childhood were born when Ben and Leo met at University in Nottingham, but their context evolved when they moved back to London. This change wasn't just in the lyrical approach, but the music that they were making, as songwriting increasingly informed their musical narrative. "We could have made an album straight after our first single really, we had so many demos, but within about three months of living back in London the whole landscape of the way we were writing together changed. When I got back home the reality of everything wasn't as romantic as I thought it was and from that experience and transition I had a lot of ideas for songs and I thought it was important that the debut album reflected that transition."
The early songs, such as "Pinballs" and "Bond Girls" - which they still play live - may not have made the cut on the album, but still fit with their ongoing desire to create immersive music. "Our motto is anything that is an off kilter perception of pop music then we usually like it. For me and Leo, when we listened to shoegaze we thought it was pop music, it's got all this crazy shit happening, but it creates the illusion that it isn't pop music and we always maintained that we wanted to do something like that."
In keeping with their avoidance of the hype machine they took their time over the album, produced by Dan Carey and recorded live as a band for the first time. Lacuna was released last August to a blaze of gushing reviews, yet as Ben explains, the delay was a blessing in disguise. "A lot of the songs on the album weren't actually written by the time we sorted out the contract and I had these visions of those songs, but when you're under financial time pressures it kind of changed our whole world of how to make stuff. So I was like, 'How am I going to get these songs out? There's too much pressure.' I wanted it to be balanced as well, I didn't want it to be the same kind of song." This turned out to be the Lacuna's key strength, combining songs as disparate as the giddy funk of "Falls Away" with the pure pop of "You Could Be Different" and the effortlessly anthemic bliss-out that is their set closer "Solemn Skies" showed them to be anything but a one trick pony, and more importantly meant they could make the record that they'd always aspired to write. For Leo it was important that they had the time to arrive in a shape that they were comfortable with. "The fact that we got around to making it later than we first thought definitely worked to our advantage, because we were in a different musical place, it's a better representation of where we are creatively right now."
Throughout Lacuna, whilst there are hints of colour from various genres and decades, their musical signature is difficult to pin down. It's unquestionably guitar music, but there's a raft of different elements at play, with nods to soul, funk, psychedelia and of course, pop, and it's relentlessly modern in its execution. If anything, Childhood seem to enjoy throwing musical curveballs, as Jonny explains, "I'd much rather baffle people than them being able to label you straight away from the first song you play, people saying ,'right this is going to sound like this the whole way through'". For Ben, the importance of modernity over nostalgia is key to the music they make. "I think we always take flavours of different decades but the main thing that we're trying not to do is what bands that are just trying to sound like one period of music are doing. You can see our influences, but it feels like it sounds like it's coming from what exists today."
We talk about the Johnny Marr connection. Ever since he saw them at the Reading festival in 2013 he's been relentless in his support, most recently citing Lacuna as his album of the year. Childhood describe him as an "accommodating gentleman" and in Marr they seem to have found a kindred spirit. "A lot of people can support a new band as a way of showing face, but he's genuine in everything he says. You'd want to go for a pint with him. He talks to you for ages and it's not like he's humouring you." Whilst Childhood are Smiths fans, they don't sound like them, but there are interesting similarities - the gang mentality, the way the words and music can move from the frenetic to the tranquil and most significantly a love of pop songs and pop history. "It's the same concept as what The Smiths were doing in the 80s, they were just fans of pop music and what happened was out of their control. I could never really imagine Johnny Marr or Morrissey making any of those songs in a cynical fashion, it was just what they made and they didn't try and make anything else of it, the songs did it for them."
As affable as they are in person, live they're different kettle of fish. Ben sheepishly confesses that he has an onstage alter ego called 'Roman'. "When I'm onstage, I don't make a conscious decision to change but if I look at a video of myself I think 'I'm definitely not that guy'. If I was 'Roman' the whole time it'd be sinister! There are a lot of bands who are quite aesthetic, that need to live or act a certain way to make you convinced that they're good. I always say that our personality onstage never represents our personality offstage." Jonny agrees that the difference in their on and offstage personas is an important part of the band ethos. "If we were onstage who we are offstage no one would want to watch us! I'm more serious onstage - if I went up there and I was being me it would be so strange, we wouldn't get much done. It'd be funny but it wouldn't be that musically engaging." Live they are a ferocious proposition, even more reflective songs such as the beautifully tender "As I Am" - which sounds like Love meets Sly and The Family Stone if they'd met at a rave and decided to write a stoned ballad together - are given a different power. When I saw them support Johnny Marr what struck me was how big these songs are, they filled the cavernous Brixton Academy effortlessly.
The conversation turns back to their philosophy and even though being on a major label could offer them more money, the whole ethos of being on an independent is more attractive. Childhood feel the indie ethic has been cynically exploited by record labels and impressionable bands and they're having nothing to do with it. "There's a commoditised image of the past into this really palatable, commercial thing, it's like there's a formula for it now. People have seen the success of it on a grass roots level and it's been sucked in by the major label community and branded as cool. People believe it without really investigating its true roots. I'm not into major labels as a thing anyway." I tell them I think it's interesting that with guitar music not dominating the charts as is used to, there seems to be a mindshift in what bands want to achieve now? "I want to do something that challenges what we've done before and if it's inherently good then it will be successful. Not in a kind of ambitious arrogant meaning of success, but a personally satisfying success. What's personally satisfying for me is that I can do something that allows me to get enough money to enjoy a basic of form of life and be musically respected. That's it, that's success for me. I don't think anything beyond that needs to be pursued."
So we talk about the so called death of guitar music. Ben feels that the current trend of guitar bands being less mainstream is an inevitable part of the genres story, but not a permanent one. "I think that guitars will always have a resurgence and that there will always be an ebb and flow in the history of music. I don't think it's dying, but I don't know if the music we make can ever really be truly popular on a mass scale. I don't think that it's ever going to have that impact that it had when guitar bands were ruling the world. Maybe it will, but I can't imagine the type of music we make being chart topping ever again."
Their desire not to be pigeonholed is informing the next stage in their evolution. A major label A&R man would probably tell them to write 10 more variations of 'Blue Velvet" or "Solemn Skies", but Childhood have other ideas. Album number two, which they plan to release late 2015, promises to move towards more groove orientated, stripped down songs. Leo wants to "expand on the ideas that are alien to the Childhood of first album". For Ben, it's about refinement. "I just want to play on the idea of experimenting with structures and making it a little sparser as well, but I still want it to be song influenced. I feel confident and clear at the moment, we've all got lots of ideas and we're communicating them more than we did on the first one." Ben plans to present his new songs to the band in batches. "I've got four songs I haven't showed anyone yet. My new thing is that I'm going to do it in EPs of songs that I want to make, so that they all make sense to each other as a group. I don't like the whole paranoia of doing one song and getting the feeling that someone didn't like it as much, so I want to write them as blocks."
Even though indie guitar music isn't chart fodder at the moment, the tide will turn back and until it does its leading lights are all happily free of the confines of being on a major label. Guitar bands will continue to produce wonderful records and Childhood are determined to stand apart from the crowd, writing music that sounds as good in the celebratory environ of their concerts as it does in the solitude of one's headphones. Whilst they're not fussed about getting into the charts, once the wider public hears more of them, they may not have any say in the matter.
Lacuna is out now.