If you're yet to come across Nasty Cherry, there's no better time to get on board with Gabriette Bechtel, Chloe Chaidez, Debbie Knox-Hewson and Georgia Somary. The British-American quartet were hand-picked by Charli XCX to be part of a fully-functioning band and the six-part series, I'm With The Band drops today on Netflix. It tracks their origin story and shows you exactly what Charli meant when she said in the trailer, that she was going to, "launch a band in an era of the music industry where there's no roadmap to success."
Through high, lows, massive learning curves, and the much-teased high stakes drama of the fourth episode, you can get to know this streaming-age band through through filter-less gaze of reality TV rather than a curated Instagram feed. What's the difference? You'll have to watch and see, but it promises to be a whole different kind of experience than usual. No strangers to the creative industries, XCX's Cherries have all come from an artistic space bringing their own influences and talents to the table.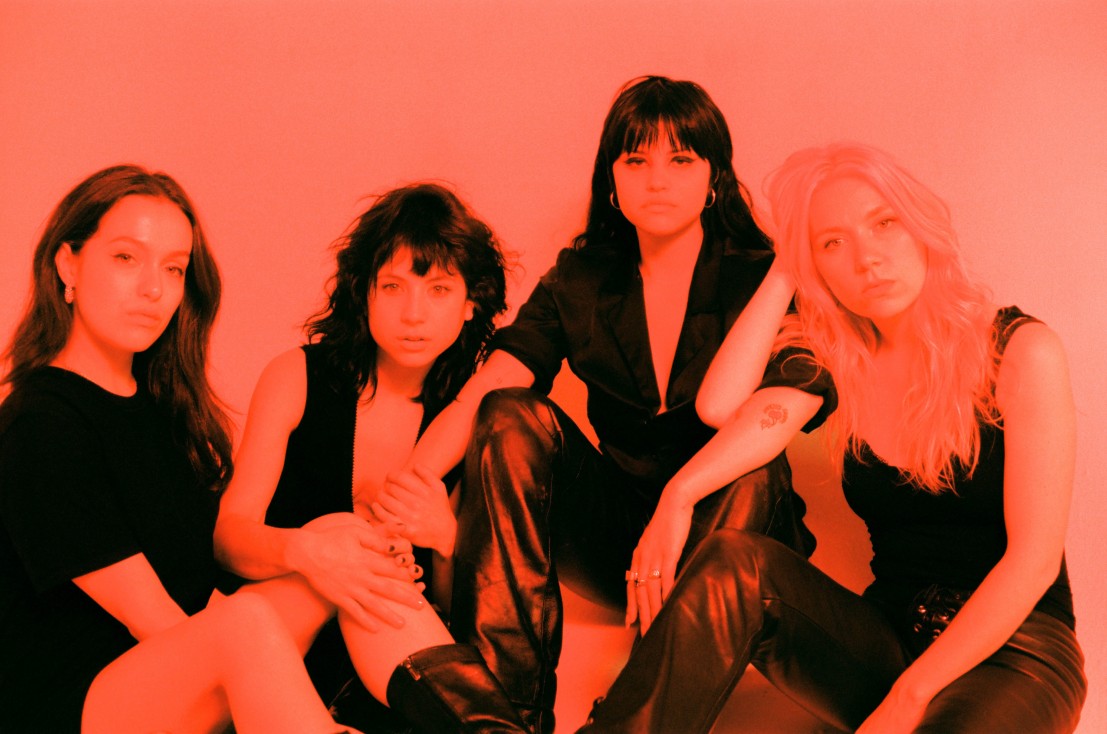 Bassist Georgia Somary quit her day job as a set decorator to pick up her instrument. She explains, "that once you start creating things, whether that's something visual or sonic… there is a link in terms of that part of your brain." Still passionate about visual inspiration, the films and books she consumes take seed as a cinematic lens on her songwriting. For the eagle-eyed Charli fan you may recognise her from her role in the "What I Like" music video.
Lead vocalist Gabriette Bechtel is used to being in front of the camera and centre-stage - it's something she's become very comfortable with as a model and dancer. "I never had that shyness" she tells me, and despite the concept of performing on stage and bearing your soul being seemingly worlds apart, for Bechtel there's no fear – "I've got nothing to hide anymore," she adds.
On the drums, Debbie Knox-Hewson used to tour the world with Charli herself, hitting things primarily during the Sucker-era. She's also played over the years with Rae Morris, Honeyblood and James – and she's got her own custom drumsticks available to buy online.
Guitarist Chloe Chaidez is also no stranger to the music industry, as the driving force behind pop-rock band Kitten she's been leading the charge for over a decade. This has been, "a whole new experience," she says - and she's had to up her guitar-game, but it's certainly helped knowing the language of sessions, producers and the like. But the strangest thing so far? Everything is going to plan – and for Chaidez this is something she's not used to: "My whole life I've been in meetings with labels, managers or producers and you plan for the future, but none of it works out. Sold-out shows take a lot longer. This has gone according to plan from day 1 kind of, aside from some details along the way… it's awesome."
Announcing their existence with a New Year's Day post on Instagram, the band balanced champagne flutes on Somary's backside and declared themselves as the best band of 2019. None of this is surprising if you've seen any of the marketing spin behind Charli's self-titled third album. A promotional sticker on physical copies even included the plaudit, "the best album album you will ever buy." Hyperbole, while not a bad thing, certainly runs in their creative bloodline. "It's epic", says Bechtel about their forthcoming EP.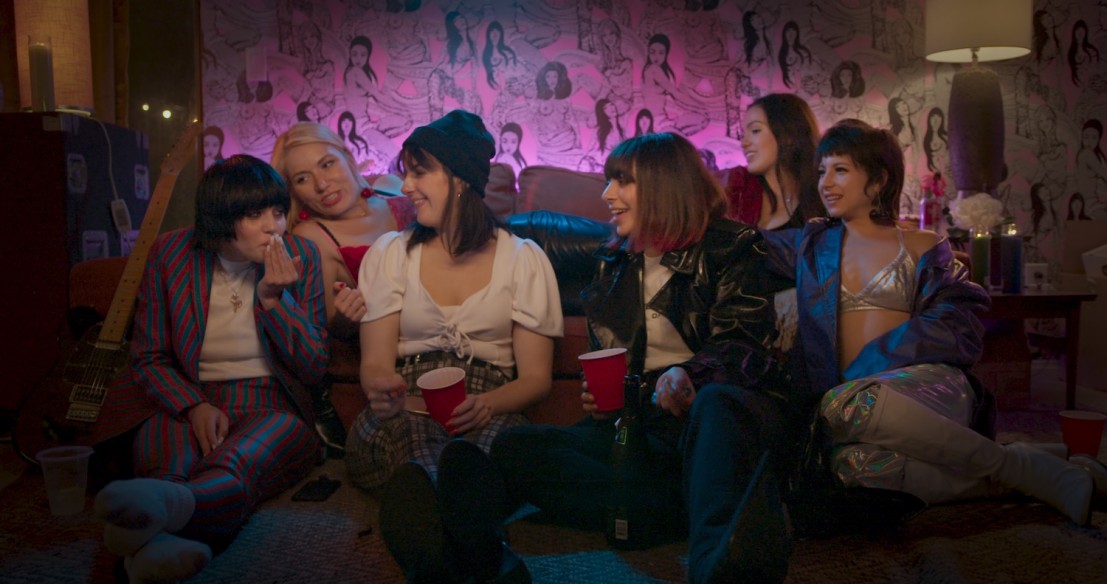 Their glam and punk-inspired pop-rock sound comes thanks to hearty year of collaboration which has seen the band living together and making music in their home studio. Their collective sound is still evolving, and taking shape as we've heard with the leap from the boisterous garage-pop of "Music With Your Dad" to the muted, dreamscape of the Blood Orange-esque "What Do You Want From Me." Forthcoming new material is set to lock-in their artistic growth and drops in more '00s references with some inspiration coming from the likes of Hilary Duff and Ashlee Simpson.
Knox-Hewson says "I live under a rock musically and listen to The Runaways and Bryan Ferry", but it's these and other classic rock influences which underpin the core of Nasty Cherry's sound. Chaidez' father was in an east-LA punk band and introduced her to titans like Bowie and Led Zeppelin. Somary's parents put her onto Talking Heads and the wondrous world of '60s soundtracks; She also went through a phase of being "very into porn soundtracks for a long time", describing herself as a, "complete arsehole at 16... into anything that would annoy very un-annoyable parents." Growing up listening to radio hits with her sister it was Bechtel's first boyfriend who took her down the "sappy road" of Bruce Springsteen and The Smiths.
The Simon Cowell to their One Direction, Little Mix or Fifth Harmony, Charli not only has the music business acumen, but the creative flair to help her prodigies. "I feel like Charli been a massive influence for teaching us how to trust your gut with how you feel about things," Somary tells me, "and learning how to write quickly was something that she really inspired us to do." Famously, Charli wrote the lyrics and melody for Icona Pop's "I Love It" – one of her biggest commercial successes – in half an hour.
Chaidez also points out Charli's non-stop nature: "for me her schedule alone is inspiring. If I'm working on a project, or wanting to write a song and I'm a little tired, I'll think about what Charli is doing that day and be like 'I can do this'."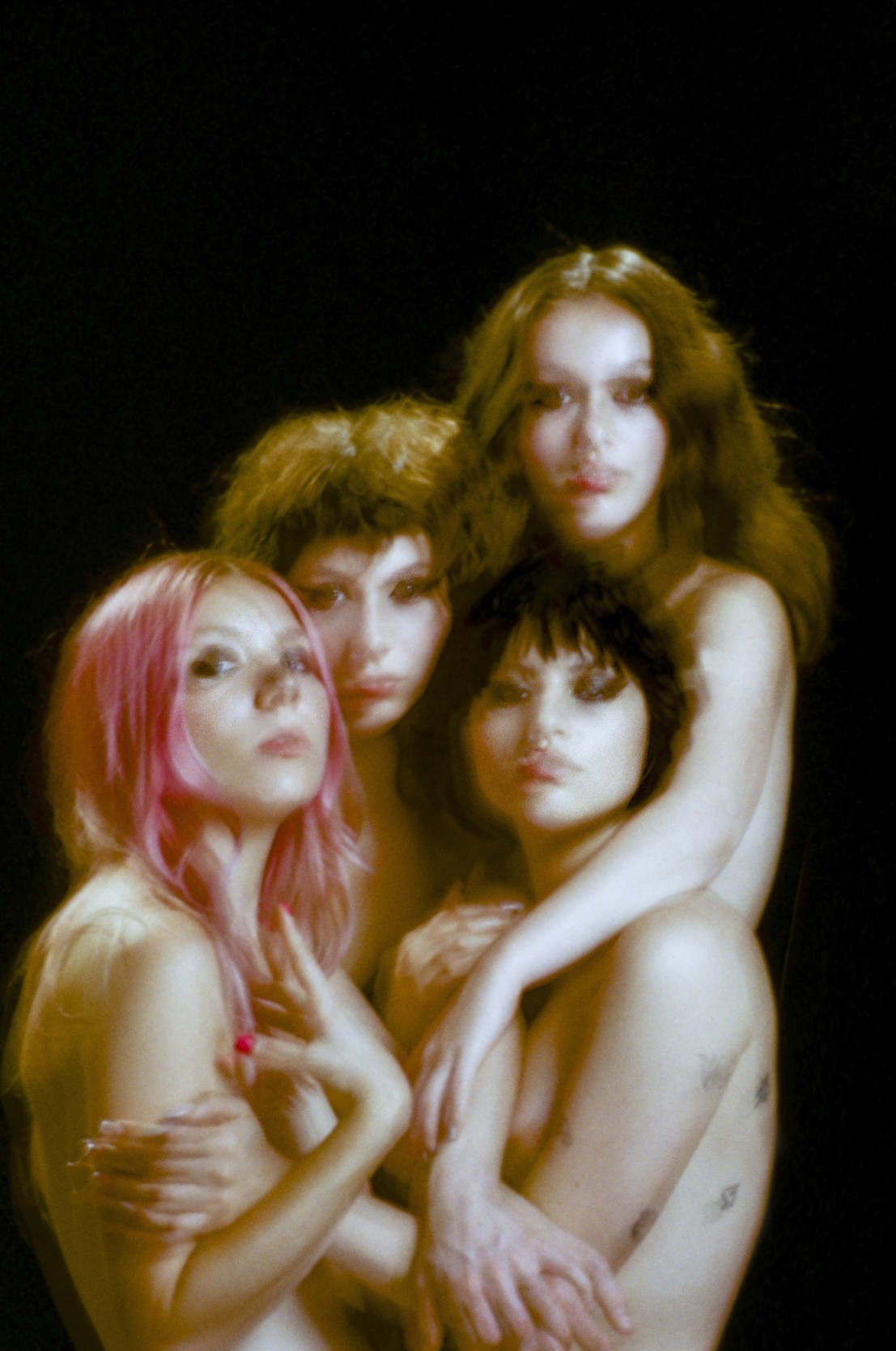 Nasty Cherry live are a force to be reckoned with. Their debut London headline show at The Shacklewell Arms was a riff-heavy affair which saw Bechtel come into her element as a commanding bandleader. For her, one of her live inspirations was Gwen Stefani: "I saw [her] when I was 14, and then I figured out she was from Orange County as well, and became obsessed with her." Drawing on the power of Suzi Quattro and Mick Jagger, Bechtel doesn't perform like she's only played a handful of shows. Remembering the first time they played together for an audience, she tells me, "I didn't even know how I felt when I went home after that. I was buzzing, but also kind of sad for some reason, I had no clue what was happening to me, but I just knew I wanted to keep doing it you know."
A live idol for Chaidez is Karen O: "I saw the Yeah Yeah Yeahs when I was 14 at Coachella and I remember I cried. I'd already been a fan, but it really meant a lot to me. I worshipped Karen O when I was a kid and I still do."
The project is something the band have also been working on for quite some time, and at this point it's clear they're each other's biggest fans too. Chaidez explained in an Instagram post that, "three years ago, after playing shows together for many years, [Charli] approached me about [Nasty Cherry] as a TV show that would simultaneously be a real band. I went along with it, not knowing what to expect."
Knox-Hewson adds that the initial details of their plans were mapped out in a WhatsApp group: "the band in theory came first, it was conceptualised before [Charli] decided to document the formation of it through a TV show."
While the Netflix series is firmly rooted in the reality TV genre, the band are quick to dissociate themselves from being reality stars. They all stress they're musicians first and foremost, and any ideas of them becoming alt.scene Kardashians or the punk Jersey Shore are nixed. There's nothing like a fly on the wall to motivate you to be your best self. While having your every move documented on camera might be daunting, Somary explains that for Nasty Cherry it sparked something new – "the benefit of being a band that was living together, we had a little studio set up at our house, we were constantly able to be around each other and make music and I think it actually facilitated so many amazing opportunities that a new band wouldn't have otherwise had."
Fast learners, they've all put in the hard work and thrown themselves into this whole world. Bechtel tells me, "I had no clue that any of it was this intense or any of it was this fun, hard or rewarding. Now I look at other musicians in a completely different way." The shortcuts they've been afforded might not sit right with everybody, but there's no denying that this experiment has created a unique environment for these musicians to flourish. As for misconceptions? Bechtel for one is sure these will change if people take the time to watch the show – they do write their songs while Knox-Hewson and Chaidez play a part in production too.
As for what the future looks like? There are plans. An album. The potential for more touring. " I think as an artist or as a human being it's really easy to be looking towards the future," Chaidez says, "[but] in terms of planning, it has been important for me to try and stay present with all the successes we've had."