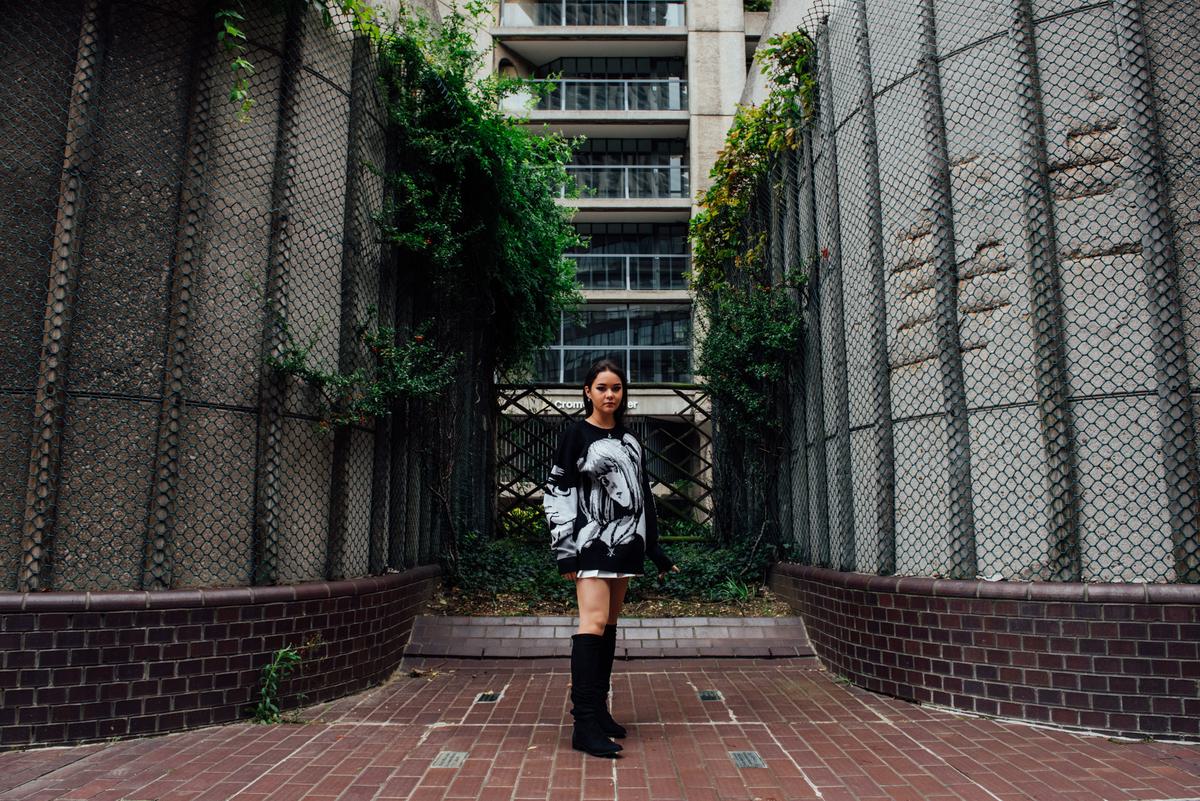 On the Rise

Cathy Jain
04 November 2021, 09:00
YALA! Records-signed and Salford-born singer/songwriter Cathy Jain is drawing on her Chinese heritage, a love of alternative R&B and the lyrical dexterity of Phoebe Bridgers to craft her evolving sound.
Catapulted into the spotlight as a runner up in BBC Radio 1's Live Lounge Introducing competition - and with her debut EP dropping this week - Cathy Jain now counts Wolf Alice's Ellie Rowsell and Joel Amey's mum as fans of her dreamy lo-fi musings but her musical journey begins with the guzheng, a Chinese plucked string-instrument somewhat similar to harp. "I started when I was six," Jain tells me over Zoom from the Cheshire countryside where she's studying, one evening after finishing up her school work for the day. "It was the first instrument I performed with, the first instrument that I fell in love with and even now, I think it's still my favourite instrument just because it's so beautiful and has so much history. It really reflects that part of my culture, so I'm really connected to it."
Raised in China (with stints in Australia and India) before heading back to the UK for school, Jain is a multi-instrumentalist, but the guzheng is so much more than just an instrument to her. It not only connects her to the broader culture of the country, but to her immediate family too. Her younger brother plays as well as and their mum - despite not playing the instrument herself - "knows everything about it," taking it upon herself to know all the theory and being able to point out "what I'm doing wrong," Jain laughs.
Currently balancing her growing music career with her A-levels, she's studying a somewhat disparate mix of subjects: maths, history and music production. Her music tech classmates are very supportive of everything that's going on. "They're very excited for me, sometimes even more excited than I am," she adds; a group of her friends even work on the school tannoy radio system and regularly drop her songs into the mix. By chance this year's coursework is a Wolf Alice song, so Jain had fun telling her teacher that she'd actually spoken to Ellie earlier in the year.
Most of Jain's music begins life in her bedroom and makeshift studio, but the songs on her debut EP - titled Artificial - are material she's had in her arsenal for a while. Originally released last year, the four tracks were pulled offline as the momentum around Jain began to build: her team wanted to make sure this collection of work got the fanfare it deserved. Jain's main collaborator on the EP is producer and songwriter Rob Heron, a friend of her dad, who they initially called when they were figuring out what equipment they'd need so a young Cathy could begin to record demos.
"He has a very interesting style. It's very funky and jazzy and psychedelic and weird," Jain revelas, "and with the sort of more pop songs, the catchy melodies that I was writing, worked really well with his sort of weirdness, it really put a twist and gave an edge to the music. Now, I'm really into more experimental music, some psychedelic stuff and jazz and happy just trying all sorts of different genres."
Jain's eclectic music taste is also a product of her parents, "[the house] was always noisy," she remembers "we always had CDs playing in the background there was Chinese music, Bollywood music, Norwegian euro-pop and my parents knew I loved music, but I didn't get serious until I was about nine-years-old, it was then I decided I wanted to write music and make music, and since then I haven't stopped."
The family's recent move to Australia played a part in that as did the discovery of Katy Perry and Taylor Swift, thanks to her new friends. "I was like, 'oh my gosh, girl boss!' I want to be like that," she laughs, recalling obsessively watching their music videos before getting her dad to show her the basics on guitar. "I wanted to be just like them and I think when a little girl wants to be something, they really want to be something and it just felt like the most natural thing."
Jain talks about a long-lost EP, and early releases like "Jigsaw Pieces", since deleted from the internet featuring songs she wrote around the time when Swift and Perry were her biggest inspirations. "They were great songs, but I got over that stage" Jain says "I didn't want those songs to define me as an artist, it was part of my growth and I think growing up gives you so much more experience and so much more knowledge and awareness of the world. I knew I wanted to write about people's emotions and experiences, on a deeper level instead of the [surface level] drama I was writing about when I was younger."
Artificial certainly goes deeper and together works as a commentary about what we ourselves as individuals perceive to be real and how virtual worlds online, as well our own thoughts inside our heads play into these notions. Is someone 'fake' if they choose to change how they act around different friends? Are you not being your 'real self' if you adopt a different persona on your social media profiles? These songs are snapshots looking at questions like these from four different perspectives.
The main message is probably just about being okay with being fake," she explains. "When you're adapting yourself and you're adapting your personality and your behaviours depending on the people you're with, you know, you might be with a group of friends that you act differently to when you're with you know, your family or with other people," she continues, "it's the idea that maybe I'm not myself when I'm with you, but maybe that's okay? It's okay to be fake at times. It's not something that's terrible and it's okay to adapt to other people."
"i see us in heaven", which lands with the EP, is a throwback to Jain's early teens. "It's got this sort of satirical message of this person who's standing alone in the corner of a room, looking down, smoking a cigarette, and being all dark and mysterious thinking that they're the main character," she explains, "whereas,in reality, it's just some person in the corner of a room, no one cares. But it's about people romanticising their lives and I do that sometimes."
Jain is proud of these songs, but her debut single "cool kid" is her firm favourite. "[It's] the type of song that I would actually listen to. Like, if it was just by another artist. I'd listened to it because it's very relaxing, and it's chill and the lyrics are, well, I think are quite relatable, but I mean, I wrote the song." The fact it was the song listened to by the Live Lounge judges (Ellie Rowsell, Yungblud, Celeste, Arlo Parks) helps too. "That was the biggest highlight of my career so far, having that validation from those celebrities who are amazing at music, just reinforces the idea that "cool kid" is just so special to me."
Falling even more in love with Wolf Alice's music, their headline appearance at Latitude festival this summer was Jain's first ever live experience. Performing herself, for almost the first time too, Jain says "I had never even been to a show before until Latitude this year and seeing them live was incredible." She even met Wolf Alice drummer Joel Amey's mum at the festival who's a big fan and caught her show in London last month at Courtyard Theatre.
In terms of what's next Jain jokes that, "as soon as I'm done with my maths, I go into my songwriting," and the new songs she's been writing and working on are set to show a different side to the rising star, one she's very excited to share. While Jain has lofty goals, she's keen to nail the basics too, "I definitely want to sharpen my production skills and my guitar skills, I can play pretty much fine, but I really want to be one of those cool guitarist girls, you know," she laughs. "The songs coming out for the next EP are a huge step up, and I'm in love with them," Jain teases, "and the whole concept is about exploration. It's literally about space, and aliens, and all that. So it's very literally about exploring, and that's very much new."
The Artificial EP is released on 5 November via Yala! Records