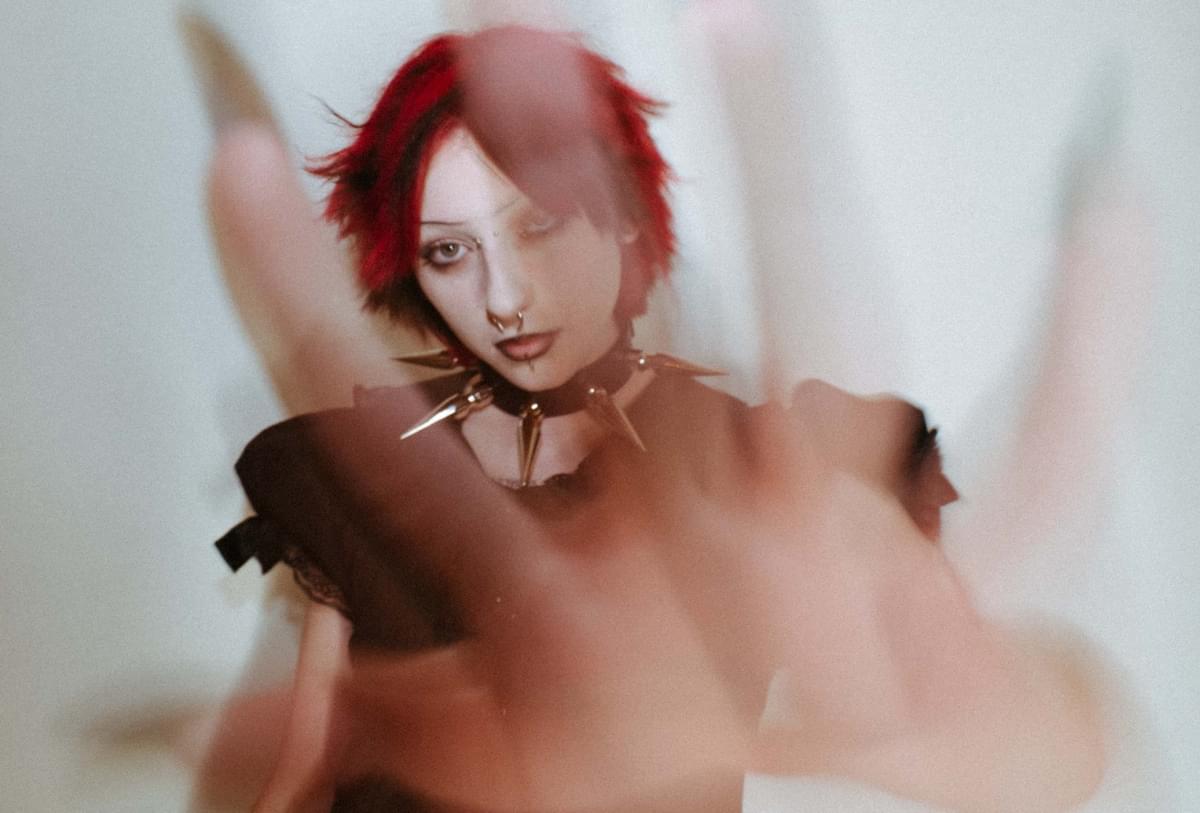 On the Rise: carolesdaughter
02 February 2021, 17:00
Driven by the spirit of punk, hardcore and Lil Peep, Thea Taylor is creating beautiful songs out of her ugliest experiences under her alter ego of carolesdaughter.
Backlit by the radiant glow of a January morning, there's something quite serene about the person who sits before me, crossed-legged and bare-faced, staring off into the distance during our video call. The image is one that directly contrasts the internet persona who looks as though she's stepped straight out of Tim Burton's The Nightmare Before Christmas and into the streets of Soho during the birth of punk in the '80s, and is the first glimpse of the duality of light and dark that is intrinsic to Thea Taylor – the young mastermind behind carolesdaughter.
18-year-old Taylor grew up in Vista, California, and despite moving around every few years, is still a California native who lives in Temecula with her parents. As the youngest in a Mormon family of ten kids, Taylor's earliest bonding experiences with her siblings revolve around being raised in the church and surrounded by music. The way she lights up as she recalls her five sisters teaching her to harmonise whilst they sang hymns, and her four brothers – "who are prodigies at the piano" – inspiring her to improvise and write songs, just goes to show exactly how tight these bonds were.
Despite the notion that every Mormon child was taught how to play the piano, it was tooth and nail for Taylor's parents to get her to practice, and as the self-proclaimed "black sheep of the family" grew older, she developed an affinity for the guitar. "I got my first guitar on my 13th birthday and that was a big milestone because that gave me the freedom to write music," she says. "I would always write songs in my head – lyrics would just pop up whilst in the shower – but I didn't have the skills yet to make a full song. Once I'd learnt four chords on guitar, there was literally no going back."
Taylor admits that because she had grown up in a musical environment, she knew that she wanted to be a musician all her life: "I don't think I can do anything else. I just fucking like being the centre of attention and being in the spotlight," she laughs. But had you told the young church-goer that music would save her life on more than one occasion; she might not have believed you.
Teenage years are a difficult time for many, with societal pressure, hormonal imbalances, and the fact that you often lose control over everything you once thought about yourself, coming into play. During the ages of 13 and 17, Taylor's mental health plummeted. In search of her own identity, she fell onto a wayward path and was sent to rehabilitation centres nine in times in order to help her overcome an eating disorder, self-harm and a drug addiction. Naturally throughout this turbulent time, she struggled to keep up with school, and when her grades started to suffer, she decided to drop out.
In the most unexpectedly serendipitous way, Taylor began a short stint of being home-schooled before she stumbled upon a clandestine form of education that became more vital than any kind of formal education. "Even though I'm not Mormon anymore, I still got a lot of musical knowledge just from being raised in the church," she says, but it wasn't until she was given a computer from her school that she was able to discover music on her own terms and branch out from either the songs she had learnt at church, or what was on the radio.
Having her own personal computer meant that she was able to enter the uncensored world of the internet, and join the endless music communities that she had previously been shielded from. "Anything that was on the radio – if it was clean we could listen to it, but if it had any sort of bad connotation, we would skip it or turn it off," she elaborates. "I wasn't allowed to use headphones for a long time when I was younger because my parents wanted to know what music we were listening to."
Taylor found herself immersed in the world of punk and hardcore music, and whilst she admits that she was a little bit too young to understand its message, she found it interesting enough to carry on down the rabbit hole. "I love the music forums on there," she tells me. "People would suggest songs and I would look them up and look for things similar if I liked it. It was just really cool – it was the first time I'd ever been able to browse music for hours at a time." From YouTube to Reddit, she found freedom in the online communities and eventually began to feel less alone. "Obviously my school work suffered," she shrugs, with a chuckle, but the benefits were undeniable to building her identity.
In what could be deemed as the most unlikely of influences, the Bee Gees were actually Taylor's first memory of discovering music outside the confines of church. She fondly recalls her dad buying one of their CD's for her mum, and it would be played on repeat in their car, but unsurprisingly, it was the discoveries that she made through social media platforms such as Reddit and YouTube that had lasting effect on her own music.
You need only spend ten minutes on carolesdaughter's SoundCloud page to discover that her music is imbued with a sense of self-aware recklessness that can only come from a teenager who is still figuring things out. Rooted in an ever-changing internet culture, she transmutes her trauma into death trap, alt-pop, lo-fi glitchy beats, and saccharine acoustic songs that candidly brush over drug abuse, death, and destructive thought patterns.
Her influences take you on a journey from My Chemical Romance and The Story So Far to The Front Bottoms and Johnny Hobo – each respectively contributing elements of emo, hardcore, and folk-punk that make up the plethora of songs on her SoundCloud. The community itself is one that she thrives in, despite it not being something she's personally explored: "A lot of the underground SoundCloud scene; I'm totally into that," she says. "Stuff like Drain Gang, Goth Money Records and Goth Boy Clique – I like the writing of that but I don't know if you can totally hear the inspiration in my music. In some parts you can tell that I listen to a lot of rap, but I have one rap song ("Porcelain Jesus") which is the tribute to that part of my music identity."
While almost every track on her SoundCloud surpasses 25,000 plays, what also stands out is that the songs with the lowest stream count are mostly acoustic. When I mention this to Taylor, it's something she is aware of - and unfazed by - as she enjoys the versatility of her creations. "I genuinely enjoy every type of music and I just want to do it all," she enthuses. "I know that maybe it can come across that I don't have a clear idea of what my music or style is, but I know for a fact that I have over 100 acoustic songs that are still my songs."
If there was anything that stoked the fire of recovery in her heart, whilst she was in rehab, it was having an acoustic guitar with her so that she was able to play music. "It was really the absolute thing that saved me, because what's the point of doing something better for yourself if you don't have a purpose or something you enjoy?" she begins. "I didn't enjoy anything, but when I was able to get sober in rehab and spend all this time with no phone, no distractions; I was putting every ounce of power that I had into my music and I wrote around 200 songs when I was there. I learnt how to play guitar a lot better and I was really prolifically writing."
Taylor mentions that her defining characteristic in rehab was how often she spoke highly about her mother whilst the people surrounding her were doing the opposite. When she made the promise to herself that she was going to pursue music and have a song with one million hits, as soon as she had the chance to get out, her best friend Alice suggested that she go by the moniker carolesdaughter as a tribute to her time spent building up her creativity with such a strong support system behind her.
She becomes highly animated when delving deeper into their relationship and the special bond that they share: "My mum has never smoked a cigarette in her life; she's never had a drink; she's never cursed; she's kind of like a saint! She doesn't believe in all the things that I do, but she's able to put her beliefs aside, and love and respect me for who I am. I really appreciate that about her because not many parents – especially in the Mormon community – would be as accepting," she says.
It might be easy to assume that going to rehab would be a traumatising experience no matter the potential benefits, Taylor speaks incredibly highly of her years spent there and almost sees it as a blessing. "The best memories I have are in rehab – it's just so rewarding. You never feel close to people than when you're living with some of the hardest people to live with," she tells me. "It really is like a community and you are helping everyone else as much as you're helping yourself. To see people go from a low [point] and seeing the light come back into their eyes and them becoming passionate about something – there's no better feeling."
Perhaps as a result of being the youngest in a family of ten, Taylor took on a leadership role whilst she was in rehab, and found that people would gravitate to her and look up to her since she had the outward appearance of confidence, despite not always feeling the same way on the inside. "When there's outside chaos, I get some sort of inner peace and direction where I'm able to figure it out. It seems like when everything is crazy, my mind is like: 'We can't deal with this, we have to stay focused – I felt responsible to try and keep the house together," she explains.
This extreme self-awareness is what drives Taylor so early on in her music career. Whilst her path may occasionally be littered with wrong turns, there's a perfectionist dedication to making an impact and gaining recognition that allows her to realign her focus and keep on pushing forward. "I would not trade spending my entire high school years in treatment for anything. A normal high school experience was not for me. I was really able to flourish in that specific environment… I'm not 100% there yet, and I will never be 100% there. It's always like a moving battle; you always have to be aware of your own issues and shortcomings."
Despite releasing music on SoundCloud throughout 2020, it was Taylor's breakout single, the emo breakup anthem "Violent", that went viral on TikTok and now has 20 million streams on Spotify – surpassing the goal she set for herself when she left rehab, by an unimaginable number. Fans resonated with the vulnerability and surrender that she exudes in the lyrical context which delves into an abusive relationship, as it is so softly juxtaposed with a message of having the strength to leave a situation that is no longer beneficial, even though it may have heartbreaking consequences for you.
With song lyrics that explicitly detail self-harm and a fascination with mortality waiting to be discovered by those who stumble upon her music via TikTok, Taylor is now hyperaware of the lasting imprint of a song, and the responsibility that comes with being so open about your past traumas. One of her biggest inspirations is Lil Peep – who she first discovered as a 13-year-old – and she is all too ready to admit that because she was listening to him whilst in the height of her destructive tendencies, she can still be triggered by his music.
"I know that music can sometimes be unhealthy for people and, for me, Peep's music was honestly kind of an unhealthy thing – not just Peep's music, but music like that – I would just listen to it all the time and they're like: 'I'm so sad, I hate my life; I wanna die', and talking about slitting their wrists – all this stuff, it does have an effect on you, and it has its place for when you are feeling that way but it can be definitely overused," she says with a moving kind of nonchalance. "The song '16 Lines' – I've done 16 lines to that song and I almost had a heart attack. Do you know what I mean? There are certain songs that I can't even listen to now, that I loved before, because they just give me bad memories or they make me want to do things that I don't want to do anymore."
As someone who has just about lived through these experiences, she is aware of the impact that music can have over influential young people and has subsequently deleted songs from her SoundCloud because she doesn't ever want to seem as though she is romanticising that kind of behaviour. "I Wish I Was Dead" is a song that was written factually, around a time that she was having suicidal thoughts, and whilst "My Mother Wants Me Dead" is purely fictional, Taylor is aware that when something is put out on the internet for public consumption, it's almost inevitable that a message will be misconstrued somewhere down the line, and she now feels obligated to me more careful.
When her single "Violet" went viral on TikTok, it was a bittersweet moment for Taylor: "There's a trend on TikTok where it's stages of manipulation and they use the lyrics to show someone being manipulated or abused, which is weird for me," she confesses. "I know that people take music and they interpret it how they want but I don't ever want to be seen as the girl who always talks about drugs and dying – that's not who I really am – I don't wish I was dead anymore, and it feels weird because those songs are genuine."
Much like anybody who creates music as a way of dealing with their trauma, Taylor hopes to be able to create beautiful songs out of her ugliest experiences in order to instil the thought in somebody that they are not alone. What she is struggling with, is the lack of separation between the artist and their work, and how the internet has completely obliterated whatever boundary there might have been between the two things.
"Seeing the effect that music does have on people makes me feel really great about myself, and it does give me a purpose, but then there's also the side to it where I do get hate and I do get people telling me I'm fucking weird looking," she elaborates. "People are just mean on the internet and that's something you have to deal with. I've had people send me videos of them self-harming to my song and leave comments like: 'This song hits different when you're forcing yourself to throw up everything you just ate.' I think that soon as soon you get the 'K' in your bio, some people kind of forget that you're a real person."
Despite the downsides that come with being a SoundCloud artist who goes viral on TikTok, there are many benefits that come from the limitless nature of the internet. "I've made friends that were online at first, and then they've only lived an hour away so we eventually made a song together. I think that's super cool," she beams. "I met my friend Dog that I have the song "Swag" with – we put a demo on my SoundCloud like a couple weeks ago – I just found his music and he was not very well known or anything, and I wasn't either, and we just became friends."
Another act of serendipity came when Taylor received a DM on Instagram someone who claimed to be an A&R at Columbia Records, after "Violent" started to blow up. Naturally thinking it was a scam, she played it cool until she started having conversations with Robert Milo from Robots + Humans, who is somewhat in affiliation with Columbia Records. After a few Zoom meetings, Taylor flew out to New York and eventually ended up signing with Arista Records.
So, for the artist who has never stuck to one genre, and instead likes to explore as many styles as possible, what is it about "Violent" that she things stood out and helped her land a record deal? "I think the reason that it is the most popular song is because first and foremost, it's the most pop song I've made," she laughs. "The production is pretty simple, but very catchy. I think it's kind of like a freak of nature… When I make music, I listen to it all the time – I don't know if other artists do that or if I'm just conceited or something – but when I make a song, nothing else is playing for at least a week. I like listening to my own music because I create the music that I want to listen to. That was the first foreshadowing for me: headphones in with the song on repeat, hyping myself up like: 'That's so good!"
"Violent" has since been used by Madison Beer, Lauren Grey, Hereditary's Milly Shapiro, and most surprisingly, Johnny Sins – the pornographic director, actor and YouTuber who Taylor claims to be a big fan of. As she reflects on the craziness of the past few months, Taylor is adamant that the wildest thing about it all is the messages that she's received from people that she went to high school and rehab with, who have heard the song and are surprised that it's hers.
Now that she's signed to Arista Records, there's a full-length album in the works, and she continues to tease snippets of songs on her Instagram Live and TikTok. Since the previewing of "Violent" in this way lead to fans begging for its release, which subsequently enabled it to go viral, it's safe to say that there are a lot of people anticipating the opportunity to dive into an entirely new body of work. Taylor reveals that the album will be "like every genre I've ever listened to, combined, but with a lot of internet influence", which goes to show that the journey is just as important as the final destination. Though she was shielded from the great unknown of the internet whilst growing up, it was there that she found her identity, and staying true to herself; it is what she will use as inspiration for all future endeavours.
Get the Best Fit take on the week in music direct to your inbox every Friday