On the Rise

Cam Kahin
28 July 2023, 10:00
Growing up with a passion for rock bands, Canadian musician Cam Kahin found acclaim in the music that made him stand out.
"I was a pretty weird kid. I was obsessed with metalcore and rock in general," says Cam Kahin from his Toronto bedroom. "I was really into Pierce the Veil, Architects and Muse, of course. I actually found Biffy Clyro because the first concert I ever went to was a Muse concert and Biffy Clyro was opening."
Kahin grew up in Dunnville, a small town in Ontario between Hamilton and Niagara. "It's a little redneck fishing town. You'll see confederate flags everywhere and all that sort of stuff," he says. "On one hand I did have a pretty OK childhood there, but once I started getting further into elementary school and then high school it was a lot of isolation."

Growing up as a young black man in a predominantly white town, he found his race questioned the older he got, especially in relation to the music he was listening to. "People want to try and wrap their head around what you are," he shrugs.

While Kahin says his household wasn't musical, within the four walls of his bedroom and inside his laptop, his passion grew. He took piano lessons when he was younger, but they didn't stick. It wasn't until he started playing Guitar Herothat his creative side really kicked into gear. "I was just like, OK, this is the type of shit I want to be able to play," he laughs.

At first he was hooked on the bass, then his uncle bought him a guitar, then he inherited a drum kit from a friend. Kahin became obsessed with making music. "Keep in mind this whole time we were connected in our house to two neighbours on either side," he says. "That was before I went through a phase of trying to learn how to do screaming vocals as well. They put up with a lot."

Alongside his passion for playing, Kahin also started to teach himself music production. At first on GarageBand, he then graduated through FL, before finally moving to Pro Tools. His early productions were hip hop tracks, now relegated to a distant memory. "There's a lot of stuff that has been wiped from the cloud," he laughs. "I want to forget about four years of my creative journey."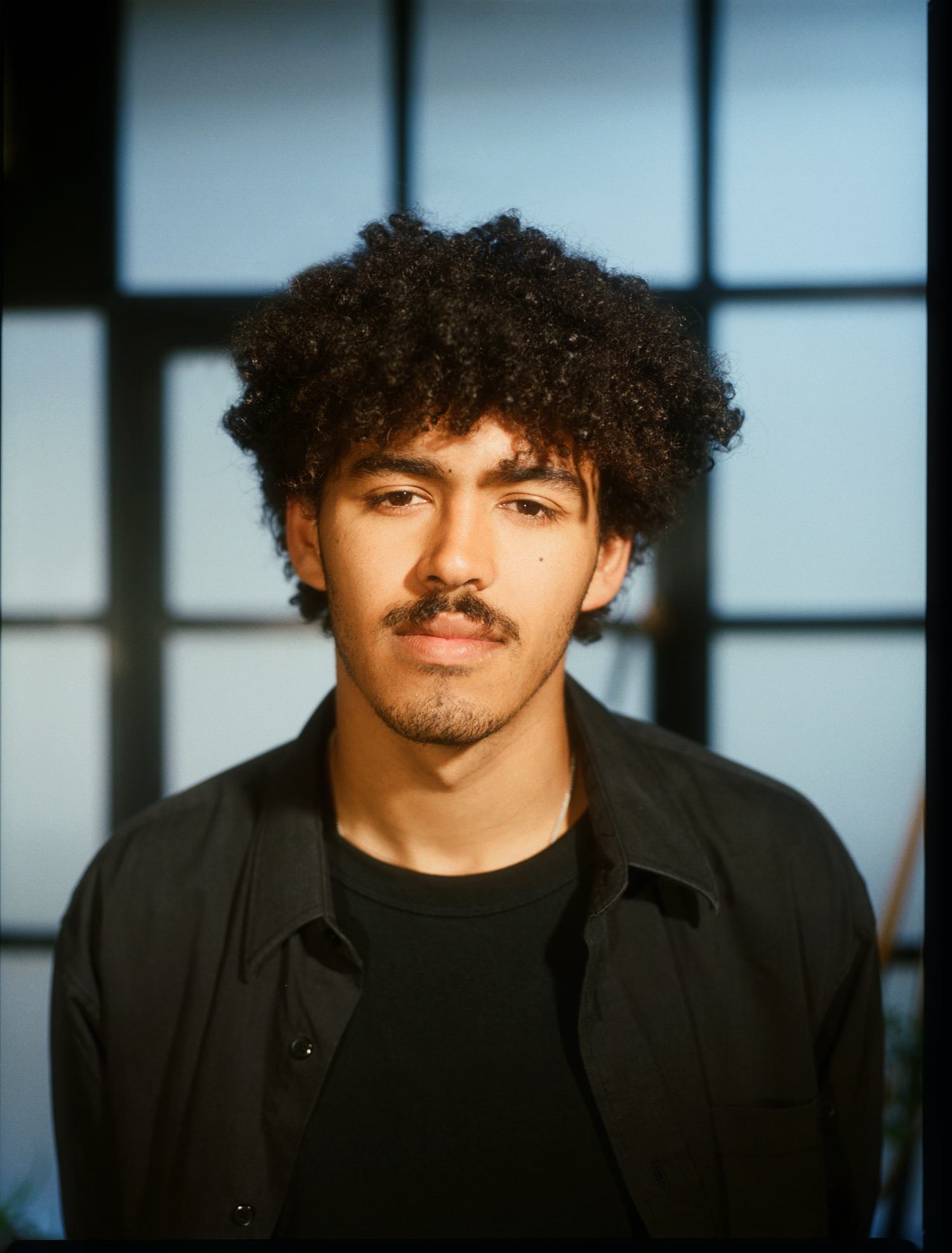 Even during those formative years, Kahin was still drawing attention for his music. But once he began creating in line with his earlier influences, things started to click into place. "I got some connections with my management now who helped get a couple of shows and that turned into a lot of shows. I think that grew pretty organically. A lot of people knew me already within my area for making the hip hop stuff that I used to do. First rapper out of Dunnville," he jokes.
Releasing his debut EP LET IT SINK IN last year, it's a ride of smooth slacker licks, angular rock riffs and hip hop crossover jams. All written and recorded in his Dunnville bedroom, the EP showcases not only Kahin's ear for melody but his artistic dynamism as he moves through genres effortlessly and evocatively.

After playing an EP release show at the headquarters of Dine Alone, Kahin signed with the Canadian label and began working on new songs. He connected with producer Will Crann who worked out of the Catherine North Studios in Hamilton, a re-purposed church turned studio space.

It was here that Kahin and Crann began a creative partnership that pushed the boundaries of their sonic approach. "When it comes to decision making within the music or making bold choices, we're usually on the same page and he's also just a very talented producer and musician," Kahin explains. "We just work very well together."
The result was the WHEN IT'S ALL OVEREP. A dynamic collection of indie-rock, tracks like "what are you waiting for" fire out the starting line with ringing guitar lines and determination while "try again" is a hooky ride of instant chorus. Despite his metalcore influences, across the EP's six tracks Kahin's efforts invoke comparisons to 00s indie beacons like The Strokes, Cesars or Darwin Deez.

Self-funded by Kahin, he allowed enough time in studio with Crann to give the space and patience for experimentation. "The vibe was there and he's also just really excited about the music so that allowed us leeway with restrictions and time," he says. "It didn't feel like I was just working with this guy that was clocking in."

On the intro to "in, around" they took Kahin's mic outside, playing with monitoring and panning. "I think you can even hear some sticks breaking, like stepping on them outside," he says. "We just got really weird."
Sharing a new, deluxe version of WHEN IT'S ALL OVER today, Kahin has added new song "nicotine" alongside a revamped version of EP closer "skeleton song", complete with a fresh verse from fellow artist and friend Anna Sofia. When Kahin was recording the original version, he wanted female harmonies to accompany his vocal, and invited Sofia to help him record. "I didn't even know, but once she got there she was just like, 'Oh, I also have a whole verse,' he laughs. "I just fell in love with it. I still wanted to release my version, but I thought maybe some time in the future we'll put out her version."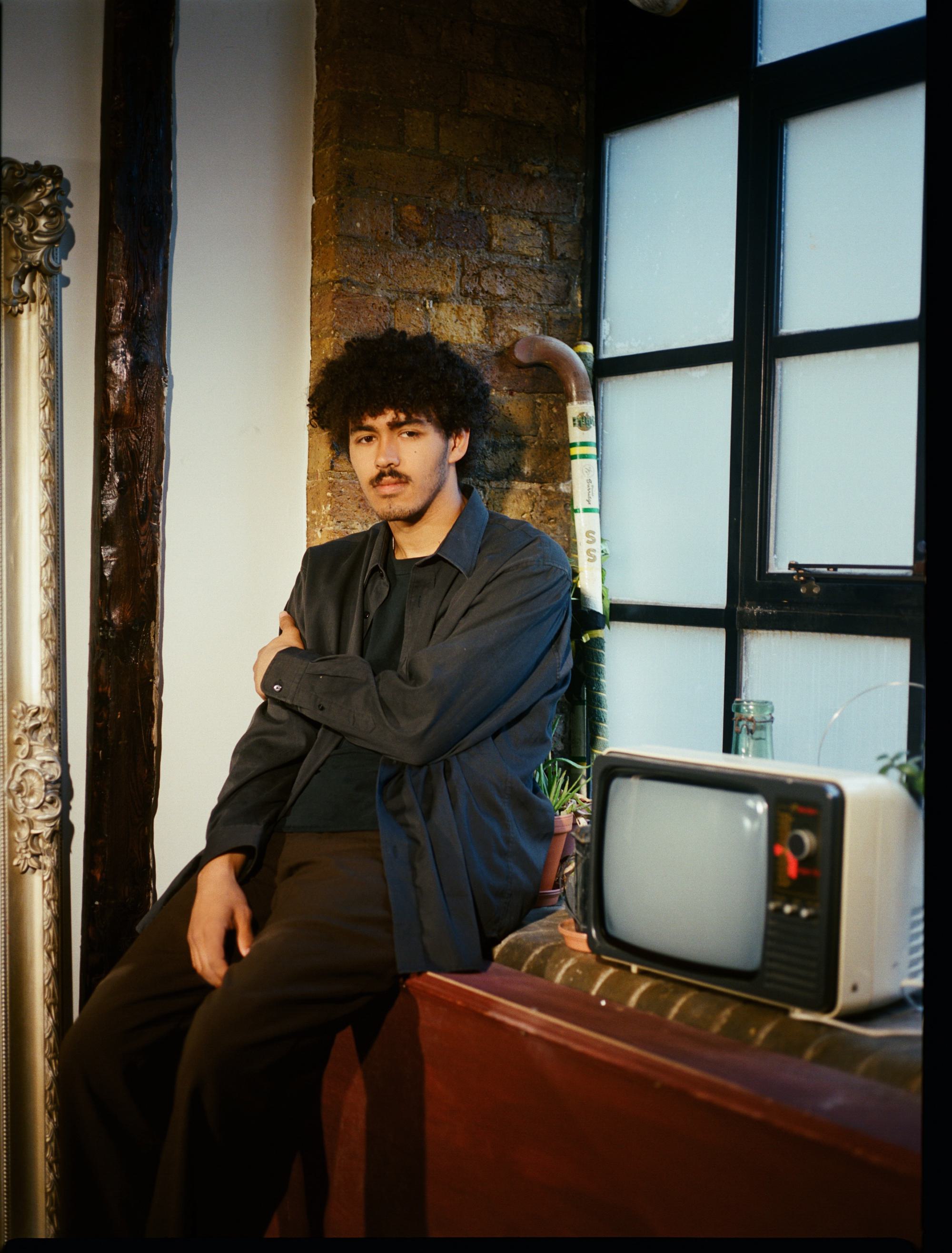 The deluxe version complements the original, adding a new layer to the track's intimacy, while on "nicotine", Kahin sways the opposite way. A fierce release of slamming sonics, it came from the liberating joy of having a space where he could truly make noise. "I got this space and immediately I was like, I want to make some loud music," he laughs. "It just flowed and I made that song within the first day. Listening to it over and over, I just kept thinking it really feels like a piece of that era that I was working on for WHEN IT'S ALL OVER."
While Kahin's musical passions once made him stand out from a small crowd, they're now putting him in front of an ever-growing audience.