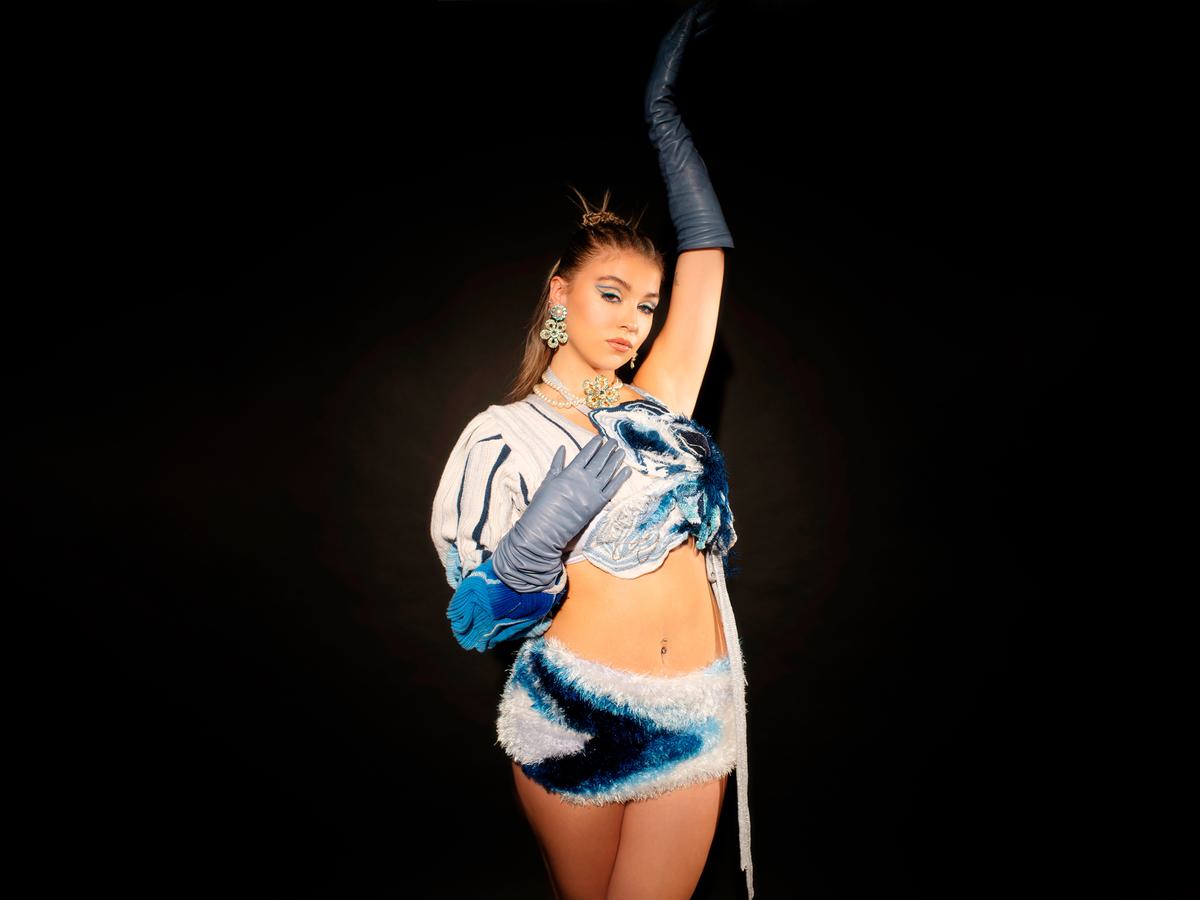 Caity Baser is having her main character moment
31 October 2022, 09:00
Styling: Anastasia Busch | Hair: Sandra Hahnel | Make-Up: Chynara Kojoeva
Lead image: Top, skirt by Lynn La Yaung | Earrings, Necklace by Miu Miu via 4 Element | Gloves by Handsome Stockholm
Caity Baser is here to start a new pop revolution built on sincerity and zero bullshit. Sophie Walker hears her story.
The first thing you should know about Caity Baser is she is not in the business of sugar-coating – and at a glance, this may come as a surprise.
Her blonde hair is slicked back into a bun, without a single stray wisp; her acrylic nails pitter-patter on her phone screen, and her glossed lips flash with a mega-watt smile. The twenty-year-old is every inch a pop star – but if pop is a genre rooted in fantasy, an irresistible promise to escape the reality of our everyday lives, then Baser refuses to play that game. For her, the truth is where it gets interesting.

"I don't give a fuck," she laughs, fizzing with the kind of conviction that, for anyone else, would take a little Dutch courage. "I'm really honest. I'll never be like, 'Oh, my heart is in smithereens!'" she swoons, clutching at her chest in a flush of melodrama. "I'll be like, 'You've annoyed me. I hate you.' I just love being honest," she smiles, "and brutal."
Her devotion to authenticity marks Caity Baser as an artist who is distinctly 'Gen Z'. Her voice is deceptively honey-sweet, at first – but she soon dips into something more unpolished, more whip-smart, like your best friend putting the world to rights a few pints down. She is like the second coming of Lily Allen, sharing in her easy comfort with language, eye-rolling humour and of-the-moment verbal takedowns. "You said you didn't care so why you checking my snap score?", she quips on her single, "Friendly Sex", with a typically Gen Z acuity for horoscopes: "You're a Scorpio in moon and rising, so I should've know all the shit you'd been hiding!"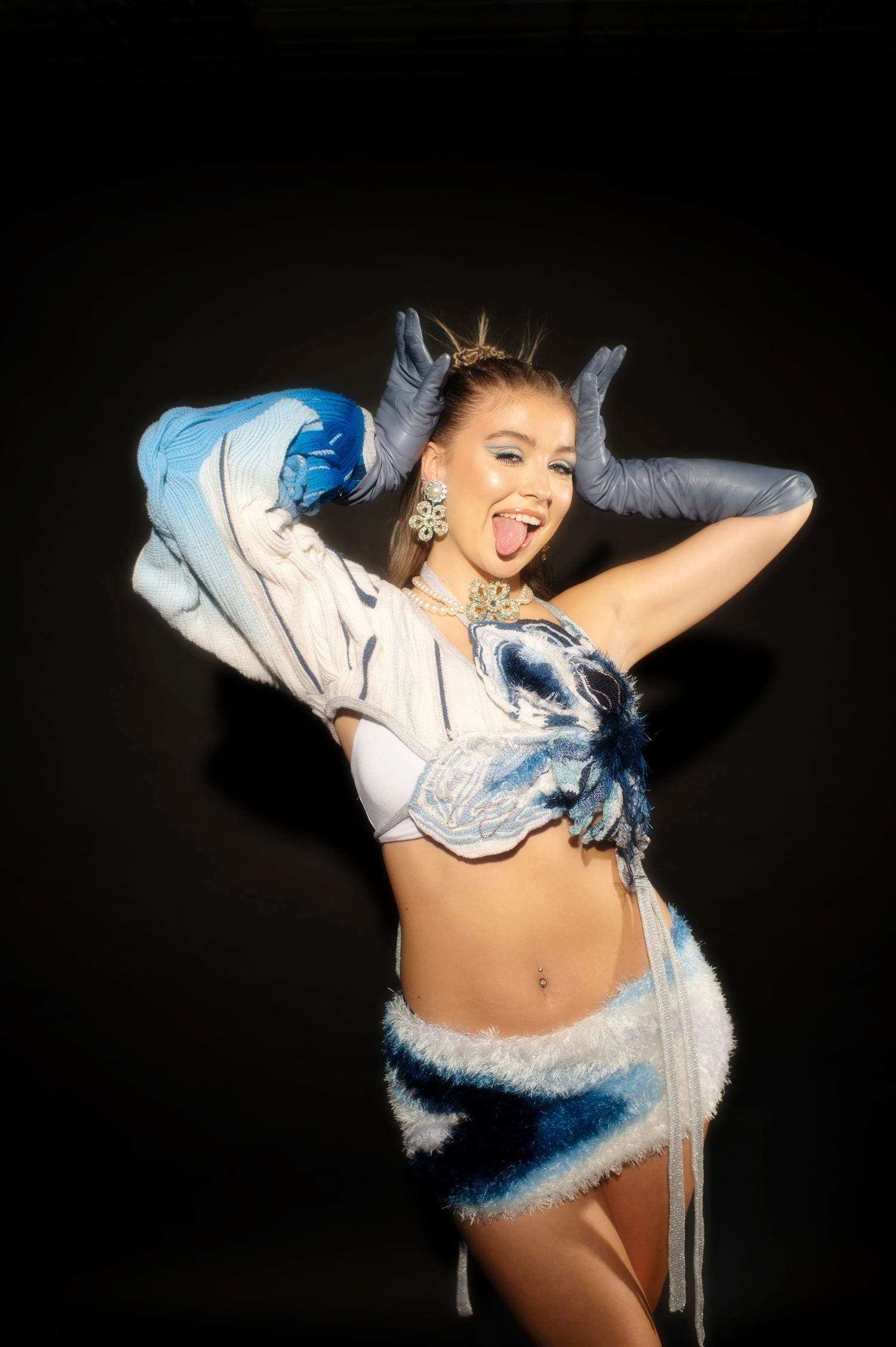 So forthright is Baser in her lyrics that it feels like she's reading aloud from her diary - the kind most people would rather burn than share with the world. And, to top it all off, she is so direct that she may as well be staring unflinchingly at the person she wrote it about with a smile on her face. To ask her about the specifics behind her lyrics feels altogether pointless. It's all right there. "All of my songs are about real things that happened, word for word. The whole thing," she assures me. "I made 'Friendly Sex' in literally fifteen minutes because I was so fucking fuming with that guy that day."
Baser embodies a unique kind of female rage, the absolute life and death of it all when you're twenty. Her song writing thrives in the not-so-pretty realities of being a young woman today: slut shaming, situationships, the grey areas of casual sex and the panic that comes with a fast-approaching future you can't control. There's little wonder, then, that millions of young people found something of a sanctuary in her music. It was this rapidly growing fanbase who turned out in droves to her set at Reading & Leeds Festival this year, marking her as one of the most popular performing rising stars, their phones masted in the air like a salute; these kids who sold out her first headline show in under three minutes.

An 'overnight success' is a well-worn exaggeration that has been thrown around since the MySpace era to describe the accelerated way music is discovered on the internet – but with Baser, it is absolutely true. She turned eighteen during lockdown, her life upended just as she was making the first tentative steps into adulthood. She was struggling to make ends meet with her job at the Co-Op in Southampton, all the while having to confront the nauseating question of what her future would look like when the days felt so stagnant, blurring into one.
"Boring. Dull. Small. Shit," says Baser, rolling her eyes, when I ask her to paint me a picture of her hometown. "I fucking hate it there. I wasn't doing anything with my life. I'd just turned eighteen – so why am I not going out there, finding out what my dreams are and how to make them come true? I didn't know where my career was gonna go."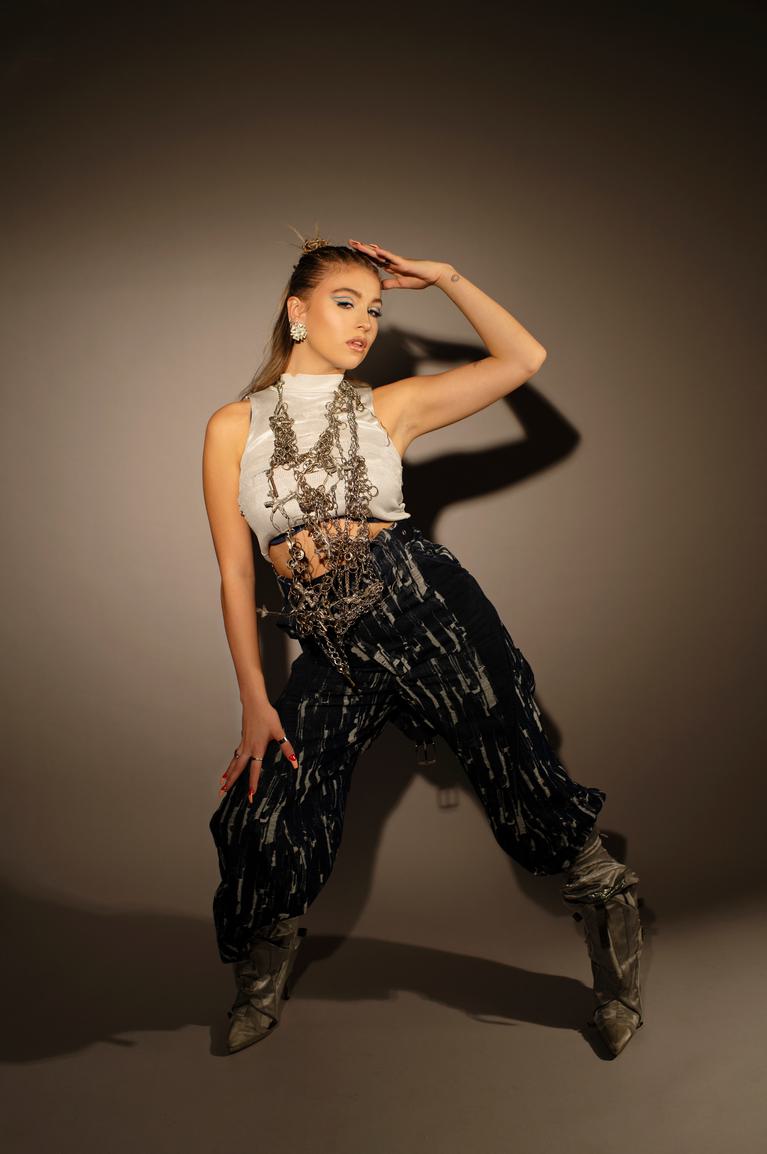 So, she wrote a song about it, as she always did when something was on her mind: "Average Student". She found a jazz guitar loop on YouTube and recorded herself singing on top of it. Her hair was scraped up into a bun; no make-up on, dressing gown hood pulled up. "I'm so broke / Yeah I got bills up to my ears, I've started to smoke / Drinking cheap wine and shitty beers / I'm saying it's jokes / But really I'm holding back the tears and debating my career / Maybe I should stop right here", she sang. It would be the first time she would post a video of her music online. Her finger hovered over 'delete', for a moment, rattled by a moment of stage fright, but decided to go to bed and leave it overnight. Surely, no one would really see it, anyway. But the thought of the video troubled her still; she woke up with the intention to finally taking it down, but that was when she discovered it had somehow attracted over a million TikTok views.
She celebrated by driving to her local M&S car park, plugging in her aux cord and blasting the song at top volume while the numbers tallied higher and higher. From that moment, her world was never the same. "I realised I was not alone," she says. "I remember thinking that everyone was isolated from each other, that I'm on my own in this world, that I'm this big," the gap between her manicured nails suggesting just a speck, "that I'm so tiny and insignificant. And then I posted that video being like, 'Oh my god, everything's so awful. Help me!' – and everyone did."

By the grace of the algorithm, Baser was lifted from anonymity and suddenly found herself a manager, signing the dotted line with EMI Records. "That's all it was," she shrugs, "feeling like shit and making a song to help me feel better."
Unwittingly, at first, Baser had tapped into a universal desire: to be validated. Her arresting sense of honesty, to admit to not having it all figured out - and to admit it all in her pyjamas, no less - is the kind of authenticity her generation is hungry for. To see the thoughts you have but daren't admit to reflected by someone unafraid to own them is more powerful than entire internet's worth of artifice. "I think people see through bullshit really easily," Baser says. "If I'd just got dolled up for one video, it's like, 'Yeah, whatever, scroll…' but if I'm like, 'Guys! I just got out of the shower and I made this thing and I can't wait to show it to you!' – it's a bit more relatable, I guess, just being a girl in her room."
The mentality of 'just being a girl in her room' is something Baser is determined not to lose sight of. A pop star might have fans, but she calls them friends. "I'm in group chats with them!" she enthuses. "They call me, I call them back. We talk. They turn up really early to my shows and I come out and say hello, and then go out afterwards to hug them all." She tells me there is a group chat called 'Caity Slays', a space of "big sister advice", where everyone – including Baser herself – helps each other through tricky times.

It's this sense of togetherness, of closing the gulf between artist and fan, which bleeds into everything she does. I ask her what qualities she believes define a great pop star. "Someone who isn't rude," she answers immediately. "Someone who just acts like your mate, and is like, 'Oh my god, hey!' – someone who will engulf you in a hug when you go up to them. Someone who includes the audience, makes it feel like it's everyone's show, rather than just their own. And someone who isn't a dickhead," she smirks. "When I perform, I just feel like I'm at a house party with my mates, except I've got a microphone and we're all singing together."

"I feel like everyone in the Gen Z demographic.... we're all really understanding. You can be who you want to be, and there's no judgement."
(C.B.)
One of Baser's upcoming tracks, "2020", captures the experience of coming-of-age in such turbulent times. "It's fucked," she insists. "When I talk to my mum or my dad about when they were twenty, it sounds so much fun. I mean, I'm having loads of fun, but the older I'm getting, the more I'm realising that everything is just… fucked. There are so many problems." But as with everything, there is a silver lining. "I feel like everyone in the Gen Z demographic… what a good word!" she grins, looking to her manager excitedly. "I feel like we're all really understanding. You can be who you want to be, and there's no judgement. Whereas I know some of my friends' parents would not be okay with some of the shit that I'd be okay with, because of how they were raised. Well, fuck that. Change."
Her debut mixtape, Lil CB, was a statement of intent, the first embodiment of her vision having been afforded a moment to actually think about what that is. "All those songs are about things that really annoyed me and affected me at one point in my life, so I wrote about it, put it into the world and made a little present out of it," she smiles, "like, 'Right, that's it. I'm done now.'" Reckoning with "Haters", toxic exes, being broke and the urge to put her phone on airplane mode, it perfectly captures the attitude and spirit of a precocious eighteen-year-old. "STD", which leans into her taste for reggae-inflected beats, is Baser's weapon of choice against a ex who had been sleeping around behind her back. "I heard you got an STD / From sleeping with Molly, Libby and Sophie / You had the nerve to cheat on me / Well karma's a bitch and I was out of your league", before leaving him with an exasperated sigh, "Ugh, men are fuckin' trash, goodbye / Fuckin' see ya / You had a small dick anyway!"
I wonder if there isn't a little hurt beneath all this bravado. "Things can be a bit shit," she shrugs, "but I make good things out of them. I refuse to be like, 'Wahhh, I'm sad!' It's fine, I'll giggle about it somehow." But she is the first to acknowledge that since she dropped Lil CB, she has grown up immeasurably. Compare any eighteen-year-old with someone at the age of twenty, and there is a world of difference. "When I listen to the Lil CB stuff, I sound a bit like a kid – I mean, because I was a kid. I've changed a lot in these last two years." That's why she's allowing for nuance and vulnerability within her music, releasing the "What I Didn't Say" edition of her scathing shoot-down hit "X&Y".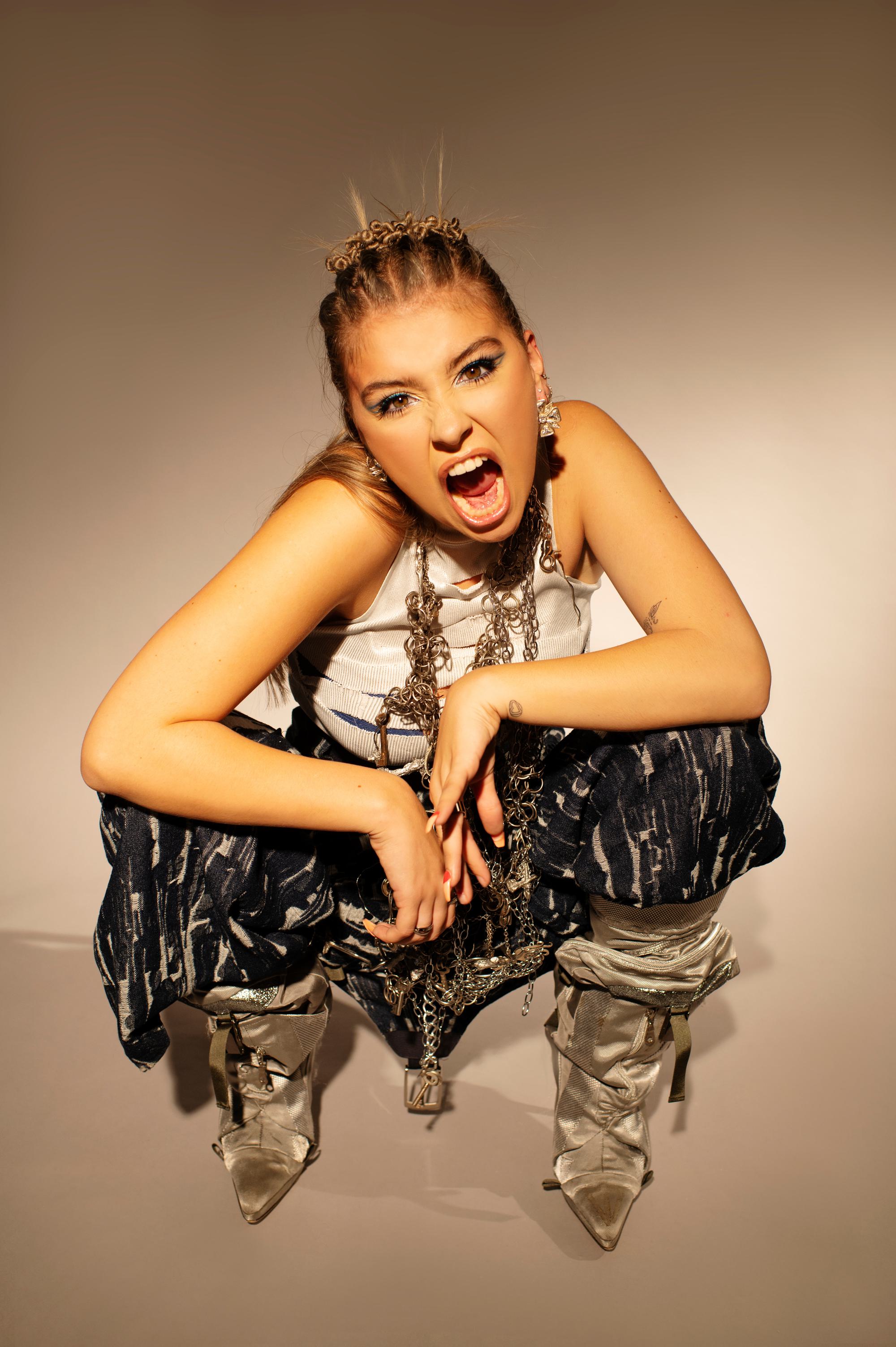 She plays me an unreleased track – an anthem with stadium-sized ambition – which demonstrates another clear step-up in maturity. "I sound more like a woman, and I'm going to own this shit," she tells me of her incoming era of music. The song is a confrontation of her mental health, broadening her scope as a songwriter beyond girls-meets-boy complexities. She meets her feelings, this time, with absolute honesty, admitting that sometimes she is not okay, rather than hiding behind her anger and wit. "Because I know it's hard, it's difficult sometimes," she says, when I ask her why she chose to make this lyrical shift. "Now, I feel like people are starting to look up to me and listen to me, and I have to be honest when I say that sometimes I feel like literal shit for no reason. I have days where I wake up and I'm literally living my dream, and it's the best thing ever, but some days I'm like, 'Oh my god, I feel horrendous.' And that's okay. It's fine. Some people will be annoyed at you for not having a reason, but your feelings are valid, always."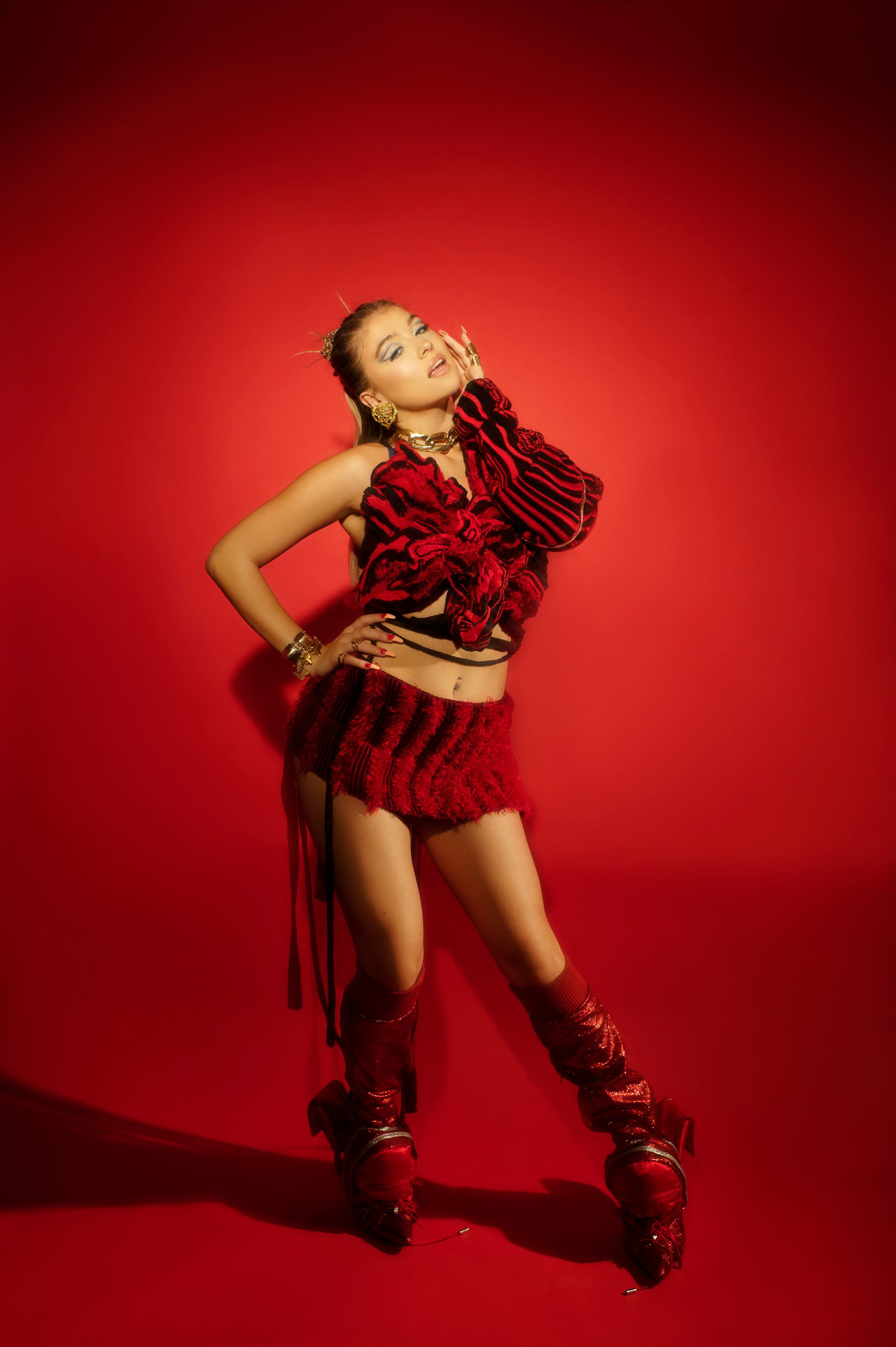 For as long as she could remember, writing a song was how Baser dealt with her emotions. "Whenever anything goes wrong, I go to the studio – even good things, I'll write about it. I always feel so much lighter," she shares. The practise room at school was Baser's regular haunt; she preferred it to socialising, to the point where she didn't even have to ask to use it anymore – she had her own key. She would sit at the piano and teach herself. "It was like my best friend," she says. "Because when I felt like I couldn't talk to anybody – this is so cringey – I would just play the piano and feel so much better." I find it incredibly hard to believe her when she tells me that she never had many friends growing up. She has a way of talking to you as if she's known you for years; as if you were the only person who mattered in the room. She sparkles with confidence, and the way she makes the stage feel like a home suggests that she has always been this way.
"I think I've always wanted to be confident,' shrugs Baser. "But everyone around me was always like, 'Don't do that.' I always wanted to wear weird stuff and act weird… I don't know, no one really accepted me in school and even college. So I was just like, 'Okay, I'll talk how you talk, I'll wear what you wear, I'll do what you do.' And then, as soon as I started getting accepted for being me, I was like, 'Okay! Here I am!'" she grins. "I've been long-caged."
"Some people will be annoyed at you for not having a reason, but your feelings are valid, always."
(C.B.)
For a long time, Baser felt too much stage fright to perform. There was a conflict between the terror of being scrutinised by her schoolmates and her innate desire to do it. "I hated singing in front of people," she recalls. "I hated putting myself out there." But still, when she was thirteen, she dared to audition for her school's drama production. She didn't think for a minute that she'd actually get the part – but, down to what Baser may describe as 'luck' but was really a testament to her talent – she did. It demanded that she perform a song solo, and immediately, she panicked. She sat in her drama teacher's office and cried: "I was like, 'I can't! I can't do it!' and he gave me, me a half-an-hour motivational talk about how I'm made for it, how I'm always going to be a performer – how I've got something special."
Even within the last few years, Baser still felt uneasy in the company of big names. I ask her if she ever struggles with Imposter syndrome, something that blights young people who find success through overnight virality. She asks what I mean, and as I explain she says, "Like it's not real? And you feel like you don't…? Yeah, oh my god. All the time. It just doesn't feel real being alive right now. But this girl you see over here," she grins, elbowing her manager who sits beside her, "could see that I wasn't okay and was like, 'Fuck that shit! Make everything the Caity Baser show!'"
Since then, Baser has been unafraid to claim her right to being in the room. She has been working alongside producer duo Future Cut, who were responsible for the cheeky pop confections of Little Mix, Rizzle Kicks and Lily Allen herself – all artists that are her own musical touchstones. "I didn't feel out of place at all," she smiles. "I just strolled in and was like, 'Can I have a cup of tea?'"
With new music on the horizon and her sell-out headline shows in November, she is ready more than ever to deliver on her early promise and underline why the algorithm chose her. For all her frivolity, when it comes to her craft, she is deeply sincere: "You've got to be the fucking shit. Never slack. These people could be working with Harry Styles, all these crazy people – and they chose to work with me. So no way am I going to be like, 'Ugh, I can't be bothered.' No. I run in there, and I bring ideas."

Reflecting on the eighteen-year-old who started all of this, she says, "I feel like she's a little bit scared, a little bit like, 'This will only last a few months', kind of thing. And now, I'm not scared of anything at all. I'm going to do this forever." If there is one thing that these last two years have proven to Caity Baser, it's that she is absolutely the main character of her own story. "What do I want to be?", she fizzes. "The biggest, most amazing, arena-selling-out artist the world has ever seen! I just want to be everywhere. I want to do show after show after show. Just keep being this honest, bubbly little thing."