Busted's Personal Best
18 September 2023, 09:00
As Busted drop a new greatest hits collection - bolstered by collaborations with the likes of You Me At Six, Wheatus and the Jonas Brothers, the trio pick out their five favourite songs from across a two-decade career.
As far as legacies go, Charlie Simpson, Matt Willis and James Bourne have one that's as intertwined with one another as it is the fibers of an entire generation.
Forming 20 years ago this year, Busted paved the way for noughties pop punk and emo inflected pop, making guitar music accessible to kids who didn't connect with the stale dregs of Britpop, or the toothache inducing manufactured teen pop that had been dominating the charts at the time. With lyrics slagging off their ex girlfriends but also yearning for them in the same breath, Busted offered an angsty and juvenile escapism to the dominant rhetoric, one that felt both relatable and badass. With their Clearasil skin, outfits like skaters who had personal shoppers, and bleached hair sculpted in ectoplasmic wet look gel, the trio were the effortlessly cool echelons of purelie misfits.

Busted were so groundbreaking in the era that they defined (never forget: they won two BRIT Awards) so much so that the effects are still felt to this day. Autumn sees the band embark on a head spinning 26 date arena tour in celebration of their 20th anniversary across the UK this autumn, brimming with high energy and nostalgia. "I think it's going to be the most fun, the best tour we've ever done," Simpson says in earnest from the band's rehearsal room in Putney, to the right of Willis and Bourne who are squeezed onto the sofa with him.

"We talked about it for a few years, and I think [the 20th anniversary] was the right time to celebrate everything that people love about Busted." Simpson explains. "We did come back in 2016, but I think it felt a little different because we were trying new things, and I hadn't been in the band for a long time. I feel like this time, it's the proper reunion."

"We all do things outside of the band," Willis referrs, to his own acting career on stage and screen, Bourne's songwriting projects, and Simpson's solo material, hardcore group Fightstar and most recently The Masked Singer appearance, "but there is something about Busted which draws us in, and the power of [that] never goes. If I was a Busted fan, this is what I'd want to see. It's a celebration of everything that [fans] love about Busted."

"We did our comeback in 2016, and we stayed in the band until 2019. A lot of that cliche weird stuff that comes with bands that breakup and get back together, has all gone and passed, it's all water under the bridge. It's old news [and] it feels like we're able to be in the moment," Bourne tells me as Willis and Simpson unanimously agree, talking over each other with fervent excitement.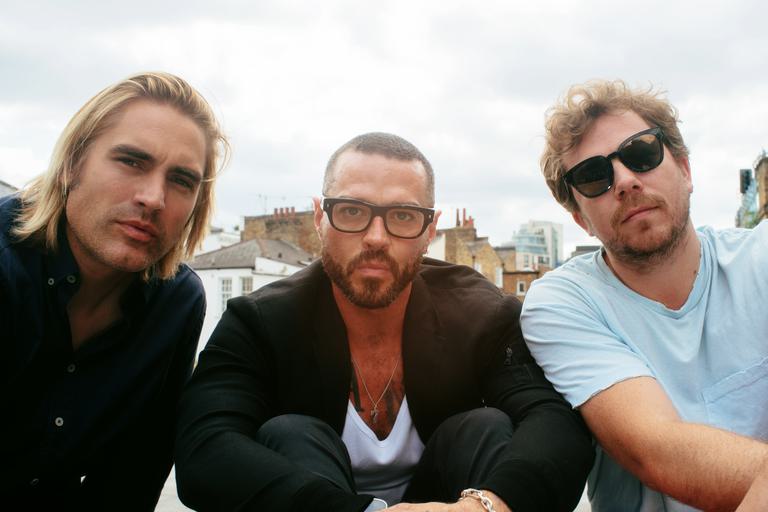 "When you start a band when you're 16, it becomes who you are in a way," admits Willis. "It kind of becomes embedded in your DNA that you are Matt from Busted, like it's my formal title…" he pauses before laughing in unison with Simpson, "no I'm not the one with the eyebrows!"
"I think our relationship is quite different, and our artistic relationship is different because we're much more together now than we were before," Simpson tells me. "We were young and not fully in control of our destinies back then. Now that we are, we act more like a unit than we did before."
Willis agrees, "We all want the same thing, we want to be in something that we love that does as well as it possibly can. We all love this thing, and we want to keep going and be as successful as we possibly can, without selling our soul for that. We've learnt the hard way that that doesn't work."
"When you're in it the first time, you have this thing that changes your life and it takes over your life," says Bourne. "Life becomes unrecognisable to what it was and it's all down to the band. Because we had so much time when we weren't a band, it was nearly a decade, for the last 20 years we've actually been a band for six of those years. So we know what our lives are like. In 2003, 2004…it was hard to separate or know the difference. When you can understand 'this is what life's like, this is what the band is', it's easier, you can breathe a little bit, it becomes more grounded. When you get the chance to play these shows, these venues, you can go for a dip in the river without getting swept away. You can navigate it better and you can make better choices."
"I find that quite difficult," Willis responds, "because I've had people close to me go 'with band life, it'll take over you Matt!', but it kind of has to. I feel like it deserves that. That's why sometimes Busted operates for a very short period of time, because you can get away with ignoring every other aspect of your life and completely focusing on making everything within Busted as good as you can, as good as it can be for you. That takes it to a completely different level of dedication. You need to live in it. It needs to be everything to you. People get pissed off because you have another number one priority for that while…I still talk to people….but I'm pretty focused on Busted!" he laughs.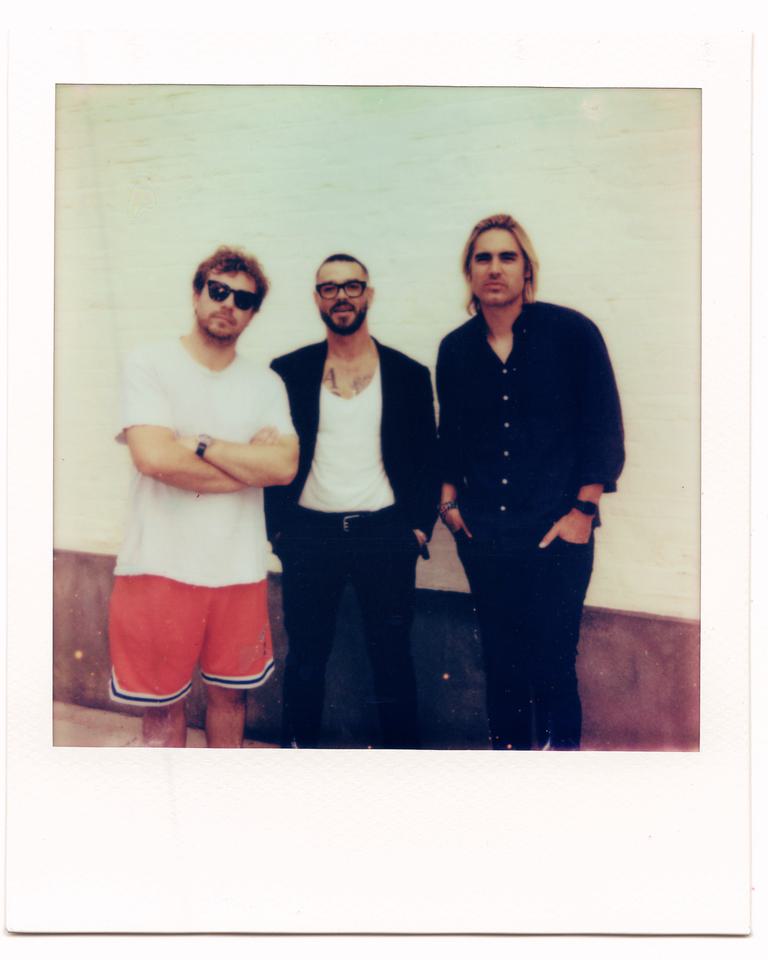 Busted have bolstered their anniversary celebrations with a Greatest Hits 2.0 album to be released in line with their upcoming tour, with each track featuring an immaculately selected collaborator. The personnel is tear-inducing to any pop punk aficionado, with McFly, You Me At Six, All Time Low, Wheatus, Neck Deep, Dashboard Confessional all appearing on the tracklist. But their greatest acquisition? The Jonas Brothers.
"We sort of let everyone do their own thing," Simpson says of the logistics behind the album, "but that's cool because it meant that they got their own time for the song, and sometimes the artist added stuff that wasn't in the original which I actually preferred. There were loads of things that were added which are magic moments that we didn't even ask them to do. I think they just got really into the song. When we came up with the idea, part of me thought 'this is never gonna happen, we might get four people'. We came up with a wishlist, fired it out, and pretty much everyone said yes. I'd say it was a 95% hit rate."
"The guy from Dashboard Confessional, in 'Everything I Knew'..." Willis begins as Simpson finishes his sentence, "he sings it completely differently."
"It's fucking brilliant," Willis punctuates, going on to say how having the Floridan band on the album was a "dream", with Simpon revealing The Places You Have Come to Fear the Most to be on heavy rotation on their tour buses throughout 2003 and 2004.
"Then you have bands like All Time Low, who I didn't even realise were hugely influenced by Busted," Simpson explains. "I was listening to 'Crash The Wedding' and I was like, 'oh now I get it…'"
"It's wild that [we've] got fans of the band, or even bands that were modeled on [Busted]. The Jonas Brothers probably wouldn't exist if it wasn't for us…" Bourne ponders, referring to the siblings' viral cover of 'Year 3000'.
"There's your headline!" Willis quips.
"But it's true," Bourne retorts. "There's a lot of bands that wouldn't be around. It is actually really crazy to have some of the bands that have come about because of Busted, that have become these global phenomenons, like The Jonas Brothers. Having them on the record meant it was a big deal. It's an amazing way to mark 20 years, to have like this amazing list of bands."
"We've worked with McFly in the past, and they sent back what they did with 'Thunderbirds' and I was fucking blown away by it, it was so good," Willis exasperates, "that band are so fucking good, just with how incredibly talented they are…."

SIMPSON: We completely redid 'Meet You There' [for Greatest Hits 2.0], and Neck Deep absolutely smashed it. I've been listening to quite a lot of Neck Deep recently, and it kind of sounds like it could be a Neck Deep song as well. We might get a couple of [the bands] up on stage on tour….

WILLIS: It was kind of the forgotten track in a way, fans dug it but I really loved it. Now it's had three different incarnations. We did it on the record, and then when we got back together having not been in a room with Charlie for 10 years, we did that song in Abbey Road, and it was a piano ballad version of it, and it was just fucking beautiful. So classy. So good. Then we completely switched that on his head and made a proper pop punk version of it, and it fucking works there too!

SIMPSON: Next one is the metal version.

WILLIS: And then a grime version…

BOURNE: When I heard the Simple Plan version…I felt like it could have been the fifth single off our first album. It's really enjoyable to play…

WILLIS: Loser Kid's my favourite to play.

BOURNE: It's one of the first Busted album songs where I feel like you can hear the influence of some of the bands we were listening to before we even got our record deal. Like Dave Matthews Band, Three Doors Down in the way the guitars are. That was really like a piece of the puzzle that made us stand out from a lot of the boy bands that were around when we came out. There was a lot of that influence, and I hear it in those songs and it makes me happy.

"When The Day Turns Into Night"
SIMPSON: It's quite different to everything else Busted released, it's quite dark, quite moody, but I love the melodies and I really love the production. It's interesting production with this cool, weird bassline and just the guitars. The stuff that wasn't a single, like 'Meet You There', '...Day Turns Into Night', I really like those songs because they just show a completely different side musically.

BOURNE: It also has those amazing Japanese string players on it. When you look at a typical strings section, there's something about the string section on 'When The Day Turns Into Night' that doesn't sound like a normal strings section. That's because of who's playing on it, and I always enjoy that.


SIMPSON: It's a forgotten gem that could be a single today. The way we do it now I think it could get on the radio. We've done this new version of it and it just sounds so awesome. It's got a bit of a Matchbox Twenty, Three Doors Down kind of vibe.

WILLIS: It's just a really fucking good song. When you play it on an acoustic guitar, it stands up. The production obviously adds it, but it's just a really well written song.

SIMPSON: We wrote it above a restaurant in Brick Lane, it was where we did a lot of the early stuff with a producer called Steve Robson. Actually that's not true…we did it at the other one in East London with all the crazy paintings where you did your solo album.

WILLIS: The Strongrooms.

SIMPSON: We just wrote it on acoustics, it was one of the last things we did on the album before we finished, it might have been the last song we wrote for the first Busted album. It was just thrown in really as a bonus, it was very much going to be an album track but I just think it stood the test of time. I remember going to Marbella after we recorded that song, and I could not stop listening to it. I have vivid memories of sitting by the pool listening to that song thinking 'this song is fucking awesome'.

SIMPSON: Night Driver was a complete curve ball for us. I think this is a timeless song.

WILLIS: It was the first real song for that record as well.
SIMPSON: A lot of people love that song…

WILLIS: There were problems with getting that released as a single, I always disagreed. Everyone that I played any of those songs…that was the one that stood out. There's a place in [Charlie's] voice that sounds fucking incredible, and it's just a really cool track.
SIMPSON: It's got that Genesis vibe.

Matt: It's just a fucking great song.

SIMPSON: [Night Driver] was a ballsy move, it's a fucking amazing album.

BOURNE: Everyone that actually listens to it thinks it too.

WILLIS: You kind of have to go into it not thinking it's a Busted album

SIMPSON: Exactly.

WILLIS: It obviously is because it's us, but it kind of wasn't. For 10 years we'd not even been in a room together and we wrote and recorded the album in three weeks. We'd write a song in the day, record it that day, then we'd maybe finish it the next morning and write another one. It was really amazing.

SIMPSON: One day when Busted make seven albums, it will make sense. Busted is a journey, we don't really know what the next thing we're going to do is, but it's going to be something slightly different .

WILLIS: It'll all fit into place…

SIMPSON: I don't think it was meant to be ballsy, it wasn't like 'oh look at the statement we're making'...

WILLIS: I don't think it meant to be as far as we went…

SIMPSON: We're in a room together and we haven't hung out in 10 years, 'what have you been listening to?' A lot of Bruce Hornsby.

WILLIS: Phill Collins.

SIMPSON: We talked a lot about '80s music…it was very much of the moment. That's where we were at the time so that's the record that came out.

BOURNE: If you listen to a lot of Phill Collins songs from the past, they all sound really good now. I wanted us to make something that would sound good in 20 years from now. It holds up. Some songs sound like they came out at a time, but I feel like Night Driver has this thing about it that feels like it's a little bit more timeless.

SIMPSON: Even though Busted was heavily influenced by the pop punk stuff, 'Sleeping With The Light On' is a country song at its heart…

BOURNE: Get Mason Ramsey to cover it.

SIMPSON: Busted does have a lot of influences going on.

WILLIS: Everything normally is written on an acoustic. So everything comes from that. [On] Night Driver a lot of it was written with a synth line, it was a different experimental time for us.

SIMPSON: Matt makes a good point. What's awesome about the original songs is that, take a song like 'Meet You There', you can have it as an acoustic song, and a full blown pop punk song. That shows you could do a different version of it, and I think that's what we've always honed in on, just try and make songs great. You should be able to play all Busted songs on acoustic and get it to sound great.

WILLIS: Producers have a fantastic role to play, don't get me wrong, they're really important. But at the essence of it has to be…you can't polish a turd.