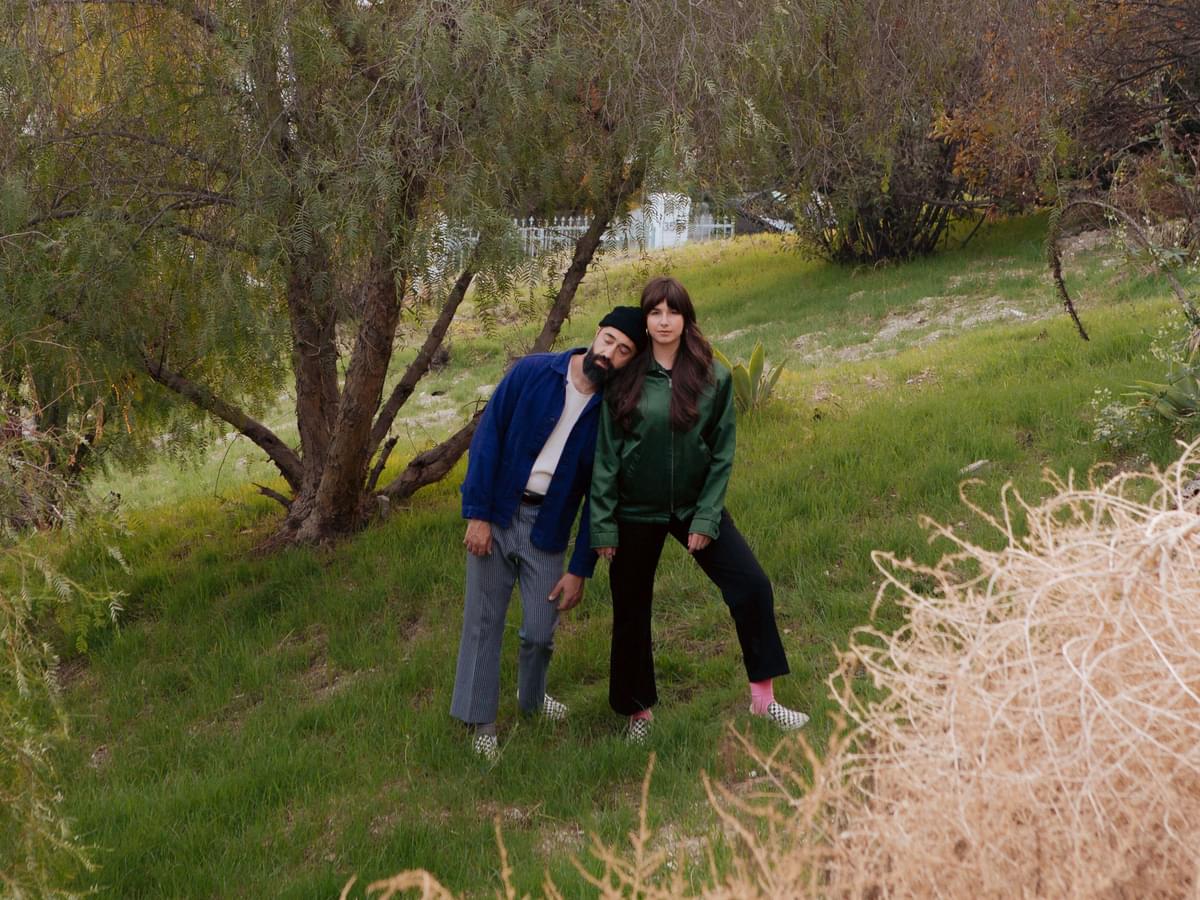 Brijean are capturing the spirit of jouissance
21 February 2021, 10:30
After extensive touring as a percussionist with a plethora of artists – most famously Toro Y Moi and Poolside – Brijean Murphy is quickly finding her own voice and style in her creative project.
Brijean; the Oakland-based duo composed of Murphy and her partner multi-instrumentalist/producer Doug Stuart (Bells Atlas, Meernaa) utilizes elements of jazz, '90s house, and disco to create something positively refreshing with their newest LP, Feelings.
As we sit down for a conversation via Zoom, Brijean reveal that they are in Santa Fe, New Mexico, waiting anxiously to get back to work as touring musicians. "We are subletting a spot [in New Mexico] for a second. We wanted to be close to Doug's family for a little bit," says Murphy. "There are a bunch of furnished rentals, and it's lower overhead while we are unemployed for the year. I've been here in Santa Fe just touring with different bands, and it's super beautiful — and it's cheaper than the Bay or L.A, so we were like, 'Let's do it!'"
They arrived in Santa Fe in October of last year after a few months of living with Brijean's mother to save money and stay connected to Stuart's parents, who lived nearby. Both his parents, who had been sick for some time, unfortunately passed away from a non-Covid related illness earlier this year. Although in mourning, they've focused on making music and taking things day by day.
Stuart is a soft-spoken jazzhead who studied jazz in college. Murphy, who is a bit more lively in conversation, was taught music by her father – a touring percussionist who learned through intuition, feel, and advice from his fellow musicians. Although opposites in some ways, Murphy and Stuart complement each other very well. They have a harmonious conversation style, which shows just how in sync and rhythmically in the pocket they are, much like their music is.
"I think we developed our sound through our own influences. I grew up in a musical family in L.A. My dad was a percussionist, and I inherited my drums from one of his besties, who was a Trinidadian drum player and percussionist...I started playing with the family growing up, so all the rhythms I know and play are all kind of inherited — that's my style, heavy percussion. And Doug's background is a lot more in jazz," Murphy says.
"My background is more academic," adds Stuart. "I played jazz in high school and went to college for it. Bass is my main instrument, but I've always played keyboards. I feel the album's sound is a confluence of our love of jazz, jazz harmony, percussion, and dance music. I guess specifically pulling from disco and '90s house. You know, it kind of goes back to our musical upbringing."
Stuart's love for jazz came about in high school, where he was lucky to have an excellent jazz program and a music director that was very passionate about music. It also helped that he had a couple of friends who were getting into jazz at the same time as he was – one playing drums, and the other, guitar. They were a tight little trio who would smoke weed and nerd out about jazz.
When asked about his bass influences, it seems as though they range from the mellow Miles Davis era from the '60s to the funk-infused jazz of the early '70s. "As a bass player, there is a long list like Ron Carter, Paul Chambers, and Charlie Haden," says Stuart. "More recently, my tastes have been more in the '70s stuff like Donald Byrd, Lonnie Liston Smith, and Alice Coltrane, more of that early fusion era without shredding."
Murphy's life, on the other hand, was engrossed with music, parties, and the community of musicians that her father performed with, such as Crazy Horse, Harry Nilsson, and Tito Puente. She learnt about music by watching them play and instantly became more hands-on when she was given her own instrument.
"It was awesome. They had really good parties at the house when I was a kid," says Murphy, with a reminiscent chuckle. "I got to hang out and socialise from a young age and learned a lot from the people he played with. They taught him things that he taught me. It was nice to be in a musical family. I feel like I didn't really appreciate that or embrace it until much later, especially realizing the value of non-traditional methods of art and expression."
Even though Murphy never learned theory, she and Stuart can create music fluidly, taking a day or two at most, and acting when inspiration hits them the hardest.
"For me, it's harder to break away from theorizing what we are doing [in order to] get into a flow," says Stuart. "I feel like I get better once the initial structure is put down and we are coming up with the form, and I'm not on an instrument."
On a whim, Stuart moved to Oakland in 2009 after a couple of his friends went to live there after graduating college. He began going to a lot of jam sessions and shows in the Bay area, connecting with the music community and trying to figure out where he fit in. It was during this time that he met Murphy.
Meanwhile, Murphy was down south at university in the city Riverside, which is located an hour away from Los Angeles. She quickly decided Riverside wasn't the place for her because her dream was to go to Berkeley, so she moved to Oakland, enrolled at City College, and eventually got into Berkeley as she'd dreamed of. In the Bay, she developed the reputation of being one of the best conga players around, known for her jazz night at the Starline Social Club. Musicians took notice and eventually, it landed her a gig with Chaz Bear of Toro Y Moi.
"I would just take any gig I could get for like ten years. It's probably still true. I was playing at a co-op with some funk band who I didn't even know. It was very Berkeley. Chaz, the band leader for Toro, came in and liked my percussion. He hit me up for a Les Sins project, which is a more housey dance project. From there, he had a tour, and he wanted me to do this live video."
Murphy and Stuart started dating shortly after they met. The idea of forming a band didn't come around until three years into dating – because they were busy touring musicians and didn't see each other for long periods of time, they decided to form a duo in an effort to spend more time together and create their own music.
"I had been wanting to put my voice to a project and Doug was stepping into producing, working at this recording studio called Tiny Telephone in Oakland, producing for bands, other friends, and rappers. So we were like, we'll start a group together and spend a little more time together, and then we made a mini-album," says Murphy.
Because they had some interest from a local label at the time, it gave them the incentive to commit time to make a record. Once they started working together and had time to actually commit to the project, they quickly realized they had terrific chemistry. Things flowed real smoothly between them.
Their sophomore effort, Feelings, came about from a jam session they did in the summer of 2019 with Chaz from Toro Y Moi, their friend Hamir Atwal, a drummer based in Oakland, and Anthony Ferraro, the keyboardist for Toro y Moi.
"We started working on this record, as a second album, with this label called Native Cat, which was the label that put out our first album, Walkie Talkie. We spent all December writing these songs, recording them, and mixing them, and just about when we were done with the album, the label dissolved," says Stuart. Native Cat was a relatively young label, and, according to Staurt, they weren't able to hack it in the already hyper-competitive music industry. Thankfully, they got signed to Ghostly shortly after and were able to move forward with the release of the album.
"A lot of the album's content is about nurturing good vibes, finding things that feel good, and getting through hardship," adds Murphy
"I think I'm still experimenting a lot. This is the first project I ever put my voice to. I think it reflects how I interpret the world and how I navigate from my own self and well-being. I'm trying not to use a charged wellness word, but whatever," says Murphy, sardonically. "I think that is where I naturally write from, being in special moments that feel good."
This outlook came from her dad, who was equally excited and concerned for Murphy when she decided to become a musician. Her father struggled to make ends meet as a professional musician at times, even though he was successful and played with big names, and didn't want Brijean to struggle as he did, but he understood how cathartic live performance can be.
"One of the positive things he told me was, 'I can't wait until you play in front of thousands of people and just look up and be totally present and totally in that moment. Time stretches out at that moment.' I had one of those moments when playing Golden Gate Park in San Francisco."
This flow experience directly inspired the song "Paradise," a dreamy song about feeling good in the present moment. In fact, Feelings is a dance album that encapsulates the energy of jouissance. From beginning to end, Feelings hooks you in with smooth syncopated rhythms and enticing harmonies. Although you can strike comparisons to Toro y Moi and other similar groups with this album, Murphy's percussion and dreamy voice, combined with Stuart's jazz-inspired bass and keys, help Feelings firmly stand on its own.
Of course, releasing an album these days isn't quite normal. It's difficult to get feedback when you can't see people respond to a new album live. Naturally, I asked how they hope fans will respond to Feelings during quarantine. "I hope they like it a lot and they dance to it, and smooch to it, drive to it, cook to it. Those are the main hopes that come up for me," says Murphy. "I second all that," says Stuart while laughing. "I hope there is a time in the not-so-distant future where we can have people together and dance to it."
Feelings is out 26th February via Ghostly. Photography by Mancy Gant and Jack Bool.
Get the Best Fit take on the week in music direct to your inbox every Friday