"After having some life experiences under my belt, I now look at the mountains, the fields and way of life and think 'oh, I think I wanna move back here'," he says, chuckling at the irony. "It's kind of amazing to have that complete 180 experience."
At 16, The Killers' frontman left Nephi for fabulous Las Vegas, a city that runs deep in his band's DNA down to the glittering showbiz 'K' that illuminates at the centre of their stage set-up. Following his wife Tana's complex PTSD that developed a few years back, Flowers moved his family back to rural Utah with the neon signs of Vegas receding in the rear view mirror. 'Imploding the mirage' in a sense.
The notion of escaping small town life for the big city has long been mined in the business of rock'n'roll. Bruce Springsteen built the foundations of his career on that feeling, The Killers gave it a shot themselves on "Runaways", but seldom are the people who stay the subject of inspiration which The Killers tap into on new album Pressure Machine.
"I have a lot more respect for the people that stay," he says, comparing the musings of the teenager who left to the man who returned. "I have a lot more regard and tenderness for the place and for the beauty. When you're a teenager that compassion just isn't available to you, to be able to wrap your head around exactly what's going on"
For the first time in their career, The Killers seventh LP Pressure Machine finds the group exchanging the life-affirming anthems they've made their name with for something more patient and reserved. "When I realised I could write about things that were more personal to me or experiences I had observed, there's this whole other treasure trove to unlock and dive into," he explains. "That's been really good to me over the last few years."
The past few years have spelled big changes for The Killers. Parallel to Flowers' big move out of Vegas, there was something of a controlled implosion of The Killers themselves. Flowers' output had outrun the band's schedule at several intervals, leading him to emerge as a solo artist on 2010's Flamingo and most recently on 2015's The Desired Effect. These efforts arrived when the rest of The Killers 'weren't in the mood' to record another Killers record. Bassist Mark Stoermer experienced fatigue forcing him to pull out of touring commitments while Dave Keuning wanted to spend more time with his family.
The Killers, as a result, developed a tag-team philosophy for these members; an approach that was run through the mill successfully for 2020's Imploding The Mirage where Stroermer was creatively involved in the recording and now its rapid follow-up Pressure Machine which welcomes Keuning back to the ranks. Alongside Flowers, powerhouse drummer Ronnie Vannucci Jr remain the cornerstone members of the group.
"I was always in the business of the big time," he reflects. "It's a lot of pressure to put on yourself." Flowers has no doubt enjoyed the fruits of his labour. For the first ten years of The Killers' career, it felt like the group's ascent was unstoppable. Hot Fuss, Sam's Town and Day & Age were consecutive hits bolstered by huge singles where the band truly earned their stripes. They emerged on the other side of that trilogy as bonafide rock stars in an age where bands growing to stadium-selling heights of their sort were nearing extinction. The group's iron-clad hit "Mr Brightside'' possesses a power that still clutches the zeitgeist by the horns. It celebrated a monumental 5-year residency in the Top 100 UK charts earlier this year.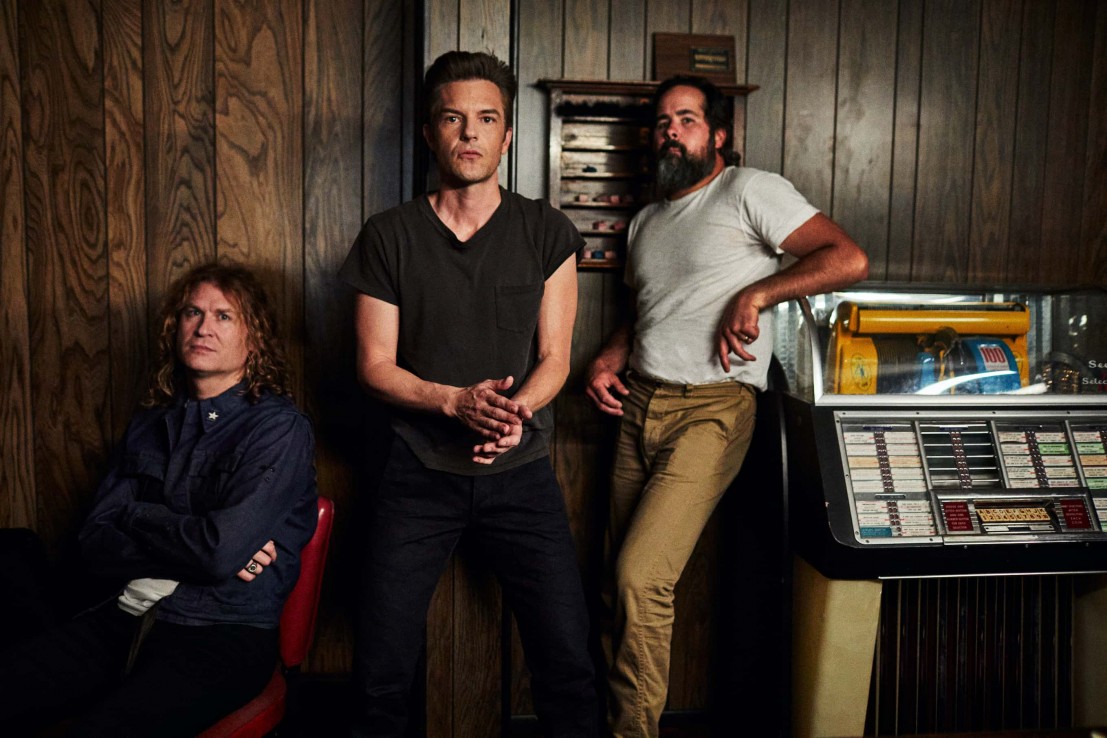 The tepidly received Battle Born, released in 2012, marked the first wane in The Killers' creative goldrush. This was well documented on the group's 2017 return-to-form Wonderful Wonderful which led Flowers to pen a song literally titled "Have All The Songs Been Written?" A question he originally posed to Bono. "That's a great title for a song," was his response.
Four years after that question was originally posed, The Killers now sit on two more albums helping to defiantly answer it. 2019's Imploding The Mirage was jam-packed with wall-to-wall stadium anthems and marked something of a renaissance for the band in their new age. The album found The Killers shaking up the formula by welcoming in wider collaborators. Australian singer-songwriter Alex Cameron co-wrote a number of tracks, Lindsey Buckingham ripped a solo on "Caution" and the graceful presence of Weyes Blood and K.D.Lang added a celestial presence to the group's trademark Americana.
Debate famously whipped rampantly around the meaning of "are we human or are we dancers?" which soundtracked the crest of the band's first ascent. The songs of Pressure Machine leave little ambiguity to debate. Story and narrative driven, the tracks weave the characters of Flowers' hometown into a stark still-life tapestry soundtracked by instrumentals resonating small town life - acoustic guitar, fiddles and harmonica illuminate the dark tales that shroud the LP.
Opener "West Hills" swells around a descending piano motif that draws back the curtain of Pressure Machine in dramatic fashion as the imagery of the "horses that run free in the West Hills" brushes shoulders with death and the spiritual escape of "those hillbilly heroin pills". While the glitzy romance of The Killers certainly exists here, it's in short supply. "Terrible Thing" sees Flowers write from the perspective of a gay teenager on the verge of suicide against a mournfully plucked acoustic guitar; "the cards I was dealt will get you thrown out of the game".
The town's opioid epidemic hangs heavy, especially on the heartbreaking "Quiet Town" as it animates parents weeping through "Daddy's girl eulogies" and daughters and sons "lying lifeless in their suits and gowns". "Somebody's been keeping secrets," Flowers asserts. "When we first heard opioid stories they were always in whispering tones / now banners of sorrow mark the front steps of childhood homes" is a line that could only be written through the eyes of somebody re-entering this way of life.
Unlike any other Killers record, no singles preceded the release, leaving the world to be swallowed whole. "It's probably not making the record label the happiest," Flowers laughs on the eve of release with some trepidation. "But we felt really strong about this album. It has a certain determination and world to it and we wanted it to be experienced in that way so in that sense it's really really different compared to your typical Killers roll out. We're thrilled with it!"
For the first time in The Killers history, lyrics knocked on the door first which was something of a surprise visit as the group's mammoth tour was shut down in the shadow of COVID. "Man, for 20 years I had just been on this rollercoaster and it was so wild for it to just stop. I was in Utah, in the same mountain range that I grew up in and started to reflect and have these memories. Every song that I wrote felt like it took place in this town I grew up in. And I just sort of went with it."
"Lyrics are something I'm usually struggling to finish at the end of a record so it was a real blessing to be able to have these ideas and these fully formed pieces written," he continues. "I don't know if it's something I can rely on for the next record or any other record but it was just happening so fast and I just wanted to wrangle this thing, it was a really exciting time." The great American songwriting troubadours were key influences he drew on - Randy Newman, John Prine, John Mellencamp, Tom Waits and Bruce Springsteen are namechecked.
As a family man, COVID offered some regulation to the showman's schedule with Flowers starting the songs of Pressure Machine on a keyboard down the hall from his wife and kids. As with the characters that inhabit the walls of the album, Flowers tends to keep to a working man's schedule, returning to the well on a daily basis. "I've been trying to do that as much as I can for the last 10 years or so. The first few records it was a little bit on and off but I think the more you put yourself in the way of inspiration, the more likely it is for it to hit you."
Flowers often starts the songs that enter The Killers' wheelhouse meaning he had to do the big job of presenting the off-piste ideas he'd carved out to the rest of the group. "I definitely had some trepidation about the subject matter and the style I felt like it was going to require to make these songs feel authentic so I knew there was gonna have to be a change," he says. "It ended up becoming a real organic thing that everybody got on board with. The songs were speaking for themselves which really helped."
Much of Brandon's memories of growing up in Nephi gravitate around the local golf course. "My parents would drop me off there and I'd just hang out there until it got dark, mainly just golfing and growing up."
He recalls being drawn to the people that didn't adhere to the religion of the town. "Those were the people that were just larger than life and left a mark on me because they were so different to what I was experiencing in my own house growing up. Seeing these people that were kicking against it and making different choices would really catch your eye when you're 15 years old.
"I would hang around with them at the golf course where this subculture of people existed, ironically enough. It was a place you could go and drink during the day. The alcohol content for beer in Utah is regulated so it's actually half the rest of the United States. So you'd see guys drink about 25 beers to get drunk which is what I thought you needed to do as an adult. They were just constantly pissing in the trees because they had to drink so much - it's funny looking back now."
The townsfolk have a deep presence on the record, not only through Flowers' detailed character portraits, but the voice snippets that are peppered between the tracks. "We kept talking about how it felt like a documentary and it felt like a record of this place," he muses. "We thought it'd be beautiful if we could actually hear the accent of these people so we sent someone to interview people just in the town in Nephi. It was the last thing we did. The album was being mastered and we were frantically trying to find the right pieces to put in between the songs for these interstitials. I was a little bit nervous about it because it was so last minute but now I can't imagine the record with it. It really just roots, grounds and ties it together."
This is reflective of the knee-jerk philosophy the group brought to the writing and decision-making process. Although the albums are stark in contrast, it draws a line between Hot Fuss and Pressure Machine. "I used to feel like if you don't labour over something then the song just must not be good enough," he explains. "Then I started thinking about the immediacy and the way the first record came about for us where we didn't know what the hell we were doing in the studio. Just capturing that lightning and releasing it, there's something to be said for that. We kept that frame of mind with these new songs. We'd capture it, wrap it up and refrain from going back to it for days on end. It really helped us stay in the moment and stay almost improvisational."
"It felt like I was more open in the earlier days and not listening to the world and people's opinions."
Brandon has his theories about why the writing process gets harder compared to the wildfire that often ignites at the initial spark of a band's inception. "It felt like I was more open in the earlier days and not listening to the world and people's opinions," he ponders. "Then you start to listen, which comes with wisdom. You want to listen to other people and you're open to people's opinions which can actually stifle your purity which makes it pretty difficult. But I enjoy going back and working."
Brandon also recalls working at the local Nephi Taco Time with his Mum for a time cleaning bathrooms, making tacos and burritos - and listening to Bob Marley. "I remember being obsessed. I associate a lot of that music and those great choruses with the Taco Time."
Brandon's Mother Jean passed away in 2010. The story of his parents' acquaintance was immortalised in "Dustland Fairytale", a widescreen, cinematic look at small town life compared to the 4:3 frame that clips the tales of Pressure Machine. Earlier this year, The Killers welcomed The Boss himself to duet on a live, vamped up version of the song. Springsteen's own stripped-back 1982 LP Nebraska is a clear touchpoint for this phase of The Killers; 10 tracks recorded straight to a four-track tape recorder in a hotel room; the most high budget the production gets is a flourish of the harmonica here or there.
Being a scholar of rock'n'roll and seven albums deep into his band's career, Flowers is particularly drawn to Springsteen's longevity as an artist. "Someone was asking him about how consistently he made these records - it's such a feat to do it once but he does it over and over again. He just talks about what it takes to see it through and I realised that's something I've been trying to apply to the last couple of Killers records. It's easy to say 'oh here's a single, let's just wrap these other ones up and get on the road' but to really see a record and an idea through is hard." He pauses. "I've never been more sure that we have applied it as successfully on this record. We're really proud of it."
The Boss originally hit Flowers up via text; "Watching Glastonbury. You guys have become one hellacious live band my brother! Love the gold suit! We gotta do Dustland one day. Bruce" went the message. The group's 2019 performance on the Pyramid stage felt like the battlecry of their renaissance period.
"Man, some of the videos that some of the BBC captured, it's insane. It really was a magical night," he says with a shake of the head and a touch of emotion breaking in his voice. The night culminated with the band welcoming Pet Shop Boys and Johnny Marr on stage, two cornerstones of their musical DNA.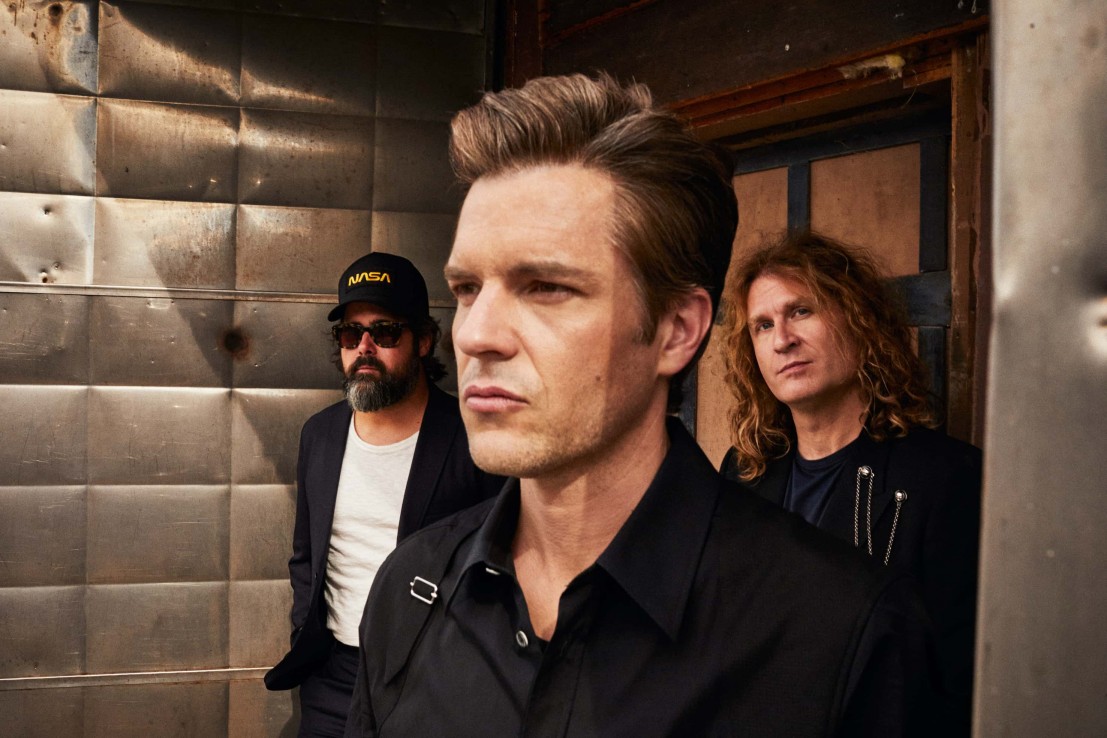 "We never met Johnny Marr until that night!" he says gleefully. "He came backstage, it was the first time shaking his hand and we rehearsed "This Charming Man" in the dressing room. We had never plugged in and played but then we went and did it in front of the world at the end of the set. It was so wild, if you watch it, it looks as though we must have met and rehearsed it or something but we had just met - it's a song I've been singing my whole life, at the same time it was very surreal, but almost commonplace."
It's a show Flowers has watched back several times. "There really was a lot of pressure. I'm so grateful that we have it on film and someone captured it so we can rewatch it. I enjoy watching it back but in the moment it was a lot of pressure."
Watching the show back now feels like a portrait of another time. The sea of people kicking up dust and howling every word illuminated by red flares is almost a tribal experience. While new material is on their mind, carving out similar scenes to Glastonbury across the world's stadium in 2022 is top of the list. "It's been 2 years, it's wild!" he says with some exasperation. "But we're very ready to keep the creative juices flowing."
The gorgeous title track on Pressure Machine hosts a widescreen reflection on life where childhood imagery of "Jiminy Cricket and Power Wheels" sets up the key message the album hangs on; "Sometimes, I look at the stars / And think about how small we are / Sweating it out in the pressure machine / Good 'til the last drop".
Many of us have been humbled in the wake of the pendulum being pinched mid-swing this past year, even if you're the frontman of one of the world's biggest bands. The sentiment and characters of Pressure Machine aligns everybody on a level playing field.
"At first I was nervous about it being too much of an insider look at a place and if that was going to translate with Killers fans or anyone," Flowers reflects. "Then I started to realise there was something about the authenticity and honesty that was coming out of me that was going to translate with you wherever you're at."
Pressure Machine is out now via EMI