On the Rise

Bonnie Trash
26 October 2022, 13:00
Original Photography by Dana Bellamy and Nicolette Hoang
Inspired by the folklore in their Italian grandmother's stories, the twins at the forefront of drone-rock duo Bonnie Trash are embracing emotion and working on cultural preservation as they prepare to release their debut album, Malocchio.
Family curses and hauntings have been the backdrop of Bonnie Trash's childhood, or rather, Emmalia and Sarafina Bortolon-Vettor's – the Italian-Canadian twins from Guelph, Ontario.

"We grew up hearing about possessions and exorcisms as children from our Nonna, it was fascinating," the pair explain. Italian folklore was simply the norm for them, surrounded by stories such as cannibalistic tyrants that used to terrorise their ancestral town, to mysterious illnesses and superstitions.
The gothicism in Emmalia and Sarafina's bedtime stories seeped into the way they saw the world – filled with dark corners and deeper meanings. This background in folklore led to the formation of their love for horror, which inevitably crept its way into their music.
In high school, the duo formed their first band; an all-female punk outfit by the name of Red Rosary, a name inspired by a horror story that involved a rosary turning into a snake for the purpose of strangulation. "Funny enough, we did go to a Catholic school," Emmalia laughs. While they disbanded by the end of school, the bones of the band were ready to reassemble. Red Rosary's drummer, Dana, remains in the new live iteration – Bonnie Trash.
Suffice to say, punk persists as part of the twins' musical repertoire. At times it seeps into the defiance of Bonnie Trash's debut album, Malocchio, songs based on the tales of their grandmother, Maria. "She moved onto the other world in May, and so it's been a long process of thinking back on this person's life and her contribution to these stories," says Emmalia.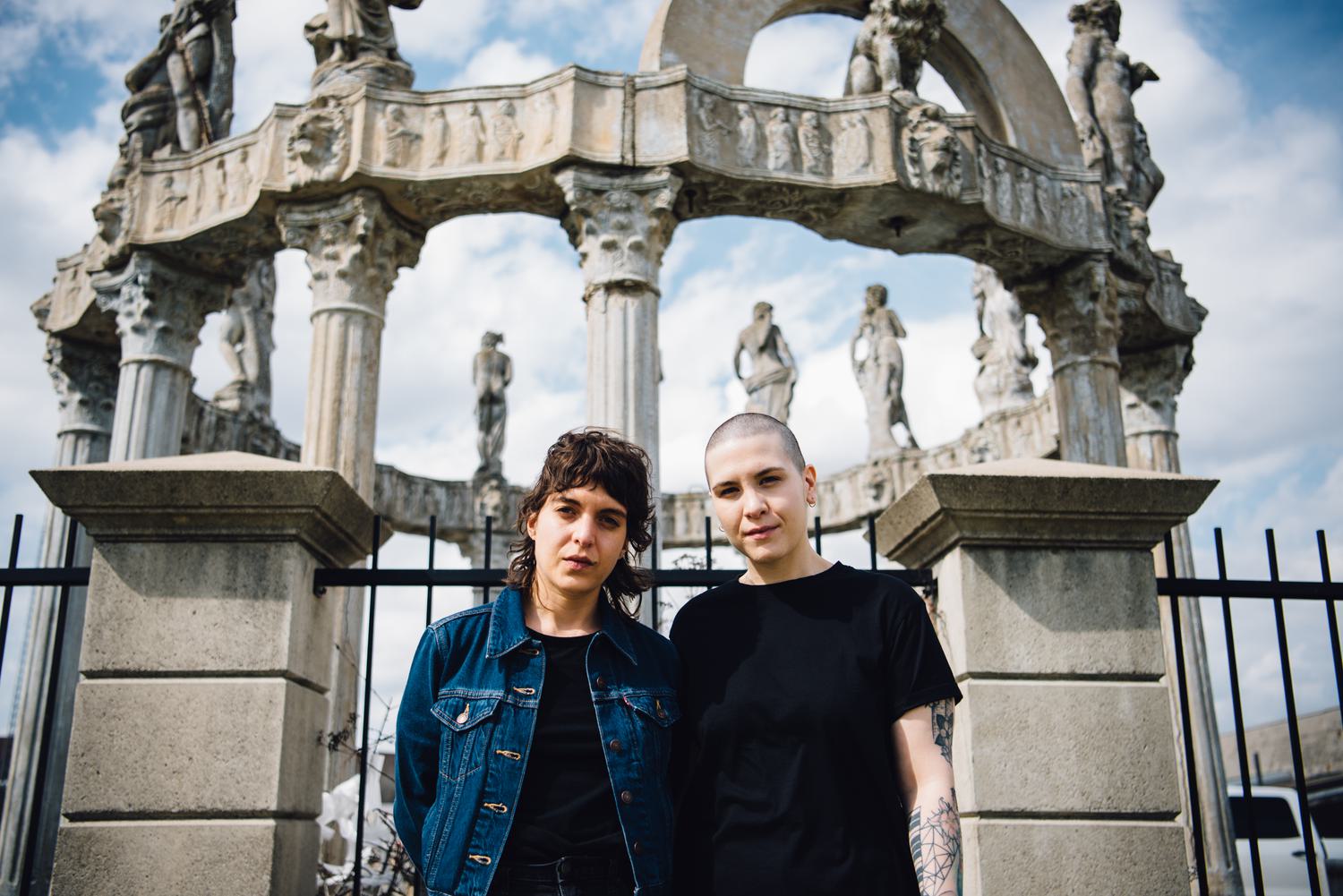 The malocchio is the evil eye, the supernatural belief in a curse. Fittingly, Malocchio the album is bookended by the voice of Nonna Maria, speaking in Italian, relaying her tales to the listener. For those of us that don't speak the language, the tension is musically churned by the uneasy presence of something lurking.
Musing over family tradition feels right for a band built around twins – no less twins who have maintained a creative relationship for over twenty years. While sisters have the ability to create the most freeing and safe environments for each other, they also are capable of bringing the petty: "We've had our ups and downs and had to try and figure out how to make that work."
As they continue, it seems like Bonnie Trash as a band have worked through most of the friction. Owing to the fact they no longer live together, the pair now believe it protects the process. Emmalia explains: "Twins have the biggest fights, but I do wonder if it's easier to have that relationship in a band. Some bands are awful to each other and people get kicked out because they don't have that familial relationship. You're stuck with your collaborator for life with twins – we can fight with no real consequence."
Since the formation of their high school band to now, Emmalia and Sarafina have maintained their individualism while remaining by each other's side: "I just wanted to make music with my sister," Sarafina concludes with a smile.

United, they know where the other stands. Sarafina is established as the vocalist, playing the drums for recordings too, whereas Emmalia acknowledges they've dedicated their life to things with strings: "I'm okay with that, it's a lifelong pursuit." Above all else, Bonnie Trash's evolution is attributed to a love of heavy music and the bonding of siblings.
Malocchio directly addresses and references these supernatural tales, often from the perspective of a person living through them. "It was so important for us to make this album to create an archive of these stories. If we didn't, who would know them?" questions Sarafina. But Nonna Maria's stories are just one access point into the album. Many songs draw from real-life experiences; toxic love and attachment are seemingly all too familiar when it comes to both curses and relationships: "How would you feel if you had some sort of entity possessing you and you actually started embracing and accepting it? Would it start to become something entirely different? Would you be doing bad things or would you be doing good?"
Emmalia adds: "There are parallels between this concept of a horror story and life itself. Horror is just the inversion of everyday life to show how absurd it is." Horror forms the basis of a revelation for Bonnie Trash. By working their way through their Nonna's stories they grant themselves the ability to gain perspective on their own life.
Music is not only a form of cultural preservation, but a means for Emmalia and Sarafina to view the world differently. Perhaps even for what it truly is. Their lead single from the album, "Teeth," is a "recontextualisation" of Ronnie Spector's "Be My Baby." Alternatively, it offers a fresh perspective on lived and breathed desire. Longing becomes haunting; desire becomes obsession. Sarafina sings: "When you wake up I'll be there, forgive me, forgive me." Love is a curse and we have no control over how it manifests. Romance is no longer sweet and simple, but a power dynamic that we, more often than not, lose.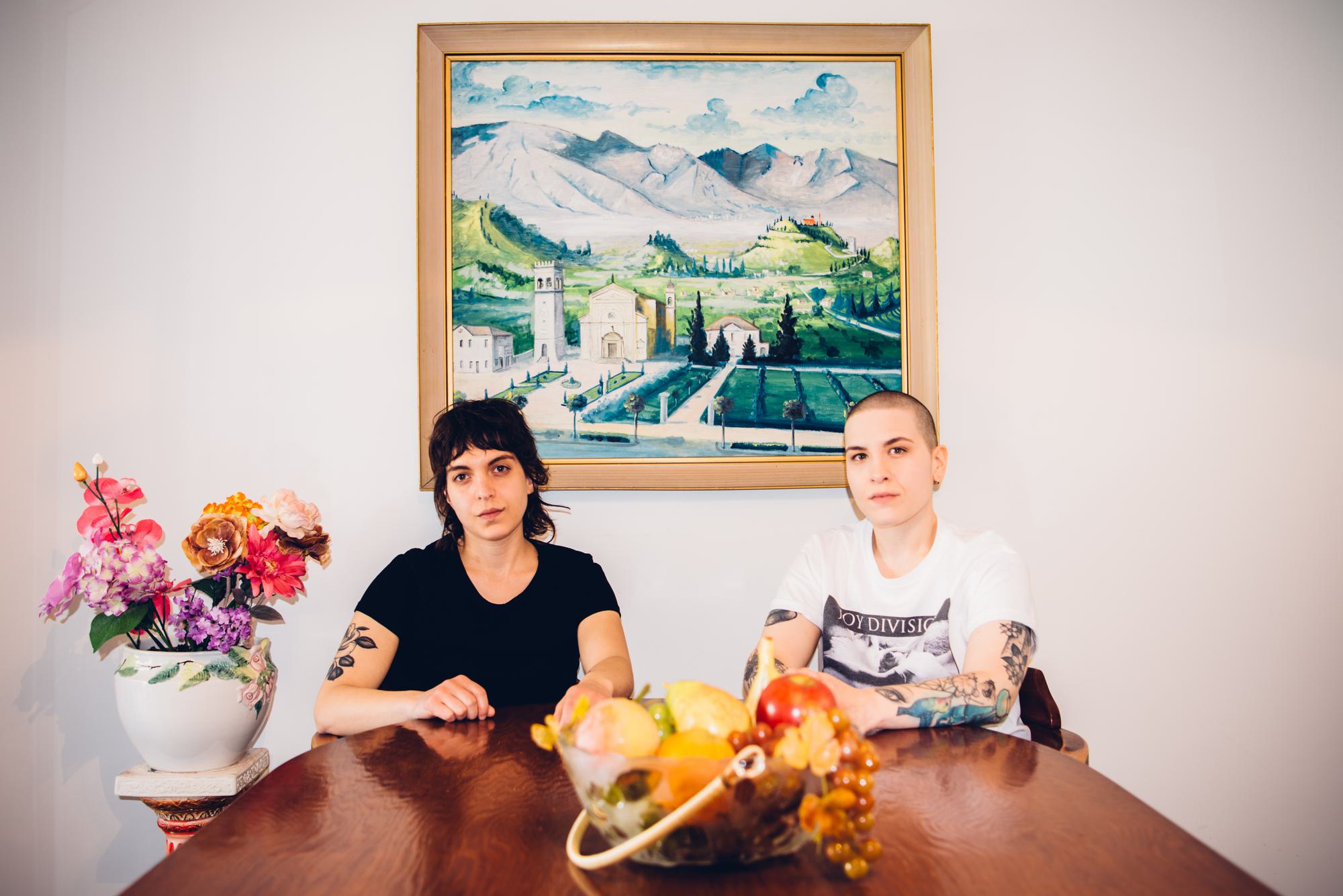 Emmalia imagines it as great sensation, not good versus evil: "Think of the moments where people have been awful to each other, or have shown great love. It's the exact same thing. It's carrying you and it's changing the way you treat people."
Feeling is the entity that drives their music. Passivity doesn't seem to exist amidst the heavy interference of emotional rife. Bonnie Trash are held up by the tradition of those who have come before them. From PJ Harvey to Siouxsie & the Banshees, there is an ancestral line directly tying them together and recalling emotions from the past. The torch has been passed to them to carry out both the familial and musical folklore, an idea strangely tied to the malocchio: "You can generate a million different types of monsters or stories, but the malocchio is invisible, it has to be given to you."
And that's what Bonnie Trash is: a legacy. Gothic punk is diluted with a romantic rock to form a sound that, all at once, encompasses history. Concluding, Sarafina says: "There's a truth to the record, understanding that we have to take it day by day, be present in the moment and act with love and kindness."