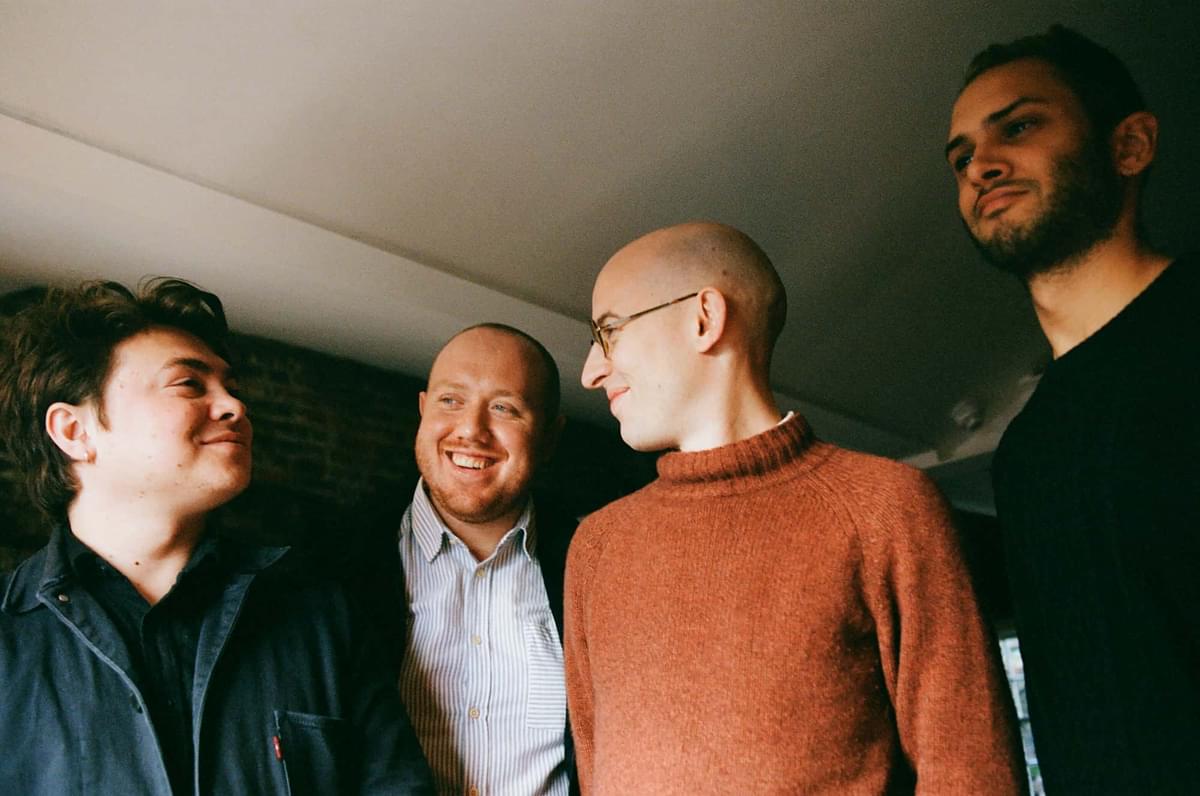 Five albums in, Bombay Bicycle Club are growing up gracefully
20 January 2020, 14:00
Throughout my conversation with the four members of Bombay Bicycle Club, there's a lingering air of back-to-school anxiety.
Although their last public appearances together, a string of headline shows supporting 2014's So Long, See You Tomorrow, were some of the most triumphant of their career, their four years apart have seen significant changes in the musical landscape. Many of their guitar-wielding peers have either disbanded or been relegated to the ranks of irrelevance and it's no longer clear, even to themselves, where the band fit in this new decade.
During their three years apart, the band's members found different ways to pass the time. Frontman Jack Steadman and bassist Ed Nash embarked on solo projects, recording as Mr Jukes and Toothless respectively. Drummer Suren De Saram worked as a session musician for Jessie Ware among others and guitarist Jamie MacColl went to university in London before completing a Masters at Cambridge.
At first glance, the band appear to be entirely distinct from their former selves. The most striking departure comes via the hairlessness of frontman Jack Steadman but their wardrobe has also been updated. Guitarist Jamie MacColl is noticeably donning corduroy and the rest of the band have sensibly declined to pour themselves into skinny jeans as they likely would have a decade ago.
The new aesthetic sends a clear message: the band are no longer the rakish upstarts they once were but proper adults - well-travelled, well-educated and well-aware of the world and their place within it. And as you might expect, the weight of these experiences heavily informs their unapologetically introspective fifth record Everything Else has Gone Wrong.
The album - produced by John Congleton (Angel Olsen, St. Vincent) - is in many ways a return to the melodic riffs and propulsive percussion of the band's third album A Different Kind of Fix. But rather than a step backward, this feels more like a conscious decision by the band to announce their return by sounding recognisably like themselves.
Behind the scenes however, the group dynamic shifted appreciably during the recording process. Jamie MacColl, in particular, was upfront about how each member's "role has changed slightly with the biggest difference being that someone other than Jack wrote songs. I think that reflects Ed being confident and Jack being more relaxed." [Ed Nash wrote "Good Day", "People People" and co-wrote 'Eat, Sleep, Wake (Nothing but You)' with Steadman].
This shift is something that Nash squarely attributes to the maturity they collectively accumulated during their time apart: "the process was very different this time because it was informed by the four or five years of us being apart. While our roles are mostly the same, I think everyone's come back a lot more confident and everyone's contributing to songs a lot more than on the last album."
All this collaboration means that, in essence, Everything Else Has Gone Wrong, is the first release from Bombay Bicycle Club 2.0, a more collegial, less single-minded outfit than before. In terms of the music itself, this is most evident in the fact that the lyrics are identifiably about certain subjects. For example, the theme of ageing is straightforwardly addressed throughout. On "Good Day", Steadman sings: "First my looks and now my friends / Day by day I'm losing them / Losing them / Losing collagen / Losing elastin."
While the transparency is new, that Bombay Bicycle Club appear to be growing up gracefully should come as no surprise. After all it's their penchant for embracing change that ultimately fuelled the immense success of their early career. Having marked their arrival with 2008's I had the Blues But I Shook Them Loose, practically a time capsule of the kind of anthemic indie that was inescapable at the time, they almost immediately released Flaws, a collection of restrained folk that improbably gave way to the fidgety pop of A Different Kind of Fix and the electronic eclecticism of So Long, See You Tomorrow.
Altogether, these four releases can be seen as part of an uncharacteristically interesting trajectory for a band, who by their own admission, emerged during the fag end of the mid 2000s indie boom.
For all their success, (So Long, See You Tomorrow debuted at number one on the UK albums chart) I wonder if this relentless commitment to adopting new styles and recording new music ultimately created the need for a hiatus. MacColl disagrees. While he admits that "releasing four albums in five years meant we ended up spending a lot of time with each other" he thinks their constant evolution drove them to continue for as long as they did. "The way we actually released music was conducive to not burning out. Instead of touring our debut album for three years and not knowing what to do next, we released an acoustic album [Flaws] immediately that was a bit of a fuck you to the period of landfill indie because we were struggling not to be tagged with that."
During our conversation, the concept of landfill indie is returned to more than once without prompt. The fact that they were tarred with the same brush as bands like The Courteeners, The Pigeon Detectives and The View clearly rankles and in hindsight, it's easy to see why. Even on the band's unashamedly indie debut, there was an intensity of emotional expression that was often absent from the lager and testosterone fuelled output of their peers.
But is there an extent to which Bombay Bicycle Club are protesting too much? Of course, nobody wants to be described as 'landfill' but it's easy to forget that this term was inspired by a commercial landscape in which a group of skinny white lads with low-slung guitars were more likely to leave school with a record deal than A-levels. It was this favourable environment that allowed Bombay Bicycle Club to release their debut album before their sound was fully formed. I Had The Blues But I Shook Them Loose then is the band's Pablo Honey, a debut that reveals more about the time in which it was released than the band who released it.
Steadman, who has sole writing credit on every track from the band's debut, concedes he has a complex relationship with the record. "Anyone looking back on little relics from their teenage years would be embarrassed at first and for us the difference is it's down on tape and there forever. Whenever I get those embarrassing feelings, I just think well, at least it's honest. And to be honest, there's loads of people who seem to share those feelings and seem to care about that record a lot."
Fortuitously, the fact that people do still care about that record played an important role in their eventual return. Four years after they split, the band met to discuss playing a run of shows to mark the 10th anniversary of their debut album. Realising that they missed making music together, they decided to record the new album.
Still, Steadman is adamant that their time apart was not just ultimately beneficial but "100% necessary because it gave us the ability to orchestrate how we were going to end things. If we hadn't had that the end might have been uglier, something bad would have happened and that would have been the story."
"When you've been touring for so long, everything becomes mundane which is bizarre because touring is the most fantastic thing in the world." - Jack Steadman
It's clear from Steadman's tone that he's not just referring to the sort of arguments that are bound to crop up when four school friends semi-arbitrarily decide to live and work together for five years without pause. He's describing the more profound sense of disillusionment that comes from no longer finding life exciting: "It's so important in anything, but especially music, to get your perspective back and not fall into that trap of taking things for granted. When you've been touring for so long, everything becomes mundane which is bizarre because touring is the most fantastic thing in the world. For that to become everyday and for you to forget how amazing it is quite a sad thought."
I say it sounds as though, Steadman's general weariness for touring began to morph into an abiding jealousy towards the normal lives of others. Steadman answers: "Oh yeah and in a really twisted way. You'd dream of having a really monotonous nine to five. I think it's because when you go home you can clock off, you can actually relax. Whereas being in a band, it's 24 hours a day and it's quite emotionally taxing rather than physically, I think you need to step outside of that bubble to really know how fortunate you are and that's the best thing that happened in that four years."
The fact that this sentiment is expressed most explicitly on the Nash-penned 'Good Day' ("If I had a job/then I would have everything I want") suggests that Steadman is not alone in feeling envious of the everyday existence he was never afforded.
Perversely, for an album that largely represents a return to the layered guitar pop of A Different Kind of Fix, the song that held the key to the record's completion was "Racing Stripes", a sparse ballad built around a haunting refrain of "this light'll keep me going". Steadman quickly declares it to be his favourite song on the record because it allowed him to embrace the introspection required to express a new set of ideas. "In the past a lot of our songs have been about the same thing. This record is more about your place in the world rather than your relationship with another human. As you finish your twenties there's a lot of looking back and then there's also this scary future just around the corner," says Steadman.
While some understandable anxieties remain, it's clear that every member of the band is excited to face the challenge of the coming months even if the stock of guitar music is nowhere near as high as it once was. "I don't resent that it's harder now [to make guitar music] because when we started a lot of guitar music was the preserve of white guys in indie bands and that needed to change but I'm positive for the future because people are much more open minded" says MacColl.
Given the scale of this challenge, it's admirable that the band gives no indication they are even remotely daunted. If anything, the idea that attention is not guaranteed represents its own source of motivation. "Coming back to this, has certainly rejuvenated us a little bit," says Steadman eagerly. "We've got a renewed sense of feeling lucky [that stems from] a sense of needing to prove ourselves again."
Everything Else Has Gone Wrong is out now
Get the Best Fit take on the week in music direct to your inbox every Friday