"There's always been a lot of English influence in the Basque country," Belako's guitarist Josu Billelabeitia tells me. "At the beginning of the 19th century, the English came here to work in the iron mines, and during the dictatorships when it was forbidden to listen to music in another language, it was easier to get albums from other places when you were in the north of the country."
After the death of Franco in the mid-70s, Madrid's music scene went in its own direction, explains Josu: "It was probably much happier, and they had their own fights and issues, but in the Basque country we were not happy with the way things were handled."
Historically the Basques are a resolutely independent people who have endured invasions by the Romans, Visigoths, Arabs, French, and Spanish. Franco violently oppressed them during and after the Civil War, imprisoning families, closing schools and banning their language. The region's autonomy in 1979 was granted to curb the activities of separatist group ETA but the transition to democracy wasn't an easy path and ETA's push for complete independence continued well into the new century until its eventual dissolution in 2018.
All of this matters to the sound that four friends born in a small town near Bilbao in the 90s would make over thirty years later. Belako's music draws from across the spectrum of indie rock and new wave - Crystal Fighters, The Strokes and Arctic Monkeys as much as The Breeders and Blondie. But there's also a heavy dose of Basque attitude, channelled through the influence of bands like Itoiz, and the Basque Radical Rock movement that emerged alongside the transition to a democracy and found an ally in the anti-authoritarian spirit of the UK punk a few years earlier.
"There are a lot of punk bands from that time influenced by The Clash and the Sex Pistols," explains Josu. "Everything is more political there, and we were been born under the influence of that - it's very different to the rest of Spain."
"We didn't know where the band would lead us when we started it," vocalist Cris Lizarraga adds. "We were definitely influenced by UK and Basque music more than anything else. But I think that the music you listen to as teenagers is more important than anything else because that's the moment you fall in love with music – it's when you think the songs are about you; the songs are speaking to you."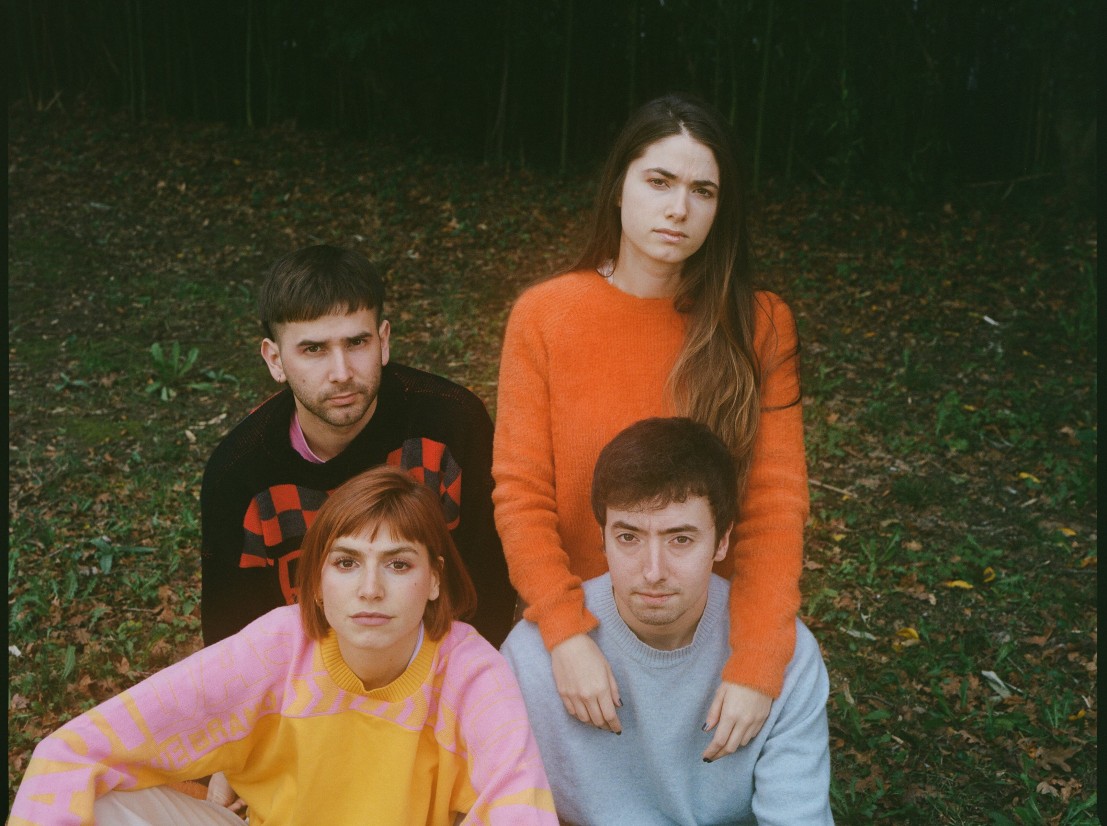 Melodically post-punk - sometimes in the darkest sense - their sound is lifted by a through-line that plays with the back-and-forth between guitarist Josu and lead vocalist Cris. Stacked again them: Josu's sister Lore on bass and drummer Lander Zalakain. They have been making music for over a decade and will celebrate the ten-year birthday of their debut album Eurie next year. After three self-released records, their fourth Plastic Drama represents a re-introduction for the band – and it's their first for a major label too – but dropped at the worst possible time. The pandemic had hit and Belako had to cut short a world tour, after playing just one concert in the US and forfeiting 60 further shows planned for 2020.
They spent a lot of time during the lockdowns revelling in periods of self-reflection. "Certainly. we were forced to find ourselves outside of our lives of music and performance," Cris explains. "And so we had time to spend with our friends and families. We are very tied to our hometowns and I think that what we gained in these two years is a way to remember who we are and then come back together as a whole."
They also found themselves searching for a workaround for playing live, and in the process became the first band in Europe to tour during the pandemic. The solution? They procured a camper van and pitched up at open-air drive-in movie theatres around Spain, where audiences could attend in cars and on bikes. It's a moment that was captured on film by Argentinian director Hernán Zin, in the poignant documentary Pandemic Tour 2020 Belako.
The four friends are still based in their hometown of Mungia. "We haven't had the pressure that some bands have had in the past to move to Madrid," explains Josu. "There's a big scene in the Basque country," says Cris. "Bands know each other, we collaborate and help each other. We like that as much as we like coming to Madrid and being the Basque band in the Madrid scene."
"Our identity is Basque!" affirms Josu with both resignation and resolution. "And it's a very DIY industry where we are from. There are lots of places - like squats - where you can play in little towns, not only in cities. You can go to a village with 3000 people and you can do your gig there and everyone is going to come."
"It's places managed by young people too, who are very aware of politics and feminism. It's very left-wing," adds Cris.=
The pair agree that English music from the 80s and early 90s resonated with them because it reflected the same issues the Basque region was also dealing with. "There was depression, strikes, the AIDS pandemic," says Criss. "And our political issues were much harder than the rest of Spain – more like what was going on in Ireland with the troubles there."
Cris sings Belako's songs in her native Basque tongue of Euskera, as well as French, Spanish and English. "We started in English because at that time, ten years ago, we didn't really enjoy most of the Spanish or Basque artists," comments Josu. "It was very natural for us to do that. Basque bands that were big back then – it was mainly metal bands – but it's become a richer scene since then. I enjoy the bands who sing in their own language now more than before." He also has a side project band, Lukiek, who sing entirely in Euskara ("I feel more real when I do that," he confides).
Plastic Drama was an attempt to capture some of the ideas the band had about the contradictions of political consciousness in the modern age. "That we're all trying to do something meaningful, but we also know that we live very comfortable lives," explains Josu. It's an album that calls out social media culture, misogyny, greed and the concept of romance. This month sees the record issued in a deluxe edition, with some of the band's friends and heroes stepping up for remixes - among them The Vaccines, Crystal Fighters, Wolf Alice, and Dream Wife. "When I think about something that influenced me, I think about seeing Dream Wife live," recalls Cris. "They are the perfect example of doing great music with a lot of energy and punk attitude and matching that with a show that creates a safe space through their political messages. For me, that's the goal."
The band retains a flat structure - there is no real frontperson. "What I really love about Plastic Drama is that we are doing a lot of harmonies with the voices, and when we are performing, we are all singing," Criss tells me. "And sometimes I even get so comfortable with the other ones singing that when Lore tells me she's not singing or when Josu doesn't sing something, I miss it. I don't think of Belako as having a leader. What we enjoy the most is giving moments of brilliance to each other, shining the spotlight on every one of us."
Belako return to London for a show on 22 June; details will be announced soon