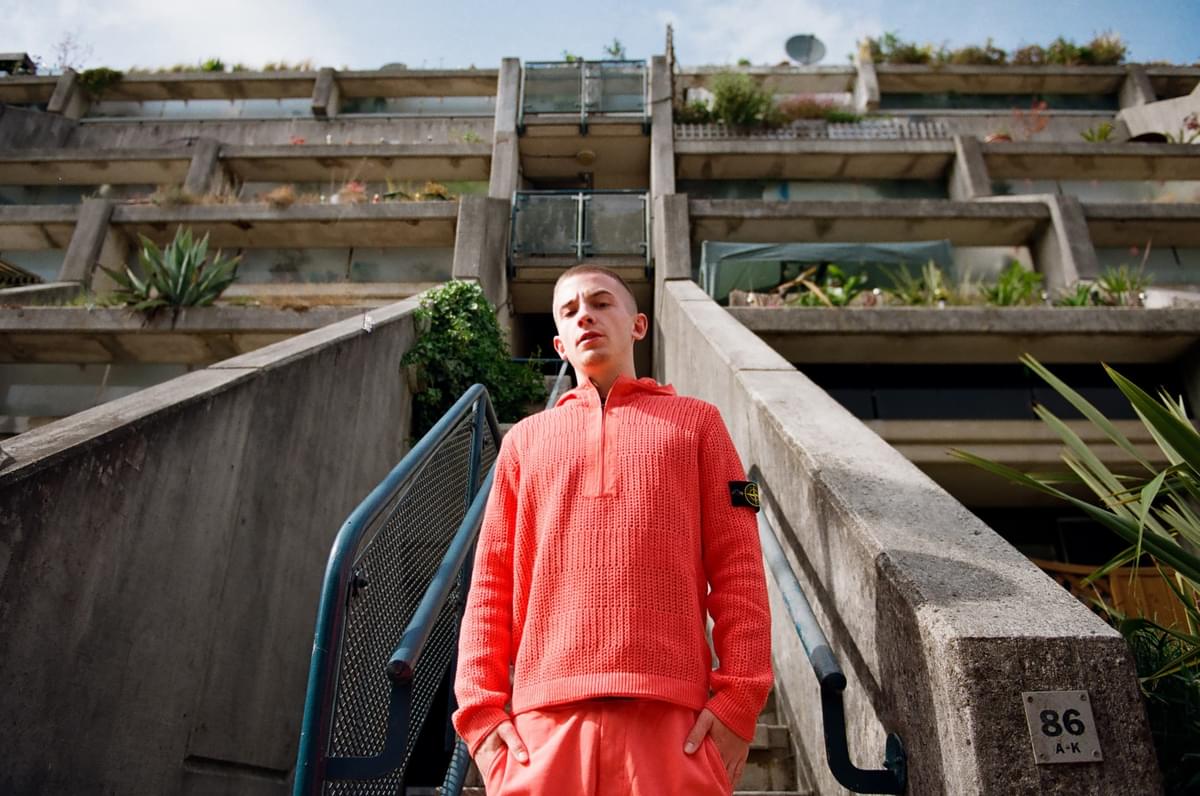 The hustle and rise of ArrDee
01 July 2022, 08:00
After an incredible twelve months, ArrDee tells Sophie Walker about the journey – and belief system – that's made him one of British hip hop's most distinctive voices.
You only see what Arrdee wants you to see. The 19-year-old rapper is a mischief-maker and agitator, a jester with a knowing smirk who knows how to play to the court, make the lords laugh and the ladies blush. He swallows fire to sharpen his tongue, playing sleight-of-hand tricks with his words, contorting double entendres and stories into lyrics that burrow in your brain.
But behind the curtain, Riley Davis plays his cards with an entrepreneur's acuity. The best tricks up his sleeve are the ones you don't realise he's playing. He crashed the party in 2021 with his now-infamous verse in the remix of Russ Millions and Tion Wayne's "Body", a platinum-certified masterclass in TikTok virality, boasting almost a quarter of a billion Spotify streams and counting.
The track is a Renaissance depiction of drill's Last Supper, painted by the Michelangelos of the genre. A seat at that table of nine rappers, wrestling with the impossible decision between Keisha or Becky; Fiona or Adeola, was a portent of meteoric success. Here, Manchester grime saviour Bugzy Malone could share a beat with stateside rapper Fivio Foreign, who went on to deliver an incendiary verse of Kanye West's Donda single "Off the Grid".
But right there, shouldering his way to the front with a Burberry scarf draped around his neck, lighting up a straight with a glint in his eye, was a then-unknown teenage rapper from Brighton standing at five-foot-six. And so, he spat the immortal words: "Have you seen the state of her body? (Mad) / If I beat it, I ain't wearing a Johnny", and foundations of UK rap might as well have split wide open. With a pack-a-day rasp and the untouchable cockiness of a kid all too aware of his charms, his verse is littered with darlin's and sweetheart's, getting away with being an English boy "white boy wasted" all because of that secret sauce – his smile. You can hear it before you see it.
"Giving Arrdee a chance in this remix is the best thing they could have done", remarked one listener in the YouTube comments, with another quipping: "Impressive from Arrdee he did all of this before his mum called him in for tea, what a geezer." Needless to say, his verse remains to be the most replayed part of the remix, a spike fiercely indicates it doesn't get better than this - and no matter how you felt about Arrdee, his performance commanded respect.
Davis more than delivered on his promise when he dropped "Oliver Twist". True to form, he could be a Dickensian street urchin in the vein of Artful Dodger: a sharp kid who wants his cake, will polish it off, and be unafraid to look you in the eye and ask for more. He tears around a Brighton estate with his mates, running in a pack on their bikes; he twirls a girl around on the seafront, and, of course, her clothes magically disappear. "I'm a scumbag, I admit / I did what I did, but I deserve this," he insists.
But the Arrdee signature was truly perfected with "Flowers (Say My Name)". It's a cocktail of the UK garage classic and Destiny's Child's loyalty anthem, a he-said-she-said story of lust over love, leaving in his wake a string of women who got burned from catching feelings. "I don't give girls flowers, I'll give you good wood though / If you want me all for yourself then, darlin', you probably should go", he shrugs. You feel like you've met Arrdee a thousand times before, but the Arrdee you think you know is less than half the story.
Brighton's self-proclaimed king deigned to leave his dominion to meet me on London turf, a place, he jokes, "where they don't thank the bus driver." Davis doesn't do mornings: he slept in the car on his way over and staggers in with his hood drawn over his head. Partying the night before? Probably. He needs to steel himself with a cigarette and a can of Monster before we start. His fame is now reflected by his entourage, a customary Russian-doll nest of handlers who fill the entire basement of the café, armed with a label-appointed photographer documenting every moment. A stylist opens a suitcase crammed with outfits for the shoot, rifling through Daily Paper jackets, belts with gold, fuck-you buckles and finally alights on a bright orange Stone Island two-piece.
When it comes to Arrdee, everyone seems to know the surface, but the substance gets lost in translation, buried deep beneath the bravado. That's why his debut mixtape Pier Pressure was so important to him. "It introduces a bit more about me not just as an artist, but as a person," he tells me. "Not every day is a party, you know?"
It reflects a life upended, where for every heart he breaks in "Flowers (Say My Name)" there is the sobering self-scrutiny in "Come & Go": "And I got bad girls all tryna get pics with me / If I step in the club, then they sit with me / It's a blessing, I ain't gonna bitch, but see / I bet you now, they wouldn't stick with me."
There's a loneliness and suspicion that underpins the moments on the album when Davis dares to admit his vulnerabilities. "I keep a small circle around me now of people I've known years before," he says. "Obviously, when I'm out partying, a million people are trying to come around me and sit at the table - but I like to keep them all at a fair distance." The only people, he tells me, that he's making connections with are producers. "I don't need any more friends," he shrugs. "I've got enough. If I ended up settling with a girl, it would be with someone that I knew before. I like to keep my circle very small." I ask if this bothers him: "No," he answers without pause for thought, "because this is the way it has to be."
Davis is a friendly boy. He likes to chat. It's his patter, his instinct for working a room, that is largely responsible for making his talents apparent to the right people at the right time. But as his position in music has elevated, he has been forced to wise up to the agenda of those around him. "At first, I think it was harder to adjust to the idea that not everyone you work with is your friend, in this industry," he says. "You meet a lot of people and make connections, and it's not that they have negative intentions, but not everyone's intentions are to help you. It's one of those things where if you're useful, you can be around, and then when you're not, you'll be freezed out kinda thing." But again, he meets harsher realities with indifference: "It is how it is."
With Davis' ascent came allegations that he was an industry plant, label-engineered to ride on the coattails of Manchester rapper, Aitch. With both artist representing regional, working-class backgrounds, and sharing a sample-heavy approach to their music, it's easy to draw more than a few parallels between them. While the pair's collaboration, "War", served to mark the beginning of an alliance rather than fuel speculations of rivalry, Davis' legitimacy is still hotly debated among followers of the UK rap scene. One video carefully dissecting his origins and path to success has attracted over 60,000 views.
Much of Davis' lyrics are about defending his own honour. "It takes ten years to become an overnight success," he says. "No one really wants to see the hard work, the boring bits, the business plans… They just want to see the success. People said I came out of nowhere, but there was a lot of hard work that went into this that nobody saw."
He started making music at the age of 11 on a USB microphone, editing on a recording app on his computer. "I put them out on YouTube," he laughs, "and they were all absolutely shit." Even then, his earliest experiments experienced a taste of Brighton virality. Davis is something of a studio rat, and his earliest hustle was working in a home recording studio. "We were making about £30 an hour, splitting it between two of us – and that money wasn't getting put away, either."
He wasn't recording seriously himself, at this stage, but he made his presence known, putting in years of graft to learn the ropes. He was first to arrive, last to leave. "Then, I started bumping the train to London for two years with my friend – again, not really to record myself, but just to network with people. In London studios, A&Rs walk in, other artists walk in… There were a lot of people I met through staying at those studios. In my opinion, you can't get industry plants in the UK anyway, at least in rap, because you can put as much money and marketing and funding into something as you want - but if London don't fuck with it, it's not going anywhere."
Still, Davis was close to quitting the game just before his fortunes turned. He thinks for a moment, and smirks, "But I probably wouldn't have quit… I'm not much of a quitter." When you're going all-in, it's near impossible to walk away from the table and cut your losses – so where would he be if that was the decision he'd made? "I'd probably be doing what the people I grew up around are doing now," he says, "running around Brighton, in a lot more trouble. You can get stuck in Brighton. You can very easily get to the age of thirty-five, and you're still out partying and drinking like you're eighteen. There's a lot of people like that, you can get lost in that circulation."
His track, "Pandemic", reckons with the cyclical trap young men from his background are drawn into. It was the only song where the concept preceded the beat, where he wrote it with intention. "It's about a boy who's still in prison now," he shares. "We grew up together, went to school together – just mad, mad normal. We were getting up to similar things, but I had my head screwed on a little bit more. We were literally both going down the same road. It was only by the skin of my teeth, really, that I never got into too much trouble. My spidey-senses would tingle when something was turning into a bad situation."
But his friend was helping his mother. He had bills to pay, siblings to support, and the means through which he did that landed him in prison. "At first, he was excited about it – well, not excited, but it was a hype thing for him. But having spoken to him more recently, it was only in the last year that he learned his lesson, trying to keep his head down. But obviously, when you're in a place like that, it's not that simple," Davis recalls. "It's hard, especially going to visit him. We'd be sat talking and talking, but when it's time to leave, the energy completely changes. It's sad, man."
More than girls, more than money, more than parties, Davis' muse is Brighton itself. "The people who think I'm in industry plant are the ones who've only heard 'Body', or 'Flowers' – they haven't heard my earlier freestyles," he says, "so there might be a misconception about my lyrical ability." Delve into his earlier work and you will see Pier Pressure in a new light: fragments which form a splintered reflection of what it is to be a disadvantaged, working-class boy who still puts bubble wrap on his windows to keep the heat in.
On the second part of his debut freestyle, "Cheeky Bars", he raps: "See, I was good at heart, but the cards I'm dealt were dirty," an exorcism of his hometown demons. Davis grew up in Woodingdean, about forty-five minutes away from the Brighton we see in our mind's eye. "It's just chavvy, bare estates everywhere, people robbing shops, stealing motorbikes and riding them around town," he describes. There was a particular road his mother would try to urge him against playing on, he remembers. The council tried to change the narrative of the road by building a skatepark for young people, but, he says, "it just kind of became a hub for little retrogrades doing what they're doing. It's a different crime to what you get here in London with knife crime and all that, there was no violence. But obviously, Brighton has got one of the biggest homeless populations in the UK, so there's a lot of drug issues. You see it from mad, mad young…"
When Davis' took to the mic for his Daily Duppy freestyle, he performed some of his most imperative, socially conscious bars which marked him as more than a rapper, but a wordsmith, writing from a place of wisdom won too early. He reckons with the need to deal drugs to fill your fridge, to put food on the table for your family, but counters that with the story of Liz, "the part of it that ain't nobody talk about." He gives a voice to a story that is left mute; gives a face to the people we refuse to make eye contact with on the street. "You see, my city means a lot to me / But crackheads ain't got access to nuttin' here but the rock they need", he spits. "You see a nitty, but to me, I see a little girl."
While the freestyle was written about a real woman and her decline, it's a story that, for Davis, was universal. "I had friends whose parents were using at the time, looking back," he shares. "I didn't know what it was at the time, but I know what it is now – it was in the house, or you could smell it. I don't know, it was just normal… it's the same thing when you're mad broke and you don't have a lot of money, and you don't realise until you go to school and your friends are getting picked up in this nice car with a mum and a dad."
Davis was raised single-handedly by his mother. He beams at the opportunity to talk about her: "She's probably the most important factor in shaping who I am", he tells me. "Growing up, it was me, my brother and her. My brother has autism, and he didn't even speak until he was six or seven years old. She got him into special needs education while she was going to college herself and holding down two jobs at the same time. Then she started kickboxing training, got her black belt, and still had to look after two kids and put food on their plates. But it was done in a way that I had no idea how much we were struggling – or if we were even struggling – until I reached secondary school."
He wears a ring of black sapphire and obsidian, given to him by his mother. He tells me that she put a spell on it to ground him. He's quick to insist that while she dabbles lightly in witchcraft, "she's not sitting in her living room with a pot, boiling and brewing potions and shit." Rather, she believes in energies, in crystals, in the law of attraction and in manifestation. "It's something that I'm into and believe in," he tells me. In the first lockdown, he read The Secret, as he boasts on "Oliver Twist": through practising gratitude and unwavering self-belief, he finds he only has more and more blessings to count each day. I ask to what extent he feels the law of attraction has played a role in his success. "It's responsible for 80% of where I am now," he says. "It completely changes your path, your energy, your aura."
Davis didn't meet his father until he was nine. "My dad's a bit of a mad man," he smirks. "I wasn't even supposed to meet him. My dad had to leave the country when I was like two or three, for multiple reasons, and I went abroad with mum to Cyprus and my dad was there. We have a funny relationship, he's definitely not the greatest role model. We're more like friends, or brothers. I have to tell him off sometimes and keep him under control when I bring him places – but he parties like me, so it's alright." In his lyrics, he interrogates how his relationship with his father is woven into how he handles his relationships with others. His nonchalance as he talks about it stands at odds with a young man who has wrestled with forgiveness, growing up being told they could see the man in him without knowing who the man was.
In school, they tried to put him through therapy, but he insists it didn't work: "Because I've always been quite intelligent, I used to know what they were trying to do with the questions they were asking, and what they wanted to get out of me," he explains, "so I just played them at their own game and completely threw them off by telling them what they wanted to hear." All he needed was music, anyway, the escapism and the exorcism that comes with being in the booth. Now, he has a microphone inked on his skin, the only love affair in his life that has lasted.
I wonder if it worries Davis that there is a distinct divide in his audience, a gulf between the masses who know him as the cocky rapper dropping sample-warping hits, and the inner circle of fans who are privy to the far more intelligent, considered songcraft on his deep cuts. "It doesn't bother me," he says, "because that cheeky, happy vibe – if you don't know me, that's for you. If you're not a hardcore fan, that's the side of me you should know. But the fans who are grinding for me, listening to my stuff and supporting, they deserve to another side of me. I'm not that good at talking to people and opening up, but I'm good at writing."
But not a day goes by where Davis doesn't feel the need to prove himself. "People always ask, 'When are you going to be happy?' and I don't think I ever will be. In ten years' time, it might be a problem, because I'm always improving myself, always chasing something, whether it's success, or fame, or money. I won't sit still," he says, like a promise. "I'm always moving."
Get the Best Fit take on the week in music direct to your inbox every Friday