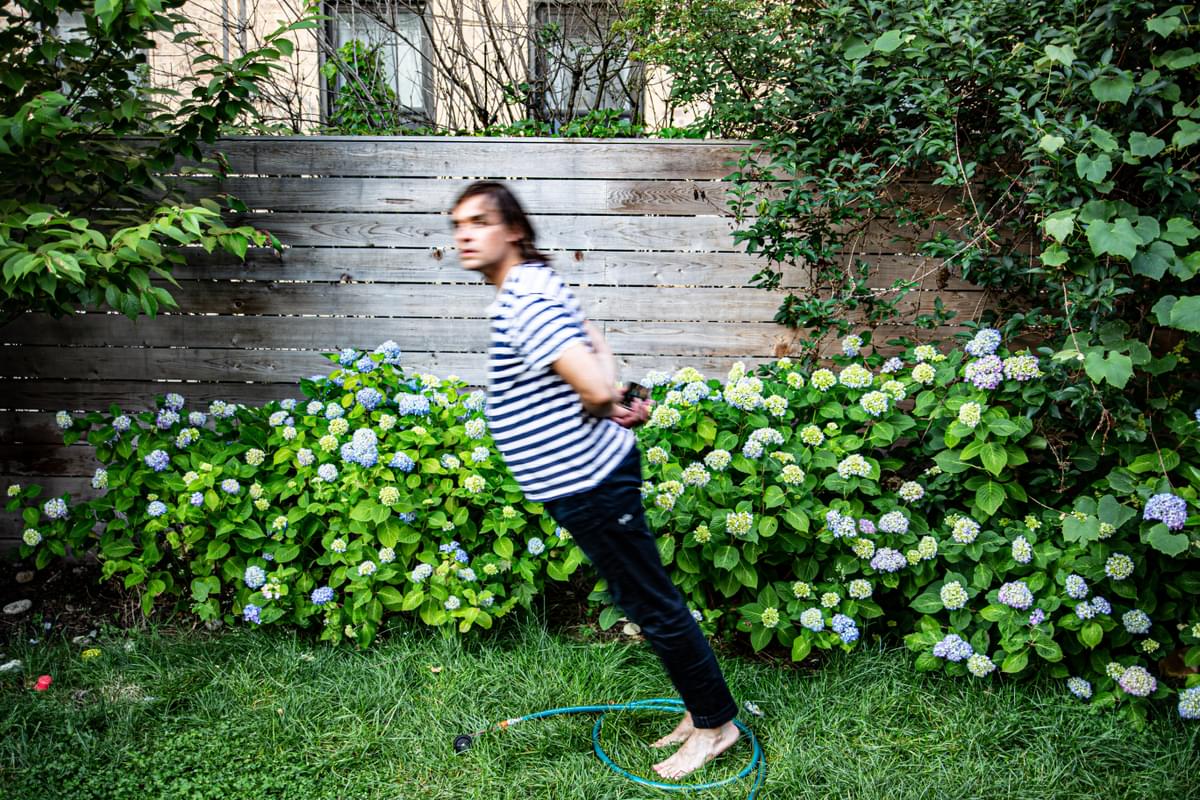 Will Butler explains how his Harvard degree developed into his second solo album
19 September 2020, 10:00
"Yeah, it's terrifying," Will Butler says, pondering how it feels to be releasing music away from the umbrella of Arcade Fire.
"It's the classic thing about all writers," he continues. "The creative process makes them wanna puke the whole time they're writing something, then they read something back and it makes them feel worse, then a year later they read it and think 'yeah, it's okay'. It's a glorious experience, but it really makes your stomach hurt."
On the one hand Will Butler is well accustomed to this writing process, being a multi-instrumentalist in the Canadian indie-rock band fronted by brother Win - Arcade Fire. But on his own terms, it's an entirely new process. Butler's second solo album Generations arrives five years after his debut Policy, a collection that rattled with a ramshackle charm and what he describes now as a 'consciously very unproduced' sound. Arcade Fire wound down from their Everything Now tour in September 2018, leaving Butler with the last two years of playtime. Most musicians, particularly those accustomed to big album cycles, set aside their downtime for family or other musical projects. Somehow Butler's managed to do both while also completing a masters degree in Public Policy at Harvard.
"I went to school for a variety of reasons but there was an artistic side to it too," he says. "I have always tried to let music and lyrics emerge from the world that I'm in; you fertilise the soil and see what grows. It was a way to better understand where we are, how we got here and what's going on. You know, 'where am I from? What's going to happen?'" Both of these questions explored in his degree are used as fuel for Generations.
It's easy to imagine an album by somebody who's just pursued a Public Policy MSt to form in reams of political commentary, probably set to an acoustic guitar. However, Butler instead engages character portraits soundtracked by a broad range of thrilling sonics. Opener "Outta Here" is shrouded by a monstrous bass that lurks beneath the depths of the instrumentation before bursting out midway through. "Got enough things on my plate without you talking about my salvation," he screams. While the cage-rattling "Bethlehem" is mania underpinned by a thrashing guitar and bubbling synths that help lift the track to boiling point.
While there's no current world leaders namechecked or any on-the-nose political commentary across the LP, the angst of its contents is instantly tangible, backed by the intellect of somebody who's spent the past few years studying the ins and outs of government processes. A perfect combination, you could say.
This fuel was partly discovered through Butler reconnecting with the music that defined his teenage years: namely Bjork, The Clash and Eurythmics. While these influences certainly slip into frame across Generations, they were paired with something of an unlikely muse: "I got into this habit of listening to every single song on the Spotify Top 50 every six weeks," Butler explains. "So many of them are horrible, terrifying and just awful but there's something inspiring about how god damn avant garde the shittiest pop music is now. Just completely divorced from any sense of reality - it's just layers upon layers upon layers - it's amazing. It's like Marcel Duchamp making a pop hit every single song."
We turn from current music to current events. Navigating Covid-19 with his wife and three kids in their home of Brooklyn, a majority of 2020 has been caught up in family time for Butler. "The summer's been easier because everybody's outside, whereas in spring it was like 'it's family time because we have to lock our doors as there's a plague outside.'" While being surrounded by the trappings of lockdown since his second solo album Generations was completed in March, the album itself wriggles with the spirit of live instrumentation, which at this point seems like some sort of relic from a bygone era.
"I think eventually rediscovering this album back in the live setting would be amazing - we're a really great live band, it's a shame to not be in front of people."
The source of this energy can be traced back to the way the songs came together; they were forged and finessed at a series of shows in the early stages of the project. "It just raises the stakes. You can tell how good or how dumb a lyric is when you sing it in front of a hundred people," he reflects. "It's like 'are you embarrassed because what you're saying is true?' or 'is it just embarrassing?' It's a good refiner for that stuff. I think eventually rediscovering this album back in the live setting would be amazing - we're a really great live band, it's a shame to not be in front of people."
Like his day job in Arcade Fire, Butler's solo live group is something of a family affair - both his wife and sister-in-law feature in the band, alongside Broadway's West Side Story star, and the student of the legendary Fela Kuti drummer, Tony Allen. Together this eclectic mix of musicians conjures an infectious spirit through the raw combination of thundering synths and pedal-to-the-metal instrumentation; an apt concoction indeed for lyrics that are attempting to unhatch the bamboozling questions that surround our current times.
The timing for Butler's decision to study Public Policy couldn't have been more perfect, with his course starting in the Fall of 2016. "I was at Harvard for the election which was a really bizarre time to be in a government school, but it was great to be in a space for unpacking questions like 'my god, how did we get here?!'" he reflects, with a note of mockery in the bright voice.
"I had a course taught by a professor named Leah Wright Rigueur. The class was essentially on race in America but with an eye towards policy. The class explored what was going to happen in terms of race under the next president. The second to last week was about Hilary Clinton and the last week was about Donald Trump. We read riot reports - Ferguson in 2015, Baltimore in 2016, the Detroit uprisings in the '60s and Chicago in 1919 - it's certainly helping me understand the last 5 years, you know. Just to be in that context was very lucky."
As we've seen with statues being toppled, privileges being checked and lyrics of national anthems being interrogated in recent months, history is a complex, labyrinthine subject to navigate requiring both ruthless self-scrutiny and a commitment to the long-haul in order to correct things. The concept of Generations shoots from the same hip employing character portraits to engage in the broader picture.
The writing, at times, is beamed from a place of disconnect ("had enough of bad news / had enough of your generation"), from a place of conscious disengagement ("I'm not talking because I don't feel like lying / if you stay silent you can walk on in silence") and from a place of honest self-assessment ("I was born rich / three quarters protestant / connections at Harvard and a wonderful work ethic").
"I'm rooted in history to a fault," he says. "My great grandfather was the last son of a Mormon pioneer who'd gone West after being kicked out of America by mob violence. He wanted to be a musician which was crazy - he got 6 months in a conservatory in Chicago before his first child was born. He always felt like he could have been a genius, he could of been writing operas but he was teaching music in like tiny western towns and he had all these kids and he made them be a family band and they were driving around the American west before there were roads in the deserts - literally just driving through the desert! He would go to these small towns and get arrested for trying to skip bills and just live this wild existence."
Butler's grandma, meanwhile, was just a child at this point. She went on to become a jazz singer with her sisters and married the guitar player Alvino Rey. "The fact that me and my brother are musicians is no coincidence," he smiles. "It's not like I decided to be a musician, it's down to decisions that were made at the end of the 19th century that have very clearly impacted where I am today. The musical side of it is very beautiful, it is super uncomplicated and a total joy to have a tradition of music in our family...but also in the American context - which is the only context I know - it's also these very thorny inheritances from the 19th century and beyond that influence why my life is like it is.
"For me it's like, 'I made my money because my grandpa was a small business owner' or 'my grandpa was a boat builder and got a pretty good contract in WW2 and was able to send his kids to college'. Both of which are so unpoetic and unromantic but it is an important thing to talk about, that's a personal political thing to talk about; there's horrifying and beautiful aspects there."
The lament of "I'm gonna die in a hospital surrounded by strangers who keep saying they're my kids" on "Not Gonna Die" could well be croaked by somebody on the tail end of a life lived on the American Dream. At times, Butler plays the characters off against each other, like on "Surrender," which chronicles two flawed characters going back and forth played by Butler's lead vocals and his female backing singers that undermine his memory; "I remember we were walking" is cut up with the shrug of "I dunno" and "maybe so". "I found having the backing voices there gave me something to play with," he explains. "Either something threatening to the main character or something affirming to the main character, just providing another point of view."
Elsewhere, "I Don't Know What I Don't Know" explores the feeling of being unsuitably equipped to unravel the complexities that surrounds us day-to-day. "The basic emotion of that song is very much 'I don't know what I can do' which is an emotion we all have," he ponders. "There's also the notion that follows that, like 'maybe don't even tell me what to do because it's going to be too overwhelming to even do anything'."
Some of these portraits materialised in the aftershows Butler began hosting while on Arcade Fire's Everything Now tour which found him instigating conversations and talks by local councilman, politicians and activists on local issues. "On some of the good nights of the aftershow town halls, you'd feel that switch away from despair and into action," he says smiling. "The step between despair and action is possible, that sentiment isn't spelled out lyrically on the record but it's definitely there spiritually."
"I learned anew what a treasure it is to have people in a room. Getting humans in a room can be absurd. And we were having from 5,000 to 15,000 people in a room every night, most of them local. I'm very comfortable with art for art's sake; I think art is super important and it's great people can like music that's not political. It was sort of like 'well we're here and I know a lot of you are thinking about the world and you're thinking about what a shit show everything is. You want to know what we can do and I also want to know what we can do!' So I put on these after shows."
"The dream lineup would be to have a local activist and a local politician talking about a local issue because that's the easiest way to make concrete change."
Butler would find a suitable location near the Arcade Fire gig through venue owners who were often connected to the local music and comedy scenes to host these events. "The dream lineup would be to have a local activist and a local politician talking about a local issue because that's the easiest way to make concrete change. Arguably, the most important way is through the city council and state government. The New York state government is in Albany, New York. The shit that happens in Albany is all super important so I wanted to highlight that and equip people with some concrete levers to pull.
"In Tampa we had people who were organizing against felon disenfranchisement, like if you've been convicted of a felon you couldn't vote in Florida, and something absurd like 22% of black men in Florida couldn't vote and there were people organising to change that - this was in 2018 - and you could just see people being like 'holy shit, I didn't even know this was happening!'
"These were not topics I'm an expert in - it's like these are things that are happening. The thought was trying to engage, I'm sad to not be doing something similar this Fall, I mean what a time it would have been to go around America."
Understandably the looming 2020 election is on Butler's radar. "It doesn't feel good," he sighs. "I've never had any ability to predict, like 2 weeks from now the world could be completely different from what it is today. There was always a one-in-a-billion chance of the apocalypse and now it's like a one-in-a-million chance which is a thousand times more likely but also unlikely. It's going to be a real slog in the next couple of years on a policy side, like getting to a place where people don't die for stupid reasons, I'm not even talking about the coronavirus necessarily just like policy in general. Who knows, it could be great but it seems like it's going to be a slog."
There's a moment on the closing track "Fine", a stream-of-consciousness, Randy Newman-style saloon waltz, where Butler hits the nail on the head. "George [Washington], he turned to camera 3, he looked right at me and said...I know that freedom falters when it's built with human hands". It's one of the many lyrical gems that surface throughout the record but one that chimes with an undeniable truth. It's the same eloquence that breaks through as he touches on the broad ranging subjects in our conversation, always with a bright cadence despite the gloom that hangs over some of the topics.
The live show is without a doubt Arcade Fire's bread and butter. While Butler questions how realistic the notion of getting people in packed rooms in the near future is, he reveals the group are making movements on LP6. "Arcade Fire is constantly thinking about things and demoing, it's hard to work across the internet but at some point we'll get together. It probably won't be much longer than our usual album cycle," he says.

You only have to pick out one random Arcade Fire performance on YouTube to see Butler's innate passion bursting out, whether it's early performances that found him and Richard Reed Parry adorning motorbike helmets annihilating each other with drumsticks to the 1-2-3 beat of "Neighbourhood #2 (Laika)" or the roaring "woah-ohs" that ascend in the anthem of "Wake Up" every night on tour. It's an energy that burns bright throughout our conversation and across Generations.
Generations will be released on the 25th of September via Merge.
Subscribe for news and competitions