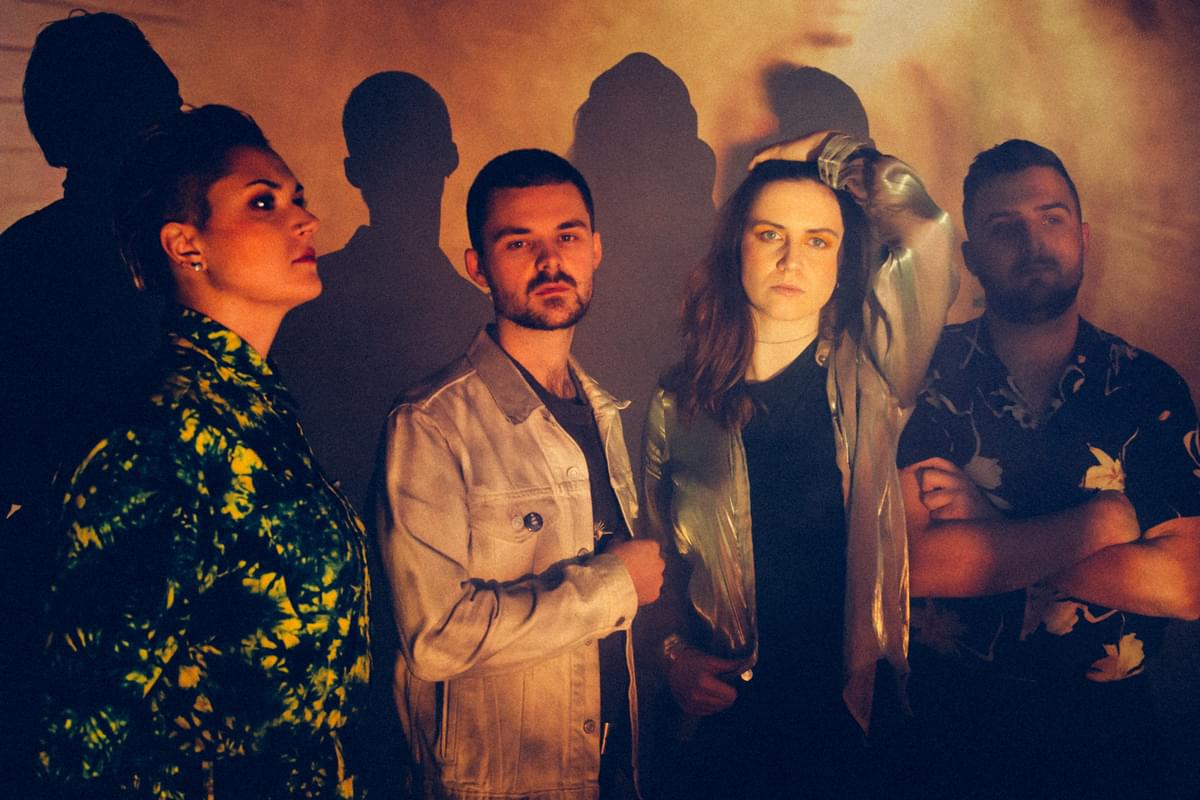 Another Sky are looking to the past to build a brighter future
04 August 2020, 09:39
We are reluctant historians of our pasts. A childhood that once felt turbulent eventually grows solidified together with all its wounds and core beliefs. It takes courage and patience to explore the corners of your psyche, it takes even more to open up and let others in.
Having grown up in a small right-wing town in the midlands, Catrin Vincent moved to London for university, where she met her bandmates Jack Gilbert, Naomi Le Dune and Max Doohan. Now an ambassador for a mental health charity and an outspoken advocate for equality, Vincent doesn't simply touch on the issues of injustice, she dives right in. Her otherworldly androgynous vocals engulfed in ambient harmonies give Another Sky a distinctive shade of not-too-emo darkness. The title of the band's debut album I Slept On The Floor refers to the time in Vincent's past when anxiety made her sleep on bathroom floors in case she got sick at night. It is a record of childhood rejection carried into adulthood and understanding a place after you've left it behind.
"I couldn't sleep last night because I was freaking out," admits Vincent. "We were getting so excited about our second album which we have already written in lockdown, but now we're back in the reality where our first one is just coming out. The lyrics on it are quite personal, and I started stressing about how to explain it all." Indeed, the lyrics on I Slept On The Floor venture into themes some people would be too nervous to bring up in daily conversations, let alone upcoming artists on their debut album.
There is "Avalanche" addressing police brutality, racism, and sexual abuse; "Riverbed" explores trauma, while "The Cracks" warns of extinction. "I've always spoken out about these subjects, but to a small circle of people," Vincent says. She points out that it is frustrating when her words get misunderstood or misinterpreted in the media. "I've had it before when a headline was used that wasn't the point I was making. And sometimes I read it back and think, 'Oh god, did I actually say that?' But I think I'm lucky to be in a position where I get to share my thoughts. And I'm going to hang on to that. If there's any backlash, that's just the world we live in," she says.
In the current political climate, many notable names in music have been accused of being performative and insincere. I ask Vincent if she thinks there is a right way to be an activist. "You just should try until you get it right," she responds. "I think people understand when someone hasn't engaged in activism before. Being able to remove your identity from the argument is really important so that you can empathise with others." She talks about starting small, like sharing petitions or making donations when possible.
Vincent tries to ignore criticism and arguments about performative activism. "I think that those who use virtue-signalling are afraid of being confronted with the fact that they're not doing anything," she says. "I understand that Instagram is anxiety-inducing because it's become very woke, but that's exactly what needs to happen. That's the whole point of the Black Lives Matter campaign. They're trying to say: this doesn't affect you but you're a part of it because we're all a part of the same system," she explains.
Sometimes, what comes across as performative is "just people trying to be better people" and it is all a journey. "Eventually, they will learn to do activism more effectively. But we need to engage with it first, and that's exactly what happened."
Many would hesitate when it comes to speaking about gender equality, political injustice, or mental health. Self-doubt creeps in beside the desire to raise the important topic. It makes you wonder: do I know enough? Should I speak up? Though Vincent seems confident in her advocacy, she admits still battling this anxiety. She explains that sometimes it can be scary to talk about these topics, especially as a woman, because we have been taught not to. "It feels safe to stick to love songs," she says, "But I've been trying to train myself to not be afraid. People need to see themselves reflected in the music they consume. And I think that's more important than my fear."
When asked about advice for overcoming the fear, Vincent mentions journaling. "It is a good way to process your thoughts before you put them out into the world. And I always recommend therapy. We all need an external person to get an objective view of what's happening to us."
She points out that nobody should be forced to speak up — "It's just what I'm fascinated by," but at the same time, she says, we are becoming more aware of how we have been intimidated into silence. "When only a few of us speak out, it's easy to be called liars. But if many people come forward and say they've had a similar experience, it is going to be healing and good for everyone. I read today that women should stop saying that they're 'ranting' when they're actually making a cohesive argument. I do it all the time. Even in interviews I say 'this isn't relevant' or 'sorry, it's a cliche answer' but, actually, that's conditioning. That's how I was brought up, and it's the hardest thing to stamp out."
Starting to contemplate such delicate yet pressing issues can be emotionally-demanding, even exhausting. Another Sky seem to be aware of it, so they present the subjects gently, package them into cinematic soundscapes, almost tricking the listener into considering the gloomy reality.
As debut albums go, it comes with just the right balance of despair and hope. It is not a depressing album, but the lyric: "There will be no one to know we failed / and no one to know it mattered", is perhaps one of the most haunting. The emotional single "All Ends" came out in July and was quickly regarded as a fan-favourite. It is not surprising that Vincent picks this song as one she is proudest of. "It comes from a really dark place," she says. "This song is about a breakdown I had… It was the catalyst for completely changing my worldview. I realised that my dreams couldn't just be based on wanting to be a musician. The song basically says that caring for other people is the only way to live."
I Slept On The Floor is one of those albums you should listen to several times before it truly sinks in. It comes with many layers and many lessons. But, at the end of the day, Another Sky just want the listener to know that they are not alone. "There's someone out there that feels just as vulnerable as you and has no clue what's going on," Vincent says.
As live music lies dormant, even some big names have decided to postpone releasing new records. Another Sky, of course, also had to rearrange their plans but it was never a question to push back the launch of I Slept on the Floor. "Some of these songs are six years old, so we didn't want to wait any longer," Vincent says. "And, actually, the album's themes are quite fitting. It isn't great, but it feels right to get it out now." In times when a physical connection is forbidden, every other form of connection becomes so much stronger.
That's why Another Sky turned to social media where they played lullabies to their fans and arranged piano tutorials. "We've tried to make it more human and personal. I've been talking to fans a lot more, and it is so nice to get to know them," says Vincent. "But there is something horrific about staring into a camera and trying to not get distracted by the comments underneath," she laughs.
Looking back at the journey up to this moment, the singer recalls her hometown that frowns upon having a career in the arts. "I wish I could tell my past self to ignore it and just work as hard as I can. I wish I'd known that money isn't everything," Vincent says. She wanted to be a writer growing up but eventually, music took over. "I feel okay when I'm doing music. When I'm doing anything else, I think 'when is [it] music time?'" She compares music to medicine and says that her bandmates feel the same. "There were times when I couldn't do music because I was so anxious about the future. But, actually, looking at 2020, it was always going to be bleak, so we might as well do what we love."
Despite its apparent bleakness, the future of Another Sky holds a lot of new music, Vincent says cheerfully. "No matter what happens, we'll carry on, and we won't give up."
I Slept On The Floor is out on 7 August
Get the Best Fit take on the week in music direct to your inbox every Friday