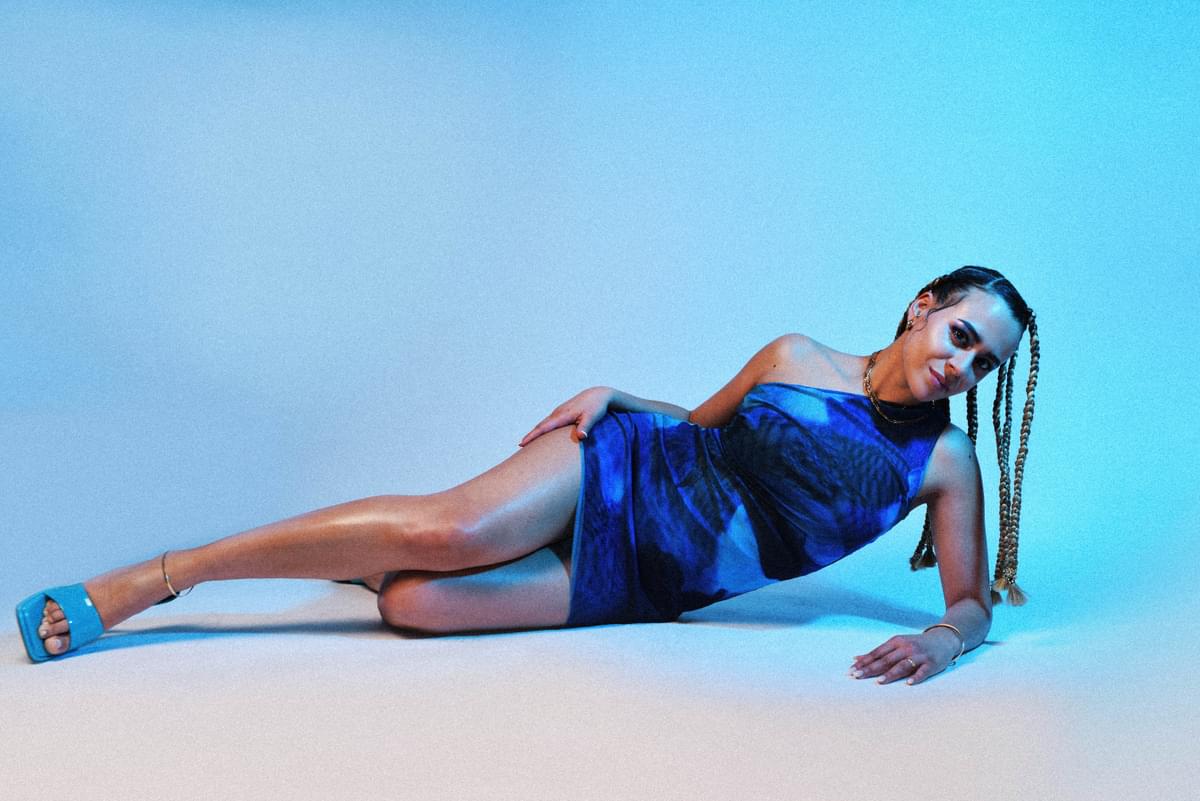 On the Rise

Alice D
15 September 2022, 12:00
From forging her own path in the industry to curating her own creative direction, London-based singer-songwriter Alice D is doing it for herself.
"It's a lot of work, but I think I enjoy it and kind of thrive off it," smiles Alice D from her home in North London. In the background the washing machine whirrs as she balances daily life with managing her own career, releases and press engagements. "I'm an independent artist, I don't have a manager. It's really hard work and it's so fickle as well."
On the recent video shoot for her single "Passion", she recounts being producer and performer, giving arrival directions to team members from the make-up chair. "I had all the dancers, I had Henry, I had the DOP, the hair and make-up, but we pulled it off," she laughs.
The sultry clip, directed by the aforementioned Henry Croston, marked a fundamental progression in Alice's creative output. Her journey to releasing new EP Into The Light, has been not only one of musical discovery, but also a search to cement her own identity.

The daughter of Bananarama founding-member Sarah Dallin and dancer Bassy Walker, Alice's stage name offers a degree of professional separation from her musical childhood. But rather than rebel and reject her family roots, she's grown to embrace what was a creatively rich upbringing. "It was just normal life to just be surrounded by music," she smiles. "My dad was a dancer for my mum, so they rehearsed their dance routines in the living room and then I'd see my mum songwriting at the kitchen table. To have both my parents in the industry was amazing and they're such a big inspiration to me."


From the age of eleven she began writing songs with her dad. To this day, their favourite pastime is to sit and play music to each other. At school, she joined choirs and participated in jazz concerts. "Our school would bring in a brass band and we'd be able to perform. You got to choose a song you'd want to do. I think it's inevitable that I was always going to go into music," she smiles.
After a brief creative hiatus in Brighton where she studied History of Art at Sussex Uni, Alice returned to London and began to consider her future. She started collaborating with an old friend from school, Oscar Scheller. Now a successful artist and producer in his own right, at the time Scheller was penning demos in his bedroom. "I've known Oscar ever since I was fourteen. We used to go out together," she laughs. "We wrote something super basic in his bedroom, when we were both starting out. He actually produced my debut EP, the whole thing, all five tracks. It was great to work with him."
Around the same time, Alice's mum introduced her to a friend who was doing remixes of dance tracks. She began writing and singing toplines, recording at home with a cheap USB mic and GarageBand. One of the tracks even scored plays on BBC Radio 1Xtra, but it just didn't feel like the right direction. "I didn't really feel like it was my sound. It didn't feel like me," she explains. "I wasn't able to write deep, meaningful music in that sort of genre."
Instead, she began working with different producers on her own material, eventually releasing her debut single "I Don't Owe You" in 2017. Still available on streaming platforms, it's a sparse and crisp cut of confessional R&B. There's a certain vulnerability in leaving your early releases up as part of your back catalogue. For Alice, it's testament to the progression she's made over the years, often off her own back. "I've definitely evolved as an artist," she says. "I've been trying different things and writing with different people and it feels like now, at this point, I've really found my sound."

Speaking with a mature realism, she confirms that one of her main drives is to build something for herself, clear from the coattails of her family name. "I really do want people to know that this has come from me," she says. "I've not had an easy way in, and I think that is always on my mind. Nepotism does happen, but I want people to see that I do have talent and it's my passion and it's my thing. It's not being in the shadow of my mum and what she's done."
That self-expression, assurance and confidence is most apparent on her new EP, Into The Light, out today. From the intro, she showcases creative diversity, exploring her influences across a range of genres, the production leaving space for each element. On recent single "Nervous", melodic lines of instrumentation weave and bounce off each other as her sentiment is buoyed by their intricacies, while "Warrior" juxtaposes the delicate and strong, telling a universal story with intimacy, shifting from dynamic vocals to deftly delivered spoken word. "Bittersweet" is a break-up paean, upbeat and affirming whilst tender and open, and on "Passion", a song inspired by love affairs on hot summer nights, she draws heavily on a latin influence, allowing the build of the chorus to sweep through the track.
Working with previous collaborator, producer Tim Blok, Alice has created a collection of songs that not only broaden her range, but push her as a songwriter. "He's a fantastic producer, he's very open-minded and brought all these references with him and was always really excited with what I would bring," she smiles. "For this project in particular, the music is really important. I was listening to different vinyl from around the world and that was a massive influence, and I really wanted to explore those different sounds."
While the music and production may have taken the driver's seat, Alice is still mindful of what the release embodies for her career moving forward, speaking with an excitement that's palpable. "The title of the EP is Into The Light, and I felt within myself and with this project I stepped into my light, as cringy as that sounds, but my confidence," she explains. "I used to not be very confident, whatsoever. But with this I feel like it's an accomplished body of work, my biggest body of work, and the messaging is really powerful and empowering. It really is from me and my vision."

Get the Best Fit take on the week in music direct to your inbox every Friday