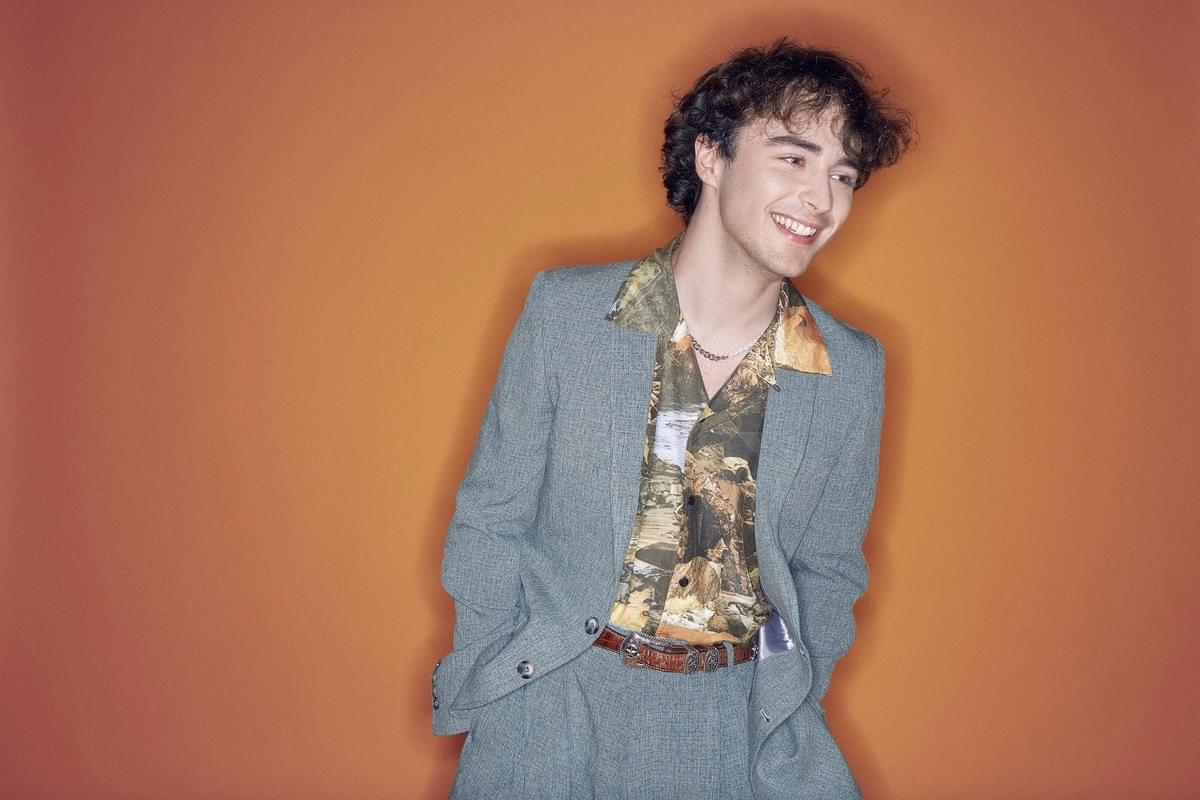 Mad about the boy
23 May 2022, 13:30
As he comes of age on debut album Mellow Moon, Alfie Templeman tells Alisdair Grice about finding a new beginning in closing the door on indie-pop.
Our relationship with outer space is by definition existential. Our innate human inability to relate to the vacuous nothing above us is unwavering. Historically, many have sought answers in the night sky, from Galileo to Copernicus, achieving varying degrees of success in answering aeon-old questions about our existence.
To be so familiar with something yet so far away from it is a unique aspect of the human condition.Staring at the night sky we often find ourselves asking increasingly philosophical questions directed at no one in particular, only to then be exacerbated by a global lockdown which prevented nearly two million with underlying health conditions from leaving their homes — for fear of infection. One of these unfortunately-chosen few was full-time daydreamer Alfie Templeman.
He recalls the moment he heard the jarring news: "I had a letter come through, and it said 'you need to shield or else'. It was kind of scary. Because at the time, I didn't really know how serious the pandemic was. I thought that if I went outside I'd die, so I literally just stayed here. For ages. It was hopeless." An underlying respiratory condition hammered the last few metaphorical nails into the plywood boards holding his bedroom door closed, and Templeman had no choice but to stay put.
Given an alarming abundance of space and time in his newfound situation, Templeman initially turned inwards. At the time of this announcement, there was a burgeoning uncertainty in the air, where all conversations would catastrophise the pandemic. Like many of us, Templeman was alone and found himself staring longingly out the window for greater meaning and an answer to his woes. 'This is my world and I welcome you to it. It's a glimpse into my safe space, my haven, music,' reads the headline of Templeman's website, a fitting and warming invite to the world he had created from his bedroom over the last few years.
"Those words came to me because a lot of 2020 and 2021 was spent in this very room, staring into the sky at night and delving deep into my mind," Templeman shares. An unfamiliar scenario for the Bedfordshire alt-pop star, who has been non-stop making music and touring since he was 15. "I realised when I was about 17 that I'm actually quite numb in general. And I find it quite hard to delve deeper into my own mind. It's quite like space really; there's so much out there that we've never seen and will never see in our lifetimes, and our own brains will never fully understand everything that's going on inside of us. So I thought about that a lot. And I realised, the one place that I'm very familiar with in space is the moon."
Templeman's aptly titled new album Mellow Moon is a candid reflection of this sudden change in lifestyle, underpinned by a sense of familiarity and creature comfort that comes with being trapped in one space. "It's the same thing staring at me every single night, and all of a sudden, there was this great lump of mass that was shining into my room," he tells me. "And it felt like a safe haven. It felt like a ray of light and made me feel comfortable about myself."
With the moon acting as his sole confidante amidst the slew of bad news descending upon the world, Templeman turned to a combination of daydreaming and making music to relieve his brimming anxiety and bring some sense of solace and peace into his abrupt isolation. "It made my anxiety a lot worse" he shares. "Because I was scared of going back outside in general. It also scared me a lot because I was getting used to playing gigs — it felt like going back to square one."
The album itself became an extension of his own escapism, and his want to share his findings with his fans. Second single "Broken" toys with early Foals-esque intertwining progressive melodies before a bloated Kevin Parker synth sears the track with its formidable footprint. "Candyfloss" continues the foray into explosive synth-pop, with Templeman exploring his higher register and penchant for earworm choruses. Later "Colour Me Blue" bridges the gap into his Ariel Days side project, bringing a crisp lo-fi quality to the forefront of the track with sparse fuzzed-out guitars licks scattered amidst the jangly, melodious framework. "Galaxy" plays out like a less braggadocious Charli XCX track and soon-to-be sleep hit and title track "Mellow Moon" paints a technicolour dreamscape across the album's canvas, magnifying Templeman's syrupy indie archetype. It's a spirited walking tour of its creator's headspace and is filled with delicious production flourishes that we've seldom heard of in previous releases. It's a sidle into power pop, psychedelia and downtempo folk that perfectly captures a character in metamorphosis.
"It's not like I've reinvented myself or anything, but I feel like I've had a bit more like time to really put in the little bits of detail that I've wanted to do before." he shares. With Mellow Moon, Templeman – a producer himself – found space both within himself and in the creation of his music. Blessed with ample studio time and plenty of ideas, he could experiment on a whim without the usual outside pressures of dwindling studio time. Reflecting on the very beginning of the process, Templeman reveals, "It started off as a folk album weirdly. I was writing a lot on acoustic guitar, and I ended up using most of that in the Ariel Days project. [For Mellow Moon] I basically I kept some of them, and reinvented them into pop songs."
Currently holding the flag alongside Declan McKenna, Gus Dapperton and Joesef as indie-pop's latest wave of youthful sweethearts, it's surprising to hear that one of the stalwarts of this movement initially set out to write a very different album: "There was a big period of time in 2020 where I just wasn't writing lyrics. It was just quite hard to make songs in general. I eventually went to 2021 feeling like shit, but got through this bout of depression, and started writing lyrics, again. So it's quite a weird time period because I started it off [writing for this album] when I was 17. And I felt very different. I was very different."
Templeman is in flux. His self-proclaimed "most Alfie song" yet on Mellow Moon is "Below The Above", a swaying acoustic number that channels more Bob Dylan than Templeman's previously cited 'indie-pop artist'. These changes can be felt on each note of Mellow Moon. He is an artist comfortable with writing accessible indie-pop with massive choruses ("3D Feelings") but wants to leave this Goldilocks zone and unearth different influences to pepper his music with. You can't fault him - at just 19, his sound-altering attitude is reminiscent of his hero Todd Rundnger and the late David Bowie. Each album is an artistic evolution, that encapsulates the very moment the artist occupies at the time.
"I'm quite scared because I don't know what people are gonna think of it," Templeman shares with distant flecks of trepidation in his voice, having undoubtedly spent a long period of time reflecting on the incoming impact of Mellow Moon. "But one of my favourite musicians is a good example of how he changed every record. This is Todd Rundgren. One minute he puts out a great pop record, and the next minute he puts out something that's very experimental, and just all over the place. I guess that's what I just want to do at the moment, you know? I ask myself 'am I going to make the same album again?' No, I'm going to try something different now."
As the story often goes, a songwriter will promise to embody a new persona for each album cycle before rehashing the same four chords and sensibilities into a slightly different format for fear of their fans turning their noses up at innovation. Templeman sits on the perpendicular. Whilst Mellow Moon is, by all means, an indie-pop album, the influences of nu-psych merchants Kruangbin can be heard on the formative "A Western" and likewise, dance-pop trailblazers Jungle's token gang vocal choruses are detectable on "You're A Liar". This diversity is compounded by his work under the Ariel Days name – a short-form lo-fi folk project that stretches his plinky guitar work and highlights a heavily introspective, lovelorn side of the pop star. "In the last few years, I've actually become more comfortable with the music that I grew up with," he tells me "So on this record, it's a weird mix because sure, I did a lot of pop stuff just because I felt like making it at the time but actually, I started off listening to prog. I quite like CAN (experimental German rock band) and krautrock that I got into as a kid. So 'Below The Above' is kind of a hint. I said 'fuck it'' I'm gonna put it on [the album]. I actually started that song when I was 14. It's the most 'me'.
Having grown up shaking his head to more progressive and evolving music than his personal sonic output, Templeman nods to new beginnings, although not a reinvention: "I guess this closes the door on the Indie pop sound in a way. It is the final chapter of that in a way because I've changed a lot in the last few years. It's a really nice end to this kind of sound."
Defining the record as imbuing a 'vibe' rather than any far-reaching concept, Mellow Moon strives to recite the thoughts in Templeman's head via the staying power of a good indie pop song. But after a few listens through, he began to unpick an unconscious concept he had embededd so deep in the lyrics, it was hidden it from himself. "At the end of the album, there's 'Leaving Today', 'Take Some Time Away', 'Mellow Moon' and 'Just Below The Above'," he explains. "Those four songs, in particular, are a bit conceptual. 'Leaving Today' is about the anxiety of going back on tour, and 'Take Some Time Away' is about me being absolutely drained from working nonstop and then needing a break. Then the other two are just about depression in general, but there are bits of everything in it. The last four songs kind of fit together as a piece about mental health awareness."
In being so candid about his personal struggles with anxiety and the resulting combination of being a touring artist, it's can be easy to forget Templeman is only 19. Although perhaps his youth is brought into the spotlight too often – at his age, with four EPs and one mini-album to his name, an O2 Shepherd's Bush Empire headline show under his belt and the unassuming maturity of a tenured artist - it's hard not to feel hopeful for his future. Mellow Moon will demarcate his first full-length album — 14 songs of heart-on-sleeve storytelling that takes us on a journey that has occupied nearly a quarter of Templeman's entire life. His bravery and integrity as an artist are notable, and there is clear success waiting for Templeman if he continues to follow the yellow brick road his impulses have taken him down.
More in touch with himself, Templeman turned to therapy when the world outside seemed to be bearing down with no signs of letting up. "I was talking about that recently. because I had a hard time dealing with my emotions for ages," he tells me. "In a lot of ways, therapy didn't help me at all. Because when I go to a therapist, I don't want them to give me the answers, I want them to listen. But you have to have a specific kind of therapist, you have to know, they're not just listening, but they're listening."
"Am I growing up quickly? Or am I not? I still can't actually answer that question. I don't know."
Poetically, music acted as a lifeline when Templeman was at his most anxious and caught up in his own thoughts. "A lot of the things that I was thinking in my head, I couldn't actually think of a word to describe it," he says. "When I was at my most depressed, everything was just grey, so I didn't have the energy to really even write anything down or to figure out what I was thinking. Because you kind of just see everything as it is with depression."
Despite floating up to space in Mellow Moon, every word from Alfie's mouth is grounded by his personal experience and irreverent boyish charm. Beginning the process as a boy and ending it as a man has been a rollercoaster for Templeman, with his own adulthood dawning as his album is set to be released. It's safe to say his coming-of-age experience has been atypical, and he notices the difference among his peers: "In a lot of ways, I felt like the odd one out because I didn't go to college or university or anything, I just stayed at home every day when people my age were going off to places. I didn't go out clubbing or anything, because I had my select mates, but none of them really went out either. The thing is I'm a very private person, and they are as well. I guess as a result of that, it felt like I was kind of left out in the mix for a while. And I didn't really know what was going on. Shielding didn't help. But that actually made me grow up quicker because I was constantly immersed in my own thoughts. But at the same time, I wasn't actually going anywhere. So it was like, 'Am I growing up quickly? Or am I not?' And I still can't actually answer that question. I don't know."
Having had the growing-up period put on fast-forward, Templeman has inadvertently become a spokesperson for his fellow Gen Z-ers, and he's aware of his impact. "You know, I'm pretty happy about it, to be honest," he explains. "There are definitely days where I freak out and get anxious and think there's always someone looking at me or there's always someone listening to me. There's always some judging. There's always someone's opinion. But as long as I can balance that then I'm okay."
Thick skin is par for the course when you showcase yourself on a global platform, and despite Templeman's inner turmoils, he has come out stronger than ever. With Mellow Moon, Templeman closes the door on his indie-sweetheart chapter and teases a more psych-folk iteration for his next release. Previously we knew what to expect from the stargazing kid — slick, singalong choruses taped onto indie-pop songs that profess the collective feelings of a disenfranchised and substance-sick generation, but now the Templeman broaches into adulthood with his own agenda.
"It's a weird one because I don't associate myself with what I'm known for being." Templeman divulges. "You know, there's an image and an idea of who I am in people's heads, just from the way I've been seen that I don't associate with at all. I only associate with what I am right now, at this very moment. I'm not a 'soft boy'.
"Even when I look at pictures of me, I want to slap myself because I'm not that at all."
Mellow Moon is released on 27 May via Chess Club
Get the Best Fit take on the week in music direct to your inbox every Friday