Early releases touched a chord, with 2014's Sometimes Bad Happens being listed in Rolling Stone's '10 Best Cassettes' for that year. Their personal and honest portrayals of trauma and heartbreak created an intimate bond with their listeners, particularly within the queer community. It was also, crucially, witty indie-pop that was instantly relatable and imminently enjoyable, despite its important lyrical matters.
They then released two well-received full-length albums, 2015's Momentary Lapses of Happily and 2017's Soft Spots, before seemingly disappearing. The reason soon became agonisingly clear: in 2019, Knipe published a series of tweets accusing their record label Tiny Engines (who released both of those previous albums) of withholding royalty payments and mistreating them. It's why their third album, Driver, has been so long in the making.
Knipe is a fundamentally different person too. When they speak to me over Zoom from their home in Kingston, New York, Knipe tells me that they're 26 now but most of the songs were written when they were much younger, aged 22. "I was heartbroken. I had left my ex-partner, moved home and quit my job, and uprooted my whole life. I thought I had failed for some reason. It's so silly to think about it now but all I did was move home."
Suddenly being so isolated in the suburbs and having fewer people to talk to encouraged Knipe to focus on their writing. At the same time, Knipe also got their driver's licence, which is what led to them discovering the album's name. "I got my licence later in life and I didn't realise how fucking important it is to learn to drive in terms of freedom," they rue. The name Driver acted as a metaphor for control and autonomy. "That was the initial thing that I wanted to get across. I loved that metaphor and I was driving all the time."
One year after getting their licence, though, Knipe was involved in a traumatic car accident: "A giant truck sideswiped me on the highway. I was fine but it was very scary obviously. I couldn't drive for a long time. I have a neck injury from it years later too so I definitely wanted to write about that. The car signals freedom but it also can cause so much damage. It's a very vulnerable thing," they say. It's why the motif of a car crash recurs throughout the record, signifying the fraughtness that exists between freedom and fragility.
That the songs on Driver were collected a few years ago is why they display the familiar hallmarks of earlier Adult Mom records. "Checking Up" – the newest single – reflects on the relatable inevitability of looking up an ex-partner online. "It's about that breakup mentality, that often happens a couple years down the line," Knipe explains. "It's still someone you definitely think about, not necessarily in a romantic way, but you think about them. They pop up and you do a little stalking of their social media. We all have those people!" They mention that it was the music of The Cranberries that taught them how to sing and a lot of Driver sounds indebted to such bright '90s alternative rock, particularly "Checking Up" which feels like a companion piece to The Cranberries' classic "Linger".
It's the much-maligned R.E.M., however, that Knipe enthuses unreservedly over the most in conversation; I'm distinctly given the impression that they would have happily conducted our entire interview about them. "We were listening to so much R.E.M. during the process of writing," they explain. "They get such a bad rap and I feel it's the "Everybody Hurts" thing. As a couple we've been obsessed with them, going through all their old records. We listened to them for a lot of tonal stuff. They have insane bass lines and I love bass so much."
Elsewhere on the album, "Berlin" discusses a lost friendship and the difficulties in processing that. "I write about real people and they hear the songs. With that song specifically it's less loose and open so that person will know it's about her. I hope they don't feel hurt by it. I don't want anyone to ever feel hurt," Knipe says in earnest. One of the most touching recollections Knipe details comes on the track "Adam", about their close friend, a member of the former Scottish indie-pop group The Spook School, whose lyrics similarly explored gender identity and queerness. "Adam drove us when we were on tour in the UK. During a long and peaceful car ride near the end of it, we were talking about queerness and the closet and how grateful we would have been if we were able to be out as children."
If Knipe gave a copy of Driver to their older self, what would they think of it? "Definitely they'd just be like 'bitch, what have you been through!' 'What's going to happen to us?!' There's a lot of queer stuff I'd be elated about also. And that conversation with Adam I cherish and love so I wanted to write about it."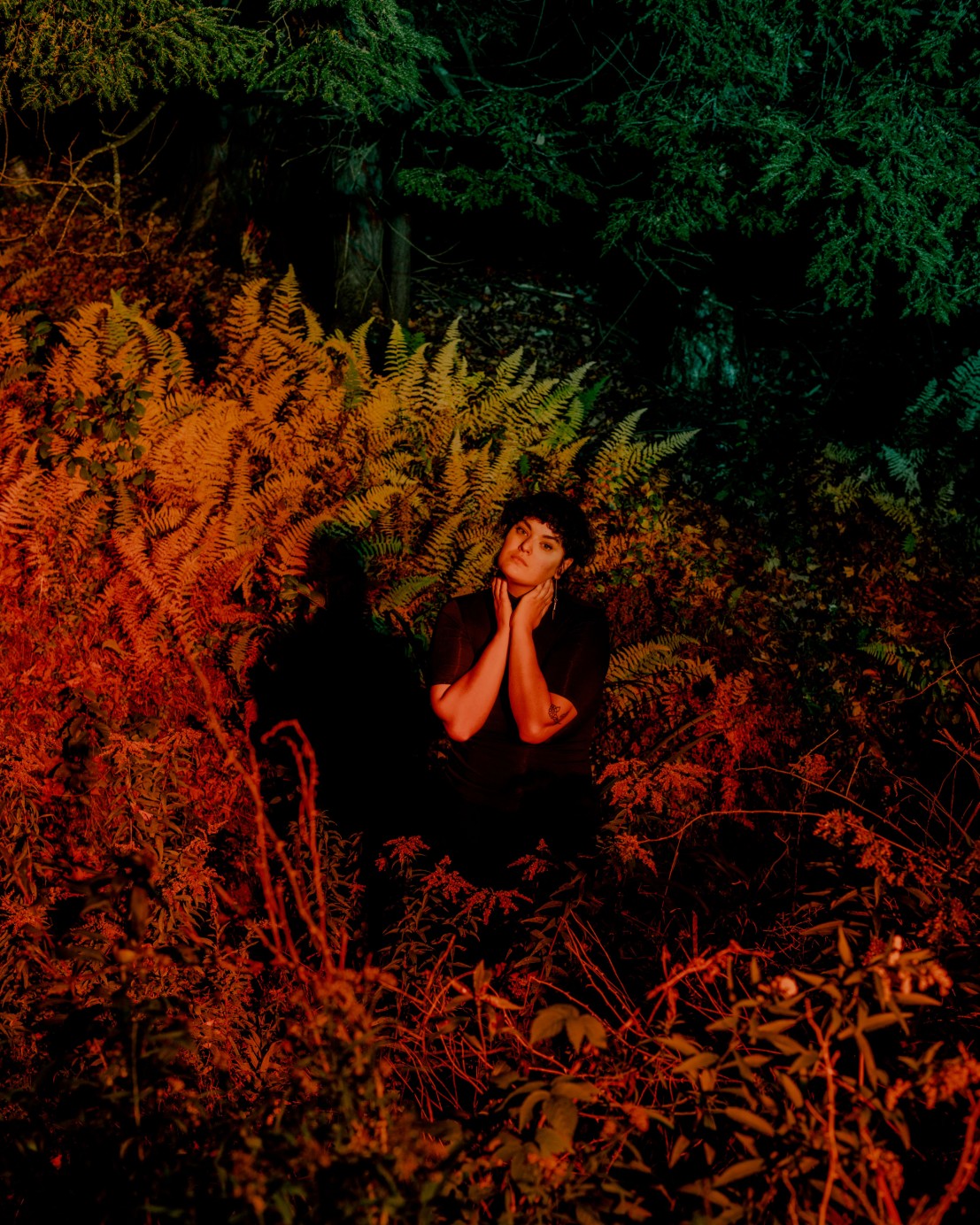 The songs, as always, finely traverse the line between funny and sad. "And the only thing that I've done / This month is drink beer and masturbate / And ignore phone calls from you," they sigh on "Sober". "If I'm talking about suicide, for example, I might as well also talk about masturbation in the same song! There's a sadness link there!" Knipe says. You can witness it in the construction of their songs too. The powered guitars are kept mostly upbeat and light, and Knipe admits that this is intentional. "Sometimes it can feel like a defence mechanism, just to lighten things. It's a natural tic for me. Sometimes things are really hard and scary to talk about."
Knipe says that Driver progresses the sound of the band ("It's cleaner"), admitting they enjoyed being in control of the production side of recording: "This is the first time I've co-produced or produced at all. Kyle Pulley and I decided how it was going to sound, down to every single tone you hear. I didn't realise how important that was to establishing genre within your band." It's why the rhythm is thicker and better layered. "Before we had a sound but now I've understood we can experiment, like use 808's and a slide guitar, but it can still remain an Adult Mom song." When the band first emerged, it was at the dawning of the bedroom pop era, of which they felt resoundingly within, but their perspective has changed: "I used to make everything literally in my bedroom," Knipe remembers. "I recorded almost all of the harmonies in my bedroom for this record too. But obviously we spent a lot of money to record in a studio and it sounds good!"
The Tiny Engines issues, inevitably, have to be broached. It's the only time Knipe retreats within themself; understandably so. I ask if they feel recovered from it now but before they can answer our call cuts out. I begin to question myself: was I too intrusive? Too forthright? Knipe returns a minute later, profusely apologising for their poor WiFi connection which caused the blackout – they've recently experienced a terrible winter storm, they say. Coming as it did at the most contentious portion of our interview was one of those things that just couldn't have been made up. In the aftermath, it feels like a moment of uncontrollable cosmic intervention, a reprieve for Knipe to compose themself.
I return to my previous question. Do they feel recovered from the Tiny Engines issues now? "No," they sigh. "I still don't own my music and I hate that, very much." They elaborate: "Chuck Daley wanted to tell me I was getting them back so I would calm down and stop talking about that. But now it's never come to fruition." It's why their new label Epitaph was always going to be a more comfortable environment for them. "The way they approached us and talked to us, they were very respectable," Knipe says.
"Honestly it's just their professionalism. That might be a drag but it's true. Previously I wasn't aware of the things I was supposed to be advocating for myself as an artist. I wasn't given the tools and my old record label was taking advantage of that naivety I believe." One of their heroes, Taylor Swift (a blanket with her name covers the far wall of Knipe's room), is of course going through her own distressing battle for her masters with the producer Scooter Braun. "I was literally just joking with a friend that I should just re-record them!" Knipe ponders while laughing. "It's only like two albums for me while Taylor has 8 or 9."
Knipe has an infectious personality, warm and inviting throughout our chat. It's clear that they are in a much better headspace than they were when these songs were born; it's difficult to correlate the bubbly individual across Zoom with the heartbroken person that produced them.
It's telling that the album starts with a song called "Passenger", because it feels like Knipe is transferring from that restricted position and finally taking control of their own life. Driver, then, is an existential reclaiming. Things will never be in complete control – nothing ever is – but Knipe sounds hopeful for the future. They have 50 songs already written, with tentative plans to start recording this summer." Hopefully only a year or two between records this time," they hastens to add.
The press release for Driver posed a simple question for Knipe: "what now"? As they approach the second half of their 20's, after the tumultuousness and duress of the first half, Knipe revealed that they're thinking even further ahead: "I told my therapist the other day that I'm so excited to be in my 30's. I'm so annoyed by continuous growth. I just want to chill, I'm over it." It's then that Knipe catches themself, pausing briefly, before adding something notable: "But then, what would I write about?"
Driver is out on 5 March via Epitaph