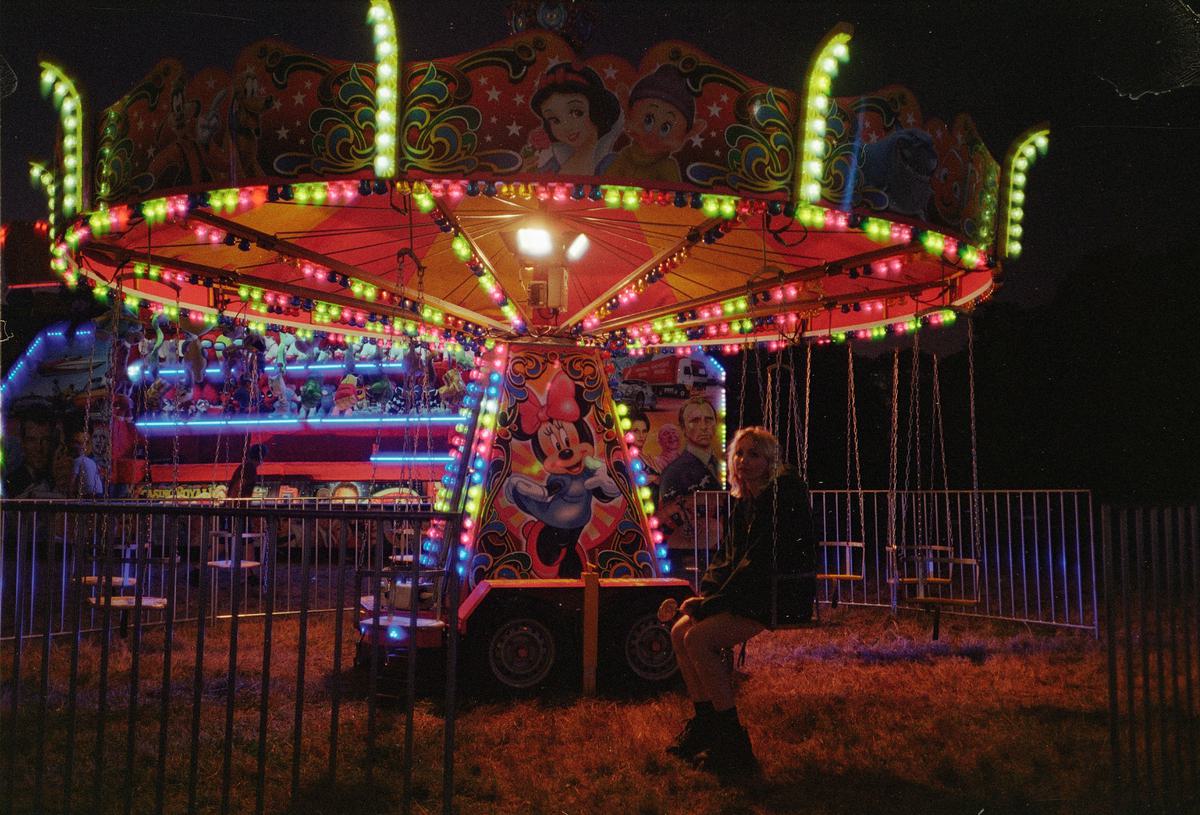 Abbie Ozard discusses growing up and keeping it real
27 June 2022, 15:00
Manchester is bursting at the seams with musical talent, and there's one artist in particular who is having their moment: Abbie Ozard.
Since her 2019 debut EP Growing Pains, Ozard has been refining an indie-fuelled aesthetic in her music. But with her upcoming release, Water Based Lullabies, she's taken a different approach by diving head-first into a pool of blissful, poppy melancholy.
"When I started out, I wanted to make indie music; that was my main aim but I didn't really know what indie music was," says Ozard. "I was happy with the songs and buzzing with how they sounded, but I wanted to move on from that classic indie pop vibe. Even my last EP [Let's Play Pretend], with it being released during lockdown, it was full of made-up stuff as there was nothing really going on in my life. I knew after that, I wanted my next project to be as real as it could possibly be."
Mentions of family and growing up as the youngest child are peppered throughout Water Based Lullabies. It was with her family in Manchester where Ozard's mish-mash of influences from McFly to Mazzy Star spawned, and today, she can still be seen lending a hand at the family café on a Friday. "I haven't had any fans pop in yet!" Ozard laughs. Yet, despite not having fully flown from the clutches of the café, Ozard is on her way to achieving her ambition of making music a full-time career – and so too are many of her Manchester contemporaries.
So, what's the secret behind the city's musical talent? "Probably just being northern!" Ozard suggests. "I think everything is more rough and ready, which is quite a good thing. I'm not shitting on people from down south at all, but everyone here is so focused on what they're doing and there's a sense of community surrounding it all as well. You don't have to move to London to do music anymore, which is exciting."
To achieve the authentic vision Ozard strived for in her Water Based Lullabies, she had to overcome self-imposed barriers. Apprehensive that "nobody would listen" to tracks such as "Grown", a tender ballad on a broken relationship, or her favourite Coldplay-esque track "Norway", confidence was required for Ozard to hone in on the sadness that characterises her artistry – and the artists she loves most.
"Most of the time, I tend to listen to sad, depressing music from people like Phoebe Bridgers, but I was almost too scared to release those kinds of songs," Ozard reveals. However, with its contrasting dynamics from pop banger "Pisces" to the dreamy "Rose Tinted", Ozard has conquered her fears. And with it, there's a newfound maturity evident in her songwriting. "With Water Based Lullabies, lyrically, everything is quite deep – but it comes in peaks and troughs," she says. "I've tried to be as honest as I can with the lyrics and I think it tells listeners more personal details about me than they'll have heard before. It's quite open, which is scary too."
Recently, Ozard spoke about the treatment of some record labels encouraging artists to upload excessively to TikTok. It's a problem plaguing many up and coming artists such as Ozard today with the changing landscape of the music industry. Ozard admits that her own relationship with social media "isn't great", but has mixed opinions on the impact it's having on artists today.
"Personally, there's no pressure coming from my label for me to make TikToks and things like that, which is why I like working with indie labels," Ozard explains. "However, on my days off, I find that I spend so much time making TikToks, which means less time for writing. I feel like artists getting signed from 10-15 second clips on TikTok could pose problems for the music industry. I think I go on it too much and I compare myself to other artists a lot too. Everyone does it, you know? There's a lot of pressure from that end, but a lot of the time though, I do find it fun. It's just hard not to become obsessed with it."
Live shows have been a bit of an inconsistent fixture in Ozard's musical career to date (through no fault of her own, though). Plans for her first UK headline tour have been side-lined on numerous occasions due to the pandemic. But off the back of a stellar Glastonbury performance, this December marks the end of Ozard's wait for a headline tour. "I feel like the tour is coming at a good time," says Ozard. "It's been pushed back for two years but I'd rather it be perfect than rushing into doing it. I'm looking forward to Manchester the most, and London. I'd also say Glasgow as well. We played at St Luke's a few months ago and we had the nicest promoter there. We even got fed, which was great!"
With three distinct EPs in the bag, can Ozard now begin to set her sights on a debut album? "I've got it laid out in my head, but I want to start thinking about where I want to go with it," she ponders. "I think Water Based Lullabies is a really good direction of where I'm heading next. When I'm ready, in my head, it'll be there!"
The arrival of a debut album will see Ozard emerge from the realms of being a rising star, but even if it doesn't, Ozard can still joke about reaching her peak level of fame when a certain fast-food chain surprisingly announced themselves as one of her fans. "Oh my god! That 'big in a few yrs' KFC tweet was literally the best thing that's ever happened to me," Ozard laughs emphatically. "If anything, it's only downhill from here." We disagree. And though Water Based Lullabies may be her most finger-lickin'-good work to date, with an ever evolving poise in her craft, Ozard still has the potential to soar.
Water Based Lullabies is out on 1 July.