On his first full-length release Birthday Boy, Aaron Taos grapples with the frustrations of growing older and the expectations of success we place so highly on ourselves through his growing world of alternative soundscapes. The frustrations that come with realising that life is in fact one big learning curve, that growth - both in your personal life and career - isn't always exponential or what you'd hope it be or even what you yourself predicted.
For the now Los Angeles-based artist this is something that hit the hardest while he was sitting in park, drinking apple juice, near his then-apartment in Brooklyn. "I was like "fuck I'm not super happy" with where things are at right now" he tells me. "I'd wanted this and this and this to happen: career-wise, relationship-wise and it just wasn't panning out. I needed to vent it out and that was the start."
Growing up in Guildford, Connecticut one of Taos' first expectations for himself was that he was going to be a professional soccer player. Music was barely on his mind apart from the structured kind that was forced upon him as part of his middle school education. He wasn't just a kid who liked to kick a ball around, he was pretty good at it too. "I was playing for the state and region" he explains "on different travel teams and then got drafted for college soccer. From the ages of 12 to 18 I wanted to be a pro-soccer play and I was working for that."
Of course something changed as it always does - that change started thanks to his discovery on bands like the Arctic Monkeys, Bloc Party and The Strokes and a jam session with some friends around the age of 16. "We got pretty stoned" he adds "and just started playing the instruments and discovered making your own music was pretty fun. We were just chilling." He admits it sounds weird for this specific moment to be almost monumental in his future, because it's seems so very unremarkable. You read about how musicians discover or uncover their talent and passion, either it's something they've always had or there's some transcendary moment seeing a band they love live that sparks that creative vigour. "I just knew I wanted to do it" he explains, back then his sudden dream career seemed pretty daunting when you have never really played instruments or sang before, but he was determined to develop.
His high school band was formed of a guy from his soccer team who could already play bass, another friend on who could almost play the drums and another friend who picked up the guitar so he could join the band. Their jamming sessions quickly turned into rehearsals for something bigger, the high school talent competition. This would be the moment in the movie when Taos would be front and centre on stage, sweat dripping from his brow and his peers waiting with bated breath, could the football player and his mates actually do this? They could.
Taos explains the nerves he felt "because it wasn't who people thought I was. People were surprised, but that was the start of everything." But making music and getting it out there on your own or as part of a band wasn't really as simple as it is for teens today. Especially coming from a small town - there's only so many shows you can play in New Haven, Connecticut before you reach the already limited saturation point. You don't have easy access to the internet or the resources and people that come with the emerging scenes we find in big cities and with his band members diverging across the country going to different colleges, Taos set out on his own.
At college he found himself with cracked version of Ableton on his laptop and calling on his first musical love, hip hop, as inspiration. "50 Cent's first record was my favourite record and when I was in high school I discovered bands, but those hip hop influences never went away, when I got Ableton I naturally just found myself using more hip hop sounds and grooves." His own music was still very much a side project picking up what he did know from YouTube tutorials and through getting to know the Ableton interface he was working with.
Even after graduating from college, Taos wasn't sure exactly where his still in-development skills would take him. Moving to New York City in 2013 it would still be another two years until he released his first EP. "I thought maybe I wanted to work in music" - NYC being the most obvious place to try and make that happen on the East Coast. "I was interning at a studio and I interned at the album artwork department at Sony" he adds "but then realised I definitely didn't want to work within all that." However, he made the most of the connections he made as an intern, and the positive feedback he'd received from his short-term colleagues spurred him onto to continue working his demos which became the GUITS EP, released in 2015.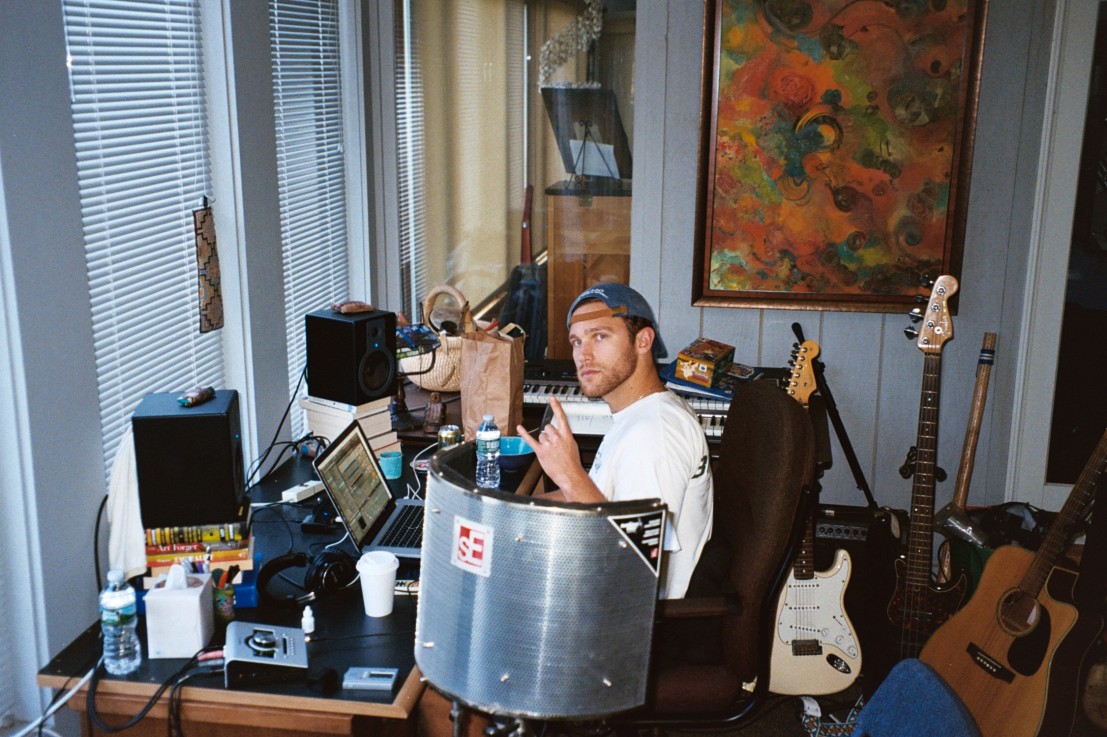 With hindsight and everything he's learned since he made that first collection, Taos candidly admits that "looking back at it I really didn't know what I was doing." His whole DIY aesthetic and ethos is probably best summarised by the story he has to tell about "Hands". When it came to uploading that for release it wasn't the smoothest of rides, and a definite learning curve. "I didn't master that song and when I went back to look at the session I had lost it" he explains. "All I had was this really shitty, distorted .mp3 file that I had to upload to some weird site online that re-bounced it was a .wav and that's what I put on streaming."
Despite that, "Hands" is still his most streamed track on Spotify. "When people were asking me for stems to maybe do a remix, I was like I actually don't have this stuff because my computer died. That's what I mean when I say I it took me a long time to figure out the whole correct recording process." These are just things Taos has had to learn from, like with anything, and although he thinks he could have benefitted from going to music school, citing the success of NYU's Clive Davis programme and his friends who studied there as aspirational, he notes "everyone's got a different path" and doesn't seem too phased about his finding his way on his own.
It alos paved the way for him to be put into sessions with other songwriters and producers which became his second body of work Nights Thoughts. He's proud of it, but believes it's collaborative creation made it "not as personal." With tracks like "Twisted" and "Voodoo" he started to reach bigger audiences and in his own words it was during this period, with the help of those collaborators that he was learning "how to make things sound good and catchy and flesh out a song." But for the next round Taos was determined to take everything he'd learned thus far and go back to basics, recording and producing Birthday Boy on his own.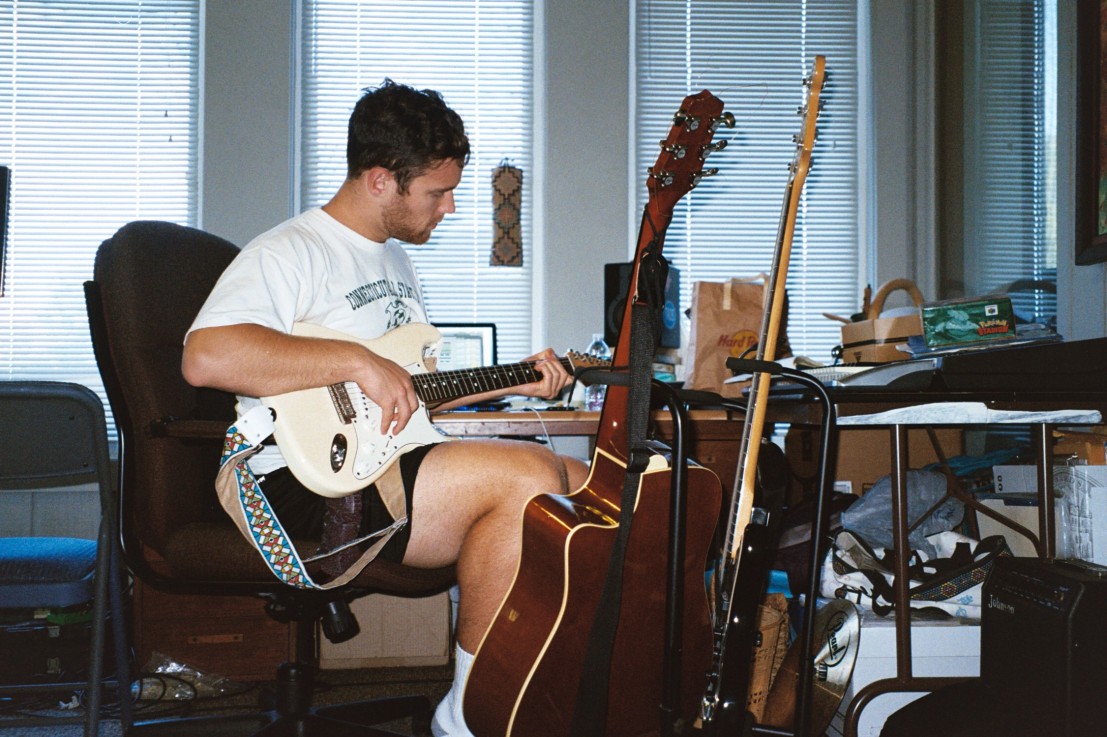 For Birthday Boy the hip hop influences are back, stemming from a love of hip hop features of tracks he loved growing up and his new-found skills to actually be able to produce drums which sound good. Away from the record's sample-based, alternative indie sound plus its added intensity from the hip hop percussion, the intensity of Taos' music now revolves around the darker lyrical content. Describing the record as a "semi-concept album about growing older" he adds that the whole process "was a cathartic thing, to just sit down and make exactly what I was feeling at the time."
Through its ten tracks Taos really grapples with the expectations he set from himself when decided he wanted to make music his livelihood, career and creative offering to the world. From the more upbeat "Dazed & Amused" to the spaced out lo-fi blues of "Loneliness" at its close, bytt its core this record is about regaining control. Not necessarily through its theme (or even the track titled "Control"), but through Taos putting himself at every part of its core. "If I want to and need to I can still record and produce everything, I don't need to rely on other people. It was proving to myself that I could do this." Nevertheless, he knows there's still room to improve. Despite how impressive and forthcoming his latest project is, he's already working on the next one, critiquing himself and adding more expectations to his plate, for now his big one is "I need to hone in on exactly what my sound is and what I'm trying to say."
Something, or indeed someone, who has spurred him on the continue his evolution of bettering himself is King Princess. Taos toured with the queer alt-pop sensation last year praising how clear her voice is, how her music is an extension of her identity and how his admiration of her has inspired him to flesh out. He describes his next project vaguely as "a weird, Bowie-like pop thing, not your typical love songs, just human experiences" and if he can pull off something that sounds something even a little like that, he's sure to be onto something good.
Big changes are afoot for Taos who just moved across the country to LA. Somewhere he previously said was "too far from home" on "Where I Belong?", a track which quite neatly summaries the big questions Taos has been asking himself about his personal life and his sound moving forward. Everyone's always a little lost and that place of belonging can and most likely will change as you evolve creatively.
Birthday Boy is out now