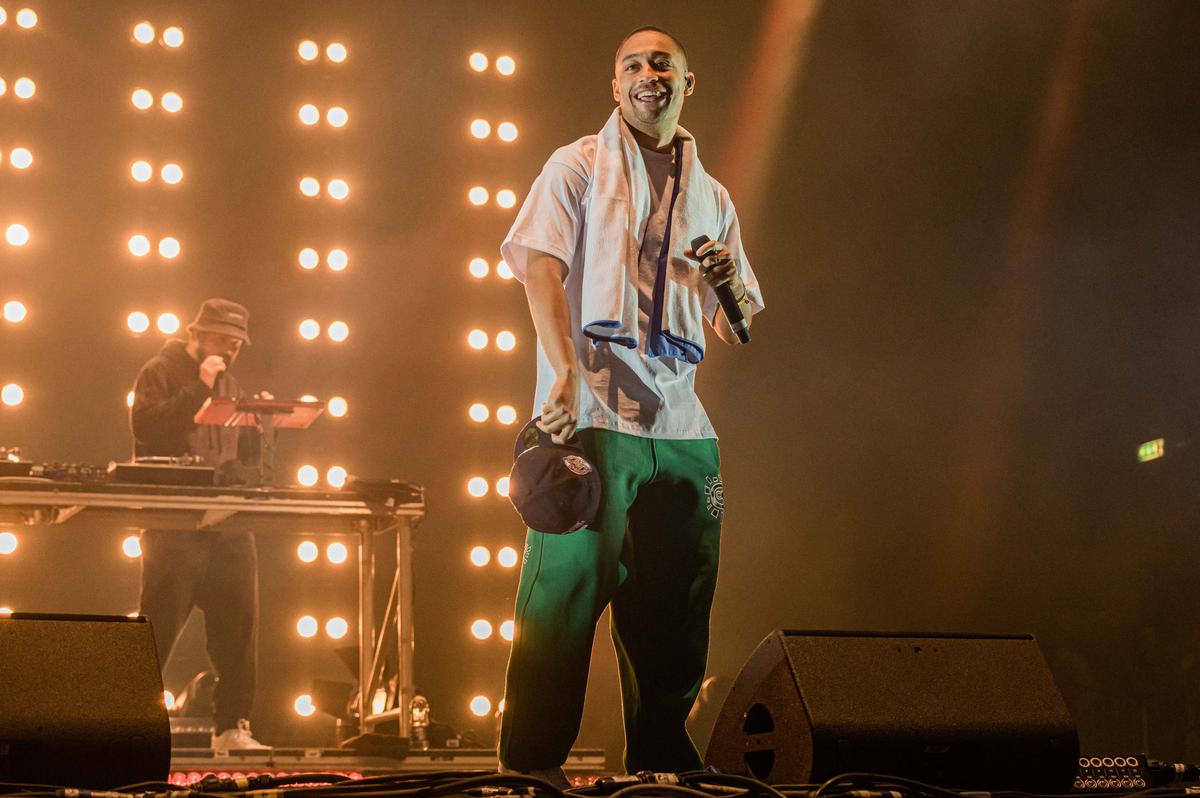 Wilderness Festival gains a newfound strength in encouraging music first and formalities second
09 August 2021, 09:45
Created as a middle-sized mecca for the multi-arts, Oxfordshire's most popular festival, Wilderness, hosts a return to the 'old normal' in the form of beer, glitter, rain, and a place for festivalgoers to call their own.
With pop-up stalls from Verve Clicquot and Free People, dining experiences from big-name chefs, and an array of wellbeing activities – from talks on psychedelic mindfulness to yoga classes of the paddleboard, disco, aerial and vinyasa variety - Wilderness is one of a multitude of alternative festivals designed to prioritise experiences ahead of big-name draws. Nestled within the idyllic rolling hills of Cornbury Park Estate of the Cotswolds, Oxfordshire, the festival is informed by its typically middle-class surroundings. As such, the four-day event has garnered a reputation for its boutique branding. In 2021, however, Wilderness feels welcoming of its audience of over 20,000 mostly twentysomething festivalgoers than one would typically expect.
Perhaps, this year, people haven't just come to see The Wilderness Orchestra or satirical, fancy-dress-encouraged cricket matches – they've come to party. Where other festivals are cancelling for a second year, Wilderness has held its nerve, independent of the government's pilot events scheme, for a euphoric reunion of people and the arts alike.
Getting frustrations out of the way first, do not conflate 'boutique' with 'intimate'. Upon arrival, general campers face an uphill, approximately 30-minute, mud-ridden walk from the car park to the campsite, space permitting – not helped by the inconveniently located pre-paid trolley service, which is, nonsensically, found at the end of this excursion.Those willing to splash out on boutique camping can find superior comfort in the likes of tipis, yurts, country wagons, bell houses and luxury suites, all pre-pitched and with additional perks of shower facilities, a pamper parlour, and a 24-hour reception. Crucially though, boutique campers can enjoy the convenience of being a stone's throw away from the arena.
Teething issues continue into the weekend as set times on the in-house Wilderness app are, in places, inaccurate and therefore leave the crowd with the impression of sets being cut short or awaiting an encore that never arrives. This is much the case for Loyle Carner's headline set on Friday, where programming issues see an expected stage time of 9:25 pm to 11:35 pm, promptly wrap up at 10:30 pm.
Nonetheless, Carner's Wilderness debut finds a crowd hypnotised by his poetic prowess. Armed with an array of special guests including guitarist and collaborator Tom Misch and soulful hip-hop artist Kofi Stone, Carner's showmanship finds a home in the excitable crowd. In-between-song commentaries about the special occasion feel more sincere than ever, though Carner keeps his cards close to his chest with no offering up of new music since his 2020 single "Yesterday", with which he bursts onto the stage.
Earlier that day, late line-up additions Self Esteem and Sports Team – stepping in for rising-star Holly Humberstone and funk collective Franc Moody, who, respectively, pulled out to isolate – take to the Wilderness stage. Vocally and lyrically charged, Rebecca Taylor hooks the crowd with her pop-bops about millennial dating disasters. Though, her quieter songs are lost against the crowd chat and beach ball throwing as she shouts, "Can you please respect me? This is my fucking feelings that I'm singing".
Sports Team, though, visibly convert the crowd, with frontman Alex Rice addressing: "we're not really a Wilderness band – do you guys mosh?" It turns out, yes, they do. Unlikely to do things by halves, the five-piece band whip the crowd into a frenzy with a string of coveted singles; each welcomed with an eruptive response.
Opening the eyes of the punters, it soon becomes clear that Wilderness can be whatever you wish to make it. The crowds are varied, the bookings are diverse, and the atmosphere is vibrant. Elsewhere, Mahalia has fans hooked with her honeyed R&B hits, and time affords a swift glimpse of Noon Garden's less popular, yet equally groovy performance at The Jumpyard.
As nighttime draws in, The Valley rings in the electronic end of the spectrum where the DJs can be found under a star-lit woodland canopy. For over eighteens only, crowds enjoy dancing through to the early hours against the sounds of The Blessed Madonna, Jayda G, and Eats Everything, amongst others, throughout the weekend.
Leaning back into the stereotypical expectations of a festival in the Oxfordshire countryside, a talks and debates line-up tackles heady themes and fulfills the intrinsic part of the Wilderness experience. Saturday afternoon finds The Forum packed out for a conversation between author Philip Pullman (above) and TV producer and writer John Lloyd, whilst just steps away, film director, DJ, and musician Don Letts entertains crowds with his no-BS attitude and anecdotes about The Clash, Sex Pistols, and Bob Marley.
Day two quickly becames disrupted by a downpour that leaves many seeking shelter. Soon, the real centre of the site is The Atrium, a covered space for the participatory hip-hop karaoke, two performances of the infamous Letters Live, a hip-thrusting performance by Joel Culpepper, and a nostalgic Daft Punk tribute performance by IntroducingLive to commemorate 20 years of the French electronic duo's sophomore album, Discovery.
As the clouds clear, Jamie xx provides Saturday night's biggest main stage party. The elation of his set hits a high note as he samples hip-hop, grime, and Toto's "Africa" (yes, really). There's a giddy thrill in the air as strangers dance next to each other through his floor-filling mix of expansive bangers. Standouts include "Gosh" – the one-loop track that builds into a menacing hurricane of synths indebted to club culture – which penultimately closed out the set; elevated by a dazzling, rainbow light show reminiscent of the track's album-home In Colour.
Come Sunday, the continued onslaught of sporadic torrential rain showers sees punters heading for home in the late morning. With the site noticeably decreasing capacity, the schedule also leans on the banal, with fewer 'must sees' than previous days. Rudimental's wide-ranging appeal, attributed to their eclectic mix of sounds as a live drum and bass four-piece, is reflected in the remaining mass of fans where all walks of life congregate to see out the final performance from the Wilderness stage. The crowd remains electrified: be it with multiple frothy pints in hand or the natural high of having witnessed the success of live music returning to the masses.
All in all, the main programme largely dispells the myth of what it means to be a "Wilderness band" in the eyes of Sports Team. Yes, there is still a presence of celebrities (hi Jenna Coleman, Laura Haddock, and Gemma Chan!), families with pimped-out carts for their children, and grandfathers in sequined flat caps, but "only at Wilderness" has taken on a different meaning in this year's edition. Overall, this is a well-considered event that asks no questions of genre but integrates a thrilling line-up for all five senses with a natural cohesion.