This year's Together The People festival follows on from its debut last year where they booked an 'anything goes' mix of acts: Ghostpoet, Public Service Broadcasting, Martha Reeves, and Super Furry Animals, with the rest of the lineup heavily concentrating on local talent.
They continue with this approach to booking at this year's event. Together The People refreshingly shows a hefty bias toward emerging local talent which proves to be a great move as Saturday's scheduling is a little heavy on earnest singer/songwriter types.
The murky shoegaze jangle of Seats, the urgent psych thrash of Egyptian Blue, and duo Atlas Wynd's grunge pop (the kind that made The Vines exciting for a while) all show great promise. However, head and shoulders above are four piece Penelope Isles. Their set is the wide-eyed optimism of youth with a knack for great pop hooks which they smear with psych fuzz, similar to the likes of Cheatahs, or Moon King. Their tracks are like your favourite sweets with shards of broken glass embedded in them, the potential of which is just screaming out for attention.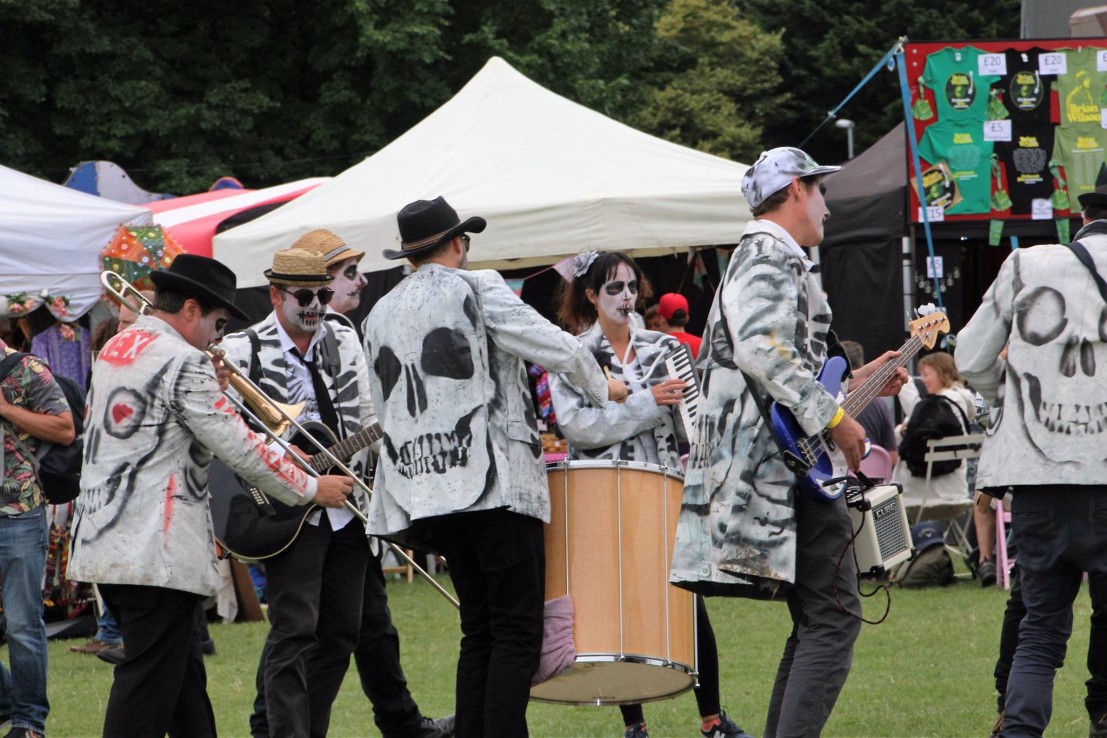 Of course, the crowd for the first day is dominated by Brian Wilson fans, many choosing to attend the festival rather than go to one of his own headline gigs due to a similarity in price - a good idea, but this means that when the heavens start to open really aggressively for several hours, an indoor setting becomes a more attractive proposition... it makes listening to sundrenched Californian pop with rain trickling down your back a moment of sodden irony.
Wilson, flanked by a fantastic eleven-piece band which includes original Beach Boy Al Jardine, his son, Matt Jardine, who picks up the falsetto moments perfectly, and a band of multi-instrumentalists who replicate some incredibly intricate music perfectly. A guest appearance from short-term Beach Boy Blondie Chaplin gives the concert a momentary jolt of rock'n'roll energy with snarling guitar-heavy renditions of lesser known gems such as "Wild Honey" and stone-cold classic "Sail On, Sailor". 
The centrepiece is a performance of Pet Sounds in its entirety to celebrate its 50th anniversary. Wilson's done this several times during his career, and despite that heavenly falsetto being absent for several decades, his current band is the tightest he has had for years. He only sings fragments of the songs, during the majestic "You Still Believe In Me" and "Don't Talk (Put Your Head On My Shoulder)", he barks the occasional line while looking distracted and perplexed. Pre-song statements are issued with a cold matter-of-factness or delivered in such a lumpen manner that it could only come from a script.
This is a minor gripe. We are in the presence of greatness tonight. "God Only Knows", "Caroline No", and "I Just Wasn't Made For These Times" are moments of such inherent sadness - the realisation that it's likely that we will not hear these songs performed again makes the occasion even more melancholic, the fragility of Wilson's vocal making our hearts break all over again.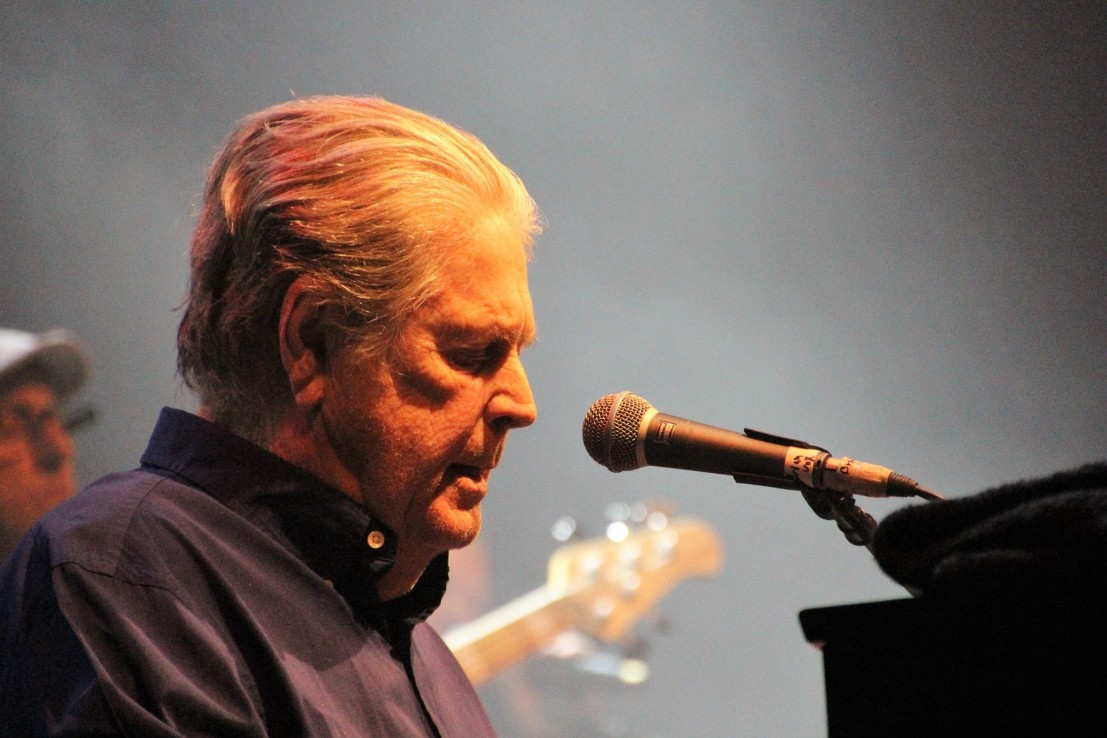 There's something pretty crass about the infighting between Peter Hook and New Order, be it through heavy-handed statements or the muck-slinging in the various books about the band, but ultimately it's Hook who is left looking the worst out of this. After failing to prevent the remaining members of New Order from performing their songs live, he has taken to dragging the legacy of both New Order and Joy Division through the mud. Musically they're tight at Together The People, although on the more electronic moments of New Order's back catalogue ("True Faith", "Temptation", "Bizarre Love Triangle", "Blue Monday"), it's hard to tell what, if anything, is being played live. Hook prowls the stage casually spitting out lyrics he freely admits to not understanding, while stripping away the beauty of Joy Division classics such as "Transmission", "Digital", and "Love Will Tear Us Apart".
As day turns to night, The Horrors perform a blistering set, the detached posturing of frontman Faris Badwan playing a role as integral of Joshua Hayward's shoegaze guitar sounds, or the stage gliding of nimble-footed bassist Rhys Webb. Although they've certainly played to bigger crowds in the past, with four albums under their belt (albeit one deleted from their back story), they now have enough songs in their back catalogue to perform something like a greatest hits set. The spiky pop of "So Now You Know" and "Still Life", the space rock of "Changing The Rain" and "I See You" or uber kosmiche-isms of "Sea Within A Sea" and "Chasing Shadows" are all performed with the kind of who-cares confidence of a band who cares because you do.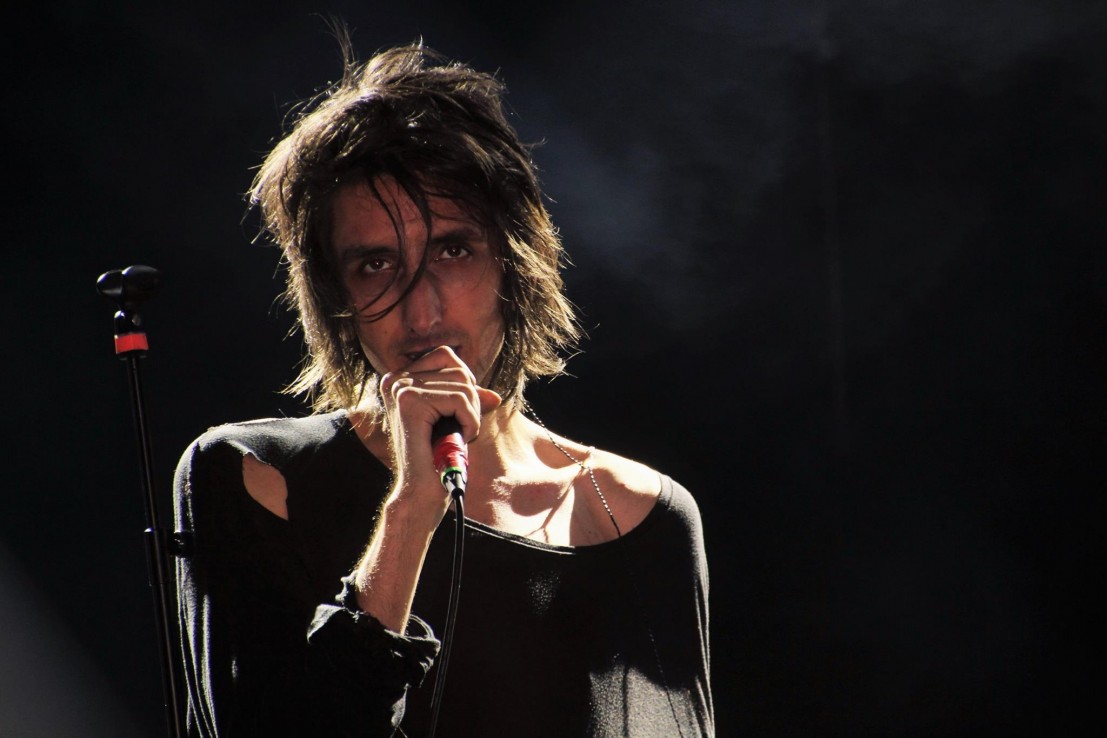 Second day headliner duties fall to the rebooted Suede, who roll back the years with a stunning set. Brett Anderson, who still barely looks a day over twenty, takes the stage with aplomb, at times like a boxer preparing to fight, and at others stalking the stage with the dexterity of a preening peacock; he remains an engaging frontman throughout. Beginning the show with two of their finest B-sides, "Europe Is Our Playground" and a furious "Killing Of A Flash Boy", it's immediately clear this isn't cynical revivalism, this is a band revitalised and loving that second opportunity. Anderson swings the mic, throws himself into the air and lands on his knees during "So Young", writhes around the stage during "The Drowners", delivers "Trash" with pure electric joy, and jumps into the crowd on numerous occasions. It's not all popstar showboating through - an acoustic "She's In Fashion" and the nervous hush of "The Next Life" add a poignant note to a brilliant set.
Together The People is possibly the most 'Brighton-esque' festival you could go to: its cuteness and intimacy, along with its craft beer and posh burger companies, make this latest entry into the festival circuit a success.
Photography by Chris Todd.