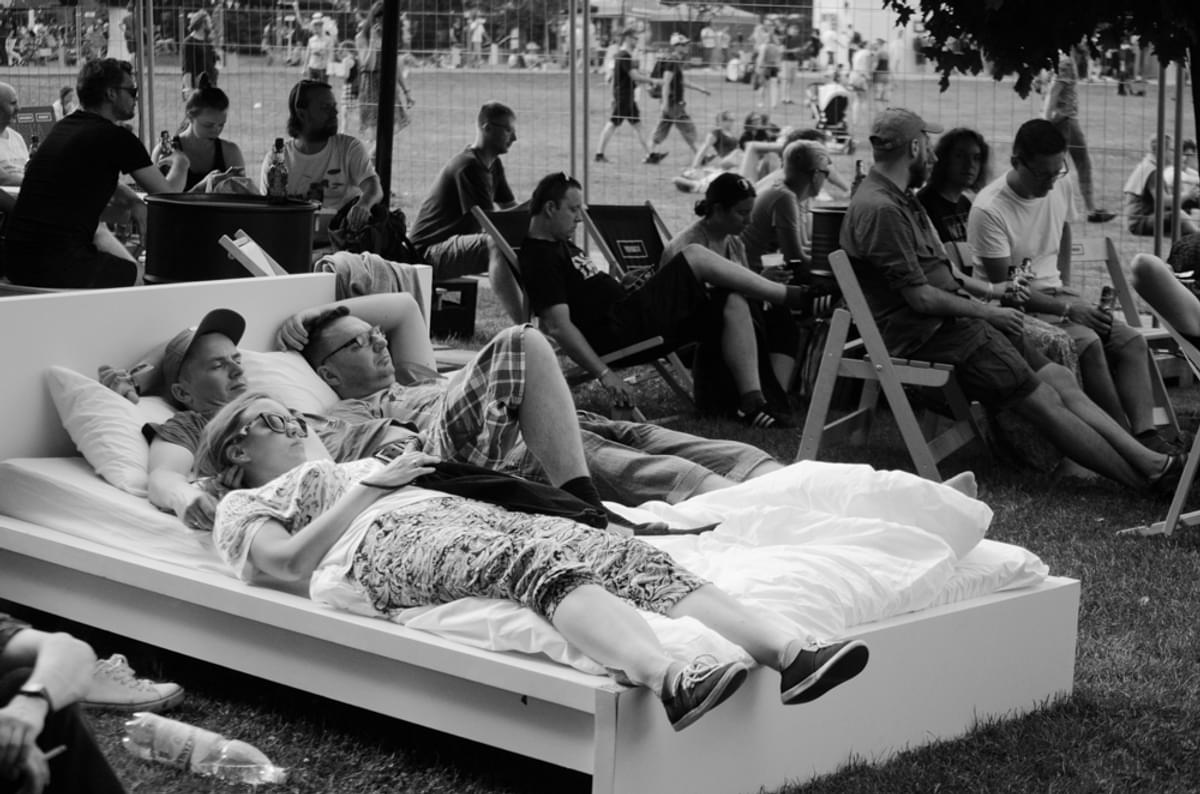 The Stranger the Better: Poland's OFF Festival rewards risk-takers
16 August 2017, 07:50
"Keep clapping OFF Festival," Feist yelled to her adoring crowd during the event's opening night before tackling another of her bucolic hit singles. "You're the onions on our pierogi." As delightful as her set was (There were sing-a-longs, lots of 'em.) the Canadian singer/songwriter wasn't the only highlight of the Katowice-based festival, staged in the fairytale-evoking location Dolina Trzech Stawow. (There were trees, lots of 'em.)
Established by Artur Rojek (better known in his homeland as the frontman of progressive rock acts Myslovitz and Lenny Valentino) in 2006, OFF Festival has become Poland's number one festival for music discovery enthusiasts on the strength of its jumble-sale style lineup. Eleven years in, the festival has still held true to its original aim of skewing just left of the commercial dial. There are the expected indie heroes—over the weekend Conor Oberst, Jessy Lanza, and Ryley Walker all made their Polish debut. And certainly, the appeal of watching the former Bright Eyes-frontman perform "Train Under Water," while sipping dirt-cheap prosecco from the safety of the stage-side food cage cannot be undersold. (Bonus: forcing those with the audacity to eat and drink into one central area made for one of the cleanest festival fields in the history of rock and roll.)
But the real stars were the locals. They were the ones that made the long days, hot weather (hello what meteorologists dubbed the "Lucifer Heatwave") and porta-potty visits worth it, here amusingly referred to by their brand name "Toi Toi." Obviously in a population of some 38 million it's difficult to discuss a reigning sound in anything but broad generalizations. While electro acts seemed to dominate Polish pop culture, guitars are making a comeback. But at OFF? All genres came in fantastic shades of out-of-the-box fun.
On hiatus for the past decade, jazz quartet Łoskot selected OFF for their return show. (Fun fact: Their drummer Macio Moretti is the co-founder of Lado ABC, a Warsaw-based label that any fan of experimental music should explore.) Although their name translates to "racket" the free form, largely experimental set felt far more controlled than cacophonous. Plus there was lots and lots of sax appeal. (Thus ending the dad joke portion of this review.)
Even further into the performance art bucket was Siksa. Clad in a pink and red ripped leotard, masturbation-referencing tattoo showing on her upper thigh, the singer ripped through an intense set—much of it taking place in the crowd where she yelled, moaned, and shouted directly into fans' faces. Even though the entirety of the show took place in Polish, it was easy to suss out the political overtones. (Last year the country stopped a bill going into effect that would affect women's productive rights. This year they stopped two out of three bills that would consolidate power and affect the free count system.) Siksa's strength of will and unfiled spirit is only endorsed by her online bio. (Sample line: Polish culture is a cake then Siksa is bulimic.)
Warsaw's New People are a supergroup of sorts, who managed to gobble up members from several of the capital city's bands, including Eric Shoves Them in His Pockets, Wicked Giant, The Car Is On Fire, Magnificent Muttley, Drekoty Crab Invasion, and ZaStary.) The collective had the unfortunate challenge of performing at 3pm, but somehow their sunny tunes—think Jens Lenkman finally giving into his deepest tropical fantasies—felt appropriate. Lines like "Let your feelings show/let wind just blow," are easily sold as part of a male/female vocal interchange.
But few bands, Polish or otherwise, could hold their own against juggernaut Mitch & Mitch. One of the first bands to play the OFF (and perhaps the band that has returned the most) Mitch & Mitch are a group of musicians who have all renamed themselves Mitch. (Although—spoiler alert—one of the Mitches is Macio Moretti because the Polish music mainstay apparently doesn't sleep. The conceit is pretty high concept. Apparently, Mitch & Mitch are a group of (slightly) egotistical lounge singers from America, who just happen to have a flair for lounge, jazz, acid jazz, rock, Spaghetti Western soundtracks, Bossa nova, and pretty much every genre in between. This is great for two reasons: 1. To stay in character Moretti spoke English the entire time, thus allowing me to enjoy the jokes. (In a very Andy Kaufman move they brought pre-recorded applause.) 2. The entire band are all talented enough to actually back the joke with creditable musicianship. Their set was a musical version of Mr. Toad's Wild Ride—as the audience attempted to keep up with the band's frantic pace. But it also personified the festival as a whole. High stakes, high payoff, and home country pride. Count me in on this victory parade.
Dzięki Poland for another eye-opening weekend. See you next year.
Get the Best Fit take on the week in music direct to your inbox every Friday